Razorback
| Snowy Mountains Brewery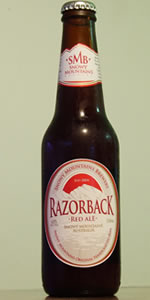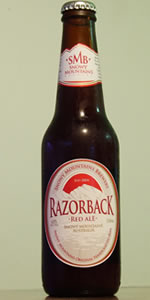 BEER INFO
Brewed by:
Snowy Mountains Brewery
Australia
snowymountainsbrewery.com.au
Style:
American Amber / Red Ale
Alcohol by volume (ABV):
4.80%
Availability:
Year-round
Notes / Commercial Description:
No notes at this time.
Added by brendan13 on 08-07-2007
HISTOGRAM
Ratings: 14 | Reviews: 14
Reviews by rjimlad:
3.85
/5
rDev
+11.3%
look: 4 | smell: 4 | taste: 4 | feel: 3.5 | overall: 3.5
It's critical to get the temperature right on this beer. I had it very cold (Oz style) but all the aroma and flavour was crushed and I had to wait for it to warm up to get anything from it. I had it in two sessions and found the colour to be a lovely deep copper/bronze with a hint of red. The head dissipated quickly but toasty malt aromas lifted of the glass immediately and perhaps with a slight citrus there as well.
Flavour was malty with some interesting hop notes. Citrus?, floral things happening and a backdrop of toffee and treacle. Quite nice. The carbonation was moderate and I sessioned on this all night long with Thai food and some cheese. I like this and will buy it again.
689 characters
More User Reviews:
3.59
/5
rDev
+3.8%
look: 4 | smell: 5 | taste: 3 | feel: 2.5 | overall: 3.5
330mL brown bottle with no freshness date - unusual for an Australian beer.
A: Pours reddish-brown into my Duvel tulip - very similar in colour to Coca-Cola (as stated before) but maybe a little lighter so it shows the red more. Aptly described as a 'red ale'. Moderate (~1cm) head appears when pouring but dissipates to a ring around the edge of the glass plus a few bubbles above the glass' scoring.
S: A very exciting fruity hoppy aroma. Berry notes are very strong, though there is also a bitter hop aroma, and the sugary smell of raisins. Perhaps also candied sugar as well. I really like this warm, foresty mix of smells, haven't had a beer that smells as rich as this in a long time.
T: Doesn't really live up to the expectation when it hits the tongue. Pretty watery, though there is some faint hop bitterness and some astringency on the sides of the tongue, at the back of the tongue. Other than that, not much. Hardly any malt taste, perhaps some grain husk flavours, but nothing rich and sweet. Still, this makes it a beer more suited to summer, but disappointingly bland for a boutique ale. Especially considering how good it smells.
M: Pretty watery and flat. Doesn't sit well on the tongue. Below average, unfortunately - as far as mouthfeel is concerned.
D: Despite the lack of character in the taste, this is still a drinkable beer. Pretty expensive for summer quaffing, but at least it looks and smells different from your average summer lagers. I'm drinking this on a chilly night in spring, so I can't appreciate it as such... To be honest I probably won't drink this over the summer unless it's cheap or something. But it's not bad.
1,657 characters
2.8
/5
rDev
-19.1%
look: 3 | smell: 3 | taste: 2.5 | feel: 3 | overall: 3
(Served in a small strange)
A- This beer pours a light tan fizzy head that finishes before the end of the pour. The body is a slightly dense crystal clear brown body with a hint of red in the light. There is a carbonation of a few tiny bubbles.
S- There is a very soft dry roasted biscuit malt aroma with a tootsie roll note that grows as the beer warms.
T- This beer has a toasted chocolate malt flavor with a thin soft dark nougat note and some biscuit malt flavors underneath. There is a flat tasting finish.
M- This beer has a light mouthfeel with no fizz noticed.
D- This beer has some dull flavors but there are some good flavors that are pretty subtle.
664 characters
3.16
/5
rDev
-8.7%
look: 4 | smell: 3 | taste: 3 | feel: 3 | overall: 3.5
Pours dark amber/copper with a large, lasting head.
Nose shows some nutty malt and chocolate, quite sweet smelling but faint.
Similar flavours but after the initial burst of malt it falls flat very quickly.
Too much carbonation for my liking.
Nice flavours/aromas but very faint.
279 characters
3.45
/5
rDev
-0.3%
look: 3.5 | smell: 3.5 | taste: 3.5 | feel: 3 | overall: 3.5
This pours a burnt copper colour with a centimetre or two of head.
The nose is dominated by some roast malts. A bit biscuity.
Hops come forward on the palate. The malts are still there. A touch of caramel. The flavours narrow off quite quickly.
Medium bodied.
262 characters
3.71
/5
rDev
+7.2%
look: 3 | smell: 4.5 | taste: 3.5 | feel: 3.5 | overall: 3.5
Dark brown with a red tinge...struggled to pour a 1 finger head, that quickly disappeared laving a ring of lacign around the edge. Carbonation quite good. Blotchy lacing.
Aroma: BEAUTIFUL fruity aromas...full of grape, plum, berries. Also a fraction flowery hops, & some buscuit bread.
Taste: Smokey burnt tinge to the flavour, but only a hint. Bit of roasty malt caramel, & the hop bitterness is there at the finish albeit slight. Taste didn't live up to the wonderful aroma though.
Mouthfeel: well carbonated for sure, light & easy. quite gassy.
Drinkabilty: hot summers day, looking for a fruity beer with a slightly roasted flavour - look no further.
654 characters
3.88
/5
rDev
+12.1%
look: 4 | smell: 3.5 | taste: 4 | feel: 4 | overall: 4
I had this beer awhile ago, when I was still a simpleton(beer-stupid), I enjoyed but forgot the name. Finally tracked it down.
A - Awesome, burnt red colour, copperish. Little head or lacing but still, the colour is very inviting.
S - Smell is a bit week for me, some mash notes but not that impressive.
T - Malty, biscuity, toasty. A warm rich flavour, which leaves a faint hop bitterness at the end.
M - Clean, after taste is slightly hoppy, but cleansing.
D - Very smooth. Very easy to drink.
501 characters
3.03
/5
rDev
-12.4%
look: 3.5 | smell: 3 | taste: 3 | feel: 3 | overall: 3
a: Copper red, rocky off white head
s: Nutty biscuity, Munich-like note, with lightly metallic hop thread
t: Flavours of bread crusts , slight savoury note... don't really notice any citrus hop notes as described on label. Slight sour note at the back
m: Light creamy mouthfeel, little bitterness
d: Quite nice, bit too malty to be a session beer
346 characters

3.43
/5
rDev
-0.9%
look: 4 | smell: 3.5 | taste: 3 | feel: 3.5 | overall: 4
Pours a healthy rich ruby hue with furiously strong carbonation and a good froth when poured. Beige head is healthily dense and sticks around like a good bit of head should. Lacing is very decent, as is this beer's overall demeanour.
Nose is very English, with a very deep, pungent malt bomb aroma, slightly roasted with a lot of toffee character as well as bready grain, cocoa and a slight hoppiness, which is mostly floral although yeah, it's overwhelmbed by the malt. It is a bit one-note, but pleasant, and I do quite like a malty beer.
Taste is also incredibly malty. Flavour is sweet and dense with a deep, lightly toasted grain character, a pleasant nutty edge with hints of cashew and marzipan. A fair toffee character as well, all in all it's a hell of a malty beer. But he'll never know. At 4.8% this was presumably put on a short boil and as a result, hops are conspicuously lacking, although there is a light bitterness on the very finish, that lingers rather than hitting you. It's okay though, as it obviously isn't meant to be very hoppy.
Mouthfeel is thick and chewy, not so syrupy but a heavy load to carry. A very pleasant drop, although it has to be said, the palate is slightly short and it's really simple with an extreme maltiness being really the only flavour. It's not overpoweringly sweet though, so it's drinkable. A bit more hopping on the boil would perk it up quite a lot; just needs a bit more of an edge.
1,438 characters

3.65
/5
rDev
+5.5%
look: 3.75 | smell: 3.75 | taste: 3.5 | feel: 3.75 | overall: 3.75
Format: a standard 330mL dark brown bottle with a decent macro label.
Appearance: pours a nice reddish-brown colour with a half-finger of tan head that lasts the distance at a thick and creamy cap. Good lacing down the glass too.,
Aroma: really rather nice - roasted malts with toffee and heavy bread.
Taste: the heavy breads and toffee are there, with a slight amount of coffee behind.
Aftertaste: some of that coffee on the finish with some bitterness from the roast malts. A touch of toffee to round it out.
Mouth feel: medium to heavy in feel with a moderate carbonation that really brings those flavours through nicely. Smooth yet chewy.
Overall: this is a very nice red ale - full in flavou with a complex profile. Easy to drink and a reasonable price.
765 characters
2.58
/5
rDev
-25.4%
look: 3 | smell: 2.5 | taste: 2.5 | feel: 3 | overall: 2.5
Not convinced this is an amber but I figured this was the closest style denoter. Nice red-brown colour in the glass but the head retention is very weak. Aromas nearly get there; very mild roast and a touch of chocolate, has presence, but a touch of dumb sweetness lurks as well. Flavours are completely about face off the nose; no sweet malt action but instead a lean palate (in terms of obvious malts) with quite good hop treatment. Nettles, cut grass, albeit faint but nevertheless has presence and a cut of class. Finish is a bit fizzy and non-descript.
556 characters
4
/5
rDev
+15.6%
look: 4 | smell: 4 | taste: 4 | feel: 4 | overall: 4
Dark brown with a reddish tinge ,very much like Coca Cola, which is where the comparisons cease.
The thin grey head disappeared rather quickly leaving a prominent lace.
Sweet cereal smells awaitind the smeller.The taste was slightly , but pleasantly sour and it seemed to have depth of maltiness almost as if there were layers to it.It made for enjoyable drinking.
The carbonation was obvious and blanced out any potential over sweetness. Whilst not particularly bitter it balanced well
A very drinkable beer indeed.
Far more enjoyable than Tooheys old or Carlton Black which would be my options at a bottle shop
618 characters
3.33
/5
rDev
-3.8%
look: 3.5 | smell: 3 | taste: 3.5 | feel: 3 | overall: 3.5
A - Deep red copper colour with a few centimetres of off white head. Big lacing left right down the glass.
S - Roast malt and sweet caramel with some citrus hop notes.
T - The hops are more noticeable in the mouthfeel. Sticky pine resin and citrus. The roast and caramel is also there.
M - Mouthfeel is light to medium with a sweet, roasty taste lingering.
D - Nice enough but nothing too interesting or exciting. The roast malts and citrus hops sort of clash a bit.
470 characters
3.97
/5
rDev
+14.7%
look: 3.5 | smell: 4 | taste: 4 | feel: 4 | overall: 4
Pours a perfectly clear, mahogany colour with a small, tight tan head. Poor head retention.
Sweet malts, bready, toast, coffee and a light earthiness come through the aromas. This smells quite good.
This has a really interesting flavour for a red. Lots of coffee but not in a real stout sort of way. A solid bitterness backs up the malt which can stand on its own. Good attack and a great mid-palate fading into a slightly weak finish. Very good.
A solid, above average mouthfeel with average carbonation is good with the big feel helping to enhance the flavours and the carbonation just cutting that richness enough to make this quite pleasant.
A tasty brew by all means and one which stands alone amongst those I've tried with its interesting coffee flavoured twist.
772 characters
Razorback from Snowy Mountains Brewery
Beer rating:
3.46
out of
5
with
14
ratings