Cafe Amsterdam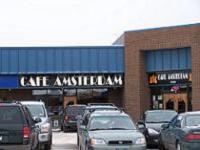 PLACE INFO
Type:
Bar, Eatery
530 E Benson Blvd
Anchorage
,
Alaska
, 99503-4155
United States
(907) 274-0074 |
map
cafe-amsterdam.com
Notes:
No notes at this time.
Added by juzy on 10-16-2005
Reviews: 6 | Ratings: 14
Reviews by juzy:

4.13
/5
rDev
-4.8%
vibe: 4 | quality: 4 | service: 4 | selection: 4.5 | food: 4
This place is a hidden gem for Belgian beer lovers. Most Anchorage locals know of it, but I don't think it gets much foot traffic from visitors. It's a small, intimate cafe located on Benson in the Metro Mall, right across from the Sears Mall.
Owned by Ken and Shauna Pajak. Ken was a brewer at the Regal Eagle Brewpub in Eagle River. He now offers some of the best Belgian and local beer selections in the city at Cafe Amsterdam.
You enter into an area, reminiscent of a street cafe, with a few tables and chairs off in the corner near the window wall which, by the way, lets in tons of sunlight. That is especially appreciated during the winter months when sun is at a premium. If you arrive for dinner and there is a waiting line you can enjoy a great beverage at the bar or one of the cafe tables.
The dining area is quaint, has an intimate feeling in the winter evening when it's dark outside and the lights of the restaurant are dimmed.
It's nice to note that the full menu can be had at the bar in the cafe entry as well as in the dining room.
The beer menu is usually heavy on bottled Belgians, with a few of them on tap along side some great local offerings. You won't find any Bud, Miller or Coors in this place. The wait staff is knowledgable with regards to the beer, but if you really want answers talk to Ken or Shauna. One of them is always there. They are quick to offer alternatives to those that come in and ask for a Bud. Doing their part to spread the word of good beer.
There are usually 16 or so beers on tap (a few from Midnight Sun and Glacier Brewhouse, Unibroue, Chimay and others, I've seen meads and ciders on tap as well) and somewhere in the vacinity of 80 bottle selections. For example: Orval 11 oz. $8.50, Westmalle 11 oz. $7.50-8.00, Abbaye Des Rocs 11.2 oz. $6.00-$6.50, Duvel 11 oz. $4.50, Maredsous 10 750ml $13.50, Dupont Saison 750ml $11.50, Liefman's Gluhkriek 12oz. $9.00.
A few French ales like Castelain Blond Biere de Garde 750ml $15.00 and a few English ales like Fullers 1845 16oz. for $6.00.
There are some German ales and lagers like Einbecker Pils 11oz. $5.00. American and Canadian offerings are from Unibroue, Ommegang or local. The beers are always served in the appropriate glassware and at the appropriate temperature, a big plus. The beer menu changes depending on what's available. This list is just a partial.
I want to remind anyone reading this that my take on assigning $$ value to this place is based on the fact that I live here and I find their prices to be reasonable as compared to other places in this area. Visitors from outside may find them expensive.
The food menu is ever changing as well. Seasonal specials are common for the menu and I believe the menu is changed weekly or so with some items remaining the same for each menu. They serve breakfast all day, every day and have the best eggs benedict in town. Lunch offers many varieties of sandwiches, both hot and cold. Big salads are a staple on the lunch menu as well. There is a fantastic artisan cheese plate available also!
The breakfast and lunch menu are served from 7a -9p. They used to have a night menu, but no longer....AND beginning May 3, 2009, they will be open on Sundays!
For dessert maybe a burnt cream or brownie sundae ($5 each).
They've also been known to throw beer dinners during the fall and winter months.
This is a place that we enjoy visiting once a month or so.
If you find yourself in Anchorage, stop by and check it out.
Something I should mention; Cafe Amsterdam is the only place, that I know of, in town that does a slow-pour pilsner, when they have it on tap.
3,618 characters
More User Reviews:

4.1
/5
rDev
-5.5%
vibe: 3 | quality: 5 | service: 4 | selection: 4 | food: 3
4.07
/5
rDev
-6.2%
vibe: 4 | quality: 4 | service: 4 | selection: 4.25
4.39
/5
rDev
+1.2%
vibe: 4.25 | quality: 4.25 | service: 4.5 | selection: 4.5
4.26
/5
rDev
-1.8%
vibe: 4 | quality: 4.25 | service: 4.5 | selection: 4.25 | food: 4




4.1
/5
rDev
-5.5%
vibe: 3.5 | quality: 4.5 | service: 4 | selection: 4 | food: 4
This is quite the nice little restaurant and beer bar. They have about a dozen and a half taps, mostly local alaskan and northwest, with some SN and a couple imports (Ayinger) mixed in.
The service is friendly and knowledgable, always quick to get you a new glass if you want. The bottle selection is also quite nice and varied. The food is good, particularly if you go at brunch. Hearty portion sizes, but a lot of good-and-good-for-you foods. The decor is pretty cool, especially in the bar side. The only complaints I have are that sometimes the acoustics in the place are troublesome, making it hard to hold a conversation at times and that the stools at the bar (at least mine) were a bit uncomfortable. Otherwise, this is a great place for a sandwich and a beer!
768 characters

4.28
/5
rDev
-1.4%
vibe: 4 | quality: 4 | service: 5 | selection: 4
By some odd coincidence, I am writing with a Cafe Amsterdam pen today as I work to transcribe all of my notes.
My C/S hostess was working, but another C/Ser who wanted to meet me suggested that she take me out here where we could meet her boyfriend and then run me home. I was down with that plan.
An angular, wide front with the entry on the right facing side. The m.d.s. with built in glass display case of logo items was immediately left. The long, blonde wood bar was straight ahead with the nineteen (19) taps attached to the bar. The two-door cooler of approximately 80 beers was off to the left of the back bar.
Speaking of off to the left, through an abbey-like archway, there was the restaurant area with a lot of standard table and chairs and the kitchen in the back left corner. The restaurant area had its own entry in the center of the bank of windows on that side of the space.
A chalk blackboard hung above the cooler, listing their "Tap Beer(s)". In the right corner of the bar area were a pair of wrought-iron tables with corresponding chairs and covered by Chimay and Corsendon umbrellas. I got to meet the owner, Ken, who remembered a visit from an ASN colleague, Warren Montiero. We had a great bartender, Will.
1,236 characters
4.85
/5
rDev
+11.8%
vibe: 4.5 | quality: 5 | service: 5 | selection: 5 | food: 4
Cafe amsterdam is a european street cafe in midtown anchorage. the front bar is just like a street in europe. The great thing about cafe amsterdam is that they have a wonderful beer selection. everything from samichlaus to le coq russian imperial. chouffe brews, alaskan brews, brews from the homer brewing co in homer alaska. midnight sun brews, brew from all around alaska including alaskan baltic porter. Lots of belgians and unibroues on tap (including scaldis noel and maudite) They also have the best reuben sandwich in town and some great deserts. Good eggs benny too. ( That is kind of sad that i had a full bottle of n'ice chouffe and a scaldis noel with my eggs this morning, but hey, when in amsterdam...) Overall a great place to take a friend for lunch. If you like belgians this is the place for you in anchorage.
827 characters
3.98
/5
rDev
-8.3%
vibe: 3.5 | quality: 4 | service: 4 | selection: 4.5 | food: 3
Café Amsterdam is an eclectic beer bar that never lets me down on beer selection. They consistently have several Alaska based and West Coast microbrews on tap and a good cross section of Belgians. The rotating taps are always a surprise. The atmosphere in the dining area is typical strip mall restaurant, but the bar area is set up to resemble a European street. The brews look like they are well cared for and they serve them in the proper glassware for each style. Service was very good; they struck the right balance of attentiveness. The menu is limited, but they make a consistently good Reuben. Many of the menu choices are European inspired dishes.
As for price, some of the bottled brews can be spendy. The tap brews and the low-end menu items are reasonably priced for Anchorage. Overall, it is a good value and a good choice for lunch and a beer.
860 characters
4.43
/5
rDev
+2.1%
vibe: 4 | quality: 4 | service: 4.5 | selection: 5 | food: 4.5
I went here for dinner tonight and it was a delight. I sat at the bar and talked with four or five other beer lovers including Ken the owner/bartender. Ken is very knowledgeable and open to hearing aobut other beers. Since I learned about the place through this site, I told him about BA. The beer menu is three pages long with mostly belgian, german, and local AK beers. There are about fifteen taps and 100 bottled beers as a rough estimate. I tried four beers I'd never tired before including the berliner wiesse (with and without the rasberry syrup), Ij Zatte, the midnight sun M, and a dusseldorfer alt called Uerige Sticke. The alt malt flavors did blend very nicely with the snitzel. The food was better than expected. The prices are a little high for down south but are reasonable for Alaska. I rate the selection as exceptional because many of the beers i'd never heard of before and all were tasty. i would recommed trying the Ij brewery from Amsterdam. The beers are delicious, rare and unique.
The other patrons at the bar were all open to talking about and what they'd had recently had that was worthy for others to try. I'll be back the next time I am in Anchorage. Any beer lover would find plenty to enjoy here.
1,230 characters
Cafe Amsterdam in Anchorage, AK
4.34
out of
5
based on
14
ratings.