Den Stillen Genieter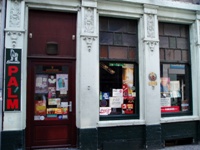 Reviews by TheLongBeachBum:
TheLongBeachBum from California
4.35
/5
rDev
-2.7%
vibe: 4 | quality: 4.5 | service: 4 | selection: 5 | food: 3.5
The "Peaceful Gent" is exactly that. A lovely quite Belgium Bar, that is well hidden from the tourist trail. The thing I recall the most about this establishment is not the bar, nor even the beer, but strangely enough – it is the nearby hugely imposing brick built edifice of the Lamots Brewery that dates back to something like the 1700's. It is very nearby to the Stillen Genieter, viewable from the Canal, and well worth a look - for it is a true brewery relic.
The Stillen Genieter is well known, and a highly respected Belgium Bar. I sat on one of the many stools at the long Bar and tried to drink Gueuze until I grew gills, the highly respected menu of lambics meant that generations of my offspring may well have sprouted the oxygen grabing gills long before I reached the end of the Gueuze list. Such is the quality of this bar that lambic heads are well catered for. My notes say that this bar had at least 400 beers on its Menu - I would not contradict this, but would add that it has been a few years since I came here.
A Great bar, with an immense Beer Menu, but for me, and even putting the unparalleled Lambics selection aside; the sight of the Lamots Brewery is forever etched in my mind for some strange reason.
Oct 14, 2002
More User Reviews:


beerpirates from Belgium
4.28
/5
rDev
-4.3%
vibe: 4 | quality: 4 | service: 4 | selection: 5
What a nice discovery ! A real suprice to see this place , A hidden treasure in a small city that is already worth visiting, not only for beerpurposes. Hard to find, the hours vary alot because the owner opens his bar around 8 pm i've hi's not there then you have to ring the bell
A typical " brown cafe " like we call it in Belgium !
And what a selection of beers , wow , they have ALL trappists ,
Incl. Westy blond , 8 and 12 and all between 3,5 and 4 ,5 €
Several beers on tap , nice geuze / lalbic selection ( yes also fou foune etc ...)
A mustvisit when in Belgium, don't miss it.
Mar 10, 2012
Bierschenker from Belgium
4.58
/5
rDev
+2.5%
vibe: 4.5 | quality: 4.5 | service: 4.5 | selection: 5 | food: 4
I can remember myself walking through the Nauwstraat a couple of times and even reading the name above the door. But it never occurred to me before to enter. Most of the time I just walked trough this street on my way home coming from one of the student bars on the Vismarkt.
When I walked in, I just felt this was the right place for me: dark, cosy, classical music, well-hidden, lots and lots of beer,… The bar is owned by two very friendly people. Gerard sure knows how to handle the drunks. From the outside it may seem like a small bar but it runs all the way into the back where you have a view of the river Dijle (Dille). The bar is decorated with all kinds of beer memorabilia, new and very old. Gerard will also serve you some snack's. The amount of beers he has in his cellar is unknown to me, but it must be huge. On the menu, you will find about 400 beers. But the menu constantly changes: new beers are added and beers that are not brewed anymore are removed.
This was my first visit, but it will surely not be the last!
During the week he opens up at 12.00 and he closes again at 14.00. In the evening he opens again at 20.00. On Wednesday and during the weekend he just opens at 20.00. Take these hours not too strict. They are not opening up anymore to make a large profit, they open up out of love for the beer and there customers and they have all the time in the world to do so.
Ut vivat, crescat, floreat!
Feb 23, 2005
Crosling from Colorado
4.64
/5
rDev
+3.8%
vibe: 4.5 | quality: 4.5 | service: 4.5 | selection: 5
Known as "The Gentlemen at Rest."
What a beer bar. Seriously. I was in Mechelen to tour and have a beer dinner at Het Anker (Gouden Carolus). After the day at Het Anker ended, I decided to find this place. Stillen Genieter opens its door at 20:00 daily. When 20:15 came around I began to get a little worried. Suddenly, I ran into a couple from Holland who seemed to notice the look of worry on my face. They spoke Dutch (ofcourse) and knocked on the door next to the entrance of the bar. Two children answered and the two children and the couple from Holland engaged in some Dutch ramblings. The children went back inside and the couple said, "it will just be a few minutes." They then left. Sure enough, within the next 30 seconds a large, jolly-looking Belgian man opened the door and the tasting began. I wasn't sure if he was planning on opening that night or not but I am very glad he did.
The selection was astronomical. About 350 different beers. Some I ordered were not in stock, so I would assume that the actual count was probably about 300. While I was here I had Blaugies La Monesse, De Dolle Snoef and Abbaye Des Rocs Noel.
The music was a calming and pleasant classical (just what I like in a beer bar). The atmosphere was very nice. Playing checkers or chess is free of charge. The owner was very friendly.
What a pleasant place to drink.
Jul 25, 2004
Den Stillen Genieter in Mechelen, Belgium
Place rating:
4.47
out of
5
with
5
ratings