Brew Wharf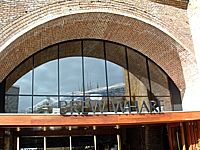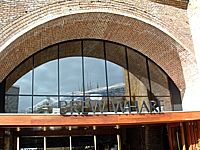 Bar, Eatery, Beer-to-go
Brew Wharf Yard, Stoney Street
London
,
England
, SE1 9AD
United Kingdom
+44 20 7378 6601 |
map
meantimebrewing.com
Notes: Opening Hours: 11:00-23:00 Mon-Sat; Closed Sun
Rail: London Bridge (0.2 miles)
Tube: London Bridge (0.2 miles) - Northern, Jubilee Line (Zone 1); Borough (0.3 miles) - Northern (Zone 1)
Reviews by TheLongBeachBum:
TheLongBeachBum from California
2.84
/5
rDev
-16%
vibe: 3 | quality: 2.5 | service: 2.5 | selection: 3.5
Stop #2 on a Saturday crawl. LondonPorter, RichLightWeight and I took the relatively easy walk to here from the first port of call, the absolutely superb Market Porter - it took all of about a minute to walk here.
Located "underneath the arches" in one of the many criss-crossing brick railway bridges that permeates the Borough market thanks to the London Bridge station. The yard area which allows access here has a wide steel 'Brew Wharf' sign that spans the gateway entrance.
A short walk from the gateway entrance, and soon you are front and square to the wide brick arch, freshly re-pointed and fitted with a custom designed all glass frontage to ensure that the punters stay dry during the wetter times. Listed as Brew Wharf, it forms part of the Vinopolis complex which (allegedly) complements the Wine Wharf. They share kitchens and cook with the high quality gastro ingredients sourced from the nearby Borough market.
Once inside, you drop down a level or two to get to the reasonably high topped bar area. A brace of jacketed firkins sits to the left, two Beer Engines, some Meantime taps and an array of bottles in the coolers behind the bar seem to offer hope that I may enjoy this place, despite the fact that my beer senses are tingling and telling me otherwise.
The archway opens up to the right of the bar and takes you into the open stainless kitchen area. This further expands to reveal the copper clad brewery to the left hidden behind a glass sealed enclosure. Brewery looks fantastic but just a little too clean for my liking, has a 'rich kids toy' look about it.
Beer range is worthy of a discovery visit though. Two cask ales served from silver polished chromed Handpumps, one made with Fuggles and one with Goldings (the beer not the Handpumps), both drawing on the heritage of the nearby Hop Exchange; the 3.6% Wharf Bitter* and 4.2% Wharf Best*. In addition to this a silvered font with four splaying taps serves a quartet of Meantime brews; Raspberry Wheat, Union Vienna Lager, Pilsener and Kölsch. This is all further supported by a small range of bottled beers numbering some 25 in total. These include 7 Meantime brews, Rochefort 8, Duvel, Dentergems, Blanche de Bruxelles, De Koninck, Jupiler Pils, Weihenstephaner Kristall, the very average Brooklyn Lager, Budvar, Anchor Steam, Goose Island IPA (hahahaha), Boon Kriek, Coopers Sparkling Ale, Schneider Weiss and 3 brews from Flying Dog including the excellent Imperial (Gonzo) Porter…….plus the horrendous Diacetyl laden Quilmes from Argentina. Nice range but nothing outstanding. Prices are Himalayan STEEP.
The house brews, of which I tried both, were very average, served up freezing cold and über-chilled. And as for the waitress that served us, I'm not sure she could even speak English let alone understand it. 2.5 for Service is being kind.
*One interesting noteworthy snippet was a large chalkboard at the entrance which had the following words chalked onto it:
"In Anger about the closure of London's Oldest Brewery, our "Wharf Bitter" shall now be named "Wharf Ordinary" and our "Wharf Best" shall become "Wharf Special" – Trevor Gulliver.
I removed the grammatical and punctuation errors from the original, but this sign just summed up Brew Wharf for me. In short, the sign was utter pretentious bullshit. For a start, Young's sealed their own demise, no one forced them to cease brewing, and for a second, naming the very average brews at the Wharf after Young's excellent brews is rather ignoble and triggered a reflexive "you wish" under my breath.
Perhaps it's the working class dirty Northerner in me but I never really felt comfortable or at home here, lest relaxed. It seems to be a place to "be seen in" rather than drink in. Another one of those annoying trendy Brew Pubs that seems to be popping up in the UK, and there I was thinking that they only existed in the USA! I fear that the home-brewed ales are more a "fad" than a real attempt to expand craft beer to the masses, and judging by the how they tasted I have yet to be proved wrong. This is an extension of the Borough markets over-priced gastro foods if you will.
Stop by once if you have to, but leave this one for the Yuppies would be my advice. As my Granddad would have said, "it's all fur coats and no knickers lad".
Borough market is certainly a superb place to hang out, a vibrant, colorful, energetic and eclectic area. But ultimately….the big question is, with the excellent, dare I say World Class, Market Porter tavern soooo close by, why bother coming back here for over-priced, over-chilled brews all served up with attitude in a cat-walk like atmosphere……sorry I didn't hear your answer!? The Meantime brews I hear you say?! Well, hey, they are available at the Market Porter too, for a better price I may add. Oh, hmm….No, I'm not sure why I should come back here either.
Last Visit: Saturday 24th June, 2006.
Jul 03, 2006
More User Reviews:
Ruds from England
3.75
/5
rDev
+10.9%
vibe: 3.5 | quality: 4 | service: 3 | selection: 4 | food: 4.5
Have made a number of visits to Brew Wharf over the last 4 or 5 years
It is set under railway arches with a number of rooms inside
Beers from Meantime, guests on cask and a few bottles to choose from
There are bigger selections elsewhere in the area (Market Porter and The Rake both literally 2 minutes walk away), but there should be something for everyone!
The area around the bar tends to get packed (service can be slow also!) and there aren't that many seats, so unless you turn up early on a school night (4.30pm or so), expect to stand!
There is also a beer patio out front that probably sits 20 to 30 folks, along with heaters for smokers in the evening/winter
In addition to the area around the bar there is a restaurant room and also a 'beer hall' the latter of which is for private functions
I've eaten here before and it is very good, if a little pricey, certainly more gastro pub than pub grub!
In summary, I pop in here from time to time, but probably wouldn't head to Borough Market purely to visit Brew Wharf. But it fits in well with a little crawl to the previously mentioned pubs along with the Wheatsheaf
Dec 08, 2011
Flyer from Wisconsin
3.19
/5
rDev
-5.6%
vibe: 3 | quality: 4 | service: 2 | selection: 3.5
A pretty good place, at least in terms of selection, for a country that's not quite in the U.S.'s league yet when it comes to craft beer. (Don't send me a message! The UK is on it's way, really!) On entering you notice the high ceilings, polished fixtures, and nice wooden floors -- very nice, but it does send up a warning flag: more for the pretty people than true aficionados. One bartender continued to dry glasses even after he saw me waiting at the bar, and when he served me, he demonstrated no particular beer knowledge. The house brews looked uninspiring, but they had a pretty good selection overall, including a full line-up of Meantime beers, which I've been waiting to try. I had the stout, and it was good, nice and roasty. The Rake, nearby, is a better bet for true aficionados, but this is still a good place to go for some food and some good beer choices.
Oct 29, 2007
foamee from Maryland
3.88
/5
rDev
+14.8%
vibe: 3 | quality: 4 | service: 4 | selection: 4
The Brew Wharf is a brew pub away from London's tourist area but close to the London Bridge railroad station. It is large and spacious. The bar area is mostly glass and shiny metal. It is not dark and inviting like other British pubs. The main dining room is blocked off during lunch as there is penty of space in the bar and the outside patio. The brewing system is behind glass off of the main dining area. They make four of their own brews and have several guest taps and handpulls. Their own brews seemed true to style and were good if not great. The foods on the menu were quite pricey.
Aug 27, 2007
wl0307 from England
3.23
/5
rDev
-4.4%
vibe: 3.5 | quality: 3.5 | service: 2 | selection: 4
Another outlet for the Greenwich-based Meantime Brewery's beers, though the place doesn't seem to be Meantime's pub and itself is a microbrewery, brewing two English bitters one using Fuggles and the other Goldings.
My first visit to this place was semi-satisfactory. I tried both of their "work in progress" micro-brews and got pretty friendly service from the barstaff. Plus it was on a late afternoon and the place was relatively spacious, with its high vault ceiling allowing great ventilation on top of soft music. The young and a bit posh atmosphere attracts all kinds of people when in good mood, you know.
The second visit last week was not so great. It went like this: I enquired the barstaff and bar manager about the quality of Meantime's Union Beer which I was drinking. It wasn't off but probably past its prime because it lost lots of crucial flavours for a Vienna Lager while my experience of this beer on tap at Greenwich Union (Meantime's brewery tap) was totally different, I only closely escaped humiliation for failing to appreciate that beer. The barman replied (quite naively): "Don't you like the Union Beer?" (oh, never mind...) But then the manager went: "WHEN and WHERE did you try it before?" I said "at the Greenwich Union, Meantime's brewery tap, and it was full of flavour and bloody delicious and fresh, but the one I'm drinking is a bit different from a Vienna Lager, it's a bit sour and perhaps it's past its prime...?" He interrupted: "oh well, they are all served from different barrels so OF COURSE they'd taste differently." And off he went. Full Stop.
I couldn't have imagined a bar manager of such a posh place could've said so and behaved like that, as at least he should have know the importance lies as much in the cellarmanship at the pub as in the product/barrel when it leaves the brewery!! And he could've be more polite couldn't he? His ingorance and strange arrogance simply pissed me off.
I for one would never go back to this pub again. The Greenwich Union is a better, more friendly place to be for Meantime brewery's beers on tap. At least they have staff knowing what they're talking about concerning their house beers...
Nov 29, 2005
Brew Wharf in London, GB2, United Kingdom
Place rating:
3.38
out of
5
with
5
ratings