Schnitzel Platz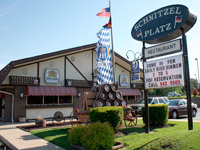 PLACE INFO
Type:
Bar, Eatery
729 E North Ave
Glendale Heights
,
Illinois
, 60139-3519
United States
(630) 942-9900 |
map
schnitzelplatz.com
Notes:
Closed seasonally for vacation in mid-June.
Added by SurgeonGeneral on 10-30-2005
Ratings: 6 | Reviews: 5
Reviews by Vdubb86:
3.78
/5
rDev
-8.9%
vibe: 5 | quality: 4 | service: 3 | selection: 3.5 | food: 4.5
I just stopped here again this year like I do for every Oktoberfest with a few members from my family. Like always it was a very fun time. Set up during this time many of the tables are like Munich Bier Haus tables. There is a large tent set up on the inside to give it that feel. Today there were a couple of awesome guys playing plenty of German drinking songs as well as some German-American favorites.
The place is very nice, very friendly to people of all ages and most importantly it's really a very fun time. The problem with Oktoberfest is that there are so many people at the same time coming in that the wait staff gets mixed up on orders a little too frequently. Though I was assured this was only a seasonal thing. It depends on who is waiting on you.
As far as the beer is concerned there are some nice tap selections that you are likely to see in too many places. The bottles are pretty much some standard German breweries and some that are a little less frequent to come by. Though I must admit I went for the taps myself, due to the fact that they come in some rather enormous sizes. Half a liter counts as a small!
The food is traditional German food at it's best...filling as hell. The portions are gigantic for some of the plates. But there hasn't been one thing that I've had there yet that I haven't liked and I sampled many a platter around me.
Overall it's not a cheap dinner in any way shape or form, but it's one hell of a time and worth the price.
1,477 characters
More User Reviews:
4.09
/5
rDev
-1.4%
vibe: 4.25 | quality: 4 | service: 4.25 | selection: 4 | food: 4
this place has a great octoberfest every year, is usually packed. great german duo playing music, entertaining. the beer selection is typical german styles. and the food is great, but heavy. try the potatoe pancakes!
216 characters
4.16
/5
rDev
+0.2%
vibe: 4 | quality: 4.5 | service: 4 | selection: 4
Schnitzel Platz is a tiny oasis of gemütlichkeit in the western burbs.
Yes, Bavarian Lodge may get all the crazy beers, but there's really no substitute for the simple old-fashioned hospitality that you find here.
Outside its a free standing building with a cottage/lodge façade, with multiple Weihenstephaner signs and German flags. Once inside the vestibule, you first encounter a six foot wooden clock with a woodland scene carved into it, and a hand painted mural of idyllic Bavarian countryside. Through a 2nd door and you're in the restaurant, with a host stand to the left, a small bar past that, and the large dining room to the right, in the front of the building.
The bar seats six or so... little old swivel chairs lined up in a row, with wood trim and hanging lights overhead. A handsome porcelain tap tower sat behind the bar, pouring Weihenstephaner Weisse and Dunkel Weisse, Radeberger, Spaten, and a Hofbrau option. HB Maibock was in bottles, and a small table tent at the bar advertised this. Decor was a little dated, but it was fun and kitschy.
Leo was the bartender, and was a great host. He offered free bar snacks of smoked sausage and pretzel party mix, and told us stories of the various boots behind the bar. Many eclectic bottles, steins, krugs, and 2L boots sat behind the bar on high shelves. Opposite the bar was a wall of assorted Bavarian knick-knacks... cuckoo clocks, steins, "Best Oma/Opa" signs, stuffed bears, foxes, and all kinds of kitschy stuff. Waves of nostalgia surfaced, as this place reminded me of my grandparents' favorite haunts growing up. They take good care of you here, whether it's your first or 50th visit. I got the impression from the older crowd and families here that its a regular spot for many locals in the area. They do live music on the weekends, and have seasonal and holiday specials.
Beer selection was thoroughly German, about 25 bottles and the 5 drafts. Noticed the usual staples: Celebrator, 4-5 Weihenstephaner varieties, Hofbrau Maibock, Franziskaner Weisse, Ayinger Ur-Weisse, Warsteiner (regular & dunkel), Gösser (reg & dark), etc. Apparently the offer draft flights served on a paddle.
It's out of the way for me, but i'd wholeheartedly recommend it for the German cuisine, beer, and gemütlichkeit. Noticed the owner in the kitchen cooking, and the food passing by the bar looked and smelled wonderful.
2,389 characters
4.13
/5
rDev
-0.5%
vibe: 4 | quality: 4 | service: 4.5 | selection: 4 | food: 4
I had the pleasure of recently dining at the Schnitzel Platz. Thanks to beerfly for the tip!
As you enter, you will see a small bar to your left and the main dining is to your right. It is very bright & clean with some of the expected German bric-a-brac. I noticed they have a small area reserved for the live weekend entertainment. I think the entire place is non-smoking, as I did not see any ashtrays at all. There may be smoking at the bar, but no one was smoking while I was there.
The service was very professional and pleasant. I really liked the fact that Chef Wolfgang not only asked us how we liked our food, but also thanked us for our business. Always a good sign when the owner is that involved.
The food is excellent and inexpensive. I had the ground pork in a brown gravy/mushroom sauce. Lots of good looking options on the menu. Great German Potatoes.
They have a decent beer list. Note that they seemed to be tied closely to the Weihenstephaner Brewery, which is a good thing in my book! 7 German tap selections and maybe 15 to 20 bottle selections.
I will definitely return for more of their tasty food and of course some really good beer! This would be a good option for a group outing.
1,224 characters
4.45
/5
rDev
+7.2%
vibe: 4 | quality: 4.5 | service: 5 | selection: 4 | food: 4.5
The Schnitzel Platz is a laid-back German restaurant with a great selection of only German beers, particularly Weihenstephaner. They offer 5 different Weihenstephaner beers in addition to some selections from Spaten, Augistiner, Franziskaner & Hofbrau. Great traditional German fare & German beer.
Atmosphere: Adorned with cookoo clocks, outlandishly large beer steins and other assorted pieces of German culture, it's hard to believe this building once housed a BBQ restaurant. While the atmosphere may seem a little cliche at first, the place is down to earth enough where it all seems to fall in place and you can momentarily convince yourself that you are in a Munchen beer hall.
Quality: While they offer foods to please many palates, there are two emphasises here: Schnitzel & beer. And they excel in both. More than a few top quality brews from Germany available here, along with over a dozen variations on schnitzel, all mouthwatering. Appropriate glassware accompanies beers when you allow it to, as they offer their draft beers in up to 1L glasses. Yes, it is authentic.
Service: Not enough can be said about their service. The wait staff is impeccable, and very attentive. My experiences have never been anything but superb with their service. The wait staff is knowledgable to the point where they can guide you among the food & beer to a decision that suits you. If you visit on any day other than a Monday or Tuesday, you can expect a visit from Chef Wolfgang to your table. Every time, like clockwork, he ambles out to greet his guests sometime during the evening.
Selection: I rated their selection a 4, simply because they offer quite a few beers that you will be hard pressed to find at any bar/restaurant in the Midwest, however they limit their selection to German beers. And they are lacking a few great German breweries, such as Ayinger, Paulaner.. But still, far above the average bar/German restaurant. Also, many, many cordials & more than a few German wines.
Food: As I've said, their food is excellent. The chef there has been in the industry for decades and it shows. Not fine dining here- But absolutely delicous.
Value: You can expect to pay between $10-18 a plate here, with average bar prices for the beer.
2,260 characters
Schnitzel Platz in Glendale Heights, IL
4.15
out of
5
based on
6
ratings.