Peters Gourmet Market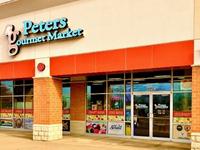 PLACE INFO
Type:
Store
4499 Ivanrest Ave SW
Grandville
,
Michigan
, 49418-3155
United States
(616) 261-5418 |
map
petersgourmetmarket.com
Notes:
Formerly: DeReuze Gourmet Market
Added by ToggleEyes on 11-01-2005
Reviews: 11 | Ratings: 16

4.08
/5
rDev
+0.2%
vibe: 4.5 | quality: 3.5 | service: 5 | selection: 3.5 | food: 4.5
I am editing my original review due to changes at peters. I think they lost their beer person there because they hardly ever get new stuff in. pete's use to be my go to place but not anymore, not unless they change their beer guy and start getting a better selection. sorry petes! don't get me wrong they do have a big variety. its just that everytime something new comes out they either get it really late or don't at all. for instance, when breakfest stout came out this year I don't even think pete's got any. I went there like 2 weeks after it was released everywhere else and they still hadn't got any yet.
611 characters

4
/5
rDev
-1.7%
vibe: 4 | quality: 4 | service: 3.5 | selection: 4.5
Atmosphere: Has the feel of a grocery store, and I like taking my time to check out all of the selections. The store is big enough to have more than a few customers checking out the micros without getting in each others way.
Quality: One large isle, both sides, absolutely packed with beer. Then a large cooler filled with 12 oz singles in the back of the store, then a walk in cooler as well. With this much beer, you would think it would be hard to keep organized, but they do a great job of keeping the styles and regions together. In the back of the store they have "clearance" beers that are old or don't seem to sell very well.
Service: Fairly small store that has lots of great food and wine, and there never seems to be a surplus of employees. No one has ever asked me if I have needed help with anything, but then, I have never asked either. Most of the employees don't know a lot about the micros.
Selection: Peters has tons of quality beer. No BMC beers in sight. Not only do they have a huge selection, but every time I leave the store, I already know what I want the next time I come back. Tons of locals (Founder's, Short's, Dark Horse, Mount Pleasant, Left Hand, New Holland), especially hard to find Bells. New stuff coming in all the time.
Value: Everything is available in singles, so you can mix and match everything in the store. Most 12 oz singles are 1.69, with some of the more rare stuff being 2.50. Overall, not bad, but not great either. Pretty reasonable considering they have tons of beers (especially Bell's) that I can't find anywhere else.
This is my "go to" store.
1,602 characters

4.4
/5
rDev
+8.1%
This place really is great! It has a fantastic selection of local beers, and not a single AB, miller, coors product to be found.
They have all the locals that I know about, many imports, micros from other regions... Just a great selection overall; they encourage making your own six packs with a couple of coolers full of singles. Most of which are 1.69 each. They also carry a few mini kegs from local places as well as heineken and becks... Maybe more, that's what I could think if off the top of my head.
Most of the staff doesn't know anything about beer. They're better with wine, if you're into that sort of thing. They also have lots of other stuff in the store that your wives would probably like so that's alway good if you need to drag her along.
760 characters

3.5
/5
rDev
-14%
Mostly a little specialty grocery store, but has a good selection of beer that is mostly local fair, but has a few rarities & imports which is nice. Tons of singles in the coolers to do mixed 6paks.
Not sure how long some of the beers have been sitting on the shelves since a few of the beers I bought from here were definitely too old & past their prime (bottled dates would help).
Overall though, a decent place to shop for beer. Its a little bit out of my way to go & visit, but I am glad I checked it out.
513 characters
4.2
/5
rDev
+3.2%
My sister found this place by accident and made sure next time I was in town I did some damage. All top quality stuff here-no macros for miles. Service was non existant though the register help was fine and made sure my purchases were packed well. Great selection overall. Love the $1.69 single selections. Entire New Holland line of bombers, Founders, Bells, some Shorts, and several MI I have never heard of. Mainly US micros-some imports. All top shelf stuff. Well worth making a stop here when in the area.
510 characters
4.2
/5
rDev
+3.2%
I've frequented this store for beer, as well as cheese, chocolates, wine, and pasteries for a few years now. Over that time, their beer selection has only become steadily better. They carry a wide variety of local brews, microbrews from the national stage, and imports from all sorts of regions. They've always had numerous six-packs and singles. The number of 750s, 22s, etc. has been an area of expansion over the last couple of years.
Service can be hit or miss. As a gourmet shop, many of the employees don't really specialize beer. If their "beer guy" is in, he's quite knowledgeable and a member of BA. I'm sure he's the one behind all of the BA shelf talkers on the shelves. While the other employees may not know as much about the beer, most are very friendly.
Prices are pretty decent. They have a couple of doors worth of singles at $1.69 each. Limited releases and "premiums" run a little more. In this area, that's pretty good.
DeReuze holds its own with the other great stores in the area.
1,005 characters
4.4
/5
rDev
+8.1%
I visited this place about a year ago and was pleased with my experienced then, but now it's even better. The first thing that I praise about the store is they don't sell any macro brews!! The selection has nearly doubled in the last year and has beer advocate ratings on most of the beers :), which is a nice plus. There are 4 coolers of singles selections and each slot labeled so you can see what they carry, but are currently out of. I found several Stone beers that I haven't seen other places in the GR area. There wasn't any dust on the shelved beers and seems to be rotated well. The selection may not be as great as other places in the area, but the quality of the selection is top notch. The prices are very reasonable. The only bad thing about this place, is that it's not close enough to my house ;-)
812 characters
4.35
/5
rDev
+6.9%
Good selection of cold $1.69 singles. Empty 6-packs for purchases. Reasonable prices on everything. New, neat and clean. Deli food is good! Most area craft brews. Friendly service.
Receipt shows name of each brew, for nice reminder of purchases. They offer a "loyality" card for automatic rebate check after $175 in purchases.
(I've said what I want but the pain-in-the-ass program that sets the minimum length of comments forced me to write this!!! And to add this!!! And I still have to add this as well!!)
514 characters
4.5
/5
rDev
+10.6%
I stopped into the Gourmet Market a couple of weeks ago just out of curiosity, not realizing that it was a beer store and I was pleasantly suprised. The place is wide open and clean, a nice place to walk into. They have a wide selection of beers both refrigerated and on the shelve. The most beers are marked with the BeerAdvocate rating system which is a huge plus for a novice like me. The staff is friendly and helpful as well. It is a food market as well, so you can stop in for cheeses and other specialty food items. They have a lot of good stuff. If you are in the area stop by and check it out.
Update: 11-23-2007
I stopped by today just to check things out and I was FLOORED by the selection. They have definetly added to what was already a fine beer selection. Made me wish I had money to spend on beer at the time. A must stop location.
849 characters
4
/5
rDev
-1.7%
Stopped by here a few nights ago. Place was much bigger than I thought it would be. There's a really nice assortment of cheeses, meats, wines, and all other gourmet like things. But beer was what I came for. Selection was moderate but extremely well thought out. B.A. shelf stickers were placed in front of almost every beer. Lots of Michigan and the more popular midwest micros. A few imports mostly from Belgium. Prices were right on and the $1.69 for the single offerings was a really good deal. About half the beer are chilled with the other half in the back end of the store on their own aisle. I was noticed of this place by B.A. Toggleyes who runs the beer selection of the store and really seems to want to create a quality offering. If you're by the mall or in Grandville at all check this place out.
809 characters
4.15
/5
rDev
+2%
I entered the store and found the beer coolers and was asked right away if I needed any help. The salesperson seemed very knowledgeable about the beer selection.
The store had free six pack carriers which I liked to see. Had a decent selection of Great Lakes, New Holland, Founders, Ommegang, Goose Island, Dark Horse and others.
Each single is $1.69 which isn't too bad in my opinion.
Once again, I must mention the great service and nice atmosphere of the store. I would recommend stopping here if you are in the area.
532 characters
Peters Gourmet Market in Grandville, MI
4.07
out of
5
based on
16
ratings.