Natt Spil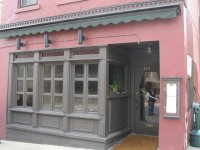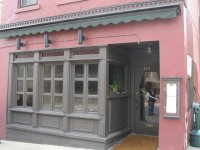 Bar, Eatery
211 King St
Madison
,
Wisconsin
, 53703-3419
United States
|
map
nattspil.com
Notes:
Reviews by djhowell:

djhowell from Wisconsin
4.15
/5
rDev
-1.2%
vibe: 5 | quality: 4 | service: 4.5 | selection: 3.5 | food: 4.5
Natt Spil is a hidden treasure of Madison; if you weren't looking for this intimate spot you would likely just walk right past it. It is located adjacent to the downtown Great Dane and offers a good selection of beer, great food, and an ever better vibe. The intimacy has a trade off though: this place is small (narrow, really), and when it's busy it can feel awfully cramped if you're sitting toward the front. The waitstaff can be a little hurried when it is that busy but they've always been very personable and attentive in my experience.
The food has been top notch every time I've eaten there. The 3-Cup Chicken (or Tofu) is probably my favorite dish but the pulled pork sandwich (which is big enough for two) is also very good. I have yet to try any of their wood-fire-oven cooked pizzas but I have a couple friends that love them. The menu offers lots of vegetarian options if you're so inclined.
The beer selection isn't out of this world but it has plenty to choose from still. They generally have two selections from the Great Dane, two from Ale Asylum, a Bell's seasonal, and one from Lake Louie. I can't recall the bottle list entirely but it offers additional options from Bell's and Lake Louie, and includes a couple from Stone. The bar also provides plenty of wine and cocktail options.
Jul 13, 2010
More User Reviews:

CraigTravor from California
4.34
/5
rDev
+3.3%
vibe: 4.5 | quality: 4.25 | service: 4.25 | selection: 4.5 | food: 4.25
Feb 17, 2015
dirtylou from New York
4.1
/5
rDev
-2.4%
vibe: 5 | quality: 4 | service: 4 | selection: 4 | food: 4
neglected beerfly (or are we not using that term anymore?)
king street - 15 second walk from the great dane, 2 blocks off the capital.
There really isn't any place like Natt Spil in Madison, which means there isn't really any place like this in Wisconsin.
To be honest, this place is about the atmosphere. It's part of the Magnus/Barriques/Weary Traveller empire - big plus there. There is an open wall to King Street in the summer and this place is hot and cozy in the winter. Dark, with the lighting leaning towards red. Killer cieling - trust me, you'll notice. Just really awesome decor all around.
There are DJ's almost every night - if that sounds unappealing to you, don't worry. It sounds pretty terrible to me too, but it just works with this place. If you have to use the restroom, you will open the door directly into the DJ.
The beer selection is pretty small - 1-2 great danes, 2 lake louie, 1 new belgium, 1 goose island. Tap's rotate but thats pretty accurate. Many a night have spiraled out of control with bourbon county stout taps. The whisky/scotch selection is also pretty tempting, and there are lots of other cocktails
Food is great and eclectic - brick oven pizzas, dim sum randoms.
Natt Spil is perfect for an after-dinner stop or a low key date. I've even managed to ring in the new year here twice.
Oct 15, 2010
Czap from Illinois
4.43
/5
rDev
+5.5%
vibe: 5 | quality: 4.5 | service: 4.5 | selection: 4 | food: 4.5
My wife and I loved this place. I don't know what it was. If it was just the right moment during our food/beer crawl? A little bit of a buzz creeping into our brains? All I know is we walked past it at first because there was no sign indicating what it was. I knew I wanted to go there, and I realized after we strolled by. My wife was a little hesitant. She said it looked a little to "hipster" for us. After I stopped laughing at how much of an old lady she acts like, I told her even if it is, those are some of the best places. I told her we will grab a beer and appetizer at Essen Haus first and hit Natt Spil on the way back.
On our way back, it was darker and the red lights from inside spilled out onto King Street. Once we slid in and cozied up next to each other in a booth, we knew instantly that we loved the place. The ambiance, the lighting, the layout...it was all fantastic.
The beer menu is great, kind of limited, but a plenty big selection to find most styles you are looking for.
The food menu is small but wonderfully eclectic. Dim Sum selection and brick oven pizzas. C'mon, how great is that?!
Natt Spil will always sit on or near the top of my must visit list whenever I find myself in Madison.
Oct 13, 2010

emerge077 from Illinois
4
/5
rDev
-4.8%
vibe: 4 | quality: 4 | service: 4 | selection: 4 | food: 4
Update 2008:
Stopped in again, and had a better experience. The atmosphere definitely has a unique feel to it, many textures and subtle touches add to the vibe here. Had the LL Prairie Moon on tap, which paired well with the crusted salmon sandwich I had. Creative dishes, you get what you pay for. Again, we were here early in the evening, so I can't comment on the late night debauchery that may occur here.
Original review:
Arrived here before 6pm, it seemed like we were the first patrons that night.
The place was cozy and dimly lit, with creative touches like wooden booths and red Chinese lanterns and Mandarin symbol ceiling tiles. It was a draw that they didn't have a sign and it was somewhat "hidden".
The kitchen was open and right behind the bar, which was a little awkward. The chef/manager was loud and condescending towards the kitchen staff. He kept bringing up "colorful" subject matter at the bar after we were eating and other patrons had arrived. The place was small and quiet enough that it was like he was giving some kind of profane soliloquy. Pretty annoying, given the mellow mood and music playing (Syd Barrett).
Finding Lake Louie and Great Dane beers on tap was the main draw, and the food turned out to be excellent. The applewood smoked pork sandwich came with cilantro, sliced jalapeño, carrot, and smoked tomato mayo on a baguette. A thin crust pizza with apple, brie, and shallots was also tasty. The beer selection wasn't huge, but was well thought out and had some local rarities. Our server was really attentive and also helpful. We were more interested in finding a chill place, and later found what we were looking for at Maduro.
Dec 28, 2007
JeffKrenner from Minnesota
4.06
/5
rDev
-3.3%
vibe: 4.5 | quality: 4 | service: 4 | selection: 4
I went here with DaPeculiarDane and EliteDigger after hitting up a couple other places in the area. Nice little long narrow place. The only complaint about the upbeat atmosphere would be that the music seemed really loud to me, but it just could be the fact that I can barely talk right now. Beer lineup is small, but solid with some Bell's and Lake Louie in the mix. I had a pint of the Lake Louie Prairie Moon Farmhouse Ale, which I must say tastes a lot better this year than it did last. Food looked awfully good, but I didn't have any. Wood oven pizza's and other fresh dishes. Beers were reasonably priced.
Jun 30, 2007
DaPeculierDane from Wisconsin
4.28
/5
rDev
+1.9%
vibe: 5 | quality: 4 | service: 4.5 | selection: 4 | food: 4.5
The Natt Spil is located in a small unadvertised space that once held the Little Village just below The Great Dane.
It features six taps:
2 Lake Louie
2 Great Dane
1 Bells
Guinness
…and 19 bottles including:
Monkman's Slaughter
Kvak
Achel
Satan Red
Satan Gold
Duvel
Quollfisch
Lake Louie Warped Speed
Lake Louie Coon Rock
Lake Louie Mephisto Stout
Bam Biere
…and PBR in the can for 2 bucks.
The prices are reasonable considering they carry several beers that aren't available in any other Madison bars.
Natt Spil has some connection to the Weary Traveler and Magnus ,and the food is reflective of this. Their menu consists of just a handful of tasty, unique snacks and wonderful pizzas, baked in a real old school wood fired stone fireplace. All their ingredients are top notch and I've never been disappointed with a special. Just keep in mind that portions are small and their dishes are meant to be relished not gorged upon.
The staff is as professional as they come. The bartenders and waitstaff seem well versed in the products they're pushing and can generally answer detailed questions about most items on the food, wine, and beer menus. They're very courteous and polite.
The atmosphere is top notch, dark and well decorated in some sort of postmodern 1930's club motif that I really dig. Large booths are separated with wood lattices creating a very intimate vibe for such a small place. Also, two turn tables rest near the back, playing quality house mixes. This place really is too cool for lil' ole Madison.
Notes: One of the best places in town to take a cool chick on a date. Natt Spil is the type of place that makes women feel sexy and appreciated with out being pretentious like Montemarte.
Nov 03, 2005
Natt Spil in Madison, WI
Place rating:
4.2
out of
5
with
9
ratings