Summits Wayside Tavern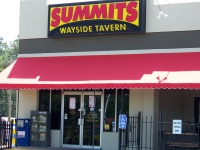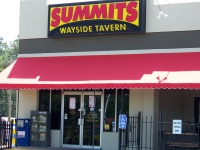 Bar, Eatery
3334 Stone Mountain Hwy
Snellville
,
Georgia
, 30078-6840
United States
(770) 736-1333 |
map
summits-online.com
Notes:
Recent ratings and reviews.
| Log in to view more ratings + sorting options.
Ratings by jadpsu:

Reviewed by jadpsu from Georgia
3.6
/5
rDev
-10.9%
vibe: 2.75 | quality: 3.25 | service: 3.5 | selection: 4.5 | food: 3.5
Live less than 2 miles from Summitts. Used to frequent on a sporatic basis but had not been here in 10+ years.

We wanted some wings,and we were a little tight on time, so decided to not travel back up 124 to Wild Wings.

In 10 years, nothing of any substance had changed. The biggest drawbacks to Summitts is that it is dark and dingy inside. A skylight or two might do this place wonders. It has a warehouse open cealing with all the vents and hard surface exposed, which is acoustically unappealing and makes the bar louder
The service was actually quite good, with a server who had good knowledge of both the menu and their abundant beer selection.

The wings were to our liking, my wife choosing the mild and myself the hot.
Their draft beer selection is as good as it gets, however, in the past I all too often found that a low demand brand would be found flat, and last night choice of Spaten Optimator came cold but, pretty flat and had absolutely no evidence of a head on it.

The Wild Wings restuarant a mere 4 miles away has nothing on this place from a service and food quality standpoint but the dark noisy atmosphere nevertheless puts this a clear second.
Sep 14, 2013
More User Ratings:
Rated by dablalock from Georgia
4.95
/5
rDev
+22.5%
vibe: 5 | quality: 5 | service: 5 | selection: 5 | food: 4.5
Over 150 beers on tap and the food and service is great!
Jan 20, 2016

Reviewed by UGADawgGuy from Georgia
3.7
/5
rDev
-8.4%
vibe: 3 | quality: 3.5 | service: 3.5 | selection: 4.5 | food: 3.5
This location of Summit's Wayside Tavern is, on the whole, a decent option for those in Gwinnett County who don't have time to drive into Decatur to find a better spot. It's also a reasonable choice for people who enjoy watching sports while drinking an above-average selection of beers.

The food, for the most part, is nothing to write home about. It's mostly standard sports-bar fare, although they dabble in such traditional "beer acccompaniments" as soft pretzels and cheese curds. Now, the pretzels may be served with mustards squeezed from a grocery-store bottle into a serving cup, but still, they have more beer-complementary foods than most sports bar-type establishments.

Atmosphere-wise, this is a busy sports bar, and it's located in a small strip mall on a major thoroughfare. As those places go, this one isn't bad, but...well, it is what it is. They do have plenty of televisions and a nice selection of sports memorabilia (particularly game-used baseball bats and baseball cards), and they're always willing to put on whatever game you want to watch.

As for the beer selection, this is one of the better places of its type around Atlanta. Although they update their draft list only monthly, it's usually fairly extensive, with an domestic-to-import ratio of about 2:1. Same goes for their assortment of bottled beer. And whoever's choosing the beers they serve clearly knows his or her stuff, as they have representatives of every major style.

Last time I was there (very recently), I tried a 1995-vintage English old ale that appeared to have been stored improperly. Among other things, the seal around the cork appeared to have been broken at some point before it was served. As such, I'm not sure I'd trust this place as a haven for rare or vintage brews. But the draft menu is generally just fine, and the bottled selection is pretty solid, too.

As indicated above, if you're looking for a casual sports-bar-type atmosphere with a pretty good beer selection and decent food, there's nothing wrong with Summit's Wayside Tavern in Snellville. Frankly, given the dearth of other options around Atlanta (with the noted exceptions of the Brick Store Pub and other Decatur establishments), I'm inclined to recommend the place.
Aug 18, 2008
Reviewed by msubulldog25 from Oregon
4.15
/5
rDev
+2.7%
vibe: 3.5 | quality: 4 | service: 4.5 | selection: 4.5 | food: 3.5
Our first night (a Thursday) visiting friends in nearby Lilburn, this place was named as our first option. "Sports bar" didn't sound so appealing after a long cross-country flight, but "lots of good beers and food" did, so we trusted our hosts' judgement.

We arrived around 10pm and found the place fairly deserted. I immediately was drawn to the dozens of tap handles on the far wall and, later, to the rows and rows of sports memorabilia, particularly the signed photos and two walls of used baseball bats. Service was fast and knowledgeable; our server (Mick) was friendly, could make suggestions, knew what was fresh, etc. Beers and food arrived quickly and there was never an empty glass.

Selection was pretty phenomenal, well over a hundred bottles and nearly a hundred taps. Many regional choices we don't get on the west coast: Terrapin, SweetWater, Highland, Duck-Rabbit to name a few. Enough imported (quality) stuff to satisfy any tastes. I took home copies of both draft and bottled lists. My picks for the night were Terrapin RyePA, Highland Oatmeal Porter and an Oskar Blues Ten Fidy. Wife enjoyed a couple St. Bernardus Tripels and our hostess was loving the draught Smithwick's.

Food was pretty standard bar/pub fare: burgers, quesadillas, wings, nachos. No big complaints with quality (my burger was quite tasty, though messy).

All in all, a solid choice and a very nice beer destination.
Apr 11, 2008
Reviewed by meechum from Georgia
3.85
/5
rDev
-4.7%
vibe: 3 | quality: 3.5 | service: 4 | selection: 4.5
I went on a Saturday night and they were doing team trivia at the time. The bar was very crowded and loud, but overall it wasn't terrible. It's your typical sports bar atmosphere. Lot's of TVs and during the trivia the DJ plays out songs while the teams are trying to figure out the question. The bartender was very attentive and had a modicum of knowledge. Tap selection is very good and they boast the largest Rogue selection on Tap in Georgia (and I'd believe it).

I did like the bar..under the glass it's nothing but old beer bottle labels of all type..pretty cool.

Didn't try the food...but from the menu it looks to be typical pub fare..prices were fairly reasonable..overall it's not a bad place to grab an out of the way beer
Dec 28, 2007
Reviewed by 0tt0 from Georgia
3.15
/5
rDev
-22%
vibe: 2 | quality: 3 | service: 2.5 | selection: 4.5 | food: 3
Summits is your typical sports bar-- TVs a plenty, random sports 'billia, team schedules, etc. Food is consistently average.

There is a great abundance of beer on the menu, with the Rogue selection being the biggest standout. The problem: the menu is grouped by region, so if you don't recognize the name of the beer, you don't know what you're getting. No IBU, no descriptions, no ABV. And don't count on the service having a clue. They are famous for giving the light/dark color description, assuming that paints the picture you need. Every beer I've had there has been served in a shaker pint, regardless of style. And its always, always, always, too cold. Request an un-frozen glass, then look like a moron for ten minutes while you warm it in your hand. Its a shame that a place with so many great beers doesn't give a damn about serving it correctly or educating their staff to know at least a modicum on what they should at a proper beer bar. If you're in the area, try it, but if other options exist, stay away.
Apr 21, 2007
Reviewed by Cyberkedi from Georgia
4.75
/5
rDev
+17.6%
vibe: 4.5 | quality: 4.5 | service: 5 | selection: 5 | food: 4.5
Just like its siblings in Sandy Springs and Cumming, this Summits has a jaw-dropping selection of beers, both on tap and in bottles. The food is well above average for a pub, and the service is wonderful. You can sit at a bar that goes about three sides of a rectangle, or at a table out in the general dining area, or on the porch if the weather is nice.

Just like the other Summits taverns, they have a passport club that encourages people to be adventurous in drinking beer. Joining costs only a $2.00 contribution to Habitat for Humanity. Each time you reach a "summit," you get a personalized drinking vessel - a mug for 100 different drafts, a chalice for another 150 different beers (bottle or draft), and a stein for yet another 250 different beers.

Worth finding if you live in the Atlanta metro area!
Dec 25, 2006

Reviewed by Georgiabeer from Georgia
4.03
/5
rDev
-0.2%
vibe: 3 | quality: 4 | service: 4 | selection: 4.5 | food: 4
This particular Summits (there are 3 around town) is a former Taco Mac. It has billed itselff in the past as having the largest number of taps around. While that is close to true (the only real competitors in Georgia are other Summits locations), I'm suspicious of beer bars with the mega-tap philosophy. They may have some interesting and esoteric beers, but those are precisely the ones that suck- because they are the ones that get ordered the least. All of that used to be true here as well, but over the last couple of years management here has done several things right:
1) They've moved just eclectic beers that don't sell as well off the tap lines and into the large bottled selection.
2) They have started offering far more higher gravity beeers now that the Georgia cap has been popped.
3) They have instituted special beer pourrings, dinners, and mini-festivals, like the current hop-festival- chock-a-block with dipas and other interesting brews
4) They have brought a Randall in for occasional use and dittto on having some cask conditioned beers.
The quality of the beers has been higheer more recently than in the past.

The food has always been good, and surprisingly varied (and healthy if you like). Mostly pub food, but done well- excellent chicken wings and good nachos, and burgers, but also decent salads and occasional game dishes. Service has also always been friendly and quite good, if not always knowledgeable about the beers. Prices are fair to very good.

The atmosphhere leaves something to be desired- this is merely a sports bar. If you want to come watch a game, great. They do have some excellent team trivia for those into that. All in all the absolute best place to come to out in the Gwinnett burbs.
Dec 19, 2006
Summits Wayside Tavern in Snellville, GA
Place rating:
4.04
out of
5
with
11
ratings