Wyoming Package Store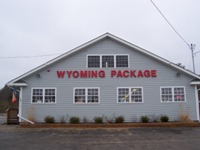 PLACE INFO
Type:
Store
1199 Main St
PO Box 708
Wyoming
,
Rhode Island
, 02898-0708
United States
(401) 539-7252 |
map
Notes:
No notes at this time.
Added by Brewfan on 11-03-2005
Ratings: 14 | Reviews: 12
Reviews by sulldaddy:
4.2
/5
rDev
-0.2%
I decided to do some RI shopping today and stopped by this beer store looking for some treats not available in CT. The store is VERY easy to find. Get off exit 3b on 95 and the store is maybe 100 yards up the road on the left hand side. Walking in the breakdown is mostly wine and spirits but the cooler space is all beer and there is an aisle of beer just beside the coolers. They had a good selection, while not vast and overwhelming, it was obvious the focus was on quality. Service was minimal, with noone asking me if I needed help and when I asked for a box to carry the bottles I was going to buy it seemed like a very arduous task.
I scored lots of Jolly Pumpkin brews, newport storm 05 (way cheaper than in CT), some 3Fs and some Great Divide. Also had Hooker, DFH, Offshore and several other tasty micros. While I was hoping for a larger selection, I am happy with what I was able to score. Worth a stop on the way to/from Boston/Providence/NYC.
Next time I will go into Providence and see what I can dig up!
1,022 characters
More User Reviews:
4.1
/5
rDev
-2.6%
vibe: 3.5 | quality: 4.5 | service: 4 | selection: 4


3.75
/5
rDev
-10.9%
After discovering this place using the "nearby" function on the BA App i realized i was up the street and had to check it out. I gave this place a 3.75 and i think im doing them a favor. First off you can tell this place doesnt get a lot of beer geeks. Because they do not maintain the beer shelfs like a store that does. They have a decent selection, most in which ive never seen in stores near me, but everything is dusty so its an instant turn off. You have to look closely because behind one beer might be a completely new beer. If you look in the fridge.. they just have like random bottles laying/sitting on the ground in which looks like it hasnt had a good cleaning in years. In
In Conclusion it just isnt well maintained. It had a decent amount of customers for the time i was there but i was the only one back in the beer section. I gave them a 3,75 solely because most of their stuff on the shelf i cant find in my stores. But then again whats the good in finding something that looks like its been sitting on a shelf for 3 years...
If your in the area, swing by, just dont set your expectations too high after seeing the BA score.
1,146 characters

4.3
/5
rDev
+2.1%
I saw on BA that Wyoming had some Stout Trooper left so I called to confirm and the guy said that they had quite a bit. When I arrived he said I was lucky...somebody stopped in before me and tried to buy it all so he held several bottles for me. That is great service - he didn't even know my name or how many I wanted. So I am super happy with the service here as it was a 35 mile drive and would have pretty disappointing to drive all that way for nothing.
The selection is pretty good - especially for and area that isn't densely populated. A nice cooler wall holds six packs both macro and micro as well as BBC line-up in bombers.
They have one 15 ft. aisle of warm beer which includes their Belgian stuff and misc craft beer. A pretty decent selection including many classic brews.
It's a quick and easy access to I-95 so always worth a quick visit to see what they currently have.
889 characters
4.7
/5
rDev
+11.6%
I love this place. I can always find a new beer to try. They carry a great selection of seasonals, and their regular cooler stock is full of good beer. The majority of the staff knows a great deal about beer. they are all very friendly, and will go so far as to call other member of the staff if they can't answer a question. The prices are the lowest around, and I mean that they beat out the large discount retailers. Did I mention that the first I ever heard about Beer Advocate Magazine was at this shop? What else can I say? They have broken 6 packs for me so I can try beers without buying the whole 6er.
My only negative comments would be that it is a little cramped, and that the many beers seem to come and go, so selection is often not consistent. Still, I find the problem with availability to be universal to stores around here, and at least I know I can try something new and of great quality. All this store needs is more space for beer.
953 characters

4.05
/5
rDev
-3.8%
one of the first places i found stone upon its arrival in RI. located right off an exit, wyoming package store was one of the easiest beer trips i've ever made.
the staff isn't too hands on, but if you ask for help, they'll gladly provide it and offer recommendations. the selection is fairly decent, but when asked to discuss wyoming package store's selling point, it's the quality over quantity. much of their product line is renowned. the majority of what they carry has already been mentioned below.
certainly worth the trip for CT residents who want to obtain beer not carried in their state. an easy ride on 95 north with the turnoff point being the 3rd exit, once you cross into RI.
pay them a visit.
710 characters
4.15
/5
rDev
-1.4%
Visited for the first time on 12/22/07. The store was a little bit smaller than I had anticipated, but they made very good use of the limited space. There are coolers along the left side containing plenty of craft brews including Stone many of the usual suspects. There was a tall 12-16 foot section of shelves in the back across from the coolers containing some high-quality beers and several gift-sets. The service was very friendly. The prices were very reasonable; most of the prices I saw were slightly cheaper than most places that I frequent. Overall, it's a very good store, especially considering that you have to go at least 20-30 minutes further in any direction to find a place with a comparable selection.
719 characters

4.3
/5
rDev
+2.1%
Decided to take a drive down on a whim to see if their selection was still as good as earlier reviews had described. Cooler selection was a little slim, but very solid shelf selection with a pretty good balance of craft brews from the U.S., Belgium, England and a few from Italy. Had many of the hard to find DFH (Fort, Black & Blue, Chateau Jiahu, World wide Stout, 120 minute IPA. Red & White), as well as the standards. Four types of Jolly Pumpkin, a few Unibroue Left Hand, Stone, Weyerbacher, Moylans, Chimay, Chouffe, McChouffe, Angelique, Diabolique, Duvel, Orval, Piraat, Gulden Draak, Westmalle, Rochefort, Saison Dupont, Fantome, Allagash, etc. Also, had several other Global Beer Network Belgians and a few different gift packs, including the Chimay with Chalice. Just a lot of different brews, many that I was not familiar with. Prices were pretty reasonable, and the Chimay was less expensive than I have seen around. The counter person was very approachable, friendly and knowledgeable and went out of his way to help me, even though it was really busy. Even threw in a DFH chalice with my World Wide Stout. I will definitely make the trip down again and recommend dropping in as it is easy on and off of 95.
Update: 1/3/2008 - Received a nice beermail from Ron the proprieter who corrected me - they do in fact have Utopias. Sorry for the initial misinformation. Cheers.
1,386 characters
3.85
/5
rDev
-8.6%
A short drive from northeast Connecticut to find this place. Looked rather small but lets have a look. When you walk in beer coolers are on the wall to the right. The first brews I saw were a nice assortment from Thirsty Dog. Lots of Long Trail, Ipswich, Victory, North Coast, Rogue, Boulder, Dogfish Head 120, 90, WWS, Burton Baton, Red and White, Pangea and a few others. Lots of Great Divide beers. Some Moylan's bombers. Plenty of macros and malternatives. A nice little section of Belgians and other European beers across from the coolers. Saw a few bottles of J.W. Lees in the mix as well as a LaChouffe and McChouffe gift pack with glasses. Pretty good selection here. A little bit of a lot. Staff was pretty helpful and pleasant. Prices were excellant here. Worth the stop if in the area.
796 characters
4
/5
rDev
-5%
Just off Exit 3 on 95 in southern Rhode Island. It doesn't look too big or inviting when you first drive into the parking lot. When you step inside you are greated with a long counter on the right. Walk a bit and the store opens up to the left, with coolers all down the left wall. Wine racks line the middle of the store with the booze being on shelves in front of you.
Macro and micro beers tend to be mixed in the coolers, but it's not too hard to figure out whats what. There are also long shelves of micros giving the total area of the craft section about 1/6 of the store--though this area does pack a punch.
Craft brews included: Offshore, Cisco, Thomas Hooker, Olde Burnside, Trinity, Smuttynose, Berkshire (22oz.), Long Trail, Ipswich, Victory, North Coast, Rogue, Boulder, Moylan's, DFH, Southern Tier, Flying Dog. From other places included Chimay, Duvel, Ayinger, Franziskaner, Samuel Smith.
What caught my eye were the prices. $4.99 for Moylan's Impy Stout (22oz.), $4.49 for Southern Tier Heavy Weizen. Way under priced for the quality of brews. They also stocked growlers of both Berkshire and Olde Burnside. DFH Golden Shower, Fort, 120 minute, World Wide, D'Extra. Coastal Exteme 05' and 06'.
Nice and friendly staff, but not attentive at all. Did not receive any help, but again, this is definitely worth the stop if you're traveling on 95. Very close to the exit and convenient parking, next to 4 gas stations if you need that too! I would make my way back here for the prices alone--Selection was pretty damn good for that corner of the state.
1,577 characters

5
/5
rDev
+18.8%
Incredible selection. Every time I swing by, there's something new in stock. I can't keep up. The owner boasts about a hundred different kinds of beer. I suspect he's not exaggerating (at least, not by much.)
Beers range from the usual corporate stuff to the exotic fringe microbrews. The best part about this place is that if I've tried a beer at Mews Tavern, they almost certainly have it here, if not in six-packs then in growlers.
The staff is also very helpful. We could have talked about beer all day. They also have a home brewer kicking around to help with the more interesting microbrews. (I'd never heard of a smokebeer before.)
Good prices in general, friendly staff, fantastic selection. Absolutely drop by and see for yourself.
749 characters
4.5
/5
rDev
+6.9%
Visited here early on a Friday morning.
Just over a 4 iron shot off exit 3B of 95N in RI, Wyoming Package is easy to find. Can't miss it on the left side of 138.
The store carries a full selection of liquor, wine, and beer. The beer section takes up the vast majority of the cooler space on the left side of the store, along with half of the aisle as well. Everything seemed to be current and I saw no out of date beer.
Ron, who runs the store, has been slowly expanding the beer section. He loves beer and works with the distributors to stock a wide selection of breweries. His dedication shows as there is a fantastic selection of beers available. I talked with him for quite awhile about a variety of beers during my visit. He is a great guy and knowledgeable.
There are tons of local and regional favorites along with all of the new entries into RI. Sixpacks, bombers, and some singles are in the cooler, with a wider selection of bombers and assorted singles on the shelf. There are a few Germans including Schneider and Belgians such as Rochfort and Delirium. Newport Storm, Paper City, Offshore, Southern Tier, Old Burnside, Hooker, Middle Ages, Blue Point, Three Floyds, Dogfish Head, Magic Hat, etc. were all represented, and fairly complete lines. I even found 4 of the Jolly Pumpkins on the shelf.
Prices are competitive and reasonable.
If you are driving on 95N and are going to pass exit 3B, you really shoud stop in as it is literally 1 minute off the exit. They have a great selection and great prices, and Ron is an all around great guy who is easy to talk with and loves beer. A no-brainer if vacationing or passing through the area.
1,668 characters
4.35
/5
rDev
+3.3%
Stopped in here on a suggestion from BeerGuy. Thanks man! Rather unassuming from the outside, looks like a regular old townie packie. Plenty of parking, and seriously within spitting distance of I-95. Easy to spot, with a big sign out by the road.
Walking inside, it looks pretty normal, well lit and clean, until you look at the counter area. They have a little display window sort of thing underneath lined with bottles of Dogfish Head's 120 Minute, World Wide and Raison D'Extra 12ozers. Someone likes beer here. Off to the left is a wall of coolers, packed with an impressive (for a smaller packie) selection of micro sixers. Not too much in the way of bombers or 750's, only about 8 or 9, which is kind of a bummer. What they do have in big bottles looks to be carefully selected, most displayed on a small warm shelf adjacent to the coolers. Three Floyds (what I came here for), Dogfish Head, Middle Ages, some belgians, a couple german and english imports. The selection isn't vast, just a couple bottles of what they do have, but everything looks to be turned over quickly. The last cooler also contains an alright selection of singles. Nice that most of the beer is kept cold.
As I was walking around with a handful of 3 Floyd's Black Sun, the guy behind the counter asks if I'd tried the Gumballhead. I had, and we got into a little conversation about beer. Really good guy, and he's excited and interested in beer. He explained that he'd rather turn over all the beers he stocks quickly, instead of having a hundred beers that sit and collect dust for six months. I can definitely dig that. I felt a little guilty taking his three bottles of DFH Fort, but he assured me he'd be getting more. Great prices, very fair on the sixers, and some of the bigger bottles they were selling for a dollar or two less than average.
My only real complaint is that it's a bit crowded. I kept having to squeeze by people as I was browsing. The aisles are single file only. They packed the place with product very well.
Probably the best, closest place to stop if you're from Connecticut (at least anywhere but the quiet corner) and looking to go beer shopping in RI. Very easy to get to, seriously right there off I-95 exit 3B.
2,226 characters
Wyoming Package Store in Wyoming, RI
4.21
out of
5
based on
14
ratings.