Delaney's Irish Pub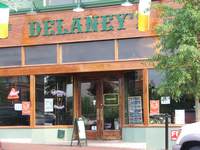 PLACE INFO
Type:
Bar, Eatery
117 W Main St
Spartanburg
,
South Carolina
, 29306-2305
United States
(864) 583-3100 |
map
Notes:
No notes at this time.
Added by SaCkErZ9 on 11-06-2005
Ratings: 12 | Reviews: 8

4.18
/5
rDev
+17.7%
vibe: 4 | quality: 4.25 | service: 4 | selection: 4.5 | food: 3.75
4.13
/5
rDev
+16.3%
vibe: 4 | quality: 4.5 | service: 4 | selection: 3.5 | food: 5
I took the family here last night on a Sunday. The craft beer selection was average. But they did have local RJ Rockers and Highland brews for $2.50 a pint. Nice! All the food we ordered was fantastic! The irish steak, fish and chips, meatloaf, and chicken tenders were great. The service was great as well. We ate around six so the crowd was light, in which we liked because we had the kids. We will defintely be going again.
This was the first time we have been since the renovation after the fire from earlier in the year.
526 characters
2.45
/5
rDev
-31%
vibe: 2.5 | quality: 2.5 | service: 2 | selection: 3 | food: 2
Use to love this place in college but the food just doesn't quite hit the mark it use to know its bland tasting and the last fish and chips I ate there was bordering on burned so it your going to 5 points looking for a gourmet meal look elsewhere ,the only thing that makes me go there is wendsday 3.00 pints all day and that's a great price in this economy and you can smoke cigars outside and enjoy a nice Guiness for 3.00 but I've lost my love for this place new bartenders that don't seem to care and food that's lost it's way somehow some way .Columbia Location 5 points
575 characters
3.7
/5
rDev
+4.2%
vibe: 4 | quality: 3.5 | service: 4 | selection: 3.5
Stopped into this location a couple of times and am just getting down to reviewing it. Delaney's is right next door to Wild Wings and just a few blocks up the street from RJ Rockers. Upon walking into the establishment it does have the typical Irish Pub feel and look to it. I took a seat at the bar and was immediately given a menu and asked what I was having to drink. After looking over a beer list that was decent, but not awe-inspiring I selected a beverage. A few of the people around had ordered food and it looked and smelled quite good, but I didn't get anything myself. Non-smokers be warned however, this bar allows smoking indoors so be prepared for that. When I was there 4-6:30PM it wasn't crowded at all with plenty of seating all around. However, the past few times I had been here later in the night it was overrun with the college crowd. So much so, that you will find it hard to get in the door much less get to the bar for a drink. Decent spot, but I suggest going earlier than later based on my experiences.
1,028 characters
3.85
/5
rDev
+8.5%
vibe: 3 | quality: 4 | service: 3.5 | selection: 4.5 | food: 3.5
One of the more popular places to go for the college crowd, especially Wednesdays for "Pint Night". My initial criticism would have to be the smokey atmosphere. I go in their as little as possible for this reason alone. Being in Delaney's for more than five minutes feels like you've smoked 3 or 4 cigarettes. I guess since smoking is still legal inside restaurants in Spartanburg I can't really dock points here.
It appears from earlier reviews that this place has really beefed up its tap selection in the past year or two. Currently they have 32 taps and 20 or 30 bottles. None of the big three on tap here. Sure, there are some of the macros posing as micros on the wall, but that's to be expected. There is nothing really extraordinary here as far as beer goes, but they do carry most of the local and regional stuff.
The food is nothing special, but it's pretty good and reasonably priced. On either Monday or Tuesday they do a buy one entre get one free.
Smoking aside, this is a great place to go and have a pint. If you're in the area you should really check it out.
1,079 characters
3.6
/5
rDev
+1.4%
vibe: 4 | quality: 3.5 | service: 3.5 | selection: 3.5 | food: 4
Ok so I was finally able to stop in here with the wife and it was pretty much as I thought it would be. Not really too much of a selection, lots of macros unfortunatly. Decent amount of local brews from RJ Rockers, and some imports, really only 12 taps or so. The bottle selection is equally as abysmal. The food was great though and as long as it isnt happy hour of the weekend during a game it is not so crowded. Overall though Spartanburg is just not a beer town so it is hard to get excited about tis place. Maybe one day they will open their eyes and add something good to the menu, I will wait and see.
608 characters
3
/5
rDev
-15.5%
vibe: 3 | quality: 3 | service: 3 | selection: 3 | food: 3
ok, well i think this place was average. in every way. no disctinctive features. we went in, its a long resaturant, bar on the left. maybe 12 taps, maye a couple more than that. your regular BMC, then some imports, Stella and stuff but also some proper hefes and lagers. SN pale ale, and 4 local brews (RJ Rockers). some bottles too, nothing amazing. i tried the locals...the pale ale and the brown, both ok but not all that impressive. food was fine. i had the chicken alfredo pasta and my buddy had meatloaf and neither of us will remember these meals with any amount of clarity. eh. better than eating at Hardees and the beer was above average for South Carolina i guess.
674 characters
3.7
/5
rDev
+4.2%
vibe: 3.5 | quality: 4 | service: 3 | selection: 4 | food: 4
I've only been here during happy hour, which the atmosphere is is not too busy and haven't noticed many regulars yet. Irish decor with a lot of guinness, murphy's and bailey's posters. Wooden everything. I usually have to get somebody's attention to get service, but always helpful. Selection is one of two great tap bars in town. Several beers to choose from in bottle and tap. And like few in these parts.... knows how to pour the irish stouts. I've only had one item for food, and that's the battered mushrooms, and they are excellent. I hope to do more for food sometime, but beer is my main goal there. Like I said, I've only been for happy hour, so it's usually a good value. Fun place to visit with good food and good beer... right downtown in the Spartanburg square beside the new outdoor amphitheater.
810 characters
3.73
/5
rDev
+5.1%
vibe: 4 | quality: 4 | service: 3 | selection: 4
I visited this establishment in the middle of Halloween decorations one afternoon and amidst heavy construction on the plaza outside.
A vary narrow but extremely long warehouse feel is what this place is. It used to be a brewery but now it functions as a bar only. They also serve food but I didnt sample. Tables to the left and right as you walk in. Ahead is a closed off/ divided area that is open (meaning not completely blocked off; like a cubby look) and has several tables and booths in it. To the left is the bar. A very long bar with ample seating. I was the only one in the establishment at about 3 pm on a Wed afternoon. The bartender was busy decorating so she didnt really pay attention to me of refill my beer as often as I would have liked. The bathrooms are down a hallway that must be 200 feet long. It seems like you are walking into some kind of trap or alley and your wallet or purse will soon be snatched.
It seems like a great place to hang out on the weekends. I can probably get smoky, even though it is pretty big. Just seems like that kind of establishment. I will stop back by in the future, most likely.
1,133 characters
Delaney's Irish Pub in Spartanburg, SC
3.55
out of
5
based on
12
ratings.