Blue Heron BrewPub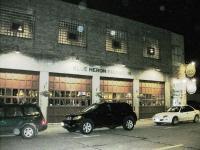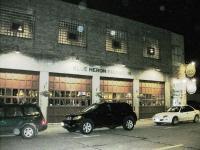 PLACE INFO
Type:
Brewery, Bar, Eatery, Beer-to-go
108 W 9th Street
Marshfield
,
Wisconsin
, 54449
United States
(715) 389-1868 |
map
blueheronbrewpub.com
Notes:
No notes at this time.
Added by garymuchow on 11-07-2005
Ratings: 14 | Reviews: 11
Reviews by JeffKrenner:
4
/5
rDev
+3.9%
vibe: 4 | quality: 4 | service: 4 | selection: 4 | food: 4
Stopped in here last Sunday on the way home from a wedding in WI. Big bar area with maybe a dozen or so tables and lots of seats along a long bar. Nice big windows offering a view of the brewhouse. Upper level with more dining space. Beer was good, even though the summer styles made some of it a little bit boring. The Wit was solid and the BA Scotch Ale was quite nice (although it was served way too cold). I was there in the early afternoon, so service was fine considering that there weren't many customers. Food wood your typical bar food, but it hit the spot. Calamari was a little greasier than I like. The reason I gave it a bit pricey was the price of the BA Scotch Growler. $27 for the beer and $5 for the growler. That's 64oz so $1 for every two ounces. That would make a 12oz bottle $6, which is more than almost any beers not named the Avery Beast Series or DFH biggies.
884 characters
More User Reviews:
3.5
/5
rDev
-9.1%
vibe: 3.5 | quality: 3.5 | service: 3.5 | selection: 3.5 | food: 3.5
4.68
/5
rDev
+21.6%
vibe: 4.25 | quality: 4.75 | service: 5 | selection: 4.5 | food: 4.5
Cool, small pub. Tried all beers on tap, all good drinkable beers. Everything was true to style. 12 house beers, that are all tasty. Definitely worth a stop. There bloody Mary's are amazing too!
198 characters
3.5
/5
rDev
-9.1%
Okay place to "hang out" with friends or grab a quick dinner. Cool atmosphere and good bartenders. Food is the normal WI sports bar fare but their specials can be better. It's to bad the leadership had changed over because there was a huge change in the beers. Their Bourbon Barrel was one of my favorite beers of all time and back than they always brought out super unique and original delicious beers to try for beer shows and specials. Now most of the beers are plain jane but hopefully they have something bottled that is outside of the norm. I'll go there with friends but most of the time I'm getting a beer or drink that's outside of their brewing.
656 characters

3.25
/5
rDev
-15.6%
vibe: 3 | quality: 3 | service: 3.5 | selection: 3.5 | food: 3
Stopped by Saturday prior to the O'So Anniversary party for some lunch and a pint or two.
The Brewpub is located in a historic milk factory, with a pretty cool location just off the main drag in Marshfield. It's a rather small restaurant/pub, with the brewing facility visible behind the 10-12 seat bar.
Atmosphere was normal for a mid-Wisco brewpub. Some soft music playing in the background, couple servers and a few tables hanging around. Seemed most of the people were eating, and weren't there solely for "beer".
Sampled the 7th Anniversary Russian Imperial Stout...it was pretty good. Had some good roasted notes and a nice bitterness, but lacked a bit of body. Overall a pretty good Impy stout. Also tried the Maple Brown Ale, which I really did like. It had some nice sweet maple character, but wasn't overwhelming.
The food was meh. I wouldn't say mediocre, but it was nothing special. It's worth a stop at the Brewpub if you are going through the area, but it's not worth going out of your way like I did.
1,023 characters
4.78
/5
rDev
+24.2%
vibe: 4.5 | quality: 5 | service: 5 | selection: 4.5 | food: 4.5
I loved this place! Very clean with a friendly attentive staff. I ate here two nights in a row. Mainly because it was within stumbling distance from where I was staying. The waiter we had, Dave, remembered us and what we had the night before. I had problems remembering what I had but that may had been from the awesome Loch Ness Scotch Ale! They have ten original selections on tap and it looked like the bar staff was capable of making most anything you may want. I did a flight of six beers, all were definitely above average. I had to settle on the scotch ale to but a growler to bring home. The food was great. First night I had the Boss Hog burger. Messy but oh so delicious! The next night I had the tilapia with crab dip. The crab dip was very rich and they offer it as an appetizer. I think it would have been a bit too much. If you are ever up in this neck of the woods and love good, well crafted beers, this is a must visit! Also, they fill cornys for 40 bucks! Maybe I heard wrong but I swear that's what they said. I did have a couple of pints of the stout in me though...
1,086 characters

2.73
/5
rDev
-29.1%
vibe: 3 | quality: 3 | service: 1.5 | selection: 3 | food: 4
This is the brewpub from my home town but I spare no punches. It feels like a newly renovated brewpub that would fit better in a downtown area. The beers aren't too big or far out but work well with the food, but that goes as the only problem, the service is about as bad as it comes, making you think the beer is the only thing that matters at a place like this except when you realize the food takes forever and the beer is mediocre at best.
Overall they offer few selections that are ok and some that are just run of the mill but the food is really good if they get your order right the first time they bring it out to you.
628 characters
4.05
/5
rDev
+5.2%
vibe: 4.5 | quality: 5 | service: 3.5 | selection: 3.5 | food: 3.5
It's great to have an oasis like this in out-of-the-way central Wisconsin (and I did go out of my way on a Milwaukee-Minneapolis drive just to visit). It has a great atmosphere in a well-done job of updating an old building while preserving the history at the same time -- without seeming hokey. I've had some of their bottles, which are among my favorites, and on this trip I had the barrel-aged Scotch ale, which was very good (and which I'll review elsewhere). The server knew about their beers, not necessarily beer in general. I had the Cubano, which was tasty, but fortunately "true to style" isn't nearly as important to me in a sandwich as it is in a beer, because in a Cuban the meat and cheese are supposed to be pressed in layers, and the "toasted Cuban flatbread" was more like a toasted bratwurst bun. I was probably insane to drive an extra couple hours for this, but still, if I lived in the area I'd be there weekly.
937 characters
2.25
/5
rDev
-41.6%
vibe: 2 | quality: 2.5 | service: 2 | selection: 2 | food: 3
Attention - I have edited this review, since the administration changed, and this is no longer Central Waters brewpub.
The change, in my opinion, was a disaster.
The ambient declined quite a lot, and now it looks like a public marketplace with multiple t-shirts and other junk for sale occupying space on the walls. The waitress was wearing sleepers, and took forever. She knew absolutely nothing about beers.
The beer menu and selection was essentially destroyed; the bourbon ale, and the scotch ale, discontinued. The porter changed its name and got watered down. New beers introduced are clearly to lure in the non beer lover. "Traditional" styles, now all watered down.
The food did not decline as much, but where a crab dip used to come in a sourdough "bowl", now comes with cheap bread, although the menu still states sourdough.
Unfortunately, a major downgrade, and the other reviews reflect an entirely different place.
931 characters

3.83
/5
rDev
-0.5%
vibe: 4 | quality: 4 | service: 4 | selection: 3.5 | food: 3.5
Before stopping, I hadn't heard much about Central Waters. Overall, a very cool place in the Parkin Place. Beautiful renovated building you can read all about on their website. Lot of time and work invested to make this place look nice. Sit at the bar and drink staring at the brewery. Slightly upscale feel, and menu with a wider selection for vegetarians. I had the Grilled Vegetable Pita, which was quite good. Think I'd go for a pizza next time, but not disappointed at all.
According to a friend along who frequents this place a few times a year, the Mudpuppy Porter is their bread and butter, and it's easy to taste why. All of the beers were good, but the Bourbon Barrel Cherry Stout stole the show. Sip and enjoy a very woody, chocolate and cherry stout with almost oily winelike smoothness. Excellent and approaching OMG on this one. Take a friend--hits like a hammer. Enjoy.
To get to the website, go to the Central Waters listed as Junction City and it brings you to the web for this place. All of the beers listed are for this brewpub as well. Same brewer, but I'm not sure of the exact relationship or how to display this properly on BA.
1,158 characters
4.58
/5
rDev
+19%
vibe: 4.5 | quality: 4.5 | service: 5 | selection: 4.5 | food: 4
A unique venue for a brew pub...it's in a historic old dairy processing plant...the remodeling must have taken some work but it they achieved a nice looking rustic, "historic" look to it.
Was in around lunch on Friday August 4th. We were starving and ordered two appetizers along with a couple of half pound burgers...the appetizers were the pork riblets(6.95) and BBQ wings(5.95)...each in a peach bourbon bbq sauce...you never know what you are going to get for serving sizes on the appetizers and when these arrived I was very impressed....we both have good appetites but were wishing we didn't order the burgers too after finishing the appetizers....Very generous serving size...unique too with the peach bourbon...they were very good but not spectacular...Burgers were clearly 1/2 pounders and again very good...
The prices on the taps and food were very reasonable.. But the beers were poured in taller pilsner like glases that to me did not fit most of the styles we ordered...in fact I thought the beers were average at the pub and I love their beer usually....Funny thing is I brought back two growlers and poured them into proper glassware and they were much improved....
Speaking of growlers...while the in-pub prices for drafts are reasonable, the growlers are over-priced for the area. Just down the road in Wausau they charge 6.95 per growler and they have some good beers being breweed there these days....here it was 9 for the regular stuff and 11 for some of the others...it put a damper on the visit..we were both thinking of grabbing four growlers if prices were reasonable but decided on just two growlers each (we still had a big trip ahead with stops at Hereford and Hops, Titletown, and Hinterland so why burn the extra cash there when the beers weren't even tasting that great at the pub...they were OK but their glassware selection needs a lot of work).
Service was fantastic....our barlady was right on top of everything..friendly and pretty knowledgable of the beers...
Overall this is a must stop if near...I hope they straighten out their overpriced growlers and poor glassware selection in regards to matching beers with the proper glasses...gez if nothing else toss it in a pint glass....that usually works
2,252 characters
3.73
/5
rDev
-3.1%
vibe: 4 | quality: 4 | service: 3.5 | selection: 3.5
Brew pub is on one level and isn't particularly big, especially with a fair amount of space being taken by the brewing equipment. Beer menu is largely the same as the Central Waters bottled selections with just a few additional offerings. On the menu flyer the whole beer year is planned out with seasonals and usual selections. It has been busier than anticipated therefore only about 1/2 of the selections were available at the time I went. Staffing has been a bit of an issue, especially after 7 or so, therefore there has been some waiting. Food menu is pretty big and by reputation the food is good. There is a resturant above the brew pub that serves the brew-pub beer but has a different menu.
Central Waters has already established itself as solid brewery. I anticipate that that will remain so at the brew-pub. Growlers are poured off the tap with a plastic screw-on top and no sealing. $5 for growler and $7 for fills.
929 characters
Blue Heron BrewPub in Marshfield, WI
Brewery rating:
73.3%
out of
100
with
15
ratings