Griesbräu Zu Murnau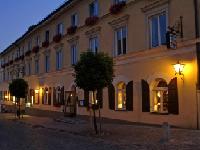 PLACE INFO
Type:
Brewery, Eatery
Obermarkt 37
Murnau Am Staffelsee
, 82418
Germany
+49(0)8841-14 22 |
map
griesbraeu.de
Notes:
No notes at this time.
Added by ColoradoBobs on 11-09-2005
Ratings: 5 | Reviews: 4
Reviews by 2beerdogs:

4.5
/5
rDev
+8.4%
vibe: 4.5 | quality: 4.5 | service: 4.5 | selection: 4.5 | food: 4.5
This place is a gem. I was taken there by some very dear friends who lived nearby. Wow Bavarian hospitality. Walked in early on a weekend morning, and was taken aback by how spotless, yet warm & inviting, this place is. My friends insisted that we were there for 3 things: weisswurst, pretzelen, and dunkelweissen. Note I am not a big fan of most wheat beers. But this one was quite pleasing, especially coupled with the wurst and pretzels.
The Bavarians have so many little sayings that rhyme. One talks about how a weisswurst should never hear the strike of noon. (In other words they are prepared fresh in the morning, quick boiled and devoured).
Then lucky me, I was out on the patio, all of my hippy Bavarian friends are smokers, and as I entered the restaurant, I was blessed with that distinct smell--a brewer blowing off the wort. Actually it was the owner--A great affable guy who was very welcoming to this American speaking very rudimentary German, and knowing a bit about beermaking. He enthusiastically showed me around, had me sample some other beers, and was all in all a very hospitable guy.
This place is a must visit!!! And I recommend the Drakenblut, (I think that is how you spell it--Dragon Blood). Hopfen und Malz life spice and salt... Vielen Danke Sigi, Miri Martl & Isa (my wife)
1,308 characters
More User Reviews:
4.13
/5
rDev
-0.5%
vibe: 4.25 | quality: 4.25 | service: 4.25 | selection: 3.75 | food: 4.25
3.98
/5
rDev
-4.1%
vibe: 4 | quality: 4.5 | service: 4 | selection: 3.5 | food: 3.5
A stone's throw away from Garmisch-Partenkirchen, where I was attending a conference at the "Edelweiss" US military resort.
I ate at the beer hall, though there is a proper sit down restaurant as well.
The beer hall is large, but warm and cozy, with all the furnishings and decor one would expect from a proper German brauhaus. (Heavy wood furniture, stone walls, lots of vintage breweriana). The centerpiece of the place being their copper brewkettles.
The beer is all reasonably priced, a half liter runs you about 2,70 Euro. (about $3.75) a ten liter keg tapped at your table runs about 66 dollars, a great value, but a ridiculous amount of beer.
Food in the hall is served buffet style, all the usual bavarian pork and potato dishes. Decent, but nothing special. However, the portions are massive! Well worth the 7 Euro you pay for the food.
Service was very good, but as we were a "special" group, I can't know if that was usual or not.
I attended as part of a weekly "beer seminar" that the establishment offers. It cost about 13 Euros and included a tour of the facility, a little "beer 101" class, and tasting of all the brews currently on the menu.
Our guide for the evening was Herr Wolfgang Jaubitz, the brewmaster himself. Discussing things with him, it turns out he became a trained brewer at the Ettal Monestary, so his credentials were certainly in order.
Our seminar included the Helles, the Weizen, the Dunkel, and the Pils, a strange "bierlikor" that is popular in Bavaria, plus a brown ale that wasn't due to be sold for another week or two.
The dunkel and the Helles were my favorites, the Pils was very very mild and the Weizen was decent, but nothing special compared to the many other Weizens in the region. The brown ale was nothing like I expected, and I wonder if there was a mistranslation somewhere along the way...plenty of options to take home beer. 1,2, 5 liter vessels and more are all available.
Worth a stop if you are in Garmisch. A real deal, and a fun time. If you go in the spring, I am told that the "Dragons Blood" offering is quite good. They sold out of it a week before my visit, but it's apparently a Bock beer with smoked malt added to give it a smoky flavor as well. I might have to go back.
2,248 characters
4.03
/5
rDev
-2.9%
vibe: 4.5 | quality: 3.5 | service: 4.5 | selection: 4 | food: 4
BierManVa, GenCornwallis and I had already hit Kloster Ettal, and Griesbräu in Murnau was on the way back, sooo... Had heard good things about this brewpub from ColoradoBobs, so a visit was warranted.
Easily found in the center of town, about 10 mins from the Bahnhof. Griesbräu is actually a 3-part place. There's a Braustubn, with a hot food counter where you can pick what you want to munch, then get a bier to quaff. There's a sit-down restaurant, where you can order off a menu, munch and quaff, and there's an outdoor Biergarten in between the first 2, where you can quaff. If you want to eat in the Biergarten, first go to the Braustubn and order something and bring it out, then get your Biers! The Biergarten consisted of about 4-5 long wooden tables in an inner courtyard, and it was pleasant and quiet. The Braustubn was a long room, dark-wooded and traditional, with arches, with the brew kettles on a lower level on the left. The kitchen and food counter was just a few stairs up, and on the right. A long aisle leads you to more tables, benches, and a bar on the far left. Well-appointed in typical, comfy Bavarian style. The regular restaurant in the main building was a bit more upscale, yet no less comfy and German. Our server was extremely patient and helpful, explaining how the food/bier ordering thing works in the Biergarten. From the food counter I ordered a healthy chunk of pork, along with Spätzle, for only 5.50EU. Biers? Choose from a Helles, Dunkles or Hefeweizen. I chose the latter, a cloudy, unfiltered, tasty offering. Just missed their Märzen, on about 3 days after my visit (on 20SEP06).
I actually visited Murnau twice many years ago, in about '89-'90, and ate at Griesbrau, though it wasn't a brewpub back then. If you happen to be near Murnau, please stop by... It's a welcoming, typical German Gasthof with tasty, cheap food and Bier.
Prosit!
overall: 4.03
atmosphere: 4.5 | quality: 3.5 | service: 4.5 | selection: 4 | food: 4 | $
145
1,985 characters
4
/5
rDev
-3.6%
vibe: 4 | quality: 4 | service: 4 | selection: 4
What a find! The couple who own the apartment we rented in Garmisch-Partenkirchen live in Murnau am Staffelsee, and recommended this place to us. The ColoradoBobs family followed their instructions, arrived in Murnau mid-afternoon, found the place and went in for four half-liters. There were only about 15 other people there, mostly locals playing cards.
I had the Hefeweizen. Here's my review:
http://beeradvocate.com/beer/profile/12508/26843/?ba=ColoradoBobs
My son had the Werdenfelser Ur-Dunkel. Here's the review:
http://beeradvocate.com/beer/profile/12508/26845/
My daughter had the Helles. Here's that review:
http://beeradvocate.com/beer/profile/12508/26844/?ba=ColoradoBobs
My wife had the Radler. It was the only beverage "faux pas" we made in Germany -- unreviewably bad! How the Germans drink that mix I don't know.
What a friendly place, with surprisingly good beers at a terrific price! If you get a chance, it's a must to stop in, or even stay there. They have a decent-enough looking hotel, and the menu looks great. Here's their list of regular beers: http://www.griesbraeu.de/getraenke/getraenke.html They offer additional seasonals. Note also that you can get a ten-liter mini-keg brought to your table if you're with a group of friends. They also offer growlers of a sort.
Zum Wohl!
1,326 characters
Griesbräu Zu Murnau in Murnau Am Staffelsee, Germany
3.68
out of
5
based on
13
ratings.