Fellowship Ale
| Woodstock Inn Brewery
BA SCORE
80
good
11
Reviews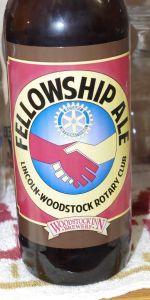 BEER INFO
Brewed by:
Woodstock Inn Brewery
New Hampshire
,
United States
woodstockinnbrewery.com
Style:
American IPA
Alcohol by volume (ABV):
6.40%
Availability:
Year-round
Notes / Commercial Description:
This is a IPA that is orange in color, has floral hop note, and finishes with grape fruit bitterness. Brewed in collaboration with Lincoln-North Woodstock Rotary Club. The Woodstock Inn Brewery, will donate 50 cents of every bottle sold. to the Eradicate Polio Fund and to local Lin-Wood Rotary charities. This is year round brew. Available in 22 ounce Bottles and draft. Please contact the Woodstock Inn Brewery or the Lincoln- North Woodstock Rotary Club for details.
Added by Jason on 05-06-2013
Reviews: 11 | Ratings: 30

3.35
/5
rDev
+0.3%
look: 4 | smell: 3.25 | taste: 3.25 | feel: 3.75 | overall: 3.25
Pours a lightly hazy medium copper color with a huge bubbly white head that persists forever leaving a modest amount of lace on the way down. Aromas of butterscotch and toffee with hints of caramel and light earthy spicy hops. Twinges of mineral water and hints of sulfur round out the nose. Sweet malty caramel with lots of toffee and butterscotch flavor are front and center with a lightly citric and earthy hop flavor to provide bits of balance. Medium body with a moderate level of carbonation and a sweet slick mouthfeel. English style IPA with all the faults that come from ringwood yeast. I don't know why I continue to buy beer from this brewery, I guess I'm hoping that they have learned what a diacytyl rest is.
721 characters
3.7
/5
rDev
+10.8%
look: 3.25 | smell: 3.75 | taste: 3.75 | feel: 3.5 | overall: 3.75
From the 22 fl. oz. bottle. Sampled on May 12, 2013.
The pour is a basic pale yellow-orange with a long lasting, foamy off-white head. Slight hazy.
The aroma expresses itself with earthy hops and pale malts.
The body is light to medium with an OK creaminess.
The taste begins with malts but quickly evolves to earthy hops much like the aroma. The hop bitterness is moderate but does not linger long at the finish.
Quite frankly there is nothing special with this IPA but there is also nothing wrong with it. It was simply brewed to raise money for polio research so as far as craft IPAs go - it is pretty straight forward. Easy to drink.
643 characters

3.7
/5
rDev
+10.8%
look: 4 | smell: 4 | taste: 3.5 | feel: 3.5 | overall: 3.75
Poured from bottle into a pint glass
Appearance – The beer pours a slightly hazy deep amber color with a one finger head of white foam. The head has a good level of retention, slowly fading to leave a fantastic level of foamy lace on the sides of the glass.
Smell – The aroma of the beer is quite heavy of biscuit and bready aroma along with some nice sweeter smells of tangerine and caramel as well a good showing of a grapefruit hop smell. Some yeasty and grainy aromas as well as a little bit of earth and a slightly floral hop smell are there as well, overall producing a rather pleasant aroma.
Taste – The taste begins with a somewhat fruit sweetened biscuit malty taste with the sweeter flavors being of a light fruit nature of orange and apple. At the start there is also some hop flavors of a grapefruit and floral flavor. As the taste advances the fruitiness fades a little bit, but the sweet remains overall moderately strong throughout the taste as some caramel and toffee replace the lost fruit. While the fruit fades a bit the bitterness increases as some grassy and some lighter earthy hop flavors join the profile. A slightly grainy flavor and a little bit of hay taste join the tongue more toward the end of the taste, and with the increase in the hop, the slight decrease in the sweet, and with a very light yeasty taste coming at the very end of the taste, one is left with somewhat sweet, but malty and decently hopped flavor to linger on the tongue.
Mouthfeel – The body of the beer is on the average side with in terms of both its thickness as well as in its carbonation. For the standard IPA style both are quite appropriate and nicely compromise the mix of flavors that are present within.
Overall – A fairly nice IPA overall. Some nice sweeter fruit mixed with a good blend of hop and malt. Not bad.
1,838 characters

4.1
/5
rDev
+22.8%
look: 4 | smell: 4 | taste: 4.25 | feel: 4 | overall: 4
Picked this one up at my local Hannaford's where a representitive from Woodtock Inn brewery was giving away free sample and free stuff. I had already picked this one because simple, it was something different at the supermarket! He noticed I had a bottle and gave me a bumper sticker and a glass.
This beer can be summed up by two words: classic and wholesome.
The look, golden with amber hues, lively, flow, medium sized white top.
The aroma is very nice, big Cascade like hop aroma over a light and slightly sweet malt. The yeast is always interesting because I believe, Woodstock Inn Brewery is using the Shipyard house yeast, which is very English in it's aroma and flavor. although the yeast is very subtle in this brew.
The flavor is totally classic AIPA with a pine, fruity, slightly bitter hit, but in really nice balance with the medium bodied malt effect. The yeast does pop through in a subtle way and actually gives this a bit of a unique quirk. The hops are pretty complex here, The combo of Chinook and Zytho's hops give it a unique dry earthy and slightly fruity effect that stays grounded with good balance together. Not massive, or big alpha bomb, but very nice to say the least.
You might be pleasantly surprised by this one...I know I was.
1,272 characters
3.21
/5
rDev
-3.9%
look: 3.75 | smell: 3.25 | taste: 3 | feel: 3.5 | overall: 3.25
From the 22 oz bottle, it pours amber with a small head, dissipating rapidly. Lacing as you enjoy the beer. Some floral and citrus notes in the nose. Taste is similar, with the famed bitterness at the end. Honestly, it seemed more Pale Ale to me than IPA.
259 characters

2.83
/5
rDev
-15.3%
look: 3 | smell: 3 | taste: 2.75 | feel: 2.75 | overall: 2.75
The smells and flavors are off for an American IPA. There is a background hop flavor that is masked by an almost artificial sweetness and abrupt unpleasant bitterness. I'm almost wondering if my bottle was infected. The feel is thin and lacking carbonation.
262 characters

3.53
/5
rDev
+5.7%
look: 4.5 | smell: 4 | taste: 3.25 | feel: 3 | overall: 3.5
Hazy orange-amber pour with thin, clingy white top - nice looker. Aroma of pine pitch - somewhat enticing. Flavor, however is a real bore. An immediate flavor of citrus and funk fade to almost nothing before mid-sip. Slightly harsh linger and tingle on the tongue. Pretty disappointing.
286 characters
3.53
/5
rDev
+5.7%
look: 3.75 | smell: 3.75 | taste: 3.25 | feel: 4 | overall: 3.5
Poured into an imperial pint glass. Color was a medium golden amber, with a thick foamy 3 finger head, and several streams of bubbles rising from the bottom. Head had alot of cling, and slowly went down in areas. Aroma was floral hoppy. A bit of minty orange in there as well. Flavor was yeasty, with a bit of bitter hoppiness, and a touch of banana. Nothing was overly pronounced or developed. Felt decent in the mouth. A good bit of coat, with a tad of carbonation. Overall a middle of the road IPA. If the flavors were a bit more developed it would be much better.
567 characters
3.42
/5
rDev
+2.4%
look: 3.75 | smell: 3.5 | taste: 3.5 | feel: 3 | overall: 3.25
A - Took a fairly vigorous pour to bring up a bubbly white head over a hazy pale amber body. Decent retention and some nice lacing.
S - Citrus grapefruit and lemon grass
T - Really nice dry burst of hops upfront, citrus and pine. Malts are smokey and toasted. But the flavor profiles drop off almost immediately leaving a faint hop aftertaste.
M - Light body with moderate carbonation. Kind of weak and thin.
O - It's really the body that's a let down here. Flavors are nice but there's no heft to support them. Meh...
528 characters
3.27
/5
rDev
-2.1%
look: 3.5 | smell: 3.25 | taste: 3.25 | feel: 3.25 | overall: 3.25
These beers seem awfully one-note. I was hoping for one of the 4,000 IPAs, but it was not on tap. REluctantly, I settled for this beer. I am still searching for a great beer from this place.
190 characters
2.98
/5
rDev
-10.8%
look: 3.5 | smell: 3 | taste: 3 | feel: 3 | overall: 2.75
Pours a hazy orange, with minimal head. Thin smell. Lightly carbonated taste, with moderate bitterness in aftertaste. Malts come in a bit later, with some caramel undertones. Not a bad beer, just not for me, tastes and smell could be more dynamic.
___
251 characters
Fellowship Ale from Woodstock Inn Brewery
3.34
out of
5
based on
30
ratings.