Zötler Korbinian Dunkel
| Privat Brauerei Zötler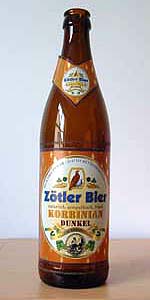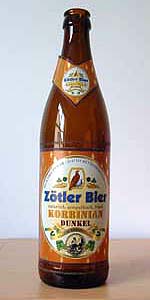 BEER INFO
Brewed by:
Privat Brauerei Zötler
Germany
zoetler.de
Style:
Munich Dunkel Lager
Alcohol by volume (ABV):
4.70%
Availability:
Year-round
Notes / Commercial Description:
No notes at this time.
Added by mdagnew on 10-02-2006
HISTOGRAM
Ratings: 32 | Reviews: 28
3.98
/5
rDev
+2.3%
look: 4 | smell: 3.5 | taste: 4 | feel: 4 | overall: 4.5
poured from the bottle into a pint glass
A: Rich brown color, small head with only a little lace.
S: Faint hint of roasted coffee but mostly a sweet smell of toffee and chocolate.
T: slight roasted coffee taste, a little bitterness comes though but overall a sweet toffee and chocolate taste.
M: somewhere in between light and medium. very smooth with good carbonation.
D: very very drinkable. could put back a few of these at a time. if you are not a big fan of sweeter beers this may not be for you but i enjoyed it.
525 characters
3.85
/5
rDev
-1%
look: 3.5 | smell: 3.5 | taste: 4 | feel: 4 | overall: 4
Decent brew. Served with a nice head and good lace. Has a nice dark malty and dark fruity nose. Flavor is similar, Soft palate. Smooth at first going to a light tingle. Finsih is dark malt and a little sweetness. Color is a dark amber brown. Session beer for sure. Would like to try this on draft as well as make beer bread with it.
332 characters

4.05
/5
rDev
+4.1%
look: 4 | smell: 4 | taste: 4 | feel: 3.5 | overall: 4.5
11.2 oz bottle
Pours a bright reddish brown color, with bright and vibrant highlights and a small off white head that leaves some soapy stick-age. Toasty caramel malt in the nose, subtle chocolate malt and creamy coffee notes as well. Well balanced, with a detectable, slightly spicy, hop note. The brew sports a "bigger" light body and a slightly grainy, but bready yeast feel to the tongue. Just chewy enough, great drinkability, it got my girlfriends seal of approval, as well as mine.
489 characters
3
/5
rDev
-22.9%
look: 3 | smell: 3 | taste: 3 | feel: 3 | overall: 3
My Zötler came in a small 330ml/11.2 fl oz. bottle. On the bottle was an oval orange and white checker board patteren label with a drawing of a brown eagle at the top and a small very old picture of a German man wearing traditional German clothes pointing at something. The back label has all the mandatory US information and a Best Before date of 18/01/09.
When poured into a Dead Reckoning pint glass, this Korbinian beer was a dark mahogany brown with quite a few crimson red highlights along the sides. On top of this beer (if you could see it) was a small thin lightly tan colored head of foam. This thin head of foam had bad retention that left behind a tiny amount of tan rings and about 3 small spots of lace. It had a faint malty aroma of dark roasted malts, a splash of sweet caramel, and a subtle whiff of milk chocolate at the end. as you can tell, there wasn't much going on in the aroma department. Like in the aroma, there wasn't much in here either. The taste was malty (like it should have been) with roasted malts, a hint fo milk chocolate, a speck of caramel, and then finsihes up with a gentle hoppy touch. The mouthfeel was light with a alot of carbonation and with a crispy aftertaste of roasted malts and milk chocolate. It was just your run of the mill average German born Lager. Not bad, but not all that good either. Unlike the Weihenstephaner Korbinian, this one can be missed.
1,406 characters
4.08
/5
rDev
+4.9%
look: 4 | smell: 3.5 | taste: 4.5 | feel: 4 | overall: 4
pours a deep garnet color w/ a fluffy off-white head dissipates quickly leaving a moderate lacing in my stange ; not a strong smell, steely grain and some caramel and dark fruit notes ; a crisp, malty flavor, bready malts and caramel with a touch of plums, some floral hops present but very subtle ; a light bodied beer w/ plenty of co2, a dry, light creamy palate overall ; a very drinkable brew, i enjoyed this dunkel quite a bit...
434 characters
3.46
/5
rDev
-11.1%
look: 4.5 | smell: 3.5 | taste: 3 | feel: 3.5 | overall: 4
Purchased in Bloomington IL @ Friar Tuck.
"Classic Bavarian dark lager, from Germany's oldest family-owned brewery" on the label.
Nice almond mahogany tone to it. Looks like a bourbon with a splash of coke in it. With a tan foamy head that appears creamy enough.
Initial aroma of banana, malt, hard to pull much out of it after the first pour.
Mild sweetness and roast present in the flavor, emphasis on mild. Grainy malt aftertaste, fairly soft. Vague fruity quality from the yeast. Balanced, sort of a dry finish. Probably easy to drink by the half-liter, i'll stick to this tiny 11.2 oz. bottle for now.
612 characters
3.83
/5
rDev
-1.5%
look: 4 | smell: 3.5 | taste: 4 | feel: 3.5 | overall: 4
500ml bottle bought from www.onlyfinebeer.co.uk
Poured a deep browny orange colour... Creamy tan head poured thick and foamy then faded quite quickly to light ring around the edge... Some faint carbonation drifts to the surface... light lacing...
Aroma - Toasted caramel maltiness, spicy dark fruits (raisins, prunes), light biscuitiness, some soapy notes, rubbery hints, brown sugar sweetness, some light vinegary hints, oaky, some peppery hop notes...
Taste – Very nice toffee / caramel maltiness, molasses sweetness, quite tart spicy fruits (raisins, figs, light blackcurrents), some nuttiness, toasted bread hints, malt loaf, some chocolate traces, some light Flanders red ale sourness, light spicy hops cut through the sweetness...
Feel - Quite smooth and creamy... medium bodied... pretty quaffable although it might be a little too sweet after a while...
Overall - A pretty good dunkel... well worth a try...
931 characters
Zötler Korbinian Dunkel from Privat Brauerei Zötler
Beer rating:
3.89
out of
5
with
32
ratings