Störtebeker Stark-bier
| Störtebeker Braumanufaktur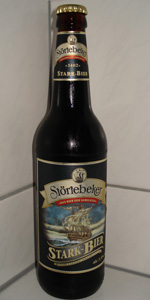 BEER INFO
Brewed by:
Störtebeker Braumanufaktur
Germany
stoertebeker.com
Style:
Doppelbock
Alcohol by volume (ABV):
7.50%
Availability:
Rotating
Notes / Commercial Description:
No notes at this time.
Added by TheSarge on 08-23-2007
Ratings: 14 | Reviews: 7
Reviews by BlackHaddock:
3.97
/5
rDev
+3.7%
look: 3.5 | smell: 4 | taste: 4 | feel: 4 | overall: 4
Half-litre bottle: best before 7th June 2014. Poured (twice) into a leffe badged stemmed goblet at home on 8th Dec 2012.
Really deep, dark brown/ruby: almost black, on top a tan head that faded a bit too swiftly for my liking.
Loads of chocolate in the nose and taste, Camp Coffee too (remember that stuff?): also reminded me of a rich, creamy Dandilion and Burdock sort of flavour (who remembers that stuff as well?). Now add a liquorice stick to the mix and some hops to give a slightly bitter undertone and you're half way to tasting and smelling what I did during my review (on my own). I thought the alcohol well hidden with the flavours masking the 7.5% ABV nicely: all in all, a very pleasant brew.
One of the best German beers I've had for some time.
761 characters
More User Reviews:

4.3
/5
rDev
+12.3%
look: 4.5 | smell: 4.5 | taste: 4.25 | feel: 4 | overall: 4.25
4.07
/5
rDev
+6.3%
look: 4.5 | smell: 4.25 | taste: 4 | feel: 3.75 | overall: 4
T:
-sweet chocolate and licorish upfront
-slightly nutty
-slight caramel
-well carbonated
-roasty coffee on the back-end
O:
I thought this is like the Stralsunder Traditionsbock,which is also brewed by them, but the Stark-Bier is noticeably sweeter.
Good one
258 characters
3.94
/5
rDev
+2.9%
look: 5 | smell: 3.5 | taste: 4 | feel: 4 | overall: 4
Störtebeker Stark-Bier produces large amounts of milk chocolaty head that forms together into sticky clumps.. The body is pitch black, with only a slight hint of amber hues penetrating through the base of my beer glass.
There are sweet aromas of toffee and vanilla bean, with a hint of chocolate.
This brew actually has a vividly smoky flavor to it. There are sweet hints of milk chocolate and caramel. It almost tastes like a porter to me.
This was a very pricy beer I purchased at my local supermarket, costing roughly five US dollars.
Though expensive this is a dang good beer. Very drinkable and not alcoholic feeling at all.
643 characters

3.59
/5
rDev
-6.3%
look: 4 | smell: 3.75 | taste: 3.5 | feel: 3.5 | overall: 3.5

2.7
/5
rDev
-29.5%
look: 4 | smell: 4 | taste: 2 | feel: 3 | overall: 2
Hmmm I normally love Doppelbocks but this is very different to what we get in Bayern.
The taste is the main letdown in so far as it is vaguely Doppelbockesque but the alcohol is way too prominent for a 7.5% beer. It is also not so much a warming pleasant taste but more the rocket fuel taste we know and loathe from cheap strong beers e.g Skol...
347 characters
4
/5
rDev
+4.4%
look: 4 | smell: 4 | taste: 4 | feel: 4 | overall: 4
I enjoyed two 0.5l bottles of this with old friend Iain at the Tap-House in München on 20SEP16. Each cost €4.50.
Poured a dark, opaque brown. Had a creamy, tan head, though it was short. Lacing left behind was decent. Nose was malty and semi-sweet, with choco and a touch of roastyness. Had a solid mouthfeel, with a good, medium body.
Taste was also semi-sweet, with rich, dark choco and more roasty notes. Had a little caramel and ovaltine-like flavors before letting some hop florality come into the picture at the finish. Loved the solid choco notes in this one. Prosit!
4/5 rDev +4.4%
look: 4 | smell: 4 | taste: 4 | feel: 4 | overall: 4
1840
656 characters

3.77
/5
rDev
-1.6%
look: 3.5 | smell: 4 | taste: 3.75 | feel: 3.5 | overall: 3.75

3.83
/5
rDev 0%
look: 4 | smell: 3.5 | taste: 4 | feel: 3.5 | overall: 4
A: Pours dark brown with hints of red. A large off-white creamy head dissipates slowly into decent lacings.
S: Sweet roasted malt with lots of dark dried fruits. Some vanilla and some strong black coffee, faint chocolate.
T: Heavy roasted dark malt, some sweetness. Dark dried fruits, but not sweet. Vanilla, black strong coffee and dark bitter chocolate (I'm reviewing this with words that would suite an Imperial Stout!?). Even liqorice.
M: Full body and low carbonation. Aftertaste is almost smoked.
O: Not your typical Doppelbock (as from Bavaria) but pretty nice nevertheless. I'm going to store a couple in my beer cellar - maybe they'll evolve into something better.
677 characters

4.02
/5
rDev
+5%
look: 3.5 | smell: 4 | taste: 4 | feel: 4 | overall: 4.25
Stoutish pour (pitch black), 2 finger tan head, popping away really fast.
Smell of roasted malts, raisin, chocolate, acidic coffee and dark spices.
Dark malty sweet taste, with lots of dry dark fruit, like raisin, figs, prunes and dates. Spicy sweet taste, like a mild licorice, faint vanilla and brown sugar caramel. Warm booze, butterscotch. Low hop presence in the finish, sweet and a bit citrusy-crisp.
Medium body and carbonation, a bit syrupy. Hidden alcohol.
Tasty doppelbock, doesn't really feel 100% German-made, and i think that's what the brewery probably wanted.
574 characters
Störtebeker Stark-bier from Störtebeker Braumanufaktur
3.83
out of
5
based on
14
ratings.