Störtebeker Hanse-Porter
| Störtebeker Braumanufaktur
BA SCORE
74
okay
12
Reviews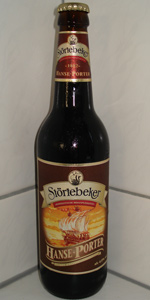 BEER INFO
Brewed by:
Störtebeker Braumanufaktur
Germany
stoertebeker.com
Style:
English Porter
Alcohol by volume (ABV):
4.00%
Availability:
Rotating
Notes / Commercial Description:
No notes at this time.
Added by TheSarge on 08-26-2007
Reviews: 12 | Ratings: 33
2.02
/5
rDev
-28.4%
look: 3.5 | smell: 3.25 | taste: 1.25 | feel: 2.75 | overall: 1.25
L:
-pours a clear dark ruby with a small beige-brown head,which quickly disipates
S:
-brown bread,caramel,syrup,molasses
T:
-caramel,syrup with a bready and slightly roasty finish
-disgustingly sweet
F:
-low carbonation,light-medium body
O:
1.The Label specifically mentions this is a lager,not an ale,which would make it a Schwarzbier.
2.The Beer is sickeningly sweet,i had to pour it down the drain,first time ive ever done that with a beer
442 characters
2.33
/5
rDev
-17.4%
look: 3 | smell: 3 | taste: 2 | feel: 2.25 | overall: 2
Appearance: dark brown, with a nice hazel foam that disappears quickly.
Smell: sweet and spicy, liquorice, tar, coffee and caramel.
Taste: very sweet, burnt brown sugar, malt, liquorice and coffee. Almost no bitterness. The finish is clean and sweet.
Mouthfeel: sticky, but light.
Overall: this was not a beer in my taste. Far too sweet for my taste. It's an alright porter, at the end of the day.
403 characters
2.6
/5
rDev
-7.8%
look: 2.75 | smell: 3.25 | taste: 2.25 | feel: 3 | overall: 2.25
The beer pours with a fizzing sound. The clear liquid is brown (50 EBC), the two finger off-white compact head slowly sinks down to a thin lid leaving no lacing.
The smell is semi-dry with (qute a lot of) roasted malts, some tartness, some wort-like sweetness.
The taste is aggressively sweet, almost to the saccharine-sweetnes of Swedish Svagdricka small beer. Some roasted malts, light clean bitter notes. Light to medium body. The aftertaste adds wort-like sweet flavours, some light malt sourness and notes of German Pumpernickel. The finish is clean and sweet.
The carbonation is strong, the mid-sized fresh bubbles shortlived. The liquid is thin and somewhat sticky.
Waaay to sweet, but besides that an OK porter.
726 characters
3.21
/5
rDev
+13.8%
look: 3 | smell: 3.25 | taste: 3.25 | feel: 3 | overall: 3.25
Stoertbeker sampler six pack from Toom. Deep brown color, taste of smoke and peat. Some sweetness comes through the mustiness, with a little coffee bitterness. Not too bad.
172 characters
2.29
/5
rDev
-18.8%
look: 2 | smell: 3 | taste: 2 | feel: 2.5 | overall: 2
Had never had a beer from Störtebeker before so I was excited to find a mixed six pack at my local drink store. I was even a little more excited when I saw the porter, a very rare style for German breweries.
The appearance was kind of a coke brown with a light head, kind of reminded me of a glass of coke. Disappointing because I was expecting an english/american-esk blackness. Smell was the best part, with the chocolatey malts really standing out. Unfortunately all that didn't translate well into taste, the sweetness of the malts were really overpowering. Some hops to balance that out would have been greatly appreciated.
It was not really hard to drink, but I can't picture myself intentionally buying another one.
725 characters
3.77
/5
rDev
+33.7%
look: 3.5 | smell: 4 | taste: 3.5 | feel: 4 | overall: 4
Got the 500 ml bottle as a part of the Stoertebeker giftpack and was surprised to see a Porter style beer, so i tried and was quite surprised.
A- looks ok, very light brown, almost like coke with a tan head that stuck around surprisingly long.
S- sweet, but appealing, so I dove right into the
T- malty, fruity, very sweet and enjoyable
M- light, easy-to-drink
D- very high, but I could imagine the sweetness might get a little bit overwhelming after time.
Yeah, so it was a really good beer and I would definetely buy it again, just because porter style beers are somewhat rare and this one was really enjoyable.
620 characters

2.44
/5
rDev
-13.5%
look: 4 | smell: 2.5 | taste: 2.5 | feel: 2 | overall: 2
A: Pours brown with a medium large light tan-colored creamy head. Slow dissipation leaves some lacings.
S: Kind of mild smell (nice way of saying weak). Some chocolate and some sweet roasted malt. Faint dark dried fruits. Perhaps some vanilla.
T: Very sweet malt, only a little roasted. Lots and lots of sweet dark dried fruits.
M: Short sweet aftertaste - no bitterness what so ever. Body is syrupy medium to thin and carbonation is low.
D: This was almost like a soda. Sweet! I guess my 4 year old son would love this - he's kind of into soda...
553 characters
3.06
/5
rDev
+8.5%
look: 4 | smell: 3 | taste: 2.5 | feel: 3 | overall: 4
Thi was quite interesting to drink in so far as it was more like a Malzbier with a slight alcoholic punch to it.
It has all the right ingredients for a good beer but a bit of hop bitterness to balance out the (not unpleasant) malt sweetnes is needed.
I could drink this too quickly cause it is too much like a soft drink....
326 characters

2.51
/5
rDev
-11%
look: 4 | smell: 3 | taste: 2 | feel: 2.5 | overall: 2.5
A / L: small bubbles, leaving a gentle ring of froth quickly.
Colour is brown, copper with a slight reddish touch, reminding of Alt.
S: clear smell with very slightly sour touch to it, a bit of smoke
T: sweet up front, smokey touch comes next. absolutely no hints of hops. Aside from the smoke it tastes like an ordinaryl german Malzbier (root beer, malt beer?) gone alcoholic. There's even a hint of spicey alcohol to it, though the beer has only 4,0% ABV.
Nevertheless, the beer tastes one-dimensional
M: a bit to watery and sweet for a Porter, esp the sugar (added according to the label (!)) makes it's mouthfeel similar to that of a lemonade.
D: more drinkable than a 'real' Porter as it lacks the latter's complexity. Might be a good quencher for the summer, not more.
bottom line: this 'porter' seems to me like an alcoholic variety of a malt beer to me, too quaffable maybe. Criticism that this beer is too sweet might stem from the fact that people in Germany drink their beer at lower temperatures that people e.g. in England would drink a porter, with lower temperatiures making the taste less sweet.
If I should bet I'd say that they use the same yeast like in their other bottom-fermenting beers.
While almost all other german Porters are in fact Schwarzbiere, this one is not, though I wouldn't call it a Porter either. In this case, Porter is the marketing label for an overly quaffable, sweet easy-entry alcoholc malt beer (hence the sugar, hence not marketed as "beer"), targeted at regular alcopop drinkers, not Porter-lovers.
1,554 characters
3.12
/5
rDev
+10.6%
look: 3 | smell: 3.5 | taste: 3 | feel: 3 | overall: 3
A: Black cherry red, perhaps a bit darker. Not much head.
S: Cocoa, sweet.
T: Very sweet, almost syrupy in flavor. Too sweet. Faint "natural" rootbeer aftertaste. It's a nice flavor but way too sweet.
M: Just like a soda
D: It's hard to think of it as a beer since it's soda qualities very much outweigh it's beerness.
322 characters

2.16
/5
rDev
-23.4%
look: 4 | smell: 3 | taste: 2 | feel: 2 | overall: 1
Picked this up in a sampler pack of 6 different beers from this brewery in a local German super market. Deep chocolate brown pour with nice caramel colored head and decent lacing. Somewhat smokey nose with a slight metalic tinge to it. A little bit of chocolate also. The first sip was a real shocker. Had not expected the in your face sweetness from a beer labeled a porter. It had the smokey, chocolatey character of a porter but the sweetness was way too much for my tastes. It was almost a cola beer. It had the makings of a nice porter if it had not been so damn sweet. And it got sweeter as I drank more. I never pour out a beer but this was just too much to palatte. Hope the rest of the six pack is not this bad.
720 characters
3.12
/5
rDev
+10.6%
look: 3 | smell: 3.5 | taste: 3 | feel: 3 | overall: 3
I've never seen a German Porter before, so let's see what this over priced beer is about.
This brew produces a dark tan, finger and a half thick head, with a deep black body with reddish hues.
This gives off very smoky aromas more than anything else.
This is the sweetest beer I've ever tried in my life. It is very pronounce with vanilla and slight chocolaty flavors. It seems more like a soft drink than a beer. Thought the aroma was dominated by smoke characteristics, there are none of these characteristics to be found in the taste.
This beer is almost too sweet, but is very interesting to see a German brewery take a stab at a more British Isles type beer.
679 characters
Störtebeker Hanse-Porter from Störtebeker Braumanufaktur
2.82
out of
5
based on
33
ratings.