Störtebeker 1402
| Störtebeker Braumanufaktur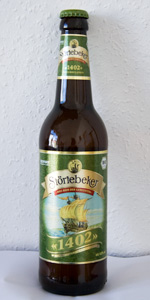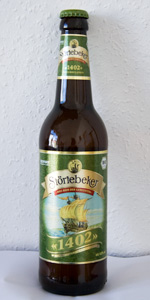 BEER INFO
Brewed by:
Störtebeker Braumanufaktur
Germany
stoertebeker.com
Style:
Kellerbier / Zwickelbier
Alcohol by volume (ABV):
4.90%
Availability:
Year-round
Notes / Commercial Description:
No notes at this time.
Added by sfprint on 07-18-2010
HISTOGRAM
Ratings: 14 | Reviews: 9
Reviews by czfreeman:

3.65
/5
rDev
+4%
look: 3.5 | smell: 3.5 | taste: 3.5 | feel: 4 | overall: 4
Picked up a six-mixed pack of this brewery's biers, I have previously had the Bernstein Weizen and found it quite enjoyable, so grabbed it. First up the 1402 Pilsner, an Organic Pilsner.
Pours a beautiful golden straw tone of light hay, light, medium streams of carbonation create a quite beautiful head. Quite murky however, for a Pilsner--sooo According to the website however, this beer actually is a Kellerbier, and won a Gold Medal in the 2010 World beer cup.
Aromatics of biscuit, toasted bread, malt, tart lemon, sour apple, sour grapes, a nice malty-fruity backbone creating a quite solid German Pilsner. Unfourtunalty ends a bit weak, but the aroma overall is not too shabby.
Onto the first sip, lemon, sour apple, grape, grain,bread,pepper, nice carbonation, definatly more in the Keller beer. This brew is much more rustic than your typical clean, filtered Pilsner. Nice tartness and sour finish come out more as the beer warms, definalty at its peak after about 10 minutes after pouring.
Mouthfeel-light, refreshing, good..but after previously sampling Aying's kellerbier at the Brewpub, a Hacker Pschorr 1402 on tap and a fine Rampendahl Keller yesterday, it simply isn't on par with the best of the best, the rustic offerings pulled from Brewmasters cellars for the world to enjoy. This type of beer is really a specialty, a private brew, and this one is really good, but not on par with the best. Glad to have tried it though, Cheers
1,449 characters
More User Reviews:

3.65
/5
rDev
+4%
look: 4 | smell: 4 | taste: 3.5 | feel: 3.5 | overall: 3.5
This is an organic pilsner
A: Huge, fat, thick 1+" head. Very fluffy. Looks almost like a witbier. Massive carbonation flowing from all around.
S: Pleasant sweet malt, with an edge of plastic in the background.
T: Lighter than a normal German pilsner. Same comment as the smell: there's a very nice sweet and light malty flavor, but plastic in the background, but that part isn't very offensive and it's less strong in the taste. Slightly bitter aftertaste. Much milder than your average German Pils.
M: Fluffy going down.
O: It's a nice beer, different from what I'm used to while still maintaining that distinct German flavor.
634 characters

4.28
/5
rDev
+21.9%
look: 4.75 | smell: 4.25 | taste: 4.25 | feel: 4.25 | overall: 4.25
Classic yellow lightly cloudy german appearnce. Ripe german hops and pilsner malt on the nose. Very fresh tasting, soft malt, again ripe hops and a tangy bitterness on the finish. A pure joy to drink and probably the best example of the style I have had exported outside German soil.
283 characters
3.84
/5
rDev
+9.4%
look: 3 | smell: 4 | taste: 4 | feel: 3 | overall: 4
Label calls it a Kellerbier. 500ml bottle MHB: 28.12.11.
It looks more like a kellerbier, it is a hazy gold with a fluffy white head that produces gobs of lacing. It has a bit of awkward carbonation bubbles that cling to the side of the glass that take the appearance down a notch.
The smell is good, it is herbal with a hint of citrus rind and a subtle maltiness.
The flavor is pretty good. It is subtly fruity with hints of citrus and a sweet herbal character. The malt is bready but not overbearing. There is not a high level of bitterness but it is definitely slightly more noticeable than the norm.
The mouthfeel could be crisper, I feel like it is a bit of a week link.
Overall it is a solid unfiltered pils.
719 characters

3.87
/5
rDev
+10.3%
look: 4 | smell: 3.75 | taste: 4 | feel: 3.25 | overall: 4
5 months before sell by date.
Bottle is definitely '1402' but is only 4.8 proof. There is a new label too.
Pale pils yellow but a little cloudy. The label says Kellerbier, but this is quite like a pils, a style I know very well - I'm not that familiar with kellerbier ...
A medium frothy head which holds well with good lacing. Carbonation is high which is not so pleasant. Also a little watery (in spite of the flavour).
The style is quite 'pilsy', malt & good citrusy hops, but with a lovely light floral fruity note. [edit] I originally reviewed it negatively as being extremely sour in the finish -- I've had it a couple of times since without this strong sourness, hence the improved marks. [/edit]
Light but flavourful, very drinkable :up:
746 characters
3.37
/5
rDev
-4%
look: 3 | smell: 3.5 | taste: 3.5 | feel: 3 | overall: 3.25
3.54
/5
rDev
+0.9%
look: 4.5 | smell: 3 | taste: 3.5 | feel: 3.5 | overall: 4
It is a very pretty looking beer when poured into a Pils glass. Straw blonde colour with a thick white head that lingers for a while.
The rest is decent Pils stuff with hop bittereness prevalent but not overpowering. Less bitter than a Jever the mark of all coastal Pilseners but better than a southern Pils.
This was very drinkable and I d have it again.
357 characters
3.59
/5
rDev
+2.3%
look: 3.5 | smell: 3.75 | taste: 3.5 | feel: 3.75 | overall: 3.5
Serving: From the bottle in Berlin on the banks of the Spree
Served: August 2016
The formal review escaped me due to life things, but here's a quick summary: I enjoyed this beer directly from the bottle and was generally pleased. Good malt flavors with a bigger mouthfeel due to the suspended yeast. Hop notes seemed a bit stale though- too much spice and not enough herb. Nonetheless, a good beer from a lesser known brewery.
427 characters
2.91
/5
rDev
-17.1%
look: 2.75 | smell: 3 | taste: 3 | feel: 2.75 | overall: 2.75
The zwickl is difficult to judge, as some varieties are are fairly dark and nutty. This one was light and a hazy golden color. Poured fairly flat with little head. Aroma is of hay and butterscotch, and the taste wihile pleasant, is fairly weak and watery. Much better to be found elsewhere....
293 characters

3.5
/5
rDev
-0.3%
look: 3.5 | smell: 3.5 | taste: 3.5 | feel: 3.5 | overall: 3.5
A: Pour is pale golden, slightly hazy. Medium-large white head that sinks pretty fast, leaving nice lacings.
S: Smell holds malt with only little sweetness and a nice bitterness from the hops. Some grassy hops as well.
T: Sweet malt, light bready in taste. Nice bitter hops. Some faint citric and grassy notes.
M: Decent aftertaste with nice bitterness. Body is medium and carbonation is rich.
D: A basic German Pilsener. A little above average.
450 characters

3.94
/5
rDev
+12.3%
look: 4 | smell: 3.75 | taste: 4 | feel: 4 | overall: 4
Störtebeker 1402 from Störtebeker Braumanufaktur
Beer rating:
3.51
out of
5
with
14
ratings