Lunar Lager
| Thirsty Dog Brewing Company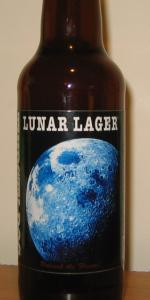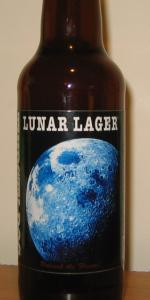 BEER INFO
Brewed by:
Thirsty Dog Brewing Company
Ohio
,
United States
thirstydog.com
Style:
German Pilsener
Alcohol by volume (ABV):
6.00%
Availability:
Limited (brewed once)
Notes / Commercial Description:
No notes at this time.
Added by brewdlyhooked13 on 08-27-2009
This beer is retired; no longer brewed.
HISTOGRAM
Ratings: 9 | Reviews: 8
Reviews by McNealc31:

3.4
/5
rDev
+17.2%
look: 3 | smell: 3 | taste: 4 | feel: 3 | overall: 3
To be perfectly honest, if I didn't know it was a lager, I'd think it's an ale. It's a cloudy gold color, similar to a hefeweizen. Nice head, very good lacing, and a little bit of bitterness. It almost tastes like a milder version of Great Lakes' Grassroots Ale. It's got that kind of muddled herby citrusy taste to it. A very dry finish, too.
It's good, but not great. Honestly, the novelty is the most appealing feature.
423 characters
More User Reviews:
2.67
/5
rDev
-7.9%
look: 4 | smell: 2 | taste: 3 | feel: 1.5 | overall: 3
4.99 a six pack why not try this out...
well I know why it was so cheap. It really reminds me of what would happen if someone took a whole orange and let it soak into a glass of bud for an hour. This beer is a beer for the non-enthusiast who is looking for a change of taste. It tastes very average and I think if I was not used to drinking good beers that I would like this.
376 characters
3.25
/5
rDev
+12.1%
look: 3.5 | smell: 3.5 | taste: 3 | feel: 4 | overall: 3
12 oz. bottle, 6% ABV. Pours a clear, dark golden color. Lots of streaming bubbles rising from the bottom of the glass. White foamy head trickles down to a thin layer rather quickly, leaving no lace.
Bready, toasty malt, with a slight floral end note. Cereal grain malt.
Bready with a hint of sweetness. Not enough hop bitterness to balance things out. Not very crisp.
Light body, with a good amount of carbonation. Alcohol is hidden. This one just didn't do it for me.
474 characters

3
/5
rDev
+3.4%
look: 3 | smell: 3 | taste: 3 | feel: 3 | overall: 3
12oz. bottle poured into an imperial pint. Thanks to kstrickler for the bottle!
(A)- Pours a hazy goldenrod color that produced a decent white head that dissipated quickly. Left bits of lacing behind.
(S)- Spicy yet dry piney hops with bits of grapefruit.
(T)- Very fruity; peach, apricot, lemon, lime, and apple. Finishes with just a bit of dryness.
(M)- A good carbonation level. I was expecting more hop presence rather than a big fruitiness, but it was still enjoyable. The dry finish at least hints at it and is a pleasant surprise.
(D)- An interesting beer that reminds me more of a dry hopped ale, only far less hoppy. Enjoyable enough to have a few of, but otherwise a pretty basic brew in a more obscure style.
729 characters


2.09
/5
rDev
-27.9%
look: 3 | smell: 1.5 | taste: 2.5 | feel: 2.5 | overall: 1.5
A deeper orange color with a small white head and millions of carbonation bubbles.
A really off-putting aroma. Something to do with the malt i've smelled in beers before may even be diacetyl. Very sweet and cheap smelling. And that's about it.
Not as bad in the mouth as the nose would suggest. Cloying sweetness, bready with a cereal type flavor. Hints of caramel and toffee with a buttery diacetyl flavor. No hops to speak of leaves things out of whack.
458 characters
2.65
/5
rDev
-8.6%
look: 3 | smell: 3 | taste: 2.5 | feel: 2.5 | overall: 2.5
I got this brew from tburkhart for winning SNF Squares Week 13, Thanks Tim!
12oz bottle served in a pilsner glass.
Hazed yellow color with a small white head that thinned out and didn't leave much in the way of lacing.
Smell is Euro-smelling hops and malt.
The taste loses something from the smell, it's almost like a Berliner Weisse kind of taste.
Medium bodied with dull carbonation.
Nothing to write home about.
416 characters
2.81
/5
rDev
-3.1%
look: 4 | smell: 3 | taste: 2.5 | feel: 3.5 | overall: 2.5
"What was most significant about the lunar voyage was not that men set foot on the moon, but that they set eye on the earth."
--Norman Cousins
Any beer that honors the Neil Armstrong Air And Space Museum in Wapakoneta, Ohio and the Apollo 11 mission in which he was the first man to walk on the moon (July 20, 1969) is all right with me.
Bright honey with a generous amount of swirling yeast that quickly settles into suspended animation. The attractive cap is closer to ecru than ivory. It has pretty good persistence and is starting to grace the glass with shredded sheets of lace.
The aroma is more sour fruity (lemons) than hoppy, which is never a good sign in a German pilsner. This bottle can't be more than several months old, so age shouldn't be a factor. It's also musky and grassy, so all is not lost.
Lunar Lager is not a very good pilsner, sorry to say. The hops aren't in the spotlight... and they're barely backstage. In a beer of this style, that's an unforgivable sin. I keep hoping that things will change with time and warming, but I know they won't.
The flavor profile is made up of sourish wheat and lemon juice, with perhaps a smidgen of grassiness from the German hops. It isn't a hard beer to drink, but then there isn't much here for Thirsty Dog to be proud of since they were shooting for a style that has... you know... certain defined characteristics.
The mouthfeel is actually pretty good if one is able to subtract out the flavor. It's at least medium for the ABV and has a nice lagery smoothness; not to mention well-done bubbles.
I am far from over the moon about Lunar Lager. This is an earthbound brew that makes too many mistakes to be taken seriously. Neil Armstrong is still The Man and is one of Ohio's most favorite sons.
1,767 characters
3.26
/5
rDev
+12.4%
look: 4 | smell: 3 | taste: 3.5 | feel: 3 | overall: 3
This is a special beer brewed in cooperation with the community of Wapakoneta, Ohio. Wapakoneta is the hometown of the commander of the Apollo 11 space mission, who became the first person to walk on the moon on July 20, 1969. Anyway, bottle. Pours a clear deep orange with a small white head. Aroma of bready yeasts and light fruits. Flavor of sweet malts initially and maple sugar with a bready finish. On the sweet side but pretty decent.
441 characters
Lunar Lager from Thirsty Dog Brewing Company
Beer rating:
2.9
out of
5
with
9
ratings