Barrel Aged 12 Dogs Of Christmas
| Thirsty Dog Brewing Company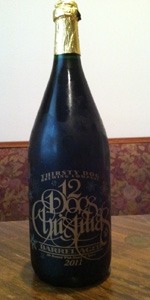 BEER INFO
Brewed by:
Thirsty Dog Brewing Company
Ohio
,
United States
thirstydog.com
Style:
Winter Warmer
Alcohol by volume (ABV):
not listed
Availability:
Winter
Notes / Commercial Description:
No notes at this time.
Added by vrbulldog22 on 12-28-2011
Reviews: 12 | Ratings: 93
4.23
/5
rDev
+3.7%
look: 4.25 | smell: 4.25 | taste: 4.25 | feel: 4 | overall: 4.25
Appearance: Arrives with a murky ice tea color capped by a couple of inches of foam; nice lacing patterns linger
Smell: Caramel, Bourbon and holiday spices
Taste: Caramel with just a hint of Bourbon, up front; the holiday spices develop in the middle, bringing cinnamon, nutmeg and ginger; after the swallow, the Bourbon picks it up a notch, but complements rather than overwhelms
Mouthfeel; Full bodied, with moderate carbonation'
Overall: A very nice beer here, with the Bourbon adding complexity to the Winter Warmer without overwhelming
549 characters
4.14
/5
rDev
+1.5%
look: 4 | smell: 4.25 | taste: 4.25 | feel: 3.25 | overall: 4.25
On tap at The Beer Market in Rochester, NY.
This one pours a clear amber color, with a very small head, and no lacing.
Smells like bourbon, toffee, caramel, cinnamon, and nutmeg.
So I guess the base of this is apparently the original recipe for Great Lakes Christmas Ale, which is cool. There's a subtle and well-integrated bourbon character to this one. It complements the Christmas spicing nicely, the cinnamon and nutmeg is what I am getting of that. There's some caramel, and toffee, and some oak and vanilla from the barrel. Thirsty Dog generally knows what they are doing when it comes to barrel-aging, and this is no exception.
This is kind of thin bodied, which is really the only major issue with this beer. It's got a moderate level of carbonation.
A pretty cool beer to try here, glad I got a chance to try it as I believe it's only bottled in magnums.
868 characters
4.24
/5
rDev
+3.9%
look: 4 | smell: 4.25 | taste: 4.25 | feel: 4.25 | overall: 4.25
1.5L magnum into a tulip. # 757/999
pours a dark red with a big foamy white head. very yeasty. smell is of cinnamon, slight bourbon, spices. taste is much smoother than the regular...ABV undetectable. lots of spices and the barrels have really improved this. though they aren't very prominent, the barrels are there and have done wonders. however this is still a heavily spiced beer. medium bodied, medium carbonation.
overall very glad to have tried this. thanks Tim!
471 characters

3.3
/5
rDev
-19.1%
On tap at the brewery. Pour is dark murky brown with a tight light tan head. Nose is bourbon forward, a hint chalky with notes of caramel malt, a touch of spice with some sweet berry malt. Taste is a bit more spicy, the barrel is a little lighter in the flavor, the malt sweetness comes out more through the finish. Fairly well integrated and not overly sweet with strong carb and a medium body.
399 characters
4
/5
rDev
-2%
look: 4 | smell: 4 | taste: 4 | feel: 4 | overall: 4
Big thanks goes out to my doppelganger who shared this one at a tasting in celebration of me walking again and going back to work! Bottle #41 of 999! Served from 1.5 L bottle into a Mikkeller taster flute. Poured a deep red-orange with a minimal off-white head. Maintained phenomenal lacing throughout the glass. The aroma was comprised of sweet malt, cinnamon, peppermint, brown sugar, wood, and sweet alcohol. The flavor was of sweet malt, pine, cinnamon, peppermint, brown sugar, wood, and sweet alcohol. It had a medium feel on the palate with medium-high carbonation. Overall this was a pretty good brew. The barrel really added a nice touch to this brew. It was very heavy on the Christmas spices in this one, but the barrel helped to balance them out. Definitely worth trying if you get the chance.
805 characters

4.12
/5
rDev
+1%
look: 4 | smell: 4.5 | taste: 4 | feel: 4 | overall: 4
Many thanks to csmiley for sharing this one.
Bottle 461/999
Barrel Aged 12 Dogs of Christmas pours a deep caramel, copperish color. Backlighting shows some nice crimson highlights. It's topped with a lighter tan head that rises to just under a finger in height. It's very quick to recede and leaves a light, spotty lacing behind.
The nose is pretty impressive. It starts out with a strong, sweet caramel scent. It's buttressed by a nice bourbon presence. It complements the caramel scent nicely. The bourbon seems moderately strong and isn't overbearing at all. There are some nice holiday spice notes of ginger and cinnamon. They seem to be a little less pronounced with bourbon in the house. Vanilla emerges late. Alcohol is definitely there, but doesn't smell overly strong. Impressive.
The flavor is quite good, but isn't quite as good as the nose. A mix of sweet caramel and bourbon kick things off. The malt base is definitely on the sweeter side. Bourbon works nicely though. It isn't overly strong and plays its complementary role well. The barrel aging also imparted a nice vanilla flavor. Holiday spices of ginger, cinnamon, and nutmeg are noted. They're definitely more subtle here than in the regular release. They work really well with the bourbon flavor. Everything works together to create an impressive flavor. Alcohol is noted, but isn't warm or hot. I don't know what the abv is, but it doesn't seem all that high. Finishes malty and spicy with a touch of bourbon.
The body is medium. Carbonation is mid-range, but the bubbles feel soft. It goes down nice and smooth. It's big, but it really is easy drinking. There are three of us working on this 1.5 liter bottle, but we'll finish it off.
Barrel Aged 12 Dogs of Christmas is impressive beer. The barrel aging really works well with the base beer. It's easily superior to the regular 12 Dogs release. Having said that, it's not worth the price tag if you're drinking this solo. With a group, it's not as much of an issue. Going forward, I'm hopeful that Thirsty Dog will package this a little differently. I love the bottle, but six packs would've been much better.
2,179 characters
4.22
/5
rDev
+3.4%
look: 3.75 | smell: 4.25 | taste: 4.25 | feel: 4.25 | overall: 4.25
We let one of these bad boys sit from the 2014 batch (#187 of 999). It's pretty mellow. I just had some of this years' a couple days ago and it is much rougher, but I'm not sure the aging was necessary. Since we put up the xmas tree today, this was appropriate.
It's medium brown with an odd head - big and small bubbles together. The aroma is a nice, not overblown, sweet, boozy, hoppy affair. The taste is the real boozefest (but less than the current year's). The booze dominates malts which dominates yeast which is tied for last with the hops. But there are no losers.
The aftertaste is a mild bite with booze. This is like doing a watery shot of xmas flavored bourbon (I have some of that in my stash).
This is pretty cool - very mild but not too sweet. The hops died to a very low level in aging but they are nicely underneath all that great booze taste. Recommended.
881 characters

3.63
/5
rDev
-11%
look: 4 | smell: 3.5 | taste: 3.5 | feel: 4 | overall: 3.75
On-tap at Heinen's in Mayfield Village, Ohio
Pours amber with a fluffy light tan head that leaves nice thick retention and nice lacing. The aromas are malt forward. Lots of caramel and toffee. The cinnamon and spice notes are very subtle. The bourbon is subtle as well, but there's alot of oak/wood notes. The flavors are clean, bold and balanced. More caramel and toffee which really shine. The cinnamon, nutmeg and ginger doesn't seem to pop like it does in the regular version. Very nice oak/wood flavors. Mild hints of vanilla. The bourbon is subtle, balanced and not overwhelming. It finishes with a solid warmth, but it's not hot or boozy at all. Alcohol is well hidden. Mouthfeel is on the lighter side of full-bodied with moderate carbonation. It's very fluffy and smooth. Dangerously drinkable.
This is a solid barrel aged brew. Balance is the key and no characteristic steals the show. Nice stuff.
909 characters

4.24
/5
rDev
+3.9%
look: 4 | smell: 4.25 | taste: 4.25 | feel: 4.25 | overall: 4.25
Hand numbered bottle #421 of 999.
Stubborn cork; chipped the glass on the bottle while trying to open it. Pours hazy brown/ruby. Very small tan head, quickly turns into a small ring. Lacing is very minimal.
Smells sweet. Malt upfront, caramel, oak, dark fruit, honey, hints of brown sugar, nutmeg, cinnamon. I sat & just smelled this for a couple of minutes before sipping.
Taste is sweet but not overwhelmingly so. Oak upfront that fades to malty & dark fruit goodness, finishes with the spice content associated with the non-barrel aged 12 Dogs.
Feels warm even though served cold. Sweet but not too sticky. Medium body, slightly syrupy, very smooth & nice carbonation.
672 characters

4.54
/5
rDev
+11.3%
look: 4.25 | smell: 4.5 | taste: 4.75 | feel: 4 | overall: 4.5
Thirsty Dog Barrel Aged 12 Dogs of Christmas Had a cap and a cork~ Pours a light Plum/Ruby with crimson tones, dense light tan head~ malty, lower carbonation, very creamy, warm and satisfying~Taste is the straight kill
218 characters
4.02
/5
rDev
-1.5%
look: 3 | smell: 3.5 | taste: 4.5 | feel: 4 | overall: 4
Think our bottle was 477 poured into baby snifters over and over
A- murkey amber ruby color, no head
S-burbon sweet malty
T- malty, rich, burbon, light spiced
M- malty thick low carbonation
O- nice low alcohol flavor its hidden well, burbon is not over powering, and spice is there but it takes some concentration. Winner winner chicken dinner
344 characters

4.57
/5
rDev
+12%
look: 4 | smell: 4.5 | taste: 4.5 | feel: 4.5 | overall: 5
Like my fellow reviewer I had problems with the cork. It came out in 2 pieces and was very wet. I had bottle 399/999.
Poured in my Unibroue snifter glass. Hazy brown with a slight red tint with a 1/4" tan head that quickly dissipates. Small bubbles slowly rising through the thick liquid.
Has a sweet smell at the beginning with that unmistakable bourbon aged scent. You can also pick out honey, nutmeg, cinnamon and a bit of dried fruit.
It tasted sweet but not as much as I thought it would. The Bourbon smoothness gets you right away but quickly takes a back to the subtle spices of traditional winter warmers. Gives a off a warm feeling even though it was served at about 40 degrees. I have to say I am very impressed with this beer. It's has a bit of sweetness but not too much. The high alcohol doesn't blow you away since the beer is so smooth and thick. You really feel like you are drinking something special when BA 12 dogs is in your glass. I understand it's $$$/ounce but I don't regret my $ at all.
My father in law is more of a light lager drinker but he had a small glass and swears he enjoyed it. My dad who like Jack Daniels (no ice), was so impressed with the rich complexity of this beer he started plotting on how to get his hands on a few bottles for next Christmas.
1,301 characters
Barrel Aged 12 Dogs Of Christmas from Thirsty Dog Brewing Company
4.08
out of
5
based on
93
ratings.