Single Star
| Sherbrooke Liquor Store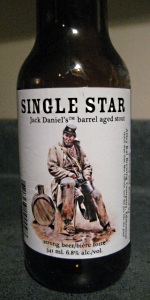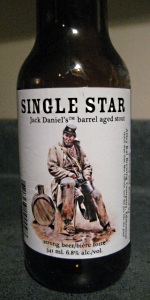 BEER INFO
Brewed by:
Sherbrooke Liquor Store
Alberta
,
Canada
sherbrookeliquor.com
Style:
American Stout
Alcohol by volume (ABV):
6.80%
Availability:
Limited (brewed once)
Notes / Commercial Description:
Three Bears Oatmeal Stout by the Alley Kat Brewery aged in Jack Daniel's barrels.
Added by IronDjinn on 04-12-2011
This beer is retired; no longer brewed.
HISTOGRAM
Ratings: 6 | Reviews: 6
Reviews by Roke87:

3.98
/5
rDev
+3.9%
look: 4.5 | smell: 4 | taste: 4 | feel: 3.5 | overall: 4
341 mL bottle, slightly chilled and poured into a snifter.
Appearance- Pours a dark almost completely black colour with some very slight brown highlights when held up to a light. Average pour yields about a pinky fingers worth of tan mocha head that somewhat quickly resides to a very thin ring around the glass and a small bubbly center, leaving a few spotty dots of lacing, but not much.
Smell- The nose is a little subdued for what I was expecting, a mild roasted malt aroma comes through and alcohol from the JD barrels are the first things that come to mind, some woody earthy aromas peak through as well paired with a little bit of sweet vanilla in there as well.
Taste- Just like the nose, I think the tastes are a little subdued as well, I get more of the roasted malt in the flavours and the jack daniels alcohol bite is not as present in the tastes although as it warms it makes itself more present, and you do get that whiskey warming sensation as it goes down the throat. Next coming through is that sweet vanilla and the woody tastes, some mild chocolate flavours in there as well but overall a little watered down in my opinion.
Mouthfeel- Definitely a lighter to medium bodied stout, almost a little watery but it does go down smooth and silky with a very mild alcohol bite, good carbonation for a barrel aged stout as well.
Overall- It was a really good barrel aged stout all in all, and I'm happy I got the opportunity to try it. Although I think I had a little bit of high expectations comparing it to other similar offerings from other companies. The tastes in the end were well balanced and almost every sip is something a little slightly different and other little nuances that shine through each time. Although I did find it a little watery for a barrel aged stout, it still went down very smooth and silky, hiding the alcohol bite very well in the smoky roasted malt, mild chocolate and sweet vanilla tastes. Overall a quality beer but nothing over the top amazing.
1,995 characters
More User Reviews:
4
/5
rDev
+4.4%
look: 4 | smell: 4 | taste: 4 | feel: 4 | overall: 4
341ml bottle. The label depicts a Confederate soldier lounging next to a barrel, possibly of Tennessee origin, for the war effort, of course. The sideline commentary proclaims "Other than that, Mrs. Lincoln, how did you like the play?". What, too soon?
This beer pours a solid black, with minimal basal cola edges, and one obese finger of thin creamy tan head, which leaves a few spider webs of lace around the glass upon its retreat. It smells of bitter baker's chocolate, light roasted malt, boozy vanilla, and bourbon (I know, Tennessee Whisky) woodiness. The taste is milk chocolate malt, some lactic sweetness, and prevalent, but nowhere near overbearing vanilla, caramel and woody oak barrel essences. Can't say I detect any charcoal...or strong booze, for that matter. The carbonation is quite soft, the body medium weight, a little thin, and nice and smooth. It finishes off-dry, some residual chocolate JD confection holding the fort.
A pretty decent barrel-aged stout, however, the subtleties of the underlying oatmeal stout are overlaid with the equally subtle nature of the guest wood. Nothing is overwrought, all playing well together, and the extra booze is interwoven seamlessly. Good to try if you have the opportunity.
1,237 characters
3.8
/5
rDev
-0.8%
look: 4 | smell: 4 | taste: 4 | feel: 3 | overall: 3.5
This is apparently a very limited release beer, with only 480 bottles made. It's got quite a nice label on it as well. This is apparently Alley Kat's Three Bears Oatmeal Stout aged in Jack Daniel's barrels. I'm very excited about what this might have to offer!
This beer is literally pitch black. I can't see any light coming through it whatsoever. The head is thin, and hangs around as a film over the top of the beer. I'm sure that the carbonation is lost during the aging process. Nonetheless, it looks quite appetizing... even a tiny bit decadent!
The alcohol is obviously apparent in the aroma, though it isn't offensive. The Jack Daniel's smell mixes well the deep roasty malt and coffee elements from the stout. The aroma is surprisingly faint overall.
The flavour is surprisingly smooth and subdued... two characteristics I don't normally associate with Jack Daniel's. It is slightly There is barely any carbonation to speak of here, which might have improved some of the stout aroma. The flavour is quite balanced though, with some light smooth nutty flavours that mix well with the slightly sweet and zesty whiskey aspects. The alcohol has a very nice warming effect and the aftertaste is slightly smoky. quite nice
Overall, i wish the stout was a bit more intense in this beer. It's a really good idea, but not executed in the ideal way in my opinion.
1,367 characters

3.68
/5
rDev
-3.9%
look: 4.5 | smell: 4 | taste: 3.5 | feel: 3.5 | overall: 3.5
From a 341 ml brown bottle. Limited edition of 480 bottles, although none of them are numbered. I really enjoyed Alley Kat's Oatmeal Stout limited release, so very curious to see how it married with barrels of the Jack Daniel's. Pours out opaque pitch black, tall frothy beige head that slowly settles.
Wood and whiskey on the nose, mild notes of vanilla, some sweet dark malt in the background.
While the bourbon melds well with the base Oatmeal Stout, this version seems a bit watered down compared to the original. Sweet dark malt and wood are up front in the flavour, sweet whiskey in the middle, with a nutty finish and some notes of vanilla coming out in the aftertaste. A dry roasty character settles in long into the aftertaste.
Medium-bodied mouthfeel, slick and silky texture, moderate carbonation.
A nice experiment with some bourbon barrels, and an enjoyable result, however when all is said and done it doesn't seem to have enhanced the base beer, I'd actually rather prefer a regular bottle of Alley Kat's Three Bears Oatmeal Stout if given the choice.
1,070 characters

3.95
/5
rDev
+3.1%
look: 4 | smell: 4 | taste: 4 | feel: 3.5 | overall: 4
341ml bottle poured into tulip 27/6/11
A nearly black with red hues at the edge when held to light, loose two finger light brown head retains well leaving several partial rings of lace followed by spider web lace
S JD notes with a little cola even, almost smells like a highball mixed with chocolate milk
T not far from the smell with a little earthy sweetness I can't quite place
M thinner then I'd like but the flavors linger and just a hint of booze
O I like this more then the base beer but I'm still not blown away by what the JD barrel added but I do like it
it's a good beer for sure and I'm glad I got to try it, thanks Jim for lugging this one South to Cowtown for me
686 characters
3.55
/5
rDev
-7.3%
look: 4.5 | smell: 4.5 | taste: 3 | feel: 4 | overall: 3
Bottle thanks to biboergosum. The first bottle was sacrificed to the beer Gods a few months ago. Let's hope the second makes up for it.
A - Great pour into my tulip with an incredibly rocky three finger mocha coloured head and a little DQ style swirl at the top. Pitch black with strong carbonation coming up. Great lacing with tons of rings that are really thick. Good one finger retention.
S - Tons of coffee and chocolate mixed together with a generous dose of vanilla. The chocolate/vanilla combo is lovely.
T - Woody and earthy with some cola. Chocolate and coffee are extremely muted compared to the aroma. Vanilla is there again but very muted compared to the cola note with a little roast. Closer to an iced coffee or something.
M - Nice carbonation and a full body with a sweet finish.
O/D - If I could get over the cola note there, it'd be a great beer. The aroma is top notch. I just don't taste any of the aroma in the beer.
941 characters
Single Star from Sherbrooke Liquor Store
Beer rating:
3.83
out of
5
with
6
ratings