Ragutiene
| Sherbrooke Liquor Store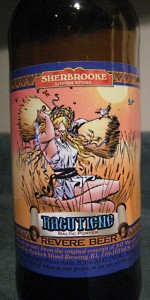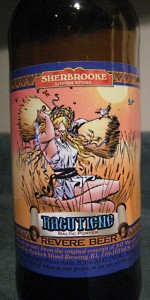 BEER INFO
Brewed by:
Sherbrooke Liquor Store
Alberta
,
Canada
sherbrookeliquor.com
Style:
Baltic Porter
Alcohol by volume (ABV):
9.50%
Availability:
Limited (brewed once)
Notes / Commercial Description:
Brewed at Paddock Wood Brewing Co.
Added by IronDjinn on 08-07-2011
This beer is retired; no longer brewed.
HISTOGRAM
Ratings: 15 | Reviews: 12
4.08
/5
rDev
+0.7%
look: 4.5 | smell: 4 | taste: 4 | feel: 4.5 | overall: 4
Ragutiene is the first in a planned three-year, 12-beer series of odes to various historical beer deities, from the good graces of Sherbrooke Liquor in Edmonton, in concert with, thus far, Paddock Wood. Amongst the other business on the label, the conjecture of 'Is that a bushel of wheat in your pocket, or are you just happy to see me' still kills downtown.
This beer pours a solid black 'hue', with very slight caramel basal edges, and two fingers of fairly dense foamy mild chocolate head, which leaves some consistent sudsy lace around the glass as it settles. It smells of lightly roasted caramel/toffee malt, strong dark chocolate notes, a bit of oat-like breakfast cereal, some end-of-day coffee, and a strangely enticing mild spiciness. The taste is heavy chocolate malt, the cocoa element somewhat chalky, with some mild lactic sourness, fading coffee grounds, and bitter leafy, earthy hops. Seems that I missed mentioning the booze edge - oh, right, that's because there is none whatsoever! The carbonation is very sedate, the body full, smooth, and not un-creamy. It finishes still sweet and chocolatey, the porter sourness doing a very respectably discreet job of keeping things on something within spitting distance of an even keel.
Baltic Porter? Sure, but I'm getting a lot of play that points more towards a RIS or Strong Ale. The chocolate is just too in your face, and the acidic/sour/dry component is too restrained to aver otherwise. Pedantry aside, this is one crazy-easy big-ass ale to drink - like dessert with one hell of a big wallop, unseen until the dishes are totally cleared...
1,610 characters
3.5
/5
rDev
-13.6%
look: 3.5 | smell: 3.5 | taste: 3.5 | feel: 3.5 | overall: 3.5
Bottle: Poured a pitch-black color ale with a small dark brown foamy head with average retention and some light lacing. Aroma of coffee, dry roasted malt with some light black chocolate is mix in with some light vinous and dry raisins notes. Taste is an interesting mix between some black chocolate notes and dry roasted malt with some very light coffee notes but there is also some subtle but discernable notes of dry raisins and vinous notes. Body is about average with good carbonation and no apparent alcohol. Another interesting experiment brought forward by Sherbrooke.
575 characters

4.16
/5
rDev
+2.7%
look: 5 | smell: 4 | taste: 4 | feel: 4 | overall: 4.5
Bottle sent over by strang, 12oz bottle into a snifter.
Poured a deep dark brown, almost-but-not black. Sitting atop is a dense whipped marshmallow-like topping which serves as a head, one of the creamiest I've ever seen (similar to the Indie Ale House Belgo IPA I had a couple days earlier - just out of this world!). Light brown in colour, with a reddish ringe. Some good looking beers as of late! Nose of coffee, cocoa, slight tartness, and brown sugar notes. Taste is milky with some lactic notes, touch of brown sugar, medium roast coffee with some background dark fruits. A gentle lingering roast finishes this one out. Creamy and full feel, with a great body. No alcohol at just under 10% makes this fairly dangerous. Certainly a pleasant Baltic porter, would've been nice to have few more of these for the upcoming winter months.
839 characters

4.25
/5
rDev
+4.9%
look: 4.5 | smell: 4.5 | taste: 4 | feel: 4 | overall: 4.5
355ml bottle poured into tulip 7/11/11
A pretty dark with just a little cola at the edge, long lasting two fingers of dark mocha head that leaves a few rings of lace followed by random polka dots
S grapes are quickly overrun by molasses, earthy wet wood, plenty of milk chocolate, some faint coffee and a little booze mingles well with some smokey bourbon
T more of the same but with little charred wood and although still fairly intense not quite as pleasurable as the nose, a little cola comes through the dark roast
M medium bodied considering the color but just enough carbonation and a little heat but for the strength its pretty well in check, fruity char lingers for some time on the finish and just a little sticky on the lips
O should come with a warning because this one sunk like a ship and I felt the booze before tasting or smelling it, if you like a dark roast this ones for you
thanks Jim for getting this one too me, its one of the better brews I've had form Sherbrooke's line-up and Paddock Wood for that matter. I'm a little concerned that the Goddess on the label has some pit hair and scruffy legs but I'm just assuming its the artists shadowing, but that doesn't explain why shes smelling her armpit, your hot baby just don't worry about it.
1,272 characters
2.84
/5
rDev
-29.9%
look: 2.5 | smell: 3.5 | taste: 2.5 | feel: 3.5 | overall: 2.5
Bottle from biboergosum. Cheers.
A - Pitch black. No visible carbonation. A dark brown head up there of half a finger fading fast. No lacing and no head retention.
S - Quite chocolatey, chocolate milk. Good roasted malt. Vanilla as well.
T - Chocolate, roasted malt, bitter coffee. A strange spice perhaps? Strangely earthy. Seems like a fair amount of coffee. Not exactly a good combo for me.
M - Proper carbonation, medium to big body with a sweet and slightly bitter coffee finish.
O/D - Meh. Underwhelmed. Not exactly tasty. An odd combo of flavours that I had trouble pinning down but didn't mesh in a tasty way.
622 characters
4.13
/5
rDev
+2%
look: 4.5 | smell: 4 | taste: 4 | feel: 4 | overall: 4.5
From notes... This brew started off my New Years evening and was a solid score from my Calgary trader of choice...
A - Pours pitch black, solid finger of head with solid retention and some nice sheeting lacing.
S - Dark cocoa, chocolate cherries, hint of espresso and a nice boozy kick on the finish.
T - Musty cocoa, dark chocolate, leather, hint of peat, espresso and fresh ground coffee linger on the tongue. ABV is very well hidden, adding only a subtle sweetness and no heat.
M - Medium carbonation comes across thick and chewy and finishes wet. Perfect for the style.
O - A very tasty Baltic Porter, a solid brew from Sherbrooke, and a great way to start off the Beer God series. I certainly miss Sherbrooke, but thankfully my Calgary connection can keep me in the loop on their latest gems!
802 characters
4.23
/5
rDev
+4.4%
look: 4.5 | smell: 4 | taste: 4.5 | feel: 4 | overall: 4
Thanks to wordemupg for this one.
Poured from a 341ml. bottle.
Appearance: A totally opaque body with a good 3-4 fingers worth of cascading foam that drapes the sides and leaves a light mocha colored film.
Smell: Roasted aroma, charcoal, wood, hints of vanilla and cocoa.
Taste: Strong roasted flavor but not overbearing. A nice sweetened coffee flavor mixed with hints of vanilla and smoky licorice? Coffee beans and semi-sweet chocolate are also present.
Really digging the flavor.
Mouthfeel: Smooth, not heavy at all and an aftertaste of very low bitterness like after a sip of coffee.
Overall: Excellent brew & very drinkable. Highly recommended.
656 characters
4.42
/5
rDev
+9.1%
look: 4 | smell: 4.5 | taste: 4.5 | feel: 4 | overall: 4.5
For my 500th official review I can think of nothing better than to make a tribute to the beer gods, and to the best beer store ever, SHERBROOKE!... too bad it's not in my city of residence :(
A - satin black, short mocha head dissipated to a consistent sticky lace ring
S - huge chocolate malt aroma with roasty accents, some licorice and booziness
T - strong mix of roasty and chocolate malt with syrupy sweetness, a leafy hop note, a sweet alcohol kick that is very pleasant, smoky finish
M - thickish body that has light dry and chalky characteristics, finishes full with a mild alcohol hint
O - full in terms of aroma, flavour, and body, with a dangerously hidden ABV to the point where you would not notice if it wasn't on the label, truly a brew worthy of the gods...if they existed
788 characters

3.98
/5
rDev
-1.7%
look: 4.5 | smell: 4 | taste: 4 | feel: 3.5 | overall: 4
Okay, a bit of disclosure since that's my name mentioned there in the small print at the bottom of this beer label. While I did not brew the finished product, in fact didn't really come up with a working recipe for it either, I had a versatile hand in the background of this beer and the beer gods project in general. This involved researching the beer gods included, writing any print info involved, plus art direction (that's comic vet Steve Rude the Dude who did all the label art). As Paddock Wood brews each new beer god batch the final product is just as much a surprise to me as it is to anyone else. While I've had several samples of this already, I think a healthy space of time has elapsed to give it a fair rating and not influence anyone else's take on it.
From a 355 ml brown bottle, pours out a deep opaque dark brown hue, tall spongy tan head with steady retention.
Aroma reveals sharp espresso, dry cocoa, treacle, mocha, and some dark berries.
Dry burnt malt up front in the flavour, espresso and some charcoal, dry cocoa, with a bit of a tart/sweet fruit character on the finish. Alcohol content is present throughout.
Medium-bodied mouthfeel, slick silky texture, low carbonation.
The Paddock Wood crew has put together a pretty solid Baltic Porter here, although I find it a bit top heavy with the dry burnt malt. Fortunately there's a robust enough flavour present to match and balance the warming alcohol presence. Might do a bit better with aging, however there is still a refinement behind the intensity.
1,533 characters


4.02
/5
rDev
-0.7%
look: 3.5 | smell: 4 | taste: 4 | feel: 4.5 | overall: 4
A- Had to get aggressive with this one to yield any kind of a head, agitated enough that I managed about a fingers worth of dark mocha head which slowly dispersed from the inside out. No lacing from this guy.
S- Bold nose here! Dark chocolate, roasted malt, espresso, mildly smokey even. It's very good, but I'm also detecting a slight musty aroma which is taking away from everything else. The booze is hidden extremly well here.
T- More of that burnt roasted malt and chocolate right through although I can detect a mild spiceness.
M- Smooth feel with just enough carbonation in the end to ease this one down. Body is medium-full, leaves a long lasting rich feel and flavor in the mouth that dries out after sometime.
O- Let this one open & warm up, it really grew on me about halfway through. It did come across as somewhat overwhelming at times, but sip and enjoy and you should be alright!
898 characters
4.07
/5
rDev
+0.5%
look: 4 | smell: 4.5 | taste: 4 | feel: 3.5 | overall: 4
Pours a very dark translucent cola colour, with some hints of red.
I get a lot of chocolate, espresso, licorice and a bit of alcohol in the nose. Pretty good smell, although much more chocolatey than I would expect from a baltic porter.
In terms of taste I get some very powerful dark roasted coffee, smokiness, and some herbal hoppiness as well as dark fruits, chocolate, and just some bready malty sweetness. I also get a bit of booze and licorice in terms of taste, but these flavours came out in a fairly mild way.
Beer is medium to heavy bodied, with a slightly sticky mouthfeel. Pretty good mouthfeel.
Definitely recommended. An interesting, and enjoyable take on the Baltic Porter.
696 characters
4.27
/5
rDev
+5.4%
look: 4.5 | smell: 5 | taste: 4 | feel: 4 | overall: 4
Appearence: black with a thin brown head
Smell: strong chocolate and coffee aroma
Taste: chocolate and coffee with an expected porter sourness on the finish. It was a little boozy but not over powering.
Mouthful: medium carbonation with a creaminess to it.
Overall: nothing extravagant but just a Baltic porter done right. I can't wait for the next beer in the series.
372 characters
Ragutiene from Sherbrooke Liquor Store
Beer rating:
4.05
out of
5
with
15
ratings