Silenus
| Sherbrooke Liquor Store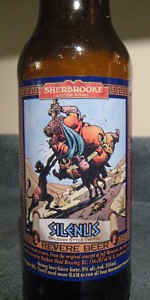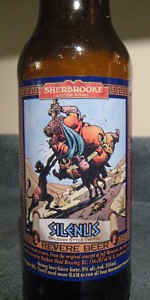 BEER INFO
Brewed by:
Sherbrooke Liquor Store
Alberta
,
Canada
sherbrookeliquor.com
Style:
Tripel
Alcohol by volume (ABV):
9.00%
Availability:
Limited (brewed once)
Notes / Commercial Description:
Brewed at Paddock Wood Brewing Co.
Added by biboergosum on 11-21-2011
This beer is retired; no longer brewed.
HISTOGRAM
Ratings: 10 | Reviews: 6
Reviews by IronDjinn:

3.91
/5
rDev 0%
look: 4.5 | smell: 3.5 | taste: 4 | feel: 4 | overall: 4
The 2nd release in the Sherbrooke Beer Gods series. Disclosure up front is that I did the research for this whole project, but was not involved in the brewing process, so feel I have enough distance to still be objective enough (or more like my regular honestly subjective self, without intentionally buffing up the score).
From a 355 ml brown bottle. Pours out a bright, clear reddish-golden hue, with a short creamy white head that settles to a thin cap.
Clean dry grains on the nose, some tart spicy yeast twang, pear, guava, dried apricot, white grapes.
Flavour also starts dry and clean, clean grainy malt, dry bergamot, spicy white pepper, with a small spike of sticky sweetness of white raisin on the finish, then drying out with more yeasty spice in the aftertaste.
Medium-bodied mouthfeel, yet with a full creamy smooth texture, medium carbonation with some prickly spritz on the finish.
A dry Tripel that focuses more on the phenols than esters, even with the addition of muscat grape juice. Still masks the alcohol content very well. Certainly a sipper, and would go well with food.
1,099 characters
More User Reviews:
3.83
/5
rDev
-2%
look: 4 | smell: 3.5 | taste: 4 | feel: 3.5 | overall: 4
355ml bottle, brewed at Paddock Wood, the second in Sherbrooke Liquor's Beer Gods series. An ode to the minor Greek deity, companion to the wine god Dionysus, and more associated with the fruit of vine, but I would imagine he wouldn't have turned down a nice barley beverage either. The label portrays him being carried up a hill by a donkey, assisted by a satyr, as per the mythology.
This beer pours a clear, dark golden amber hue, with three fingers of weakly puffy, and yet tightly foamy off-white head, which leaves some random streaks of bulbous lace around the glass as it duly settles.
It smells of grainy pale malt, sugary bubblegum, muddled dry tropical fruit, a touch of zippy yeast, musty, grassy, earthy hops, and some mild warming alcohol. The taste is semi-sweet, somewhat toasted bready pale malt, a bit of edgy, and sort of peppery, spicy yeast, faint gritty honey notes, and tangy weedy, grassy hops.
The carbonation is on the low side of average, barely a tic of frothiness perceptible, the body a decent medium weight, and just a tad sugar syrupy in its quest for smoothness. It finishes with a strong drying push, the hops and restrained alcohol amicably pooling their efforts.
A fairly solid old-school Tripel, that certain edginess seemingly not of the metallic booze sort that I've come to expect from the style, but actually hop-oriented. As for said alcohol, the hefty 9 points are admirably integrated, barely generating a ripple amongst the in-house competition. Good stuff, and worthy of a god whom I've never heard of until now, but who apparently was pretty wise, and even prophetic, when partaking of the sauce. Nice to see some concepts have persisted, lo these millennia.
1,711 characters
3.92
/5
rDev
+0.3%
look: 3.5 | smell: 4 | taste: 4 | feel: 3.5 | overall: 4
A - clear golden with one finger of head retaining at a short covering with consistent lacing
S - an interesting blend of aromas with strong phenolic, apricot, some yeasty esters, and a tickle of alcohol
T - gentle apricot fruitiness and sweetness with a bready compliment, medicine like phenolic flavour builds throughout, the yeast flavour is there but more subdued than most big belgians, with a tough of ABV heat
M - lightish body, a tad thin, somewhat spicy/prickly with a drying finish
O - unique in that it is not dominated by yeasty flavours, the alcohol is very well masked with just enough heat to remind you its a big brew, definitely a success, looking forward to the next in the Gods of Beer series
711 characters

3.73
/5
rDev
-4.6%
look: 4 | smell: 3.5 | taste: 4 | feel: 3.5 | overall: 3.5
Bottle from wordemupg, 355ml into a tulip. Thanks Chris!
Hazy orange, with a finger or so of white head. Good lacing, good retention. Lots of citrus and juicy hop notes, orange and clementine, sugary malt and a good bit of Belgian yeast. Taste is fairly straightforward, sugary and sweet malt, some alcohol underneath a bed of orange/clementine again. Alcohol in the mix. Perhaps a shred of white pepper spicing. Medium body, medium carb. A good tripel overall, definitely on the maltier side.
494 characters
4
/5
rDev
+2.3%
look: 4 | smell: 4 | taste: 4 | feel: 4 | overall: 4
Mad props to joemcgrath27 for yet another choice hook-up!
A - Pours a slightly hazy golden copper colour, solid thumb of head with solid retention and some sporadic lacing.
S - Musty cloves, caramel apple, bananas, lemon rind and a soapy hop finish.
T - Unique peppery flavour, hints of cloves, musty caramel, buttered bread, rye notes, and the lemon rind hop notes come through on the finish.
M - Medium bodied, goes down smooth with a touch of abv heat.
O - A tasty tripel, another winner from Paddock Wood and a solid sample of the style. Definitely glad I had the opportunity to taste this God!
603 characters

4
/5
rDev
+2.3%
look: 4 | smell: 4 | taste: 4 | feel: 4 | overall: 4
355ml bottle poured into tulip 6/11/11
A clear golden liquid with plenty of bubbles feeding a two finger head that hangs around for a few minuets leaving two distinct rings of lace
S some pineapple among other tropical fruits, mild booze some brewers candy, a little yeast and some grains, smells good with a little bubblegum as it warms but the booze come out a little too
T a little honey and lemon on top of what I smell, the flavors mesh well with everything playing a part but nothing really taking center stage
M carbonation is right on giving it a creamy feel, a little heat and a slightly earthy aftertaste
O pretty solid stuff not lacking any areas, I remembered how strong this was after my first glass went down quickly and I stood just as fast
Solid stuff that I could drink again and I just might later thanks to Jim
840 characters
3.68
/5
rDev
-5.9%
look: 4 | smell: 3.5 | taste: 3.5 | feel: 4 | overall: 4
Silenus from Sherbrooke Liquor Store
Beer rating:
3.91
out of
5
with
10
ratings