Big Kahuna 1K
| Sherbrooke Liquor Store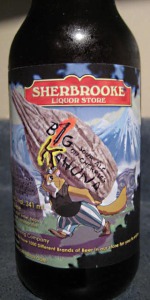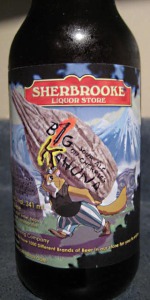 BEER INFO
Brewed by:
Sherbrooke Liquor Store
Alberta
,
Canada
sherbrookeliquor.com
Style:
American Wild Ale
Alcohol by volume (ABV):
5.00%
Availability:
Limited (brewed once)
Notes / Commercial Description:
No notes at this time.
Added by biboergosum on 07-13-2012
This beer is retired; no longer brewed.
HISTOGRAM
Ratings: 7 | Reviews: 5

2.36
/5
rDev
-24.8%
look: 4 | smell: 3 | taste: 2 | feel: 2 | overall: 2
Thanks to Jim at Sherbrooke for the sample. Comes in a 341 ml brown bottle, gold foil around the neck and cap. The beer commemorating the 1000 beer available in the Sherbrooke Liquor beer cooler, give or take a few. It was no secret that the first batch that Alley Kat barrel aged for this went south, so this then would be version 2 already.
Pours out a clear reddish amber, more like a woody garnet hue, with short fizzy beige head that retains to a thin cap.
The aroma has a bready, toasty character to it, with a curious rubbery element, and hints of currants and some sour fruit.
The first thing I notice in the flavour is not flavour but texture, or the lack of it. This tastes flat, lacking carbonation. While not infected, something doesn't taste right here. In fact as it warms that rubbery-plastic element becomes more prominent, which denotes the inevitable onset of an infection. Behind that is remnants of some bready, toasty malt, earthy woody notes, and some mildly tart cherries. It's not offensive (yet....), however something isn't right here.
The mouthfeel is thin and somewhat watery, lacking carbonation, with a bit of alcohol warmth to it.
Unfortunate for this to happen for such a milestone beer, I must have missed the window of what the other reviewers tasted while it was still very fresh. I have a second bottle that I'll sample as well to cross-reference the two, however if it turns out to be the same I'm afraid it's a drain pour.
1,466 characters
2.49
/5
rDev
-20.7%
look: 2.5 | smell: 3.5 | taste: 2 | feel: 2 | overall: 2.5
A - clear cedar red brown, no head to speak of
S - musty and sour, cherry syrup, grainy and funky yeast
T - unfortunately the overwhelming flavour is a plastic chlorine taste, there are elments of sour cherry, bready malt, and some wood, but there is a problem here that ruins it
M - flat, plain and simple
O - too bad, i'm always a fan of the chances that Alley Kat & Sherbrooke take in pushing the beer envelope, sometimes you catch lightning in a bottle and sometimes you get burned
485 characters

3.47
/5
rDev
+10.5%
look: 3 | smell: 3.5 | taste: 3.5 | feel: 3.5 | overall: 3.5
341ml bottle poured into tulip 21/8/12 from notes
A clear amber with just a short lived thin cap that leaves no lace
S creme brulee with some medicinal cherry, lots of burnt sugar and a little burnt cream
T slightly sour with some woody earthy notes to go with what I smell, perhaps I lucked out and have a good bottle as it doesn't taste off just a little different
M more bubbles then one would guess from how still it looked, a little tingle too it and a lingering aftertaste
O something different for sure but not the best of the Sherbrooke beers, glad I tried it but I doubt I'd load up on it
I'm not getting all the nasty flavors and smells I've read about in the forums and reviews but that being said I'm not loving it but its far from a drain pour
764 characters

3.52
/5
rDev
+12.1%
look: 3 | smell: 3.5 | taste: 3.5 | feel: 4 | overall: 3.5
Sherbrooke Liquor store's '1000 listed beers' commemorative brew, provided by usual suspects Alley Kat, brewed with two-row and crystal malts, and soured by fermenting with lactobacillus, followed by an addition of sweet cherries before standard ale yeast fermentation - so sez the brewer. 341ml gold foil capped bottle, 6 bucks a pop at you know where...
This beer pours a crystal clear, slightly reddish deep copper hue, with one bony finger of fizzy beige head, which blips away in mere moments, leaving only the sparest of settled, singular bubbles around the edge of the glass. Reminds me of almost degassed white wine.
It smells of a musty, rising sourdough malt 'sweetness', cherry cough medicine, and near-spoiled milk. The taste is mildly soured grain, that of the doughy Alley Kat house flavour, subtly tart backyard cherries, sort of funky, somewhat cheesy, and earthy yeast, and fairly quiet leafy and weedy hops.
The carbonation is laid back, and sufficient at its task, the body a sturdy medium weight, and adequately smooth. It finishes with a minor flourish of that wild bacteria, um, goodness - milk gone off, the dough mixture it was poured into, and the faint fruitiness of the cherries mixed all up in it.
Well, the souring effects sure do come on, though here the emphasis is on the 'lacto' part of the guest micro-organism's effect, which sidesteps the sometimes harsh edges commonly associated with the style. Kind of like it went through malolactic fermentation, where the more intense acids get converted into more pleasing lactic ones. Anyways, this is sour, sure, of the milky persuasion, with the second fiddle cherry notes getting rather muddled in the process.
An interesting venture - I'm looking forward to trying this around town on tap. Bring on more experimentation like this in the next 1000!
1,833 characters
3.62
/5
rDev
+15.3%
look: 3.5 | smell: 4 | taste: 3.5 | feel: 3.5 | overall: 3.5
Best liquor store in Canada hit its 1000th beer in stock! Yay!
Appearance: Pours a clear, very pretty reddish-amber with a tiny bit of head that subsides into a ring almost instantly.
Smell: Marischino cherries dominate the nose with a sort of sourness and doughy smell. We'll call it sourdough!
Taste: Much more restrained that I thought it would be. Sourdough is king here with the cherries in the background, providing a subtle sweetness which helps it. Aftertaste is refreshing and sour initially, but the aftertaste which I associate with wild ale lingers and I can't say I'm too much of a fan. This is more interesting than tasty, but I wouldn't say no to a second.
Mouthfeel: Sharp carbonation with a medium body. Smooth enough for its purpose.
Overall: I wouldn't go around wildly shouting that everyone I know try this beer, but I'm glad that Alley Kat is playing around and trying whatever the hell they feel like. It's the sign of a healthy brewery and I'm happy to support it.
996 characters
Big Kahuna 1K from Sherbrooke Liquor Store
Beer rating:
3.14
out of
5
with
7
ratings