Red Duck Amber Ale
| Purrumbete Brewing Company (Red Duck)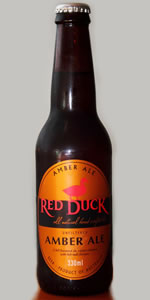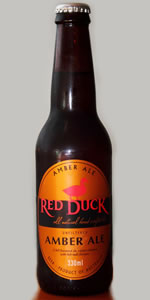 BEER INFO
Brewed by:
Purrumbete Brewing Company (Red Duck)
Australia
redduckbeer.com.au
Style:
American Amber / Red Ale
Alcohol by volume (ABV):
4.80%
Availability:
Year-round
Notes / Commercial Description:
No notes at this time.
Added by BeerAdvocate on 12-13-2005
HISTOGRAM
Ratings: 12 | Reviews: 9
None found.
More User Reviews:
2.88
/5
rDev
-14.3%
look: 3.5 | smell: 3 | taste: 2.5 | feel: 3.5 | overall: 3
Pours copper with a large off-white head.
Nose is quite malty, with caramel and faint nutty notes. Some lemon is hiding in the background.
Similarly rich and malty flavours with more nice nutty notes, but there's an off-putting stale metallic grainy finish.
Could do with a bit more carbonation.
295 characters
3.42
/5
rDev
+1.8%
look: 3 | smell: 3.5 | taste: 3.5 | feel: 4 | overall: 3
This pours a cloudy amber (thankfully) colour. Very little head but some lacing.
Aroma dominated by a caramel maltiness with some resiny hopiness as well.
I expected a bit more hopiness on the palate but it is mostly dominated by the malts. that's not a bad thing though.
Nice rich mouthfeel.
I liked it but not a sessionable beer for me.
342 characters

3.77
/5
rDev
+12.2%
look: 3.5 | smell: 4 | taste: 3.5 | feel: 4 | overall: 4
Burnt dark amber in colour, strong head and decent carbonation.
Nice aroma of floral, fruits and a pleasant malty backdrop. Smells great, good first impression.
Happy palate that is full and bold, with only a slight malty, even a touch burnt, finish. Good hops, but they are a little 1 dimensional, however its a enjoyable drink. Really like the mouthfeel, a good clean beer.
My first Red Duck beer and I'm impressed. Will seek out some of the others in the range - good to see some more decent micros in oz.
517 characters

3.48
/5
rDev
+3.6%
look: 4.5 | smell: 4 | taste: 3 | feel: 3.5 | overall: 3.5
Pours a nice burnished copper colour, blood orange really, with voluminous cream head, sinks slowly all webbed out leaving nice trails of lace behind. Steady bead in the brew. Looks really good, and ideal for the style. Only fault is the lack of head retention.
Nose is a decent amber ale smell, fair amount of malt with a slightly tart edge, slightly vinous and with a mild spice aroma, hints of nutmeg and clove, some light caramel notes. Good indeed.
Taste is fairly malty - distinct aspects of Vienna malt, with some earthy acerbic hop characters. They come in midway, slightly overpowering the pleasant burnt toffee character which hides behind. Bit of champagne on the front and a bit of soil on the back. Not too bad, but not an exciting explosion of flavour. Not as much malt as promised by the nose, really. A bit plain, but not bad.
Mouthfeel is good and full, nice texture, leaves a little dryer than I would like.
Goes down pretty nicely, just a bit too astringent to be immensely enjoyed.
1,005 characters
2.88
/5
rDev
-14.3%
look: 3 | smell: 2.5 | taste: 3 | feel: 3 | overall: 3
330 mL bottle poured into a schooner glass
Appearance - Deep Amber colour with thick (20-25 mm) head that was creamy and dropped away to slowly to a level of 2 mm.
Smell - not very strong, probabaly due to overbearing head. Malty smells got stronger but did not dominate.
Taste - Initially pleasant but non-descript. Malt taste increased as beer warmed. OVerall quite tasty.
Mouthfeel - smooth and goes down easy.
Drinkability - very easy to drink and could have a few of these
482 characters
3
/5
rDev
-10.7%
look: 3 | smell: 3 | taste: 3 | feel: 3 | overall: 3
This is my first brew from this brewery that ive actually tried i mean ive seen it heaps but never actually tried so here goes,it pours a murky light mahogany hue with average carbonation that leaves behind a fast vanishing one finger head and some tiny lacing,it has aromas of caramel toffee malts along with some grape/white wine aromas and some lychee,the mouthfeel is quite light and boring and it has tastes of light toffee,some citrus and grape and is most definately alot different to other AARA's that i have tried b4 and to be quite honest i dont think ill buy this brew again.
586 characters

3.54
/5
rDev
+5.4%
look: 3.5 | smell: 3.25 | taste: 3.75 | feel: 3.5 | overall: 3.5

3.35
/5
rDev
-0.3%
look: 3.5 | smell: 3.5 | taste: 3.25 | feel: 3.5 | overall: 3.25

3.25
/5
rDev
-3.3%
look: 3.25 | smell: 3.25 | taste: 3.25 | feel: 3.25 | overall: 3.25
330ml bottle into glass. Malty, lightly smoked nose. Pours off-white head witch quickly calms down to soapy film. Beer is hazy copper coloured. Medium body. Finish is sweet with a little bitterness, increasing to a touch of caramel. Nice.
238 characters
3.8
/5
rDev
+13.1%
look: 3.5 | smell: 3.5 | taste: 4 | feel: 3.5 | overall: 4
Pours into my pint glass a dark amber colour with a big fluffy off white head.
Flowery hoppiness and sweet biscuit, caramel malt dominates the smell.
The taste almost has some porter like flavours to it, quite malty indeed.
Pretty decent mouthfeel but not as full as I'd like. But thats just me I think. Fairly high carbonation.
I've had this numerous times and this is the first time I've reviewed it. Good colder weather session beer.
440 characters
3.47
/5
rDev
+3.3%
look: 3 | smell: 3.5 | taste: 3.5 | feel: 3.5 | overall: 3.5
Moderately malty aroma which is good but there is a distinct vegemite note which is unappealing.
Clear amber colour with a moderate off-white head.
Smooth, bready malt flavour. Mild caramel and toffee. Mild bitterness. Light vegemite.
Moderate body with moderately-low carbonation.
This is fine but it doesn't impress me as an Amber Ale.
341 characters
Red Duck Amber Ale from Purrumbete Brewing Company (Red Duck)
Beer rating:
3.36
out of
5
with
12
ratings