Red Duck Pale Ale
| Purrumbete Brewing Company (Red Duck)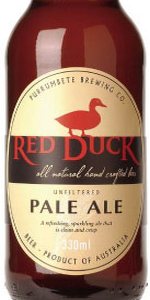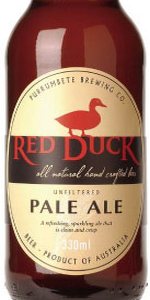 BEER INFO
Brewed by:
Purrumbete Brewing Company (Red Duck)
Australia
redduckbeer.com.au
Style:
English Pale Ale
Alcohol by volume (ABV):
4.50%
Availability:
Year-round
Notes / Commercial Description:
No notes at this time.
Added by BeerAdvocate on 02-16-2006
HISTOGRAM
Ratings: 12 | Reviews: 10
Reviews by norwichboy:
2.58
/5
rDev
-19.4%
look: 3 | smell: 2.5 | taste: 2.5 | feel: 3 | overall: 2.5
Cloudy amber hue with a small head which dissipates to a ring, but returns with swirling. Very little aroma: just a mere whiff of hops. To taste, a bit of biscuity malt and slight hops come through when swallowing but generally very subdued. Mouthfeel was a bit too fizzy at first, but this soon went with all the swirling I was doing in order to try and generate some aroma. Generally not unpleasant, but lacking any real flavour.
431 characters
More User Reviews:
3.26
/5
rDev
+1.9%
look: 4.5 | smell: 3.5 | taste: 3 | feel: 2.5 | overall: 3.5
Pours orange/amber with a stunning large head.
Nose shows some resinous and piney hops, with hints of citrus as well. Some crystal malt is detectable but there's also a faint grainy note.
More resinous and juicy-fruit hops show as flavours, along with mroe caramel malt, but unfortunately the grainy character is more pronounced.
Carbonation is a little strong, emphasising the cheap grainy-ness.
396 characters
3.03
/5
rDev
-5.3%
look: 3.5 | smell: 3 | taste: 3 | feel: 3 | overall: 3
This pours a hazy bright orange. Very unusual colour. Solid centimetere of white head that sticks around.
Not a lot on the nose. A little bit of green apple and some malt. I also get a touch of spice.
Marmaladey on the palate. A bit of earthy hoppiness.
Medium bodied. High carbonation.
An ok beer.
302 characters

2.89
/5
rDev
-9.7%
look: 2 | smell: 3 | taste: 3 | feel: 2.5 | overall: 3
Enjoyed this one before my meal at the Great Ocean Road Deli, Apollo Bay.
Pours very fizzy, very pale yellow with lame white head, sinks very quickly as anything this fizzy would have to do, doesn't leave much head at all. Even my wife thought this looked 'lagery'. However, the lacing is pretty good, nice sticky white webs. Too fizzy for a pale ale but okay otherwise.
Smells quite light and a bit thin on aroma, but has a decent fruit ester smell, distinct green apple aroma, little bit cidery actually. Bit of sweetness with a slightly green tart edge. Pretty uneventful though.
Taste is far more astringent. Starts with a light buttery malt character and then becomes richer, with an earthy hop character and vinous bitterness, plus more of that underripe fruit character. Hops are resiny and quite acerbic, don't commit much flavour to the palate but hang there as an aftertaste. Not too much though, just a light bitterness - slightly moist in flavour, not very crisp. OK, but could have been cleaner.
Too much carbonation on the feel, is has a champagne sparkle to it which obviously is not needed, fairly good body otherwise though.
Not an offensive beer, but nothing special here.
1,195 characters
2.65
/5
rDev
-17.2%
look: 3 | smell: 3 | taste: 2.5 | feel: 2.5 | overall: 2.5
Pours a cloudy orange colour. Average amount of head which doesn't last long.
Very mild aroma, some light malt and a hint of spice.
Not Hoppy enough for my liking, fizziness kills the flavour at first but once this subsides it has a relatively bland flavour.
Medium bodied beer, too much carbonation though.
Overall quite disappointed, it's not offensive in any way but really it's a nothing beer. Flavour is uninspiring
424 characters
4.02
/5
rDev
+25.6%
look: 4 | smell: 4.5 | taste: 3.5 | feel: 4 | overall: 4.5
I was very impressed with this beer a lot pale ales are pale ales for the sake of having a pale ale.
Light pale straw in colour simlar to coopers pale good head and lacing on the glass
Hoppy smell but not to hoppy tast very drinkable.
Overall a good honest pale ale thats very refreshing good session beer
308 characters
3.85
/5
rDev
+20.3%
look: 4 | smell: 4 | taste: 3.5 | feel: 4.5 | overall: 4
A slightly cloudy darkish gold beer , witha tight white head and a very active carbonation.
Plenty of yeast but a fair citrusy/grapefruit smell that had a sweet character
The flavours didnt live up to the smell but still ok by me A cross between fresh bread and the old school tuck shop yeast buns met my tastebuds.
The mouthfeel is what ompressed me the most It was smooth as silk but the bounteous carbonation added exceptionally to the overall joy.
I thought this a welcome and pleasant adddition to the Regional Victoria beer scene.
It appears though that if ever I catch up with Bitterman for a beer the Red Duck Pale ALe wont be the one we will share
662 characters

3.18
/5
rDev
-0.6%
look: 3 | smell: 3 | taste: 3.25 | feel: 3.25 | overall: 3.25


3.27
/5
rDev
+2.2%
look: 3.5 | smell: 3.25 | taste: 3.25 | feel: 3.25 | overall: 3.25
Pours pale light golden with a sudsy white head. Nose is quite grainy with a bit of citrus. Flavor is slightly bitter, a bit of citrus and very grainy.
151 characters
3.25
/5
rDev
+1.6%
look: 3 | smell: 3 | taste: 3 | feel: 3.5 | overall: 4
It seems as though every microbrewery just HAS to do a pale ale, I don't know why most bother as generally their other beers are much better and they should focus on those.
This pours a little head that quickly disappears. Not much of a hop aroma at all but a biscuity maltiness comes through in both the smell and taste.
I first had this at the Werribee harvest festival and it was very refreshing on a hot day after trying many wines but overall its a bit lackluster. A bit more of a hop kick would be good to balance the maltiness. As has been said they have some beers that are a lot better.
Edit 30/5/07 - Having finally gotton around to reviewing the Red Duck Amber I feel they should make that their "malty" ale and hop this up a lot more and make it their "hoppy" ale. At the moment this feels like a pour cousin to the Amber.
839 characters
3.22
/5
rDev
+0.6%
look: 3 | smell: 3.5 | taste: 3 | feel: 3 | overall: 3.5
Mild hop aroma with a light citrus note. Soft malt. Dull.
Fairly clear, deep straw colour with a small, off-white head.
Slightly fruity flavour, soft malt. Moderately high bitterness. Overall it doesn't have the hop character of an APA or the malt character of an English style pale.
Slightly astringent. Moderate body with moderate carbonation.
A fairly easy to drink beer but it's uninspiring.
399 characters
Red Duck Pale Ale from Purrumbete Brewing Company (Red Duck)
Beer rating:
3.2
out of
5
with
12
ratings