Red Duck Golden Dragon
| Purrumbete Brewing Company (Red Duck)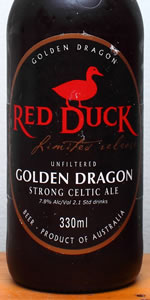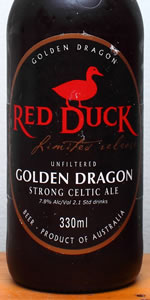 BEER INFO
Brewed by:
Purrumbete Brewing Company (Red Duck)
Australia
redduckbeer.com.au
Style:
Scotch Ale / Wee Heavy
Alcohol by volume (ABV):
7.80%
Availability:
Rotating
Notes / Commercial Description:
No notes at this time.
Added by BeerAdvocate on 03-16-2006
HISTOGRAM
Ratings: 12 | Reviews: 12
Reviews by Macca:
3.95
/5
rDev
+4.8%
look: 4 | smell: 4 | taste: 4 | feel: 3.5 | overall: 4
This pours a dark brown with a dense beige head.
Brown sugar, toffee and caramel on the nose. Some earth hop aromas too. A touch of booze.
A touch of sweetness on the palate but not too much. Alcohol is there but hovering in the background. Some astringency in there. Dark fruits too. Quite interesting.
Full bodied.
A very nice beer.
338 characters
More User Reviews:
3.48
/5
rDev
-7.7%
look: 4 | smell: 3.5 | taste: 3.5 | feel: 4 | overall: 3
Dark copper pour with a creamy off-white head.
Aroma shows lots of sweet caramel, but also quite a bit of hops, with lots of resin, mint, and earthy notes. Quite interesting!
Flavours are dominated by rich malt and soft alcohol. Lots of treacle, smoky peat and nutty notes, with little of the hops present in the aroma. Very rich, the alcohol if pretty full on.
Very thick chewy body, which suit the beer well.
410 characters
3.95
/5
rDev
+4.8%
look: 4 | smell: 4 | taste: 4 | feel: 3.5 | overall: 4
Overall a minimal head retention but with an amazing rich full bodied mouthfeel. A very full on beer, rich, easy drinking but very full on with plenty of mouthfeel and heaps of lingering finish. Very rich beer, most definitely a must share with a friend. Savour the rich good-ness of this robust and rich brew
309 characters
3.68
/5
rDev
-2.4%
look: 3.5 | smell: 3 | taste: 4 | feel: 3.5 | overall: 4
a: mahogany color that is more visible around the edges, decent head settling to thin viel & some lacing
s: toffee smell with good amount malts & a little hint of strong alcohol
t: malty, toffee taste with hoppy finish and warming aftertaste of alcohol
m: medium body with some carbonation, not very smooth but pretty good nonetheless
d: stands up pretty well to some of the other scottish ales i've tried (admittedly not many), most of which are actually made in australia. cheers for australia. i enjoyed this one enough to buy it again.
543 characters
3.4
/5
rDev
-9.8%
look: 4 | smell: 4 | taste: 3 | feel: 3 | overall: 3.5
Pours a dark, but surprisingly clear red colour, like faded rubies. Head is bubbly, but persistent, forming as a mosaic of off-white foam across the top of the glass. Minimal lacing. Body is surprisingly light and fluid, but holds some fine carbonation when tilted. Overall, pretty decent looking brew.
Smell is sweet and round, giving an almost estery Belgian character to the brew. Some faint milk chocolate characters, and a dark, slightly vegetative sweetness fill it out. It's very interesting.
I've found some of Red Duck's beers to be too sweet for my tastes, and oddly, this one, which I feel could have warranted som syrupy slickness to it, is the exception to the rule. Quite a light, dry entry, with a touch of booziness clipping around the edges of the palate. Some roasted characters, and a faux-sugar character like carob nibbling its way in on the back. Can't say I'm overly impressed, to be honest.
Feel also suffers from this: although it has a slickness and even a hint of weight behind it, the palate doesn't fill it out, meaning it feels empty, with a kick of booze in the finish.
Overall: disappointing. It's not bad, and in fact it does some interesting things. It's just a shame it didn't do a couple of other things better.
1,251 characters
3.79
/5
rDev
+0.5%
look: 3.5 | smell: 4.5 | taste: 3.5 | feel: 4 | overall: 3.5
Bottle at a bar in Melbourne. From notes.
A - Poured dark brown with one finger of light brown head. Hazy with good carbonation. No lace and a half finger of retention.
S - Sugar, dark fruit, yeast, sweet spice. Nice and rich with the dark fruit/sugar.
T - Lot's of spice, dark fruit, and a little sugar.
M - Good carbonation, full and silky body. Nice sweetness in the finish then dry.
O/D - Pretty tasty and easy to drink. A pretty good one, just barely lacking in the typical Scotch Ale sweetness/dark fruit department. Worth a shot.
Of nice. Pretty tasty and easy to drink. Good. 3.5
598 characters
4
/5
rDev
+6.1%
look: 4 | smell: 4 | taste: 4 | feel: 4 | overall: 4
Pours a dark copper hue which leaves a three finger very creamy head and nice clingy lacing,the smell is rhubarb,toffee,candy canes and some brown sugar very sweet smelling indeed and on first sip the mouthfeel feels full and creamy and allows the tastes of rhubarb pie,hard boiled candy,toffee and marzipan to intertwine nicely and the sweet taste first encountered is backed by the brown sugary finish only briefly interrupted by a nice dose of pungent herbal hops and overall its not a true Scotch ale or Wee heavy and i cant be sure if that was their aim as it only states on the bottle that it is a Strong Celtic Ale but in saying that it hides the high ABV well and is a very drinkable malt driven drop no matter what style its meant to be and would drink again cheers.
775 characters

3.8
/5
rDev
+0.8%
look: 3.5 | smell: 3.5 | taste: 4 | feel: 3.5 | overall: 4
From Warners. No BB.
Pours a half finger head over a rich deep brown body. Head dies to film, quickly. Minimal spotty lace.
Aromas of treacle toffee, burnt caramel.
Taste is very well balanced and complex. Roast dark flavours of the toffees and caramels are balanced with sweeter malts. Nothing stands out, but excellent overall.
Mouthfeel lightly carbonated but a good medium weight body.
Great beer, I wonder if tho I have accidentally picked up a well-cellared example? I do not believe still readily available. One of the best of style I have had, given complexity of flavour, and a less watery palate which has let recent other samples down.
652 characters
3.47
/5
rDev
-8%
look: 3.75 | smell: 3.5 | taste: 3.5 | feel: 3 | overall: 3.5
Bottled beer served in a glass.
Appearance -
Clear maroon colour, 1cm mocha coloured head which dissipates moderately quickly, moderate effervescence. Leaves a bit of lacing, but slides down quickly
Smell -
Malty, roast, coffee, biscuit, cocoa, caramel, dark fruit. Aroma is on the mild side.
Taste -
Toasty, very malty, a bit earthy and peaty, a hint of alcohol, salted caramel, and slight hoppy bitterness. Finishes with a hint of dark fruits and brandy. Flavour seems a bit watered down however.
Mouthfeel -
Moderate carbonation and pop rock fizz. A bit on the watery side. Clean and crisp though.
Overall -
Not a bad beer by any stretch, and quite refreshing. There's a bit of complexity to enjoy, but the flavours seem a bit watered down and subdued. Leaves me wondering what could have been.
803 characters

3.82
/5
rDev
+1.3%
look: 3.75 | smell: 3.5 | taste: 4 | feel: 4 | overall: 3.75
330ml poured into wheat beer glass.
L - dark copper, thin pale brown 5mm thick head, murky - like watered down treacle.
S - toffee, smoked malt, treacle, O.P. rum, hints of licorce and apricots. Quite strong.
T - smoked malts and wood up front, apricot towards the middle. dates, rum and syrup flavours compete towards the finish. Hint of vegemite in the aftertaste
M - heavy, low carbonation, chewy texture, noted alcohol warming - feels more than the ABV suggests (like an ¬10%)
O - more depth than I expected, this beer is quite heavy and not one that could be downed in six pack quantities. The varied flavours are interesting, but it may not appeal to all.
674 characters
4.08
/5
rDev
+8.2%
look: 4 | smell: 3.5 | taste: 4.5 | feel: 4 | overall: 4
Pours a light brown with a slight reddish tinge. A thin off white head that quickly disappears.
A lot of malty aroma that continues into a sublime taste. Caramel & toffee that is balanced with an slight hop bitterness.
The high alcohol is very well hidden in the nice sweet malty flavours.
Definantly not an every day session beer but a very nice beer none the less.
I haven't had many beers in this style but I can see myself enjoying this sort of beer in the colder months.
485 characters
3.87
/5
rDev
+2.7%
look: 3 | smell: 3.5 | taste: 4 | feel: 4.5 | overall: 4
This pours a red-tinged mahogany colour with a very short lasted milk chocolate coloured head. No lacing.
Lots of sweet caramel malt aromas. Faint, dark fruit aromas also come through. Overall, good but a bit dull.
Slight mineral bite at the start. Flows into a slightly roasty, deep caramel flavour. A little bit of tea like astringency comes through in the mid palate. Raisin esters predominate in that department and there is a very light earthy hop bitterness in the back palate. Alcohol is well hidden.
Medium-full body works well with an average carbonation level. Right on style.
A solid, sweet malt-bomb of a beer. Well hidden alcohol which still warms and some nice fruity esters add complexity. A good beer.
721 characters
Red Duck Golden Dragon from Purrumbete Brewing Company (Red Duck)
Beer rating:
3.77
out of
5
with
12
ratings