Dismiss Notice
Red Duck Burton Strong Bitter
| Purrumbete Brewing Company (Red Duck)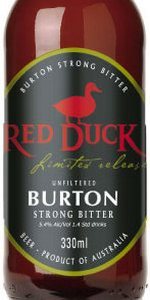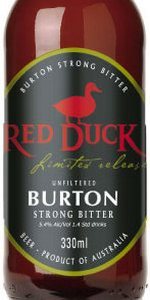 BEER INFO
Brewed by:
Purrumbete Brewing Company (Red Duck)
Australia
redduckbeer.com.au
Style:
Extra Special / Strong Bitter (ESB)
Alcohol by volume (ABV):
5.40%
Availability:
Rotating
Notes / Commercial Description:
No notes at this time.
Added by brendan13 on 05-05-2007
HISTOGRAM
Ratings: 12 | Reviews: 11
Reviews by lacqueredmouse:
3.27
/5
rDev
+1.2%
look: 3.75 | smell: 3.5 | taste: 3.25 | feel: 2.5 | overall: 3.25
330ml bottle purchased from the brewery in Alfredton.
Pours a faintly hazed orange amber colour, with a slight, frothed head of off-white. Body looks quite solid and holds minimal but very fine carbonation. Some streaking weak lace. Looks pretty decent overall.
Nose is faintly floral and a little sweet, with some crushed minerally overtones. Some herbal tones come through, and some crystal sweetness. It all feels very flat: there's substance behind it, but it feels a lot like everything has been buffed and polished to have no edge and little true character.
Taste is similar. Slight grainy basis laced with plenty of those herbal and mineral tones, slight peach characters and a metallic twist. It has some savoury characters as well: a sweetness like stewed tomatoes with melted cheese. Feel is very disappointing. Carbonated, sparkly and light, really not providing any support to the beer, which really would benefit from it.
Overall, it's fine. Really, it is. But it's also either too bland, or too far out of its designation to be well-crafted. I'm not a big fan as a result.
1,090 characters
More User Reviews:
3.18
/5
rDev
-1.5%
look: 4 | smell: 3.5 | taste: 3 | feel: 3 | overall: 3
Pours dark amber/copper with a lasting head.
Nose shows a fair whack of sweet malt with nutty and caramel characters. some earthy herbal hops underneath. Pleasant but not particularly exciting.
Flavours show similar malt but unfortunately there's also a grainy character too it. Mild bitterness. Ends abruptly.
Body seems a bit watery.
335 characters
2.85
/5
rDev
-11.8%
look: 3 | smell: 3 | taste: 2.5 | feel: 3.5 | overall: 3
Cloudy amber; what little there is in the way of head determinedly hangs around.
Fairly undifferentiated aromas of nuts, grains, sweet malts and Belgianesque phenolics. Not encouraging.
Dull grain character dominates the flavour profile. Very insipid presence from the other elements identified in the nose. Underwhelming.
Mouthfeel medium-bodied and quite agreeable; probably the best trait of this beer.
No issues with drinkability; the beer's just too boring to want more.
480 characters

2.97
/5
rDev
-8%
look: 2.5 | smell: 3 | taste: 3 | feel: 3 | overall: 3
This is a bit weird when poured. I got a reasonable head but it disappeared in seconds just like on a soft drink. It's a murky orange/amber colour.
Caramel is the main aroma for me with alcohol evident as well. I find it a bit bland on the aroma front.
Not much more to really commend it on the palate either. Strong malt profile. A bit sweet. Some earthiness which I'm assuming is the hops.
Medium bodied. Hardly any carbonation.
This one just didn't do it for me. It lacked a bit of personality.
501 characters
3.35
/5
rDev
+3.7%
look: 3 | smell: 3 | taste: 3.5 | feel: 3.5 | overall: 3.5
a: hazy gold color, thin head disappears quickly
s: sweet, flat honey smell
t: sweet flat malts upfront give way to brief hop spices that linger a bit
m: little carbonation, medium body
d: not bad, not overly bitter - actually little bitterness, could use a little carbonation, but worth a try
293 characters
3.1
/5
rDev
-4%
look: 3 | smell: 3 | taste: 3 | feel: 3 | overall: 3.5
This brew pours a hazy light amber hue with average carbonation that leaves a shortlived half finger head and no lacing whatsoever,the smells are honey,caramel malts and some herbal hoppiness,the mouthfeel being undercarbonated and light-medium bodied is only average and has tastes of burnt toffee,peaches,dark plums and ends with a light bitter kick and i mean light it really wasnt that bitter at all in my mind especially for an ESB but its pretty drinkable and beats any macro i know and overall even though i probably wont revisit it in its bottle form if i see it on tap one day i might give it a go depends on my options.
629 characters

2.93
/5
rDev
-9.3%
look: 3 | smell: 2.5 | taste: 3 | feel: 3.5 | overall: 3
From Warners. No BB.
OK - I am confused... this is 'Burton' but now 'Strong Pale Ale' not 'Strong Bitter'.... ABV stays the same so I assume the same beer.
Pours a copper/amber, the head looks sooo good for about a second then dies.
Subdues aromas are of biscuity malts, and earthy hops, quite English, but not a lot of it.
Taste is the same but a bit non descript. Some caramels in the mix, some butterscotch, but a bit bland. Is it a bitter, it it a EPA? - jury is out really to this palate. Does not have the hop back palate kick for an EPA really.
Mouthfeel is good for style, slight but noticeable carboantion.
Not one of Red Ducks better efforts...
660 characters

3.28
/5
rDev
+1.5%
look: 3.5 | smell: 3 | taste: 3.5 | feel: 3 | overall: 3.25
Bottle: solid brown 330mL bottle with a very stylish (and cute) label. I particularly like the "Does not contain any real ducks" label.
Appearance: first small pour was clear yellow, topping the glass up became deep hazy orange, with small fine sediment throughout the profile. Firm one-finger off-white head hangs about for a minute before dropping with weak lacing.
Aroma: quite sweet on the nose, almost an off-fug type of grain with some floral hops. Perhaps it has gotten a bit old?
Taste: picks up on the palate - definitely those grain flavours with a distinct savoury earth and floral character behind. Quite nice, but certainly doesn't seem like a Strong to be honest.
Aftertaste: the grain sweetness backs off a bit to be replaced by the hop bitterness.
Mouth feel: not great - a bit too low carbonation I think to carry the hop flavour.
Overall: not a bad 'strong' pale ale, but certainly not the best I have had. I like the fact that it is all natural and has a sediment haze, however at AU$75 a case (2013), there are definitely cheaper, better options.
1,072 characters
4.08
/5
rDev
+26.3%
look: 4 | smell: 3.5 | taste: 4.5 | feel: 4 | overall: 4
A - Pours a hazy, dark gold colour into my pint glass. Pretty much no head, just a thin whisp.
S - Biscuity maltiness and some fruitiness that I just can't pick (still working on my beer description vocab).
T - Yummy biscuit malts, just to my liking.
M - Smooth, creamy mouthfeel with low carbonation and a crisp finish.
D - Very drinkable. Not that I've had many ESBs but this is quickly becoming one of my favourite styles and this seems pretty true to style.
Red Ducks limited beers are always pretty good in my books and this is no exception. Can't wait for a IPA from them.
583 characters
3.28
/5
rDev
+1.5%
look: 3.5 | smell: 3 | taste: 3.5 | feel: 3.5 | overall: 3
Fairly clear amber colour with a small but shortlasted off-white head.
Mild fruity aroma. There's a touch of toffee and caramel but something is missing.
Moderately sweet with light toffee and fruit notes. There's a bit of apple and pear. It's okay but I expected a bit more fullness from an ESB.
Medium body with moderately-low carbonation. Fine.
A reasonable beer but it's nothing special.
395 characters
3.44
/5
rDev
+6.5%
look: 2.5 | smell: 3.5 | taste: 3.5 | feel: 3.5 | overall: 3.5
Appearance - 2.5
A finger of off-white head disappeared in seconds, leaving a hazy, deep amber to orange beer. Bottle conditioned with a large amount of yeast in the bottle, most of which I managed to decant.
Smell - 3.5
Noticeably alcoholic but not overly so, rather yeasty with aromas of plum and peach, hops are somewhat vinous.
Taste - 3.5
Biscuity and caramel malt, moderately bitter with a lots of stone fruit flavour and a slightly earthy hop character. Well balanced.
Mouthfeel - 3.5
Lightly carbonated with a medium body.
Drinkability - 3.5
A decent session beer, but not one I would seek out again.
OVERALL - 3.3
A decent, if unexciting ESB.
656 characters
Red Duck Burton Strong Bitter from Purrumbete Brewing Company (Red Duck)
Beer rating:
3.23
out of
5
with
12
ratings