Red Duck Overland Bright Ale
| Purrumbete Brewing Company (Red Duck)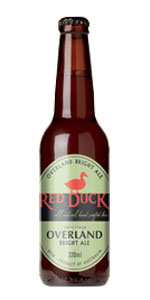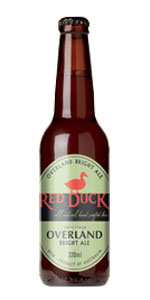 BEER INFO
Brewed by:
Purrumbete Brewing Company (Red Duck)
Australia
redduckbeer.com.au
Style:
American Pale Ale (APA)
Alcohol by volume (ABV):
4.20%
Availability:
Year-round
Notes / Commercial Description:
No notes at this time.
Added by brendan13 on 03-06-2008
HISTOGRAM
Ratings: 9 | Reviews: 9
None found.
More User Reviews:
3.45
/5
rDev
+8.8%
look: 3.5 | smell: 3.5 | taste: 3.5 | feel: 3 | overall: 3.5
Pours hazy light amber with a lasting small head.
Nose shows light fruit (apples, pears, grapes) with a little sweet malt underneath. Very light and refreshing.
Similarly sweet tasting, with more of the same fruit and light malt. Nice, but could do with some bitterness!
Body seems watery.
289 characters
2.8
/5
rDev
-11.7%
look: 3 | smell: 3 | taste: 2.5 | feel: 3 | overall: 3
This pours a clear bright golden colour with very little head to speak of.
Some slight hop florals on the nose but not overwhelming. Bit of malt.
Wow. Not much going on here. Bit of hops, bit of malt but mostly nothing. Not horrible just not anything.
Definitely not an APA but not really sure what it's supposed to be. Red Duck to other much better beers.
359 characters
3.63
/5
rDev
+14.5%
look: 3.5 | smell: 3 | taste: 4 | feel: 4 | overall: 3.5
330ml bottle poured into a goblet...
A- bright, light and golden with plenty of carbonation. White head that dissipates quickly and leaves a light lace.
S- very light malt and yeast
T- light, but nice drinkability. Only slight hop taste with a tad of floral. very refreshing.
MF- nice on the mouth... good balance and pleasant dryish finish.
O- A good session beer. I found this to be really refreshing and drinkable. A good "poker night" beer.
450 characters
2.56
/5
rDev
-19.2%
look: 3.5 | smell: 2.5 | taste: 2.5 | feel: 2.5 | overall: 2.5
This brew pours a light golden hue with nice carbonation that leaves behind a frothy two finger head and some lacing,the smell of this brew is really weak with some light floral hops on nose and some grain but geez its weak,and unfortunately the taste is pretty much the same light floral hops and grain with a watery slight metallic finish,overall a very dissapointing brew that is overcarbonated and has little smell or taste and would not buy again.
452 characters
3.73
/5
rDev
+17.7%
look: 3.5 | smell: 3 | taste: 4 | feel: 4 | overall: 4
Pours a pale straw colour. Not overly clear but possibly suffering from bad pour. Very thin head after relatively vigorous pour.
Initially, all I smell is yeast. I get a hint of hops but no malt. Doesn't really give me much to work with in terms of an expectation.
Flavour is clean and bitterness well balanced. Beer is promoted as a Kolsch and I do get that impression. Yeast is definitely a kolsch yeast as I get a subtle floral note on the back end. Finishes dry with a light to medium body. Noble hop character is noticable.
Overall, this is a refreshing and well balanced beer that would go down very easily during a hot summer day.
640 characters

3.18
/5
rDev
+0.3%
look: 3.5 | smell: 3 | taste: 3.25 | feel: 3.5 | overall: 3
Bottle: solid brown 330mL bottle with a very stylish (and cute) label. I particularly like the "Does not contain any real ducks" label.
Appearance: a pale, slightly hazy straw in colour with constant fine carbonation. A one-finger white head pops up and slowly drops to a ring around the glass.
Aroma: yeast with a bit of floral hops. Nothing special.
Taste: those Kolsch-style yeasts are up front with floral in the back again. Something akin to elderflower in the background too.
Aftertaste: some malts hang about for a bit with a touch of bitterness.
Mouth feel: light- to- medium in body with moderate carbonation, suits the style if a bit spritzy.
Overall: an unimpressive America Pale Ale. Certainly not the best I have ver had, and one of the most expensive to boot at over AU$90 a case (2013).
807 characters
3.2
/5
rDev
+0.9%
look: 3.5 | smell: 3.5 | taste: 3 | feel: 3.5 | overall: 3
More of an Australian Pale ale to my tastebuds having a yeasty sourness to it.
It is not a style I particularly enjoy because of the sourness.
I was expecting (because the label said so) a refreshing and cisp beer.
I was disappointed.
It is drinkable but rather unappealing
273 characters
3.03
/5
rDev
-4.4%
look: 3.5 | smell: 3 | taste: 3 | feel: 3 | overall: 3
A - Slightly hazy golden straw colour with a centimetre or so of white head that falls away to a thin whisp fairly quickly.
S - Cascade hops are supposedly used in this...obviously not much. A very vauge floral note, quite estery, bit of biscuit maltiness.
T - Light biscuity malt and vauge floral hoppiness.
M - Light bodied, pretty low carbonation.
D - I can sort of see what they were trying to do here but it doesn't work. This is an OK beer but certainly doesn't have the characteristics of a proper APA.
513 characters
2.95
/5
rDev
-6.9%
look: 3.5 | smell: 3.5 | taste: 2.5 | feel: 3 | overall: 3
Plae straw colour with a tight white head. Decent head retention.
The nose isn't huge here but there are some nice floral hop aromas going on. They could be stronger and punchier but they aren't bad.
Disappointing. When I saw the other reviews I thouht they were being harsh but I get to the first taste and it isn't looking good. A grainy start is followed up by the barest hint of floral hops. Watery finish. A strange metallic aftertaste lingers.
Light to medium body with moderate carbonation. It comes across as a bit watery.
Thin flavours, quite insipid and really not that great. I could see this being acceptable to macro drinkers as a step up from VB or Carlton but it certainly isn't one I'll be going back for.
725 characters
Red Duck Overland Bright Ale from Purrumbete Brewing Company (Red Duck)
Beer rating:
3.17
out of
5
with
9
ratings