Red Duck Ugly Duckling Braggot
| Purrumbete Brewing Company (Red Duck)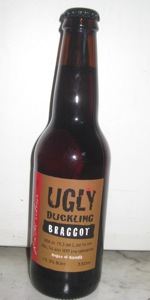 BEER INFO
Brewed by:
Purrumbete Brewing Company (Red Duck)
Australia
redduckbeer.com.au
Style:
Braggot
Alcohol by volume (ABV):
14.30%
Availability:
Limited (brewed once)
Notes / Commercial Description:
No notes at this time.
Added by BeerAdvocate on 10-03-2010
This beer is retired; no longer brewed.
Ratings: 5 | Reviews: 4
Reviews by dgilks:
4.12
/5
rDev
+21.9%
look: 4 | smell: 4.5 | taste: 4 | feel: 4 | overall: 4
Fairly clear amber colour with no head. Visually viscous and glossy.
Rich, complex nutty honey aroma with light apple and herbal notes.
Sweet yet tart with a good honey flavour, mild green apple and a mild herbal bitterness. Nice.
Medium body with next to no carbonation.
A really nice braggot. Great flavour and nice mouthfeel. Definitely something different.
364 characters
More User Reviews:

3.02
/5
rDev
-10.7%
look: 3 | smell: 3.5 | taste: 3 | feel: 3 | overall: 2.5
Pours a deep reddish amber with no head at all. Ring of lacing left when tilted where the beer was. Not a great deal of cloud, but a heavy and thick-looking body, not bad. Not much to look at though.
Smells very malty but a big green apple cidery fruitiness to it, with touches of cinnamon and champagne as well. Fairly heavy but decent and sweet. Possibly one of the most winey beer smells I've had in a long time.
Tastes... you know what? Quite vinous, again. Fair malt on the front reminds you it's beer, with buttery and caramel notes, but develops a strong chardonnay character (this is helped by the buttery malt) along the way with tart crisp apple and lots of oaky notes. A good belt of funk as well, just slightly tart with citrus and maybe some apricot. Fascinating beer palate but can't say I love it; too much disparity between the buttery front and tart fruity back.
Very thick mouthfeel but a reall odd carbonation texture as well, with fairly sucking attenuation. Quite odd, and again too disparate.
Kudos for a fascinating beer and for producing such unique characters. But really just a bizarre, almost dadaist vibe all over this.
1,151 characters
2.97
/5
rDev
-12.1%
look: 3.5 | smell: 4 | taste: 3 | feel: 3 | overall: 1.5
Big ups to @epiclurk for purchasing this for me--I'd missed the initial release and was happy to discover there were still bottles available.
Pours a flat and heavy hazy burnished golden colour. No head, no carbonation--it sits looking like a heavy mulled wine in the glass. There's certainly something medieval about it. Nicely thick though, and it leaves this sharp line of carbonation around the edge where it was poured to. Interesting appearance, to say the least.
Nose is very sweet, heavy, port-like and spicy, giving off some genuine spicy honey characters and a very intense booze haze. The more I smell, the more spiritous becomes the aroma, becoming like a trip of the DTs. Phew. Very powerful at least.
Taste is burningly boozy and heavy. Whatever sweetness was suggested by the appearance and heavily sickly body is gone, leaving a spiritous burn like cheap rum, and a biting acidity like cheap port. Phew. Feel is slight but sharp with alcohol.
Extremely hard to drink, even be it an unusual style. The honey just gets rampaged by the yeast, leaving very little body, and a very apparent and rampaging alcohol heat.
I mean, go for it--brew these odd styles, and push the envelope. Just don't expect a brilliant reception when they turn out like something fermented under a radiator.
1,301 characters
3.65
/5
rDev
+8%
look: 3.5 | smell: 3.5 | taste: 4 | feel: 3 | overall: 3.5
[email protected]
place. Thanks to mulder1010 for hooking me up with this rare brew!
Apperance: Golden brown with almost no head.
Aroma: Honey, Caramel, Sour apple.
Taste: Caramel, Honey, Sour apples, Alcohol and a hint of berries.
Palate: Sweet and rather smooth with almost no carbonation.
An interesting braggot that hides the 14% abv very well.
350 characters
Red Duck Ugly Duckling Braggot from Purrumbete Brewing Company (Red Duck)
3.38
out of
5
based on
5
ratings.