Red Duck Belgian Vanilla Porter
| Purrumbete Brewing Company (Red Duck)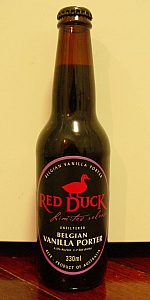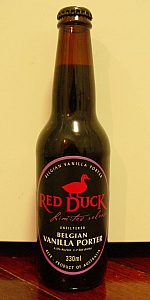 BEER INFO
Brewed by:
Purrumbete Brewing Company (Red Duck)
Australia
redduckbeer.com.au
Style:
American Porter
Alcohol by volume (ABV):
6.50%
Availability:
Limited (brewed once)
Notes / Commercial Description:
No notes at this time.
Added by ADZA on 07-25-2011
This beer is retired; no longer brewed.
HISTOGRAM
Ratings: 10 | Reviews: 9
Reviews by heygeebee:

3.12
/5
rDev
-14.3%
look: 2.5 | smell: 3 | taste: 3.5 | feel: 2.5 | overall: 3
From Leura Cellars. No BB.
Pours black. No head, after the first 30 seconds. Thin film.
Aromas of smoke/ashtray, and a little roast malts. Hint of vanilla, merest hint.
Taste is better. Smoke is still dominant but the vanilla comes thru almost from the get-go, and chocolate is evident.
Light mouthfeel, and a little watery. Light carbonation, but add in some spritziness on tongue (!)
I dont dislike, but am finding it hard to pinpoint what I do really like.
Belgian???? who mentioned Belgium...???? not me...
516 characters
More User Reviews:
3.42
/5
rDev
-6%
look: 3 | smell: 3.5 | taste: 3.5 | feel: 3 | overall: 3.5
Pours ruby-tinged black with a large, light tan head.
Nose shows roasted malt, coffee and soft vanilla. All pretty faint.
Lots more roasted malt as flavours, however the vanilla stays in the background. Some sweet caramel shows later before a mild roasty bitterness enters. Finish is slightly metallic.
Carbonation is a little high, body somewhat thin.
352 characters

4.06
/5
rDev
+11.5%
look: 3 | smell: 4.5 | taste: 4 | feel: 4 | overall: 4
Sweet F.A head, leaves a spiderweb of lace atop a very dark body, little in the way of highlights when held up to the light. There are lots of bubbles breaking the surface though which is odd for a Porter.
The smell is awesome, sweet and inviting. Candied bananna, most likely from the Belgian yeast, and sweet vanilla atop dark malty chocolate with some sultana-like spicy notes and a fruity cherry flavour. There is a bit of a boozy character present too.
The flavour is rich with tart cherries and sweet vanilla layered atop a malty chocolate base, the chocolate becomes more apparent in the finish which is smooth and warming, carrying over to the aftertaste.
Mouthcoating and luxuriant, from appearances you'd think the carbonation was too high for the style but it isn't really noticeable in the mouthfeel. Medium bodied.
Highly recommended, something to whip out after dinner when you want to impress someone whom would otherwise prefer a fortified wine or port.
973 characters
3.17
/5
rDev
-12.9%
look: 2.5 | smell: 3 | taste: 3.5 | feel: 3 | overall: 3
Drank from my Duvel Tulip.
A - Pours a dark deep Mahogany colours with a large bubbled tanned head that dies really quick.
S - Aromas are cirtus spice and a little metalic.
T - A little vanilla up front followed by some mild chocolate and dark fruits, figs. The finish is a little spicy.
M - Medium body and medium to full carbonation. A little overcarbonated.
O - Would have like dto have seena little more body, a little less carbonation and more vanilla in this brew. Full marks for being adventurous though.
516 characters
3.3
/5
rDev
-9.3%
look: 3 | smell: 3 | taste: 3.5 | feel: 3 | overall: 3.5
This pours a very dark brown/black with a beige head that disappears quickly.
Very strong vanilla on the nose. Maybe a little milk chocolate. Sweetness all round. Not really to my taste.
Tastes better than it smells. There is a very strong vanilla flavour. Reminds me of vanilla flavour from American oak in wines. Some dark fruits in there. I get less of the chocolate.
Medium bodies, high carbonation.
An ok porter but not great.
435 characters

3.75
/5
rDev
+3%
look: 4 | smell: 4 | taste: 3.5 | feel: 3.5 | overall: 4
330ml into a dimpled stein.
A-Deep brown with a thin head. No lacing but the head stuck around till the last drop.
S-This is a belgian beer. Whatever else is in the description, from the nose there is nothing but yeast. It smells like a Belgian Strong Dark Ale.
T-This may be one of the first beers where there is a bit too much going on. The smell affects the taste, so while I expected to get a strong yeast with dark malt, I instead am tasting a mellow dark fruit sweetness with some roast bitterness. The vanilla is completely lost. And then the yeast comes back at the end to say farewell.
M-Quite creamy throughout, which was a bit surprising to me after a couple of drinks because there is a dryish finish.
O-This is a tasty beer. While it isn't quite what I was expecting, it certainly wasn't bad (the "vanilla porter" in the title made me hope for something like Breckenridge's Vanilla Porter). I think the belgian-ness of this beer is what stands out. As a belgian strong dark ale it was enjoyable.
1,016 characters
3.56
/5
rDev
-2.2%
look: 3.25 | smell: 3.5 | taste: 3.75 | feel: 3.25 | overall: 3.5
330ml bottle purchased as part of a mixed 6-pack from the brewery in Alfredton.
Pours a solidly deep brown, opaque almost throughout, and yet I can still tell it's brown and not black. Head starts off its life as a reasonable froth of mocha/off-white, but becomes a thin ring pretty quickly. Carbonation is loose and racing when tilted. No lacing to speak of.
Nose is dark, but rounded, and smoothed out. It has some of those sweet, slightly heady Belgian aromas, but set on a different basis: the darkness comes through to give some depth. There's not a lot of true roast character, more mild coffee, slight chocolate, a touch of aniseed, and perhaps rounded out with a hint of creamy vanilla. It feels a little like it's ticking the boxes: Belgian, yep, vanilla, yep, porter, yep. It doesn't do anything else to really warrant its existence as a style though.
Taste is a little more pleasant though: in addition to the mild roast and the aromatic vanilla character, we get a sharp sweetness like dark berries, which mingles well with the darkness inherent in the malt. Slight uptilt in tartness on the back: nothing like an infection, perhaps just the suggestion of those berries, a flick from the vanilla and the aromatics inherent in the Belgian yeast. Finish is a little empty, however.
Feel is quite light. It's actually rather disappointing: I get the Belgian aspect of having a light finish, but I think this needs and perhaps deserves more.
Overall, it's fine. Indeed, it actually has some amount of interest that works reasonably well. But it's perhaps a case of too many variables causing some chaos. I think the Belgian yeast and the vanilla work against each other: one or the other would probably make an interesting and flavoursome beer, and together they just create a mass of anti-synergy.
1,811 characters
4.2
/5
rDev
+15.4%
look: 4 | smell: 4 | taste: 4.5 | feel: 4 | overall: 4
This was one hard brew to categorize as there is no Belgian Porter Style but it tasted more American than English so i think this fits and it pours the deepest cola hue with nice carbonation that leaves behind a cappicino laced one finger head that stays and leaves a rim of lacing,the smell is chocolate,vanilla,dark plums and raisins,mouthfeel is medium bodied and silky smooth with nice tastes of mocha,creamy vanilla,choc coated raisins and finished with a vanilla latte bitterness and overall im very glad to say it this brew is tasty and my favourite offering from this brewery so far and will buy when i see cheers.
622 characters
3.62
/5
rDev
-0.5%
look: 3 | smell: 3.5 | taste: 4 | feel: 3 | overall: 3.5
shared with a mate,
A- this one pours a cola black. black with a brownish tinge when looked at in the light. only a touch of head, and looks a little thin bodied as well.
S- a bit of roastiness in there as well as some sweet malts, a touch of smoke to me but very little, the vanilla comes through a bit in the end. pretty good.
T- a hit of roastiness with a hint of vanilla, both are more upfront than on the nose, again the malts play off each other a bit, a restrained bitter finish at the end. really enjoyable.
M- a little bit too spritzy for me and a bit too light, not watery or anything, but needs a touch more body.
O- a bit of a mixed bag of scores, interesting, and delicious, with a bit more body i think it would have been really great. but as it stands, its still a beer really worth trying.
813 characters
Red Duck Belgian Vanilla Porter from Purrumbete Brewing Company (Red Duck)
Beer rating:
3.64
out of
5
with
10
ratings