Red Duck Hoppy Amber
| Purrumbete Brewing Company (Red Duck)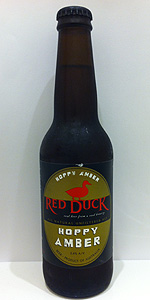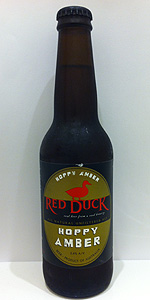 BEER INFO
Brewed by:
Purrumbete Brewing Company (Red Duck)
Australia
redduckbeer.com.au
Style:
American Amber / Red Ale
Alcohol by volume (ABV):
5.60%
Availability:
Rotating
Notes / Commercial Description:
No notes at this time.
Added by dgilks on 03-19-2012
HISTOGRAM
Ratings: 8 | Reviews: 7
Reviews by Hoptron_3000:

3.39
/5
rDev
-4%
look: 3.25 | smell: 3.5 | taste: 3.5 | feel: 3 | overall: 3.25
A: Pours a slightly hazy copper colour. Small raft of head. Bottle Conditioned.
S: Peach and grapefruit. Subdued sweetness.
T: Nice firm clean bitterness. Bit of grapefruit on the finish. Not getting much malt to balance the bitterness.
M: A bit thin. Crisp finish.
O: Would have liked a little more maltiness to play second fiddle to the hoppy bitterness.
356 characters
More User Reviews:
3.44
/5
rDev
-2.5%
look: 3 | smell: 4 | taste: 3.5 | feel: 2 | overall: 3.5
Pours ruby/copper with a large, fading head.
Nose shows resinous, piny hops along with soft mandarin and lychee. Underneath is generous sweet crystal and bready malt.
Flavours are equally hoppy, with lots of pine and hop resin providing the main show. Some rich clean malt underneath with very faint nutty notes. Seems a little grainy.
Carbonation is unnecessarily full-on.
Could use a more interesting malt profile to jazz things up a bit.
440 characters
3.92
/5
rDev
+11%
look: 4 | smell: 4.5 | taste: 3.5 | feel: 4 | overall: 4
Bottle purchased
Pours a lovely hazed mahogany-amber colour, with a fine, but slightly frothy head of off-white. Some subtle lacing, but not a lot. Body looks solid but fluid. Overall, it's a good-looking brew.
Nose is full of sweet fruits, but luscious, dark and juicy varieties, not the tropical or citrus sharpness I might have expected. Instead we have dark plums, sultanas and apricots, all fixed together with a dark, bittersweet toffee aroma. There's a hint of carbonic acidity to it as well. It's blended very nicely, however. Smells great.
Taste is also sweeter than expected, with subtle touches of green hop character around the edges. Very smooth and mild bitterness comes through, replaced later by sweet ginger snap characters, and an odd touch of meaty savouriness on the finish. As the beer clears up entirely, some residual aromatics come through giving the scent of lavender. Interesting.
Feel is smooth and full, with a pleasant cleanness.
Overall, a really nice brew from Red Duck, and one I'd be happy to drink on a regular basis. Indeed, apart from The Ox, this might be my favourite of their brews so far.
1,133 characters
3.45
/5
rDev
-2.3%
look: 3.5 | smell: 3.5 | taste: 3.5 | feel: 3 | overall: 3.5
Pours a murky light mahogany hue which leaves a fast vanishing one finger head and some nice sporadic lacing,the smell is floral hops,brandy,fruitcake,toffee and raisins,the mouthfeel is between light and medium bodied with nice semi still carbonation but for me the mouthfeel is abit light and on taste you are hit with a smack of bitter floral hops,rock candy,tropical fruits,caramelized pears and finished with a stonefruit bitterness and overall its nice and sessionable but i wish the mouthfeel had more substance as its definately lacking the body i feel it needs and compared to my top tier of American Amber/Red Ales this has abit to do to catch up as in my mind this style should be a perfect balance of both malt and hops cheers.
739 characters

2.94
/5
rDev
-16.7%
look: 2.5 | smell: 3.5 | taste: 3 | feel: 1.5 | overall: 3
No date on bottle.
Pours amber half finger head and the head just dies. No lace.
Strong hop aromas and citrus grapefruit.
Taste is hop driven (surprise) with grapefruit, earthy hops, lemons, and a moderately bitter back palate. Bitterness grows. Overall dry with hollow palate. In the end, almost hops and nothing else.
Mouthfeel very light. Under carbonated. Really not good at all.
All in all, average beer. All smell, nothing else.
EDIT - Sep 12
Second bottle better, intense aromas of the above, and taste fuller bodied. Have not amended scores as per my std practice.
579 characters

3.75
/5
rDev
+6.2%
look: 3.5 | smell: 3.5 | taste: 4 | feel: 4 | overall: 3.5
Bottle: solid brown 330mL bottle with a very stylish (and cute) label. I particularly like the "Does not contain any real ducks" label.
Appearance: a heavy yet vibrant orange - slight haze due to the usual Purrumbete Brewing real ale style. One-finger off-white head drops to a thin film with a decent ring around the glass. Not much retention or lacing.
Aroma: lots of pine and resinous qualities up front with some bread malts backing up. Decent.
Taste: follows the nose quite closely but if anything, the bitterness comes through stronger. Some toffee with those resinous hops along for the ride.
Aftertaste: the bitterness and a faint nutiness comes through.
Mouth feel: medium in feel with a sprucy carbonation - if anything a tiny bit too much carbonation. Still, goes down quite easy.
Overall: not quite as impressive as the Red Duck Red Admiral, but rather its slightly lesser (and slightly cheaper) cousin. Considering you're already spending AU$90 for this, I'd say just spend the extra $20 and go for Red Admiral. Still, Hoppy Amber is a tasty, refreshing and well-rounded real red ale.
1,103 characters
3.62
/5
rDev
+2.5%
look: 3.5 | smell: 4 | taste: 3.5 | feel: 3.5 | overall: 3.5
Slightly hazy dark copper colour with a small, very short lasted, off-white head.
Sweet malt with plenty of tropical hops and a touch of earthiness. Not bad.
More sweet malt with some slightly rough, earthy hop character. Mild fruit. Moderate bitterness. Just a little too sweet for me.
Medium full body with moderate carbonation. This lacks a little crispness.
A slightly sweet amber ale. The hoppiness is an improvement over the normal amber ale but there is too much sweet malt character.
503 characters
Red Duck Hoppy Amber from Purrumbete Brewing Company (Red Duck)
Beer rating:
3.53
out of
5
with
8
ratings