Zhujiang Beer
| Guangzhou Zhujiang Brewery Co. Ltd.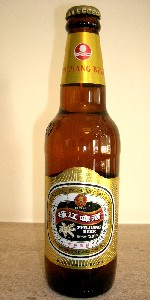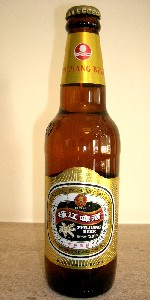 BEER INFO
Brewed by:
Guangzhou Zhujiang Brewery Co. Ltd.
China
Style:
Japanese Rice Lager
Alcohol by volume (ABV):
4.30%
Availability:
Year-round
Notes / Commercial Description:
No notes at this time.
Added by Absumaster on 06-16-2006
HISTOGRAM
Ratings: 11 | Reviews: 8
Reviews by pootz:

1.98
/5
rDev
-9.2%
look: 2.5 | smell: 2 | taste: 2 | feel: 1.5 | overall: 2
330ml bottle from the LCBO single's bin.
Not much here... A pale asian adjunct lager. pale straw color, no head retention,...
... faint aroma of wet rice paper and celery, weak watery mouth, malts undetectable, ricey dryness and a cloying dextrose sweetness in the fast finish.
....bland. tasteless, annoying dextrose notes.
329 characters
More User Reviews:
2.27
/5
rDev
+4.1%
look: 2.5 | smell: 3 | taste: 2 | feel: 2 | overall: 2
ZHU JIANG BEER on the main front label, ZHUJIANG GOLD LAGER on the neck label. Rice named as an ingrediant on back label.
Found in a new cut price shop in Wellington, Shropshire.
330ml Brown bottle, best before 25 May 2008, drank late April 2008.
Oh dear, what have I bought now?
Poured into a Corsendonk stemmed tulip glass it looked like a typical weak lager. Crystal clear, golden yellow and with a white head sat on top. sadly by the time I had taken a wiff of the aroma, the head had vanished into thin air.
No aroma at all (gets my normal 3 for lager).
I am sorry but the review stops here, there is nothing to write about. This is a nothing beer, no taste, no aroma, no flavour. There isn't even anything nasty to say about it, it is just an all round unbeer!
772 characters
2.35
/5
rDev
+7.8%
look: 2 | smell: 2 | taste: 2.5 | feel: 2.5 | overall: 2.5
I read the review of the Supra beer of this same brewery and was under the impression that the beer I have here is a different one. To begin with the can which does not say Supra anywhere on it.
The appearance was pretty poor, not only comes the beer in a can with a very old-fashioned opening system, the beer itself is very light, watery golden with minimal retention, even disappearing after a couple of minutes, which makes it look like apple juice.
Smell was cidery, apple-like and rice, if I try hard I can smell some maltiness.
Taste was very bland, no bitterness and very few malt. So what do I taste? A faint bitter with some vegetable taste, that's it. The big nothing.
683 characters
1.82
/5
rDev
-16.5%
look: 1.5 | smell: 2 | taste: 2 | feel: 1.5 | overall: 1.5
330ml green bottle poured in a pint glass. There's some confusion around this beer. The label says Zhujiang Beer and the neck label says Zhujiang Gold Lager. There's an entry for both names, but the gold lager is the wrong brewery and this one has the wrong ABV (this one reads 5.3%). I'm entering it here because it seems the most correct to me.
Clear, pale, pale straw yellow. Thin, white head on the pour, but almost instantly the head is gone.
Aroma is grainy and adjuncty with petrol notes. Label states "Ingredients: Water, Hops, Fine Malt, Rice, Yeast." I'm guessing it's the rice that give the pale colour and off aroma.
Has a strong formaldehyde flavour to it. Petrol notes and adjuncts with a bit of grains here and there. Aftertaste is a milder version of the same flavours.
Harsh caustic mouthfeel. Thin bodied and over carbonated. Unpleasant.
This is the latest offering from the province run liquor monopoly. Don't these guys sample the beer before bringing it in? This is garbage. There's gotta be some better beers they could be bringing in. I just don't know why they won't.
1,106 characters
1.81
/5
rDev
-17%
look: 3 | smell: 2 | taste: 1.5 | feel: 2 | overall: 1.75
Pours a typical clear golden color with about two fingers of white foamy head that quickly settles down.
The aroma is decently strong, but I could only pick up somne sweet grains.
The taste is not really nice. Too sweet in the beginning and throughout. Some minimal bitterness in the end.
290 characters
2.56
/5
rDev
+17.4%
look: 3 | smell: 2 | taste: 2.5 | feel: 3 | overall: 3
330 ml bottle.Clean golden colour, pours a more than decent head that fades almost instantly. As for the smell, I only can find grain, bread. Taste of grain, metallic notes and some sweet flavor. I really expected less of this one, nothing special but it has a clean palate and it's very refreshing.
299 characters

2.5
/5
rDev
+14.7%
look: 2.5 | smell: 2.5 | taste: 2.5 | feel: 1.5 | overall: 3
Pours a pale yellow gold, nice lucky colour, with very thin white head that dissipates to leave a few bubbles lying around the top like strung-out opium addicts. Light carbonation, looks pretty ordinary really, although "appropriate" for the style.
Nose is fairly pungent, with a strong rice aroma precluding any other grain or malt, slight piney hop, but smells very par for the style. Simply, inoffensive and bland.
Taste is certainly not a powerful one; has elements of sweet rice, grass and a very light phenolic character. Not a particularly long palate. Maintains a steady influx of mild Asian bitterness on the mid, then sinks a bit on the back, leaving a very inoffensive yeasty hang, with a slightly sharp and unpleasant mouthfeel, quite acidic on the tongue without the joy of a properly constructed acidic flavour.
Apart from that, it's what you expect from an Asian beer. Minimal potency, light and subdued flavour, smooth drinkability without any party-animal excitement. A bland, stoic beer for the masses.
1,023 characters
2.2
/5
rDev
+0.9%
look: 2.5 | smell: 2.5 | taste: 2 | feel: 1.5 | overall: 2.5
As stated by another reviewer, there is indeed some confusion around this beer. My sample was a 330ml brown bottle with both the bottle label and the neck label saying Zhujiang Beer (no mention of "Gold" or "Golden"). The ABV read 5,3%. Since an Euro Pale Lager is generally backed by an all-malt base and this one has rice in its ingredients I am classifying it as a Japanese Rice Lager.
This is my first Chinese beer and I am really not impressed.
This one pours with a light golden color (almost straw). Its head is white, very low with an impaired retention. Very clear.
An agreeable nose (if you can find it!) and a taste more malty than hoppy.
It is a smooth beer, quite gassy, low alcoholic strength and with a watery body.
The finish is too weak to be worth mentioning.
In short it is a refreshing beer, although characterless and empty. You can drink dozens of this one, as there is almost nothing there.
925 characters

Zhujiang Beer from Guangzhou Zhujiang Brewery Co. Ltd.
Beer rating:
2.18
out of
5
with
11
ratings