Hercules
| Khoday Brewing & Distilling Industries, Ltd.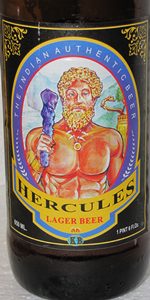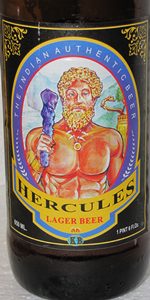 BEER INFO
Brewed by:
Khoday Brewing & Distilling Industries, Ltd.
India
Style:
American Adjunct Lager
Alcohol by volume (ABV):
5.00%
Availability:
Year-round
Notes / Commercial Description:
No notes at this time.
Added by BDTyre on 01-20-2006
HISTOGRAM
Ratings: 8 | Reviews: 7
Reviews by Shadman:

1.9
/5
rDev
-34.9%
look: 2.5 | smell: 2.5 | taste: 1.5 | feel: 2.5 | overall: 1.5
In the so called 'beers of the world' cooler at a local Medicine Hat store.
Looks like a lager...poured as agressively as possible and still managed 1.5 finger bone white head ( it was however, right out the fridge) that quit as quick as a snowball in Calcutta in July. Lacing however was quite good.
with a clear bottle...no skunk odor. Aroma was very sweet and had an obvious corn sweet odor.
Corn sweetness followed by just a hint ( and by hint I mean you have to look for it) hop bitterness. The corn sweetness comes back to overwelm everything later and stays like relatives after the third day.
Feels smoother than some macros, mostly due to the sweetness I'm afraid.
Makes Kingfisher look like HP's Edelhell IMO.
735 characters
More User Reviews:
3.06
/5
rDev
+4.8%
look: 3.5 | smell: 2.5 | taste: 3 | feel: 3.5 | overall: 3.5
Hercules pours a clear golden body beneath a short head of bright white foam. It holds quite well, and it leaves some thin, but nice, splashes of spotty lace about the glass.
Although it looks like a European-style "Pilsner", it doesn't smell like one. A bready maltiness is present (and something that I can't quite place with it... it's almost nutty, or like wet straw... almost like fresh wort), but there are very few hops. I get a very light whiff of what seem like floral/noble hops, and then they're gone.
The flavor follows suit, and I'm really starting to think that it is a bit worty, or at least grainy. It's not bad, or off-putting, but it's unusual. And as in the aroma, the hops are quite limited. I find that to be characteristic of their beers, however: they tend to be sweetish and malty with very little hop character or bitterness. It probably suits the cuisine; and I'm also guessing that they drink it ice-cold, which would cover up some of the sweetness. Not that the Hercules is particularly sweet, but in general. And on that note, they do love their sweets, so why not make their beers a bit that way?
In the mouth it's light-medium in body and gently crisp.
It's an interesting beer in that it's better made than some of the Bloc beers available, but it's far from "European".
1,307 characters

3.06
/5
rDev
+4.8%
look: 4 | smell: 3 | taste: 3 | feel: 3 | overall: 3
I ordered this from the menu of the Taj Mahal Restaurant in Bloomingdale, IL. This 650ml brown bottle went for $8, which wasn't bad considering I got two full glasses out of the one bottle. No freshness date.
The beer poured a crystal clear medium gold color that made a 1½-finger white head that hung around awhile and left some decent lacing.
Not much smell to this - just a little sweet grain, some grassy hops, and a touch of citrus.
This one's on the sweet side, but not so sweet that it's sickening. Light malt and corn sweetener are the main flavors, with the grassy hops barely noticeable. The light lemon citrus flavor is a welcome addition, keeping it from being completely bland.
Very light body, but I wouldn't call it watery, with moderate to medium carbonation.
One of the better Indian beers that I've tried, but it's nothing that wows you over. For an adjunct lager it at least passes the drinkable test.
926 characters
2.83
/5
rDev
-3.1%
look: 3.5 | smell: 3 | taste: 3 | feel: 3 | overall: 2
Straw-tan and totally clear. Not too much head or lacing, but nice rising bubbles.
Smell is very typical of the style, kinda skunked wheat, grass and grains, with a touch of lemon.
Taste is slick and grainy, quite typical again of the style. Slightly sweet and a bit citrus as well.
Feel is slick and light, decently carbonated.
Drink is very so-so. Not anxious to have again and not sure why Indian beers would be imported here, especially with the likely short shelf life and long transit times.
505 characters
2.98
/5
rDev
+2.1%
look: 3.5 | smell: 3 | taste: 2.5 | feel: 3.5 | overall: 3.5
Pours a pale, clear yellow. One inch head of a white color. Good retention and decent lacing. Smells of yeast, adjunct, pale malt, and slight hops. Fits the style of an American Adjunct Lager. Mouth feel is smooth and crisp with an average carbonation. Tastes of yeast, pale malt, slight hops, adjunct, and a metallic flavor. Overall, nothing special here - not great, but not too bad.
385 characters

2.82
/5
rDev
-3.4%
look: 2.5 | smell: 3 | taste: 2.5 | feel: 2.5 | overall: 3.5
This is the cheapest Indian lager I've seen, and there is perhaps a reason for that. Manufactured April 2005, best before March 2006. Clear bottle. Looks like apple juice, or bottled urine. Thick, foamy head.
Smells skunky, but not dissimilar from other Indian lagers. Citrus notes and grassiness to it.
Smell is stronger than the taste. Malts, adjunct, hops...lemony notes, grassiness. Water. Weak flavour, very thin and watery..but easy to drink.
Overall, not very impressive. I'd prefer something like Raj.
518 characters
3.72
/5
rDev
+27.4%
look: 3 | smell: 3.5 | taste: 4 | feel: 3 | overall: 4
Poured out of an Amber bottle agressively into a pint glass. 1 finger of head, drank at about 45 degrees.
Not a ton of smell but what is there is sweet and slightly floral.
Taste was very sweet followed by a very slight crisp bitterness. The sweetness was definitely supposed to be the main flavor of the beer.
Mouthfeel was average; not watery but also not much there.
Overall a good beer. I could definitely drink a few of these as they are refreshing and light. Probably a great beer to drink with a nice Medium/High heat Indian dish.
542 characters
Hercules from Khoday Brewing & Distilling Industries, Ltd.
Beer rating:
2.92
out of
5
with
8
ratings