Hercules Extra Premium
| Khoday Brewing & Distilling Industries, Ltd.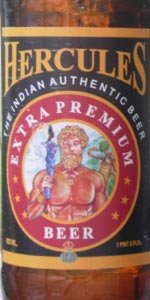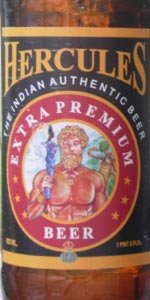 BEER INFO
Brewed by:
Khoday Brewing & Distilling Industries, Ltd.
India
Style:
American Malt Liquor
Alcohol by volume (ABV):
7.50%
Availability:
Year-round
Notes / Commercial Description:
No notes at this time.
Added by pmcadamis on 07-19-2009
HISTOGRAM
Ratings: 6 | Reviews: 5
Reviews by pmcadamis:
3.57
/5
rDev
+16.7%
look: 3 | smell: 3.5 | taste: 3.5 | feel: 3.5 | overall: 4
Bought this at an Indian grocery in Bloomington/Normal Illinois. Note: my bottle says 7.5% ABV on it, but this is listed here as 5.0%... myabe I've come across a different version?
A - Clear vibrant gold and crystal clear with a big fluffy white head. Head retention is actually pretty decent for this one.
S - Boozy grain notes tell me that this is sorta cheapo high ABV beer (Indian malt liquor?) but there is a nice fruitiness that I really like. Fresh banana baby food and lighter peach and apricot notes.
T - Fruity like the nose with a hearty grainy backbone that isn't quite malty, but it is sort of "graham crakery" and it pairs with the fruit notes nicely. Weird, but very good!
M - Medium bodied with a boozy warmth reminicent of an American malt liquor, but much much better. This doesn't hide its strength (7.5% right on the bottle, despite what's listed on this site) like a high ABV Belgian.... it flaunts it's boozey characteristics shamelessly.
D - This is a really good beer.... especially considering that most beers from India (and all of Asia for that matter) are usually rather bland. Alcohol warmth would do well with spicy Indian food, and after finishing this 22oz bottle I had quite a little buzz going on. I actually really, really like this. I would buy it again for sure.
1,316 characters
More User Reviews:
2.88
/5
rDev
-5.9%
look: 3 | smell: 2.5 | taste: 3 | feel: 3 | overall: 3
Hercules Extra Premium is just slightly darker than the regular Hercules, at about 5 SRM versus 4. Oddly, it's short bright-white head is short-lived, as the standard Hercules holds pretty well. That must be at least due in part to its lower level of carbonation.
In the nose it's malty sweet, and you don't get any hops.
The flavor is as you might expect (basic malt sweetness) given the nose, but there's also a bit of yeasty fruitiness to liven it up a bit. There don't appear to be any noticeable hops, although you can tell that there's something there. If I had to describe it I would go with softly grassy. The bitterness follows suit. You know there's some there because it's sweet, but not cloying; and it finishes pretty much in the same way it began. Clearly what makes this an "extra premium beer" is an elevated gravity and alcohol content.
In the mouth it's medium bodied and gently crisp.
Overall drinkability lies in how much interest it holds for you. You can certainly drink a few of these before you'll find them too sweet (unless you initially find it too sweet), but it's almost completely one-sided. I was bored with it after about 8 ounces, wishing it had some hops to it.
1,199 characters
3.57
/5
rDev
+16.7%
look: 2.5 | smell: 3 | taste: 4 | feel: 3 | overall: 4
Tiny print on label: Batch no. 56, Mfg. 09/08
"The Indian Authentic Beer"
"for export out of India"
Snagged the weirdest looking Indian beer I could find out in the suburbs, the label features a cross-eyed, chesty orange barbarian with a purple club. Marvel at how his elbow breaks out into the red oval label! And his pecs look like how I drew boobs in 3rd grade.
Not expecting much, but here goes. Poured into a snifter a high clarity yellow. A swarm of angry fizz that subsided and left no trace. It looks like apple juice to be honest...stale grainy aroma, pretty bland.
First sips, it's actually not terrible. The yeast is bringing in some white grape flavor against the light malt, its not too sweet and finishes fairly dry. Alternately gaseous and flat. Reminds me of New Glarus Berliner Weiss without the sourness. Surprisingly decent with an unique flavor for an Indian lager.
Available at Foremost in Des Plaines, and Brantridge Liquors in Mt. Prospect. Importer is JOM Wine & Spirits, Palatine, IL
1,014 characters

2.88
/5
rDev
-5.9%
look: 3 | smell: 2.5 | taste: 3 | feel: 3 | overall: 3
Appearance: Very clear yellow color with a steady stream of bubbles. Very little head that dissipates rather quickly. Likewise, there is little lacing.
Smell: I didn't detect any odor from this brew.
Taste: Grass-like with a slight bitter aftertaste.
Mouthfeel: Metallic.
Drinkability: It's fine for dinner at an indian restaurant, but I wouldn't buy this one at my favorite beer store.
390 characters
2.23
/5
rDev
-27.1%
look: 3 | smell: 2.5 | taste: 2 | feel: 2.5 | overall: 2
The big muscled man on the front leads me to believe this will be a big ol' brew with the 7.5% kicker. Pours a clear straw yellow from the 22oz bomber bottle into the Corsendonk tulip, white head that leaves a small sheet ring.
Oh, big alright - big Euro skunk in the aroma. Harsh, grainy alcohol mixed with itty bitty malt notes with the quaffing. Pretty darn rough brew, all malt liquor taste. Raspy wood finish.
Saw this at Friar Tucks in O'fallon and picked it up on a whim, I think the price was under $5 - but I won't pick up another, that's for darn sure. I see there are only a handful of reviews - how the hell did this make it to the Midwest??
655 characters
Hercules Extra Premium from Khoday Brewing & Distilling Industries, Ltd.
Beer rating:
3.06
out of
5
with
6
ratings