Southtown Beverages Drive Thru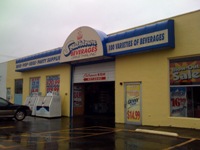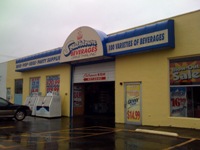 Store
2933 W Henrietta Rd
Rochester
,
New York
, 14623-2515
United States
(585) 427-2840 |
map
kegking.com
Notes:
Reviews by keithmurray:

4.13
/5
rDev
+1.5%
vibe: 3.5 | quality: 3.75 | service: 5 | selection: 4
Southtown Beverage is a fairly large beverage center located in Henrietta
The atmosphere is a big warehouse feel with mostly macros (cases and kegs) making up their selection. They do have a smaller section of Craft brews, they carry a lot of NYS brewery products (Saranac, Brooklyn, Lake Placid, Southern Tier) as well as domestic usuals (Sam's, Great Lakes, Sierra Nevada). They have a few imports as well, but the selection of Belgian/German beers isn't as extensive. Perhaps the most enjoyable feature of Southtown Beverages is that they have a section to the left of their building that is devoted to out of season or close to expiration date beers that you can make a mixed six pack for $4.99, or a case for $17.99. I have found some gems here in the past like Stone Levitation for example sitting in this section, so if you live in the ROC, be sure to check this part out periodically. Customer service is really top notch here also, the owner is very friendly and knowledgeable about his products. His staff is also good about taking items out to your car for you. Their selection might not rival Wegman's or BOTW, but it is still worth checking out as they are reasonably priced and the customer service exceeds that of its competitors. Worth checking out.
1,266 characters
More User Reviews:
3.5
/5
rDev
-14%
This is your basic drive through beverage center. Nothing outstanding at first glance. You have your typical cases of Labatt, Coors, Busch, Keystone, and other swill all over the place. Then there's a little mecca off to the left behind the cash register where you can buy bombers, 6 packs, and cases of craft beer. Selection isn't fantastic, you can probably find all of these at your local Wegman's, Hegedorns, and most definitely Beers of the World, but their prices are fair and beats BOTW in most cases.
The guys there are cool and are happy to help you find whatever you need. If I'm in the area and need a staple craft brew I'll definitely stop by.
656 characters
4.15
/5
rDev
+2%
The main selling point for this place is the convenience. Close to the main shopping icons of Rochester, you can drive in and load up. Or, on a great summer day, they come out to you. The taps for growlers were very good, including Dogfish Head 60 minute and San Palao. A good turnover, so ice tea and soft drinks and the like. Several bombers. These guys are fit and ready to serve, and they are changing with the times competing with places like Beers of the World a few minutes drive away where single bottles are the policy.
528 characters
4.3
/5
rDev
+5.7%
Southtown has a decent and varying selection of craft offerings, including growler re-fills, maybe six taps or more. And if macros are your thing, this is the only place you need to know.
Based on the ratio of area devoted to craft vs. macro, their staple business is probably macros, so other craft fans should stop in and buy more. Demand will drive the variety up, and maybe help hold prices by improving area competition. That said, Southtown's prices are very reasonable.
As for service, these guys remember what that means, and in a world where others seem to think service and courtesy are irrelevant or un-cool, Southtown is a breath of fresh air. I have only once had an issue with my purchase, and these guys took care of it instantaneously. Their service goes well beyond good business, and is in lock step with being good neighbors.
As for getting out of the lot, the hype is a bit over the top. I've never had a problem, but if you are anxious about it, just go right and turn around at the next lot.
1,016 characters
4.15
/5
rDev
+2%
I've known Joe and Allen for many years now and I'm comfortable in knowing then when you go to Southtown you're going to get great sevice and a good price on beer.There is a drive thru service that comes in handy on those cold days and a huge selection of beer including some micros and macros. Behind the counter they're pouring growlers to go and the last time I was there they had some Middle Ages and Brooklyn on tap along with some others. Whenever I'm in Henrietta I try to stop in and see whats going on. I reccomend you do the same . Don't forget to ask for some of their famous Papa Al's sauce which goes great with just about everything!
647 characters
4.5
/5
rDev
+10.6%
Southtown has recently expanded its offering of microbrews and imports, and added a fridge, so you can actually get cold craft brews there now without phoning in advance (previously they only had a fridge with BMC and malt liquors, though they'd chill a sixer of whatever you wanted if you called them first).
Good selection of bombers - I saw the Smuttynose Scotch Ale for the first time there last night. Excellent selection of beers to fill growlers, and they will give you a taster glass if you ask. (Fancy that, a beer store where you can try it before you buy it.) Currently they have Rohrbach's Scotch Ale, Kasey's Christmas Ale, Boston Smoked Porter, Middle Ages Dragonslayer, and I forget what all else on tap. For the longest time they had CB's Bourbon Barrel Wee Heavy for $15 a growler - I miss that stuff.
It is inconvenient to get to, and even harder to get out of (impossible to turn left onto West Henrietta at most times of day), the hours are way too short (only open till 6 M-Th, open till 8 on Friday, and open only until 6 on Saturday), and one does get a little worried about being hit by a car if one walks in to browse (but it hasn't happened to me yet). But the service is excellent; the guys there are friendly and for the most part they know their stuff.
1,288 characters
4.15
/5
rDev
+2%
Cheers: Actual Brew thru, a scarce thing here in NY. Slightly illegal feel to the operation, almost felt like I was back in GA, pulling into a barn and purchasing a case of Miller Lite out of Bob's trunk. Way friendly help, seemed willing to go out of their way. They were very excited to see us, or just high on lotsa expresso. Nice selection of local taps for growlers at a reasonable price. Big selection of NY micros, a few regional favs, and a couple of suprises. Prices were better than what I have seen, some brews are truly bargain. Gas station employees on the other Henrietta road (East) knew where Southtown was and provided accurate directions.
Jeers: Should be on West Henritta Road. Not exactly sure if it was legal to walk in the joint, the whole getting ran over by a car thing might jack up the insurance. The 2 front doors are very misleading, I actually tried to open one of them. I'm sure there is a hidden camera to document the jackasses such as myself trying to open the non-door and looking perplexed. All the growler taps were described in terms of hoppy, more hoppy, very hoppy. One guy even stated that CB's EPA was kindof lemony in comparison to the CDGA Ale. No growler samples. Horrible location, good luck pulling in without getting in an accident.
1,283 characters

4.15
/5
rDev
+2%
This place deserves a lot of props. What they lack in selection they make up for in both service and willingness to have good beer around. I love the idea of a "drive thru" beer store and it works perfectly here. Probably an old auto mechanic garage it has been converted into a nice little store with cases stacked floor to ceiling and kegs as well as a very convenient bottle return. The have all the macro suspects, but also plenty of good locals ie. Saranac, Middle Ages, Ellicottville, Lake Placid as well as good selection of beers from further afield ie. Bear Republic and Stone. Probably the best part is the growler fills on premises. When I was there today they had Dragonslayer, Triple Crown and several summer time offerings from Custom Brew Crafters. In addition they sell just about everything you need to help get a kegorator up and running or beer supplies for parties.
The service at Southtown is great. They are super friendly and always willing to help you with anything you need. They know beer pretty well to boot. They far outclass Beers of the World staff in their ability to appreciate and respect the customer. Now if only they could combine the selection of BotW with the service and growlers of Southtown. Definitely give them a try; you'll be glad you did.
1,287 characters
3.4
/5
rDev
-16.5%
Update 11/2009
Service here is still great. Prices and selection good too. Last visit only had two lines for growler fills. Got some outdated (4mo.) Two Brothers Cane and Ebel and paid full shot for it. Should've checked the dating. Quality is just Ok overall.
---
These guys know a thing or two about customer service. Friendly, knowledgeable staff. Very good selection of bottled micros and imports and kegged beer. Bring in your growler for a refill or pick one up filled with one of about a 1/2 dozen excellent draught selections.
537 characters
Southtown Beverages Drive Thru in Rochester, NY
Place rating:
4.07
out of
5
with
10
ratings