Hallerndorfer Hausbrauerbier
| Brauerei Gasthof Rittmayer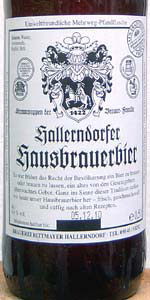 BEER INFO
Brewed by:
Brauerei Gasthof Rittmayer
Germany
rittmayer.de
Style:
Märzen / Oktoberfest
Alcohol by volume (ABV):
4.90%
Availability:
Year-round
Notes / Commercial Description:
No notes at this time.
Added by Absumaster on 10-03-2008
Ratings: 14 | Reviews: 10
None found.
More User Reviews:
3.54
/5
rDev
-0.6%
look: 3.75 | smell: 3.5 | taste: 3.5 | feel: 3.75 | overall: 3.5
500ml bottle - with zero English on the label, it feels like I dragged this one back in my suitcase or something.
This beer pours a clear, medium copper amber colour, with four fingers of puffy, rocky, and somewhat fizzy tan head, which leaves some layered coral reef atoll lace around the glass as it quickly evaporates.
It smells of semi-sweet, bready and doughy caramel malt, a bit of free-range ashiness, reduced brown sugar syrup, bruised plums and red apples, and some very tame earthy, weedy, and floral noble hop bitters. The taste is grainy and bready caramel malt, more understated apple and stone fruitiness, dark sugar, muddled black orchard fruity notes, and a still ethereal earthy, musty, and dead floral verdant hoppiness.
The carbonation is fairly active in its palate-spooning frothiness, the body a solid middleweight, and generally smooth, with a nice airy creaminess evolving as things warm up a bit around here. It finishes well off-dry, the caramel malt almost reigning unchecked by this point.
Overall, this is a rather plain and sweet offering, with none of the crack and sizzle of a true Oktoberfest brew - I suppose, from my rudimentary understanding of German, that 'Hausbrauerbier' is a 'house brewer's bier', i.e. a brew pub tipple, which of course tells us nothing of the intended style. Unless you live in Germany, perhaps.
1,362 characters
3.5
/5
rDev
-1.7%
look: 3.5 | smell: 3.5 | taste: 3.5 | feel: 3.5 | overall: 3.5
0.5 l bottle, bought in Germany, during a short trip I made recently.
Dark golden, hazy after pouring the residu, good fluffy head, low carbonation, good lacing.
Malty smell and taste. A little bit of hops, some sweetness from malts. A bit flat and faint.
Slight bitter aftertaste.
Light body.
Overall very balanced beer. Balanced and modest.
Pouring the residu improved this brew a bit, but all in all , it could do with a little more aroma and flavour.
456 characters
2.77
/5
rDev
-22.2%
look: 4.5 | smell: 2.5 | taste: 2.75 | feel: 2.5 | overall: 2.75
L:
-pours a cloudy amber with a small to medium,foamy,offwhite head
-high carbonation visible
S:
-earthy,leather,spicy,plums,pears,moldly
T:
-spicy,caramel,plums,sweet,maple syrup
-sudden finish
-low bitterniss for the style
F:
-medium,soft carbonation
-light,watery body
O:
Weird, almost rustic Kellerbier.
I was disappointed
326 characters
3.33
/5
rDev
-6.5%
look: 3.5 | smell: 3 | taste: 3.5 | feel: 3 | overall: 3.5
A murky, amber, copper beer with a creamy head which settles into a small layer.
Smell is malty with notes of spent grains and a bit of a Kellerbier "off-flavor", which is a bit nutty and a bit tart.
Taste light malty with decoction-like caramel, Maillard products and a nutty, spent grain taste. Bitterness is low and the beer is a bit hoppy. I cannot determine the type of hop used. Mouthfeel is thin.
409 characters
3.88
/5
rDev
+9%
look: 4 | smell: 3.5 | taste: 4 | feel: 4 | overall: 4
A- Dark Fruity Orange coloring, head poured out to be an inch or so, not to stick and slowly died to a thin layer across the top
S- Thick malt smell with fruit and a small sharp sour hop smell
T- Very light fruity tasting with underlying of hops. The malt is much more subtle then I thought it was going to be. has a slight metallic taste
M- light carbonation and body, almost a carbonated water feel but NOT water in any other way rather then feel.
D- Great beer. If you can get you hands on it def give it a try, amazing summer beer.
541 characters

3.78
/5
rDev
+6.2%
look: 4.25 | smell: 3.75 | taste: 3.75 | feel: 3.75 | overall: 3.75
From the bottle, it pours orangey-amber with a light tan moderate head. The head is sustained by a good carbonation profile. Aroma is light caramel and malt. Taste follows nose with a pleasant carbonation bite. Yum!
219 characters
3.88
/5
rDev
+9%
look: 4 | smell: 3.5 | taste: 4 | feel: 4 | overall: 4
Poured from a 500ml bottle into a straight pint glass.
Pours a dark gold colour, with a pretty decent head on it.
Smells yeasty and malty.
Tastes very refreshing, with subtle bready malts, yeast and bitter hops finishing it off.
Overall a nice beer, unremarkable, but nice.
279 characters

3.71
/5
rDev
+4.2%
look: 4 | smell: 3.5 | taste: 3.75 | feel: 3.75 | overall: 3.75
3.28
/5
rDev
-7.9%
look: 3.25 | smell: 3.25 | taste: 3.25 | feel: 3.5 | overall: 3.25
Good looking orange amber color with one finger head. Active carbonation keeps head sustained. Aroma:caramel, dough, bread. Taste:light sweetness, medium bitterness, Palate:medium body, slick feel, bitter. Right in the ballpark for a German kellerbier.
252 characters

4.1
/5
rDev
+15.2%
Pours clear orange-amber (with sediment hazy) with excellent beige head, very good retention. Taste of smoke and smoked fish, aargh, astounding! Taste of smoked malts and sunflower seeds. Low carbonation, medium body, low hop profile. Brewed by receipt of 1422. Pure pleasure.
276 characters
4
/5
rDev
+12.4%
look: 4 | smell: 4 | taste: 4 | feel: 4 | overall: 4
A hazy appearance, copper to amber in color, with heavy carbonation and a fine, small white head.
Aroma is rather heavy and consists mainly of a thick, slightly musty or sharp body of malt, a few fruity notes, a bit of fresh hops and some yeast. Can't wait to dig in!
The taste has some more bitterness to it and is a bit more hoppy. The finish is dry and bitter and brings some yeasty chewiness to the fore. A very pleasing sweetness holds everything together.
A lovely mouthfeel: slick and a well-build body, with potent carbonation.
Certainly not a Maerzen/Oktoberfest as indicated. Yet enough to celebrate when drinking this top brew.
642 characters
4.06
/5
rDev
+14%
look: 4.25 | smell: 3.75 | taste: 4.25 | feel: 4 | overall: 4
Hallerndorfer Hausbrauerbier from Brauerei Gasthof Rittmayer
3.56
out of
5
based on
14
ratings.