Kafé België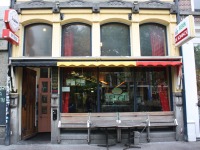 PLACE INFO
Type:
Bar, Eatery
Oudegracht 196
Utrecht
, 3511 NR
Netherlands
+31 30 231 2666 |
map
kafebelgie.nl
Notes:
No notes at this time.
Added by ggaughan on 11-28-2005
Reviews: 9 | Ratings: 13
4.25
/5
rDev
-1.2%
Lived in Utrecht for several years and would frequent often. Good beer selection including some gems from the US. I enjoyed and old foghorn barleywine there alongside some world class Belgian beers. It is somewhat dark, dingy, with typical service though sitting at the bar will ensure good service. Also some interesting characters frequent the place though it's past is much seedier then the present. Great place!
415 characters
4.45
/5
rDev
+3.5%
vibe: 4.5 | quality: 4.5 | service: 4.5 | selection: 4.5 | food: 4
Was in Utrecht for a single night, and took a walk from near the Main station over to Cafe Belgie for dinner. Even thought it wasn't the nicest weather (high 30's F), it was a pleasant walk through the shopping district from the train station.
I had the meat of the day, which was meatloaf (spiced with cumin, kind of like chilli in loaf form) which was pretty good. Sat at the bar, so service was good on a Monday night even though there were quite a few people there.
The beer selection was also good. Around 20 taps, and while there were some that I recognized from stateside (Grimbergen, Leffe), there were a lot of beers that are not readily available in the US. I settled on three stouts, all from European brewers (I think all Belgian and Dutch). Two of them were exactly what I was looking for, not your typical US stout, while the third was more of a US stout, but not a stinker in the bunch.
Was definitely the kind of place I was looking for in terms of local culture. Lots of locals there, bartenders were friendly, no TVs but instead music playing. Definitely worth stopping by if you are ever in Utrecht.
1,122 characters
4.39
/5
rDev
+2.1%
vibe: 4.25 | quality: 4.25 | service: 4.5 | selection: 4.5
Vibe: This bar is located a short walk south of Utrecht's main pedestrian zone. The décor is a little modern and has very high ceilings. Seating is available at the bar, at tables inside, and a few tables in the front outside that overlook the canal.
Quality: All of beers I tried were served at the proper temperature in nice snifter glasses.
Service: The bartender was very friendly and provided a lot of information about each of the beers that were available, matching styles of beer that customers liked with the available selection. He was also very knowledgeable about beer styles and brewing history.
Selection: This bar has an incredible selection of beers-I counted 20 on-tap and 180 in bottles on the large board on the wall near the entrance. The bottled beers seemed to be mostly Belgian (hence the name) but the beers on tap mostly Belgians and local Dutch microbreweries from the Utrecht area.
Value: The prices for beers were very reasonable. The ones on-tap ranged from about €2,50 to €4 each.
They also had small snacks but I didn't try any of the food.
1,085 characters
4.5
/5
rDev
+4.7%
vibe: 4.5 | quality: 4.5 | service: 4 | selection: 5
You cant beat Cafe Belgie along the beautiful canals of Utrecht. I spent six months as an exchange student living in that wonderful city, and spent many a night drinking some Belgian beer at Belgie and enjoying the crowd. It's a bit small, but not untypical of the style.
I don't remember the exact number but they had a least two dozen beers on tap, and a great bottle selection. Everything was served properly in matching glasses (when feasible) and prices were fine.
Even as an English speaker and student, I was always well treated by the staff and found the clientele, a mix of Dutch and foreigners to be delightful (pretty common in Utrecht, as it's a has a huge student population). Plenty of bike rides down the canal to meet a friend for a drink.
759 characters

4.01
/5
rDev
-6.7%
vibe: 3 | quality: 4 | service: 4.5 | selection: 4
Café Belgie is located just on the edge of the cities shopping area, along the beautiful old canal. I used to come here very often when I was studying at the Utrecht University. When I walked in, I noticed that he interior changed completely. It used to be a very old looking place, with "artistic wall paintings" dirty toilets and strange people. Still I always came there, because they had a wonderful collection of beers. Nowadays, it looks much better, but as already mentioned by another BA-user, it still doesn't have a very welcoming ambiance. But who cares if the beers are good! Café Belgium has 20 beers on tap, with some from nice local microbreweries. Additionally, they have all the mainstream Belgium beauties and some less commercial ones. No Westvleteren here though. Pricing is ok, service is friendly and the owners have a lot of beer knowledge. Worth a visit, one of the better pubs in the Utrecht city center area!
936 characters
4
/5
rDev
-7%
vibe: 2.5 | quality: 4 | service: 4.5 | selection: 4.5 | food: 3
Cafe Belgie is a great place for sure. I've lived in Utrecht for a while now and have made my way down there plenty of times. Here are a few things to note about the place.
The atmosphere is probably average at best for a Dutch beer bar. The clientel is good times, full of happy locals and tourists as well, but the decor is not all that great compared to some of the others in the country. The inside is a little ghetto looking and it doesn't really have that "gezellig" feel, missing that tried-and-true I'm-at-home charecter you might hope for. It can also become quite crowded at night, especially on the weekends, and unfortunately there's very little room to sit outside on a nice evening. Getting a table can be tough around dinner time, let alone being lucky enough to get one of the two tables outside when the sun is shining.
The people running the joint are very knowledgeable and extremely friendly. They've always been a great help and don't mind running down to the basement yet again to see if they've got something in stock. A few of the guys at the bar like talking shop as well, especially if you show an interest in what they've got in that month.
Their selection is well above average and they always have a board with about ten beers for the month. They've got a few taps they change regularly, and the last time I was there they had Left Hand's Milk Stout on tap. They've also got the whole range of trappists, besides Westvleteren, and a large selection of abbey beers and other Belgian and Dutch brews. There's a decent selection of German beers, but they don't do as well with other imports unfortunately. The odd English or American brew might be in for the month, but I don't think there are any on the standard list. In the end though, this is hardly a justified complaint when we consider the choice they do have.
The food is standard pub fare, sandwiches, snacks, and a couple meals of the day. It's decent and does the job, but nobody comes here for the food. It's as good as it has to be, which is fine by me.
All in all, Cafe Belgie is a nice place for a few drinks, and well worth the trip if you're in the area.
NOTE: If you have something you like here, you can probably find it in bottles down at Bert's Bierhuis. Belgie and The Huis are owned by the same chap, and the latter is also a beer suplier for the former, and for other bars in the area. Chances are you'll find it there.
2,430 characters
4.6
/5
rDev
+7%
vibe: 4.5 | quality: 5 | service: 4 | selection: 5 | food: 4
Since the last review, they have added an extensive food menu, available in English, with good choices for pairing with their superlative beer list. The staff is friendly, but they were very busy as it was a holiday. Please note that there is no table service, but we ate and drank at the bar and received constant attention. A wide variety of selections from both Belgium & the Netherlands on draft and an even more international bent to the bottle list. Bottles are stored in the cellar and are served in proper glassware. Until the smoking ban goes into effect this summer, non-smokers may find it a little hazy...
617 characters
4.58
/5
rDev
+6.5%
vibe: 4 | quality: 4.5 | service: 4.5 | selection: 5
Far and away the best bar I visited in the Netherlands. The atmosphere was unbeatable on one of the canals in Utrecht. It truly felt like everyone was here for the beer. The crowd was young and Dutch which really made you feel like a local.
The quality of drinks was fresh and you could tell with every taste, this place was serious about its beer. About 150 different beers with about 30 taps The staff spoke perfect English and was extremely knowledgable about their entire selection which was extremely vast and constantly changing. No food, just beer, what else would you come here for! Absolute dream come true
616 characters

4.56
/5
rDev
+6%
vibe: 5 | quality: 4.5 | service: 4 | selection: 5
What a great find Cafe Belgie is. I lived in Utrecht in 2000 for about 4 months on a work assignment and what an assignment it was. Traveling around Europe on weekends to take in the local sights and water holes. We found this pub after a week or so in Utrecht and it became the homebase for about 5 to 10 Americans that I was working with at the time. We would visit at least one a week and we would take our little Dutchy bikes to and from the pub and loved every minute of it.
Their selection of Belgian beers was the largest and most respectable that I had seen up to that point and even today, after all the great Belgian bars I have been too, I still regard their selection as one of the best I have seem and had the pleasure of partaking in.
From what I can remember they usually have about 20 beers on tap and another 150 or more bottles to serve. They are very good at serving the appropriately labeled glass with the beer you order. They have a huge blackboard that has the current drafts and some bottles listed but they also have a great beer menu that includes tons of stuff in their basement. I remember ordering a bluebeery lambic and having to wait a few minutes while they fished it out of the basement. it came with a nice layer of dust on it but it tasted very good and the dust added character to it. I also remember seeing at least one of the Westveleteren's on the menu each time I was there.
The bar itself is long and narrow and has a nice view of the main canal that runs through the town of Utrecht. We had a alot of fun sitting outside of Cafe Belgie on the sideway and doing some people watching.
I plan on returning to the Netherlands and Belgium in the near future on vacation and I will make sure that Utrecht is on the short list of destinations as the town is great for beer and food and Cafe Belgie is very high on that list in my book.
1,885 characters
Kafé België in Utrecht, Netherlands
4.3
out of
5
based on
13
ratings.