Monty's Korner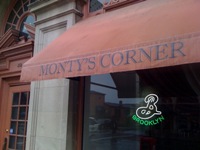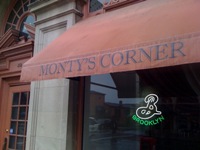 PLACE INFO
Type:
Bar
355 East Ave.
Rochester
,
New York
, 14604
United States
(585) 263-7650
// CLOSED //
Notes:
No notes at this time.
Added by BeerAdvocate
PLACE STATS
Reviews:

9

Ratings:

pDev:

9.47%
HISTOGRAM
View: Place Reviews
Ratings: 9 | Reviews: 9
Reviews by johnyeast:

4.24
/5
rDev
+11.6%
vibe: 3.5 | quality: 4.5 | service: 4.5 | selection: 4
Walked in on a Thursday night, late. Always a good thing when there is Deleruium Tremons on tap. Had one with my friend. (It kicked his ass.) Asked about the Sierra Nevada Stout, and the bartender gave me a sample. Was satisfied with the beer. Even more so when given the sample and the respect of the bartender. I could probably spend a lot of time in this bar. It was kinda dead so I can't imagine if the place was hoppin. I'd be in heaven. The beer selection was about quality over quantity, only about 12 taps. That's okay by me. Definately worth a visit.
559 characters
More User Reviews:
3.64
/5
rDev
-4.2%
vibe: 3.5 | quality: 3.5 | service: 4 | selection: 3.5
Saw that other reviewers described the setting pretty well so I won't reiterate the obvious.
I find the quality to be pretty standard. You have your macros and micros on tap. Nothing out of the ordinary or especially eye catching. The ladies working the bar were quite courteous.
I only had a couple of drinks around 9 pm on a Friday. Not too crowded yet, as I was able to find 2 seats at the bar for me and my gf. Mixed crowd, saw a bunch of frat guys with their sorority girls as well as a few older folks who looked like businessmen. Not a bad atmosphere if you wanna have fun and down a few drinks but a touch louder than I prefer.
I wouldn't actively seek it out, but if you're around East/Alexander St, this is one of two bars that are worth going to (the other being the Old Toad). The other bars around here are basically skankfests.
845 characters
3.73
/5
rDev
-1.8%
vibe: 4 | quality: 4 | service: 3.5 | selection: 3.5
A smart man would've gotten on the road from Rochester just as soon as his meeting was done. I'm not that smart man, and I don't really aspire to be him. I did the stick around some instead. And yes, I did plot the remains of the day so as to start further out for two on the Boulevard and then hold up closer in with a beer on the Korner. All in wait of the Allagash cask event to kick in come 6 at the frog place located conveniently juuust around the corner. Logistics, people. Logistics...
A strangely cool rounded silo vestibule entrance drops you into this great corner space single room. On the back wall, a light wood "L" shaped bar seating 6 but could hold twice that. The bar back is a two piece wood unit. To the right, tiered booze on a center mirror over a cupboard fridge below. Shelves above display bottled selections, some booze and glassware, and some stereo equipment off to one side. And off to the left, cross sectional wine rackage, shelved booze to both sides, and shelved glassware running below. Trophies, growlers, plants and random bottles sit atop the units.
Mad high ceilings over walls burgundy 2/3 of the way up; the top 1/3 and ceiling painted white with alternating black dots providing a seemingly mesh effect. There's a framed area in the center of the ceiling with stars and points on protruding crown triangles, a center star, and paned stainless steel sheets, or something texturey going on there. Strung lighting runs the wall trim above all the way around, plus spots all around, and drop quad lamps from the corners of the overhead framed piece.
Half a dozen roundie tables in the center of the room, and a pair of booth & bar counter sill below the large windows with crescent paneled windows above on Alexander, and a single booth below the same on East. Flags from foreign countries line the inside walls up high and there's a few brewery prints (Duchesse, Belzebuth & Hoegaarden) between the windows. There's a large flatscreen standing between the vestibule doors, a single mounted TV mounted above on the other end, and another one on the inside wall near the dart area.
15 taps in all; 12 of them on a center tower and 3 more on a ceramic Konig Pils roundie tower, plus the obligatory handpump below. 1/3 of them American micro (Monty's Fathead IPA, Brooklyn Brown Ale, Ithaca Apricot, Flying Dog Doggie Style Pale Ale, Sierra Nevada Summerfest), and the rest mostly uninspiring imports (Newcastle, Stella, Spaten Lager, Franziskaner Hefe, Guinness, Amstel Light, Green King IPA, Lindemans Framboise), and then a cider (Strongbow), and Blue Moon. Ruddles County Bitter on the handpump, but as the Allagash cask event around the corner is 42 minutes out, I'm going with the Monty's Fathead IPA, made for them by Custom BrewCrafters and tasty as all hell. And 14 bottles; macros, maltos and McEwans Scotch Ale, go figure.
It's a whole lot nicer a joint than their other place, although, no contest, the Krown's got a much better vibe. Still, the beer was fresh here, service was provided, and they had the Floggin' Molly's playing on this dead Thursday late afternoon. Not a bad Korner to hold up at for 42 minutes.
3,169 characters
4.14
/5
rDev
+8.9%
vibe: 4 | quality: 4 | service: 4 | selection: 4.5
Always walked right past this place until a friend at work told me it was really neat so my girlfriend and I decided to go last night. You walk in to a 1/4 circle of a vestibule and walk into a big open room with a poke-a-dot ceiling and lots of European flags on the walls. They had some off-beat brews on-tap with about 12 taps popping up from the middle of the bar along with a cask beer on tap. I has sackets war of 1812, and ommegang witte while I was there. The atmosphere was nice, a very mixed crowd, and everyone seemed rather pleasant. They had a couple of belgian bottle specials for $6.50/ 12 oz bottle so I passed on that, (can't remember the brand). Overall I was glad I tried it out.
698 characters

3.14
/5
rDev
-17.4%
vibe: 3 | quality: 3 | service: 3 | selection: 3.5
Doesn't have the charm of the regular monty's. It tries too hard to be cool. The inside architechture is cool but the treatment is overdone. Shiny silver panels on the ceiling. It is insanely noisey in there due to the high arched ceiling. Allright beer selection though, I had harpoon winter warmer. Mostly the typical stuff but there was some good stuff on special. I got a dirty look from the bartender when i asked for some grenadine in a rum & coke though. Asshole. Eh, not bad. Prices were allright.
505 characters
3.56
/5
rDev
-6.3%
vibe: 4 | quality: 3.5 | service: 3.5 | selection: 3.5
Cheers: The entrance with the white gothic revival thing captivated me. Throughout my 3 beer stay, I walked over at least 7 times to check it out. I can't determine it's purpose...Decor was sweet: the contrasting paint scheme is very tasteful and seems alluring and slightly romantic. Loved the ceiling and recessed lighting system. Tea lights on the tables gave it another touch of class. Bar set up is first class. It would be intersting to see a football or basketball game here, as it's clearly not your typical wings and deep fried things sports bar. A couple of micros on, CB on cask. All in all, the kindof place where your buddies, collegues, and questionable accquaintances can be taken too to pound some Blue, while you enjoy something much better. And maybe, just maybe, you could convince them to stop by the Old Toad after. Pita pit next door for nutricious munchies. Xtra large windows for people watching.
Jeers: Nothing too interesting on tap, mostly imported and euro macros. Labatt blue specials. Labatt Blue fliers. The flags made me nervous. It was dead when we were in there, but 10 pm seemed to be that magical hour of filling up. Next door to places that I would have really enjoyed at 18. As with the Toad, don't talk to anyone sporting a snow shovel, shopping cart, or selling 12 packs of PBR in brown paper bags.
1,341 characters
4.2
/5
rDev
+10.5%
vibe: 4.5 | quality: 4 | service: 4.5 | selection: 4
On the corner of East and Alexander Street sits Mony's Korner. It's surrounded by night club type bars, but it maintains integrity and quality. There is a small, yet great selection of hard to find beers. One of only a few bars to offer cask conditioned beers. The bartender never left me hanging. Great place to hang out with friends. Semi-quite and friendly. And to make things even better, the old toad is within walking distance.
Funny thing- When I was there a couple people ran by naked. They came out of the "Look at me, I'm old enough to drink" bar next door.
570 characters

4.09
/5
rDev
+7.6%
vibe: 4.5 | quality: 4.5 | service: 4 | selection: 3.5
For being in the heart of the 20-something hangout location Monty's still brings a very cool feel and some good beer to boot.
Located right on the corner of Alexander and East. in the Hiram Sibley building the architecture is wonderful wrought stone and very inviting. Lighting inside is dark and perfect to enjoy a brew in. There is only one room, with the bar on one wall and tables spread out in the middle of the floor with and seating by the huge windows as well. Couple t.v.'s but to my surprise they were only showing International soccer highlights which was great!
As for the beer, the quality was excellent. Had a casked HopDevil and a Chimay tripel, which were very good. My buddy had a couple pints of the Rogue hazelnut. The selection is not huge by any means, HopDevil(cask and draught), Chimay, Rogue, Paulaner Brooklyn black chocolate etc. Again not a huge selection, but a couple hard to finds for Rochester.
Service was perfectly fine. They poured the chimay in a goblet, the hand pulling was done well, and the bartender was always there to get another round. Prices were pretty decent as well, especially for Alexander St.
Only bad thing I experienced was some dude who tried to have us steal the Hoegaarden tap handle. What a dick. Despite that great place to have a pint.
1,306 characters
3.5
/5
rDev
-7.9%
vibe: 3.5 | quality: 3.5 | service: 3.5 | selection: 3.5
Update 10/2009
Lots of changes here since last review. Vibe is different with much of it from the later night East End crowd. Can still be a nice place to grab a brew earlier or on a weeknight. The monthly Beer School is a nice touch. Still a decent enough selection of craft beers.
---
One of my favorite bars in Rochester. The atomosphere's got a distinct European flavor. A good selection of eclectic draughts beers (US micros, imports & Belgians) that rotate often...or have a cask conditioned ale. Catch some European football (soccer to us Yanks) or a rugby game on the tele. Outdoor seating in the summer.
615 characters
Monty's Korner in Rochester, NY
Place rating:
3.8
out of
5
with
9
ratings