MacTarnahan's Summer Grifter
| Portland Brewing Company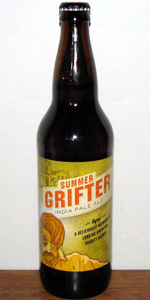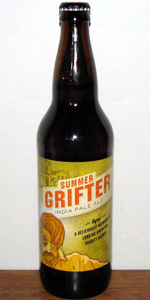 BEER INFO
Brewed by:
Portland Brewing Company
Oregon
,
United States
macsbeer.com
Style:
American IPA
Alcohol by volume (ABV):
6.20%
Availability:
Summer
Notes / Commercial Description:
Malts: 2 Row, Munich and Caramel Malts
Hops: Chinook, CTZ, Cascade and Centennial
IBU: 54
ABV: 6.2%
Added by msubulldog25 on 04-19-2009
This beer is retired; no longer brewed.
HISTOGRAM
Ratings: 55 | Reviews: 36
3.65
/5
rDev
+0.6%
look: 4 | smell: 4 | taste: 3.5 | feel: 3.5 | overall: 3.5
six packs of Grifter were oddly on the shelf right next to Drifter, which I'd tried already... so Grifter it is.
pours a dark caramel nutty bronze with a surprisingly soft and creamy one-finger cream head that leaves some fair lacing. not off to a bad start.
aroma is fairly pungently hoppy with strong caramel, toffee, and hints of vanilla. citrusy and piney, very northwest hoppy.
taste follows aroma with some spicy hops, pine and lemon. the malt is almost entirely hidden and the citric hops definitely take center stage. the hops are a bit muddled, but certainly not offensive.
mouth is a bit on the thin side, but the ample carbonation really helps to create a smooth and creamy body. fairly simple yet powerful lingering bitterness.
If citric lemony hops are your thing, this is your beer. the lack of malt is a bit of a deal breaker for me, as the hops aren't quite impressive enough to hold up the entire thing. certainly drinkable, but between the heavy citric hopping and the bizarre branding, not quite my thing. Easily the best bottled Mac's beer I've tried in awhile... kind of nice to see.
1,113 characters
3.72
/5
rDev
+2.5%
look: 3.5 | smell: 4 | taste: 3.5 | feel: 3.5 | overall: 4
Grifter (n.) - a person who swindles or scams you by means of deception or fraud
Maybe they were trying to think of a cool name like 'rogue, dissident, renegade...and all those good names were taken so they settled for something just plain unappealing?
So, I'll further question the label with the odd 'lurking' subtitle. It's definitely strange, and the caricature guy has a creepy pedophile/pervert look to him(and a black eye?). Bad enough it's called Grifter, the guy looks like emotionally disturbed as well as criminally so. I don't remember the last label that had such negative appeal.
Oh well, crappy marketing aside, it's what's inside that counts.
Pours a gorgeous deep copper and the lacing clings to my glass nicely. Aroma is juicy hops, with a bit of lemon pledge, definitely a good level of hops in this PacNW IPA.
Flavor is hop forward, good spiciness and full mouthfeel. Chewy hop resin, some subtle malt playing around in the background, enough to create a decent balance. Nothing noticeably off here. Good carbonation and aftertaste, one of the better Pyramid/McTarnahan brews i've had.
A solid IPA. Oh no, the grifter is eying me now!
1,165 characters
3.95
/5
rDev
+8.8%
look: 4 | smell: 4 | taste: 4 | feel: 3.5 | overall: 4
Clear reddish amber with a one finger cream white head. Fair amount of lacing. Aroma is bold piney hops. Taste is piney bitter hops with a minor malt note. Mouthfeel is just above average and has medium carbonation. Drinkability is quite good if you enjoy the dry piney hop flavors. Best Mac-T's so far.
303 characters

3.65
/5
rDev
+0.6%
look: 4 | smell: 4 | taste: 3.5 | feel: 3.5 | overall: 3.5
22oz bomber.
Nice dark amber colour,lovelly large ,tight bubbled creme coloured head.
Smell very hoppy, spicy citric varieties. Quite enjoyable.
Taste again is very lemoney hopcentric, but it rather fades fast in the end. malts seem weak in this one.
Mouthfeel is good, but like i said it became watery very fast at th end, no big after tase.
Its fairly drinkable, but I think it is missing something
400 characters

3.97
/5
rDev
+9.4%
look: 3.5 | smell: 4 | taste: 4 | feel: 4 | overall: 4
22oz bomber
A: golden and roasted brown with tints of yellow. Soft reds mingle around the glass as well. Head formed quickly and left quickly, bright white in hue. Globs of lace at random places on the glass
S: hop smells of oranges, pineapples, and lemony pine. Smells of pale toasted malts swirl the senses
T: caramel toasted (light biscuit character) edge proves a nice fit in this brew, tight and in the back. Hops are nicely present and the pine dominates with sugar sprinkled fruit slices of oranges and lemons. Fairly balanced overall with bitter snap hop
M: mild body with vigorous bubble work. Body is slick and drinks well
D: this is the best MacTarnahan's brew I have had too date. Nice profile and hop presence with favorable flavors. Good brew!
762 characters
MacTarnahan's Summer Grifter from Portland Brewing Company
Beer rating:
3.63
out of
5
with
55
ratings