Oggi's Pizza & Brewing Co.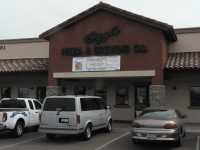 PLACE INFO
Type:
Brewery, Bar, Eatery
6681 W Beardsley Rd
Glendale
,
Arizona
, 85308-7184
United States
(623) 566-8080 |
map
oggis.com
Notes:
No notes at this time.
Added by Boilermaker88 on 11-30-2005
Ratings: 12 | Reviews: 4
Reviews by Boilermaker88:
3.83
/5
rDev
+4.1%
vibe: 3.5 | quality: 4 | service: 4 | selection: 3.5 | food: 4
Located in the burgeoning suburban sprawl that is Glendale on the NW side of Phoenix, Oggi's Pizza & Brewing Co. opened at the end of August. It's tucked in amongst the seemingly endless stores and malls.
The interior was kind of small and was adorned with memorabilia from all different types of sports. This place drips "sports" so if you're not into sporting events, you might not take a liking to it. About 8-10 TV's are mounted high on the walls so you can see one from nearly any vantage point inside. Booths are arrayed along the walls and tables are rather densely spaced throughout to ensure adequate seating.
The beers on tap were the standard Oggi's brews; California Gold Blonde Ale, Sweet Spot hefeweizen, Sunset Amber Ale, Torrey Pines IPA, McGarvey's Scottish Ale, and Black Magic stout. Additionally, they had their winter ale on-tap. No one seemed to know the name of the brew (huh?) but it tasted a lot like a Belgian strong pale ale and was pretty good. I had a pint of the winter ale and the Torrey Pines IPA; both were fresh and quite tasty.
The food was the usual appetizers, burgers, and pizzas with a decent amount of "normal" food on a menu. Chicken, salads, steaks, pasta, etc. A kids menu is available, too. All the pizzas and burgers had sports-related names, were generously portioned, and tasted good.
Service was excellent as our waiter took good care of us, checking in frequently, keeping water glasses full, and keeping the beers coming. Our server was pleasant had a good sense of humor, joking around with us as we watched the Notre Dame/Stanford game. Too bad no one seemed to know the name of the winter ale, though.
All in all, Oggi's is a good place to sit down, watch a game, eat some pizza and drink some quality brews. Worth checking out, especially if you're a sports junkie.
1,824 characters
More User Reviews:
3.65
/5
rDev
-0.8%
vibe: 3 | quality: 4 | service: 4 | selection: 3 | food: 4






2.53
/5
rDev
-31.3%
vibe: 1 | quality: 2 | service: 3 | selection: 3.5 | food: 2
(Edited: Oggis has changed drastically in 2006-2009. Text below edited for newer visits.)
Caution: Oggis frequently has a putrid sewer smell that is supposedly "not their fault". Sometimes they try to act naive/ignorant and deny that the smell exists. It's only a matter of time until this place goes under. Who wants to eat or drink with feces in the air?!
I was a former a "regular" at Oggi's due to convenience and overall satisfaction with the place.
Oggi's was a nice, clean sports brewpub just off the 101 at 67th Ave. Traditional sports bar atmosphere with multiple TV's and sports memorabilia plastered across the walls. Fairly relaxed atmosphere when visited at times other than during major sporting events.
Quality of beers is above average, some quite good - especially the hefe-weizen and scottish ale. Pale Ale is more of an IPA to me. Seasonals are hit or miss, and do NOT qualify for the happy hour discount (I learned the hard way, even though the advertising sign at the door for happy hour doesn't say this).
(Edit: service has deteriorated significantly in 2006)
Sevice is sometimes great, but usually just good. Daytime bartender seems to have an attitude and doesn't know anything about beer. Waitresses are cute and equally ignorant ("would you like to try our hefey-whyyy-zen?") but they check back with you often, keep your beer glass full, and are very consistent.
(Edit: food went downhill in 2007. Many menu items not at all similar to former presentation and taste: example: artichoke dip)
(Edit: 2008- got rid of their best beer, the Bavarian style Hefe-Weizen, and replaced it with an American wheat that is undrinkable)
Food can be quite good. Kudos for the famous Oggi-stix, artichoke cheese dip, fried zucchini sticks, friend cheese ravioli, and pesto-pizza. Very fresh, soft n pillowy crusts with high quality cheese.
For this part of town (Arrowhead) the prices are reasonable, especially at happy hour, but some of the gourmet pizzas are a little pricey. Lunch specials are quite affordable too, for around $7 you get a salad plus another food item.
Avoid this place unless there's nothing else in the area you care to visit.
2,174 characters
4.5
/5
rDev
+22.3%
vibe: 4.5 | quality: 4.5 | service: 4.5 | selection: 4.5 | food: 4.5
Checked this place out on Saturday(3-4-06) morning before heading off to support the Seattle Mariners in Spring Training. I was very pleasantly pleased with this placed. Highly recommended.
A- Only about 15 mins or so after it opened. Didnt seem that way, very organized. Enjoyable, laid back, hard not to be in a jolly mood.
Q- Beer wa surprisingly good. I didnt opt to go with a pint of anything, sadly, but i had the sampler on an empty stomach, and having all the beer i wanted to try would require me calling a cab afterward. Sad, cause the beer was really really good. Beer, food, atmoshpere, service, etc all beyond expectations. Place was spotless, benches for my booth comfortable, beer at perfect temperature. Truly great experience.
S- Waitress, who also seated us, was awesome. It was early on a saturday morning, she was young, and still she seemed that she could not have been happier to be there. My glass was never empty, she answered all my questions (some before i even asked). Food was out quick, beer even quicker.
S- the sampler included every house brew they had on tap! In case your wondering, it was 9 brews (2 seasonal) all tasty. Several other brews were available also, nothing out of the odirnary though.
F- although it was a pizza place, i wasnt too hungry (cant explain that it was breakfast time) but i still went with some mozzrella sticks. They were wonderful and plentiful. Much more than i am used to getting at other resturaunts (that goes for quantity and quality).
V- Mozzralla sticks $7, beer sampler $6, it was a steal.
If you in the glendale area or even anywhere near check this place out, its just south of the 101 loop on 67th. Their is also one is scottsdale (i didnt make it out there). This place has my stamp of approval.
1,790 characters
3.93
/5
rDev
+6.8%
vibe: 4 | quality: 4 | service: 3.5 | selection: 4 | food: 4.5
I have visted Oggi's several times since it has opened and I do have to say it is a fine alternative to the Arrowhead Rock Bottom as it is a couple of miles northeast of the general Arrowhead madness. The atmoshphere is comfortable, a number of TV's to view whatever sport you maybe interested in looking at. Restauarant is smaller than expected with a very small bar area with the lions share of space devoted to dining. Quality of beer and food is good as both have me coming back! Service is hit and miss depending on how busy they are but for the most part it is OK. The food selection is what keeps us coming back as they have a very large menu as well as at least 7 beers to choose from. Food has been near perfect each visit there. Overall value is very good as you can grab a meal and a couple of brews with Da Boss for under $40.
838 characters
Oggi's Pizza & Brewing Co. in Glendale, AZ
3.47
out of
5
based on
497
ratings.