LCBO Store #10 - Yonge & Summerhill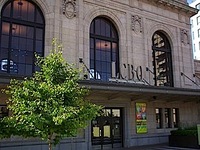 PLACE INFO
Type:
Store
10 Scrivener Sq
Toronto
,
Ontario
, M4W 3Y9
Canada
(416) 922-0403 |
map
lcbo.com
Notes:
No notes at this time.
Added by BeerAdvocate on 12-03-2005
Ratings: 12 | Reviews: 10
Reviews by cratez:

3.73
/5
rDev
+6.6%
vibe: 4 | quality: 4 | service: 3.5 | selection: 3.5
When I visited: Fall 2011.
What I bought: Great Lakes Miami Weiss, Central City Red Racer IPA, Les Trois Mousquetaires Porter Baltique, and a few other beers.
What I liked: This store has the best retail beer selection in the province along with the Cooper Street and 401 & Weston LCBOs.
What I disliked: The variety doesn't even remotely compare to what you can purchase at private specialty stores down south and in other parts of Canada, but it's good by Ontario standards.
Would I go back? Yes.
Overall Rating: 74
531 characters
More User Reviews:


4
/5
rDev
+14.3%
vibe: 1 | quality: 5 | service: 3 | selection: 5 | food: 4
By far the best selection LCBO in Ontario. Has everything right up to the $55,000.00 bottle of cognac. Huge square footage. Stuffy attitude though. Guess the jag's and high end bmw's set the trend... too bad really, such a nice selection of hard to find's.
Value rating is inconsequential since Canada has standardized pricing in provinces.
Thx for looking
358 characters

1.41
/5
rDev
-59.7%
vibe: 1 | quality: 1 | service: 2 | selection: 1.5
To understand my ratings on LCBO stores you need to understand that I'm comparing them against stores in other Canadian provinces and in the States. The LCBO as a concept can't hold a candle to privately run liquor and beer stores.
The one pro to buying at the LCBO is that in general for imported beer brands the pricing is quite good. That's because they're the biggest single alchohol purchaser in the world. A recent audit of this government run entity though shows that the LCBO doesn't know how to properly price its product. For now that means international import beer is well priced, in general, beer imported from the US is significantly more expensive than what you can get it south of the border.
Selection at LCBOs is dead poor but in recent years has been improving - still it is a travesty for Ontario beer lovers that this monopoly constricts our enjoyment of delicious beer.
This particular location gets a slight bump in selection relative to most other LCBOs because they tend to get more beers in (much larger location than most) and they tend to order enough quantity that the best of the best haven't been sniped before you can make a visit after a new release.
It was also the only (or maybe only first as of this writing) Ontario store to get a quantity of Dieu Du Ciel Solstice D'Hiver in.
The staff know enough to tell you what beers they have in stock and they'll cheerily check the back for you if you need more quantity. They don't know much about beer and they'll need to read the labels to tell you anything about them.
1,556 characters
3.7
/5
rDev
+5.7%
Summerhill is the largest LCBO in Ontario, a local government of some 9 million people. Almost everything comes through here, beer, mead, sake and all. The service is udner average. You will ask somebody and they will disapear and who knows-get drunk and drop faint on the floor. But it is fairly central in Toronto and you can get it. Huge in size. Now, some wines you may get a better selection in Bayview Village. If you want 15 of something, come here first. LCBO prices, what they buy is usually as cheap as anywhere in the world.
535 characters
3.5
/5
rDev 0%
I stopped here to find some Canadian beers to take back to the States. The location is convenient, just NE of the University and near a subway stop. It turns out the selection is nothing all that special (at least to my standards) but the prices on all beers EXCEPT USA brands is very cheap. One example: I got a 750ml Chimary Rouge for $6.50 CAD (maybe $5.50 USD)! There were only 3 Unibroue beers to be found, the standard selections you can find in most places (Maudite, Fin Du Monde, Blanche de Chambly). Notable beers from the Toronto area included Great Lakes (666 Pale Ale in particular caught my eye), some Scotch Irish beers, etc. This is the only beer store I stopped at while in Toronto so I have no idea how it compares with others, but my opinion is that the selection is meager.
792 characters
3.2
/5
rDev
-8.6%
Definitely the LCBO's biggest store, and also a short walk from home (how handy). This location is probably the best one for picking up the LCBO's seasonal releases, as it doesn't seem to get picked over like the Queen's Quay location. They also have an impressive selection of local micros, although most are in six-pack format.
As for the service. I've never had any complaints. They're not beer people, and no very little about what's going on, so don't go with too many questions.
Pricing for LCBO products is excellent, and many bargains can be found.
558 characters
3.85
/5
rDev
+10%
Definately the biggest and best of the LCBO's, especially when it comes to the beer section. This LCBO is built around the railroad tracks, vast amounts of space dedicated to wine. However right at the front is the beer section, with different areas for domestic, imports, etc. Lots of the local micro's as well as one of the few places to find all the seasonals, the other being Queens Quay. You can generally find any beer the LCBO sells at Summerhill. A must stop for anyone visiting TO and looking for locals.
513 characters
3.85
/5
rDev
+10%
Traveled to three different LCBO's during my trip (all on Yonge Street) and this one stood out as the best overall. The size and differentiation was definitely head and shoulders above the rest. Pretty limited selection from what I'm used to in the states, but they do have at least a dozen local microbrews just from Ontario. Some singles are around, but one might have to get sixers of some. Was very disappointed that I couldn't find some rarities (Tsarina Katarina and Black Touque) and some CAN beers (they only had two choices from Unibroue). Waitstaff were friendly, though not overly knowledgeable. From what I saw, your best option for filling carryon for the trip back to the US from Toronto.
702 characters
3.7
/5
rDev
+5.7%
This LCBO is absolutely massive. They devote a decent sized section to beer, although the selection isn't quite as good as the Cooper street LCBO, and most of the time they don't have anything you can't find there. Once in a while you'll be able to find something Cooper St. has sold out of. Most of this store is dedicated to wine, and if that's what you're looking for, this is the place to buy it (and try it -- there's a nice tasting bar open most of the times I've been there).
Again, typical Ontario selection of beers with a bit more variety than the standard LCBO. Ontario micros, UK imports, some Belgians, and a distinct lack of American micros. Really wish we could get more of those -- it's never made sense to me that we get more European beers from thousands of kilometres away than American beers from right across the border.
Anyway, definitely worth a visit to this store for the size and wine selection alone. Beer is not bad if you're in the area, but if you're travelling, head down to the Lakeshore and Cooper St.
1,042 characters

3.5
/5
rDev 0%
This is the biggest LCBO Ive been to. Its beer section is the size of an average LCBO. That being said, its selection is a little less than the Coopers st. headquarters.
It has everything that youve seen at an LCBO, Unibroue, Anchor, Schneider (aventinus and Hefe), Duvel, Mill street Barleywine, Sgt Major's IPA and a whole bunch of other Ontario micros. This location also has good coverage of the LCBO seasonal releases. A lot of beers are under bright lights. The staff is typically clueless about beer for the LCBO.
This is the 2nd best LCBO Ive seen. Like a decent though not great American beer/liquor store.
622 characters
LCBO Store #10 - Yonge & Summerhill in Toronto, ON, Canada
3.5
out of
5
based on
12
ratings.