Dismiss Notice
Front Street Ale House / San Juan Brewing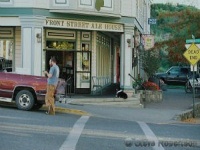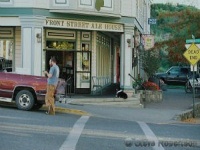 PLACE INFO
Type:
Brewery, Bar, Eatery
1 Front St
Friday Harbor
,
Washington
, 98250
United States
(360) 378-2337
// CLOSED //
Notes:
No notes at this time.
Added by BeerAdvocate
HISTOGRAM
Ratings: 14 | Reviews: 14
Reviews by canucklehead:

3.78
/5
rDev
+0.8%
vibe: 4 | quality: 4 | service: 4 | selection: 3.5 | food: 3
Middle of week in March at around noon means not a lot going on but thankfully the off season means more interesting seasonals. They had the bacon beer but in an Irish Red style, An Irish Dry stout in both CO2 and Nitro format, a Barley Wine and an American Strong Ale called Raging Main. The beers were all pretty good and the stout was great. The food however is just average as my pizza was too bland and over laden with cheese and stuff. My Fiance's fish and chips were just OK. The service was attentive and the interior was kitschy in a maritime theme. Prices are OK considering this is on San Juan Island but at least the indication that beers are sub standard and all low ABV according to many of the previous reviewers is seemingly a thing of the past.
761 characters
More User Reviews:
2.85
/5
rDev
-24%
vibe: 3 | quality: 2 | service: 3.5 | selection: 3.5 | food: 2
My wife and I stopped into the Front Street Ale house, mid week in August. We were seated promptly, and the staff amide an effort to accommodate our oversized back packs. We'd just hopped off a Ferry. Unfortunately, this courtesy was really the extent of service exceptionalism. Empty glasses lingered a little too long.
The ale house is positioned right on Friday Harbor;'s main harbor drag, and offers some views of the harbor from the dark wood tables near the ale houses windows. Unfortunately, there is nothing remarkable about the cramped interior.
Later on in our visit, we learned that the Iland's typical rule of thumb for eateries was that the good restaurants close before 8:30. The Front Street ale house is open late, and it's food does nothing to challenge that maxim. We ordered some logistically challenging, and rather bland oyster shooters, and unexciting fried seafood entrees. Nothing was special. I had a paprika chili beer, which was mostly a joke. Their oak aged IPA to commemorate the 150th anniversary of the Pig War was nice. They also had a pale ale showcasing island grown hops. It was servicable. All in all, there were about 8 house brews focusing on British styles and their American derivatives. They are the only beers brewed on Island, and worth trying if you're in the area.
I wouldn't plan an expedition just to check it out, unless you are an obsessive completist.
1,405 characters
2.53
/5
rDev
-32.5%
vibe: 2.5 | quality: 2 | service: 2.5 | selection: 3 | food: 3
not really impressed with this place or the beer. staff was a bit rude...i understand that they may get annoyed with all the tourists but, hey, we're driving your economy. maybe you could be a bit nicer? my wife and i tried the royal marine ipa, bacon beer, and pepper beer. all three were a bit flat. not much of a head on any of the beers. the ipa was pretty weak and not very hoppy. the bacon beer was ok but it was hard to taste the bacon. what i did notice was a greasy film on my tongue...that must have been from the bacon. the pepper beer was a JOKE. it literally tasted like someone had ground BLACK PEPPER into the beer! for my final pint i had one of their guest beers, a stone ruination, and the overwhelming hoppiness of that beer really let me know how crappy the brewery's beer actually was.
very unimpressed with this place. for my money you'd be better off going next door to outriggers where you can sit outside and enjoy a fish tale ipa.
oh, we also ordered food. my wife got beer battered oysters. the oysters were good but the batter was not done. i had the seafood sampler platter and it was pretty good.
1,130 characters
4.18
/5
rDev
+11.5%
vibe: 4 | quality: 3.5 | service: 4.5 | selection: 5 | food: 3.5
My favorite thing about this place is that they ALWAYS have some different styles on tap. While they do an above average job on the "usual suspects" it is the experiments that are most intriguing. They aren't all winners, but anything new is worth trying. Two tips, there is an upstairs bar with a nicer view and if you wear a SJBC t-shirt your beers are happy hour price. So if you're gonna buy a souvenir anyway buy it first and save a sheckel. The Washington State Ferries frown on drinking anything they don't sell, so bring or buy a covered coffee mug and buy a couple of SJBC 22s to covertly sip on the boat ride back to the mainland. Y'all didn't think that we all have coffee in those things did ya?
707 characters
3.35
/5
rDev
-10.7%
vibe: 4 | quality: 2 | service: 4 | selection: 4 | food: 3.5
San Juan Brewing Company holds the distinction of being the only brewery in the northwest unreachable by road. To get there you'll need a boat, or at the very least, a ticket aboard the Washington State Ferry system. The ferry lands just a block from The Front Street Ale House where San Juan serves 11 house beers and a guest cider.
The atmosphere here is cozy, local, and maritime. There are model boats on shelves, a full figurehead (wearing a sombrero, no less) and the bar rails are secured with brass mermaid fixtures (some of which are a bit hand polished, if you catch my drift). Even the tap handles are locally made glass porpoises. The main room is split into a kid-friendly dining area to the left, and the bar to the right, with views of the brewery to the left and slightly uphill. Tables near the bar enjoy excellent views of Friday Harbor marina. There's also an upstairs dining area with a second bar and even greater views though this was unused during my visit.
I sampled a wide array of appetizers with friends and noted the food to be simple, enjoyable barfare with an emphasis on seafood. I shared a fish taco salad, mussels in broth, fried calamari, and a generous serving of onion rings. Prices are reasonable especially in light of the pub's location on a heavily touristed island.
Unfortunately, beer quality was poor. I had three pints and all three were painfully spoiled. I usually make repeat visits to a brewpub to sample a broader array of their wares before passing judgment, and I hope to return to San Juan for this purpose at some point in the future. But a three-out-of-three series of bad beers should give some indication of what to expect. And I'm not talking about beers that merely tasted bad. I'm talking about serious drain-pour quality spoilage; beers that should never have been served publicly.
Of the eight regular beers on their menu, none reached higher than 4.8% ABV. These included a pepper beer, an Oktoberfest, and a cream ale on nitro. Three rotational offerings were brewed to higher gravities. Several beers are available in bombers to go in a refrigerator case near the front door. The beers are otherwise only served in house and are not distributed.
2,216 characters
3.5
/5
rDev
-6.7%
vibe: 3.5 | quality: 3.5 | service: 3.5 | selection: 3.5 | food: 3.5
Located on the waterfront (front street) in downtown friday harbor on san juan island. When you get off the ferry go right and at the beginning of the street on the right hand side.The atmosphere is that of a local watering hole and is small but not crowded. The brews (of which there are quite a few) are good but not great. With the hop shortage they have had tp get creative with brews much like other small breweries.Food is selection is varied and the entrees we had were good. If you are on the island, you owe it to yourself to stop in for a pint. I was impressed and want to go back as soon as I can.
608 characters
3.86
/5
rDev
+2.9%
vibe: 4 | quality: 4 | service: 4 | selection: 3.5
visited San Juan Brewing on a vintage Northwest day in October - located conveniently right off the ferry stop on the island (about 3 hours drive/ferry from seattle)
The San Juan Islands are beautiful...go whale watch, ride bikes, or just explore. Stop and have a pint on San Juan Island on your way in or out.
the interior was an open and rustic wooden brand with a number of dining tables and a medium sized bar area...not a huge place
most of the beers were fairly low in alcohol (the aforementioned bacon beer was no longer present). There were a couple specialty ales (friday and bridal) that we tried and enjoyed. There were probably 12 or so on tap when we visited.
we didnt eat here and i didnt even see the menu.
its a nice stop while on the island, though be advised, like most other things out there, there is a higher price to be paid.
852 characters
3.75
/5
rDev 0%
vibe: 2.5 | quality: 4 | service: 3 | selection: 5 | food: 3
As has been said, great spot just off the ferry dock. Atmosphere takes a hit mainly because most people hanging out at a bar right in Friday Harbor have just walked up from their recently docked boats and do a lot of "hmeh"ing in your general direction. Also sad they don't fill growlers as most of those beers would be great on one of the beaches around the island (oh well, there's a great option in Anacortes).
I appreciate that the beers are fairly low on the ABV range (median = 5.1% for the 10 on tap when we were there; note menu lists ABW) which enabled us to enjoy a few, wait out the ferry traffic, and still be alright to drive. All but one (their Friday had a bit of cardboardiness to it) were very tasty and fresh (menu even lists the brewdates).
Best spot for beers on the island.
797 characters

4.24
/5
rDev
+13.1%
vibe: 3.5 | quality: 4.5 | service: 4.5 | selection: 4
Pleasantly surprised to find this little brewery after taking a ferry to Friday Harbor and waiting for a whale watching tour to start. Grabbed a pint of their IIPA, not bad, but not anything special. My ladyfriend's hefeweizen was excellent, though, as was SJBC's Bitter. Had some crazy offerings on tap, such as their "Bacon Beer" and "Ale Diablo Pepper Beer". Both were very creative brews. My only complaint is that most of their beers were low ABV (somewhere around 3.5-4%), and yet still around $5 a pint.
Decor on the inside was a typical pub atmosphere, with windows facing the street and harbor. Staff was very friendly, and I chatted with a server for quite a while about homebrewing and beer in general. All the while, he kept bringing me free samples of beer...who doesn't like that? Didn't try the food, but the menu prices looked a bit expensive. Walked away with 4 bombers--2 Pale ales and 2 porters. This place is a godsend for BA's stuck on a touristy island.
976 characters

3.93
/5
rDev
+4.8%
vibe: 4.5 | quality: 4 | service: 4 | selection: 3.5
Atmosphere (location) and good beer makes this place worth the trip. Nestled on the bay in Friday Harbor, this place boasts spectacular views from it's front door and all the way there. The San Juan Islands are one of Washington state's jewels. They alone are worth the trip, but this brewpub makes beer lovers appreciate (i.e. tolerate) all the window shopping you'll have to endure while in this really "cute" town. Beer is abundant, several styles on tap. Several to take home in large 650 ml bottles (reasonably priced at just under $4). Pubware and wear available for purchase. Can't comment on the food that I didn't eat except to say that I only bought beer because the line for a table was out the door and into the street (must be good).
Great location
Good Beer
Beautiful vistas
And Guys will earn huge brownie points for planning a trip to Friday Harbor.
Worth the Trip!
892 characters
4.5
/5
rDev
+20%
vibe: 4.5 | quality: 4.5 | service: 4.5 | selection: 4.5 | food: 4.5
I have one and only one complaint about this incredible place, so I'll get that out of the way first: they aren't allowed to fill growlers, either theirs or anyone else's. That's a shame, because the beer is awesome.
Other reviewers have done a good job describing this place- a nice spot in a picturesque town, right by the ferry terminal to the mainland. You could do a lot worse than to take the ferry out, have dinner and a beer, and stay over for the night or even catch the last ferry back home.
The service on a Thursday evening was fast, friendly and attentive. As has come to be the case, we got to talking about the one month beer tour we're on, and the staff and other customers at the bar were quick to recommend and talk about their own beers, and also to recommend a number of other breweries in the area that we're told we HAVE to try. The high quality and sheer friendliness of brewpubs in the area is impressive, and this is one of the best.
My two favorite beers were the Raging Main Ale and the Erik the Red Ale, although I also got a kick out of the beer menu's write up of the Road Works Bitter Ale, which was pretty much a one-paragraph rant about local taxes and public works projects.
This place is tougher to get to than your average place, and that's fine. It's better than your average place and worth the effort.
1,352 characters
4
/5
rDev
+6.7%
vibe: 4 | quality: 4 | service: 4.5 | selection: 3.5 | food: 4
We just returned from a week long trip to Orcas and San Juan Islands. If you like beer and are at Friday Harbor (San Juan Island), a stop at Front Street Ale House would be required. No question we would visit this place again.
The Summer Best Bitter ale was the only beer we had (liked it so much we didn't try any others, just kept ordering the Best Bitter). Clean, refreshing, nice malt taste and the right amount of hops. The food was good but the selection was not real deep; the Thai curry shrimp was yummy!
516 characters
4.55
/5
rDev
+21.3%
vibe: 4 | quality: 5 | service: 4.5 | selection: 4.5 | food: 4
I was on a tour of the Pacific NW and had a few days on San Juan Island. I was at this pub everyone of those days. There is tons to do on the island hiking, kayaking etc, and man the beers at this small place are top notch!
The place is a little small with a full bar area and a room for dining as well. The beer menu was great I remember the Wit being very crisp and refreshing with beautiful citrus notes and the barleywine was bold and malty. You can buy bombers of most of their brews with you and I did that. Also if you buy a brewery shirt and wear it to the pub you get $1 off all beers for the nite! Pretty sweet deal. Of course I did that as well.
The food is a range of pizza, burgers and some other pub fare and everything I tasted was yummy! Of course there was a solid mix of seafood available as well.
If you are in the Seattle area or further north find out about how to get to San Juan Island and spend the day there. Great people and some of the best brews I had on my trip, probably only second to Elysian.
1,027 characters
3.95
/5
rDev
+5.3%
vibe: 4 | quality: 4 | service: 4 | selection: 4 | food: 3.5
Front Street Ale House is located on the waterfront (front street) in downtown friday harbor on san juan island. The atmosphere is that of a local watering hole and is small but not crowded. The brews (of which there are quite a few) are quite good and really quenching especially after a day of kayaking, hiking or biking around the island. Food is selection is varied and the entrees we had were good. If you are on the island, you owe it to yourself to stop in for a pint.
480 characters
Front Street Ale House / San Juan Brewing in Friday Harbor, WA
Brewery rating:
3.3
out of
5
with
13
ratings