Monty's Krown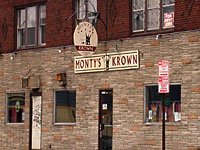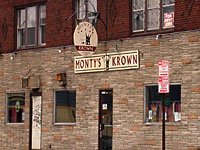 Bar, Eatery
875 Monroe Ave.
Rochester
,
New York
, 14620
United States
(585) 271-7050 |
map
Notes:
Reviews: 10
Reviews by GreatPondBrewer:

4.5
/5
rDev
+13.9%
vibe: 4.5 | quality: 4.5 | service: 4.5 | selection: 4.5
Now some people may be put off by the neighborhood and the atmosphere of Monty's, but I thought the place ruled. Dark and brooding, you can definitely tell what kind of place this is going to be. The place is about beer and loud music that is about it. The place is split into two rooms. The one with the bar is a little more traditional looking with a similar bar to that of the Toad. The walls are adorned with beer signs of a wide variety of brewerys both European and American micros. The bar is really worn in wood and they have a real dart board right next to the front window The other room, which houses the stage looks like it was dragged straight out of a 70s punk club. Paper thin wooden walls painted black, crappy carpet and of tons of black and white pictures of... you guessed it, punk and hardcore bands from the 70s on. There were also some pool tables. The men's bathroom was great. You gotta see it for yourself.
The beer did not dissapoint. They have about 13 rotating taps all of which were good. Normal Boddington's and Guiness and then a smattering of things from around the country. Stone, Victory, Long Trail, Anderson Vally, Bert Grants and one beer engine. I had a Belk's ESB, Stone Smoked and HopDevil all of which met expectations. The bartender was great and she cracked jokes with us while we played darts, did I mention they have a real board?
This is the perfect example on how not to judge a book by its cover. Some of the cliental are a tad sketchy, the music is cool, but I am more of a black metal fan than shred. But who cares? It was a great place to get a pint. Completely unpretentious and all about the beer. Go there, you won't be dissapointed.
1,693 characters
More User Reviews:
3.94
/5
rDev
-0.3%
vibe: 3.5 | quality: 4 | service: 4 | selection: 4
The "First Annual New York State Artists Formally Known As Beer Fly Guides Statewide Assessment Of Things Review Conference And Regional Beer Sampling Debauchery" (FANYSAFKABFGSAOTRCARBSD) continues on. With great fanfare and a dazzling display of headlights, we're moving the traveling road show down Monroe Ave to Monty's Krown just now. They've got two locations; Monty's Krown, which I'm sure is the jewel of dodgy Monroe Ave, and Monty's Korner, most likely not located in the middle of the block somewhere. John says he prefers this one over the other, beerwise and scene. Easy decision then, as I'm easily enticed by the prospect of better beer and an adventure in something not so polished for once...
A plastic "C" shaped vintage 70's era bar with a shiny trim and big English overhang seats a dozen plus. Tiered booze & glassware forward mirrored panels on the barback, cupboards below pasted with stickers, and dangling glassware from a rack above. The overhang is lined with skull & crossbone chains and holds boards listing tap and bottled selections to both sides of a center logo crest, and the posts hold mounted horsebrass. Walls painted brown over green panel lowers, done up with brewery signage & mirrors. Adjacent bar counter running the near wall, a dart zone up front along the windows, a single TV mounted to rear, and there's some sort of mug club going on here as evident by the many, duh.
And through to the side room. 9 small tables, a single pool table, and a small stage where bands play. They've got some pricey wrought iron art for sale on the walls, pretty cool, and you can tell that room's been played in, loud!
10 taps sunken below the bar, another two on a separate tower, a solo handle, and a handpump all along the bar. Half of the taps are New York State beers, some very local (Rohrbach McDermott's Irish Ale, Custom BrewCrafters Monty's Fat Head IPA, Ithaca Smoked Porter, Saranac Caramel Porter), and others not as much (Brooklyn Bright Golding Ale & Lager), plus a couple of micros from beyond here (DogFishHead 60 Minute IPA & Lagunitas IPA), a few imports (Wexford, Fosters, Newcastle & Guinness), and a cider (Woodchuck). The cask beer was Rohrbach 15th Anniversary Barleywine, but I opted for the Custom BrewCrafters Monty's Fat Head IPA and Ithaca Smoked Porter. Both were clean, fresh and tasty.
Also, about a dozen and a half bottles, mostly macros and maltos but a single good import (Duvel) and a bunch of micros (Victory Old Horizontal, and Sea Dog IPA & their Blueberry, Raspberry and Apricot wheat beers).
Grungy some, yes, on the divey side, uh huh, but if you slighted them for it, then Monty got a raw deal.
2,674 characters
3.7
/5
rDev
-6.3%
vibe: 4 | quality: 4 | service: 3 | selection: 4 | food: 3.5
I've been going to "The Krown" nearly 14 years now, and I hope to be going at least another 14. No, it's not necessarily to everyone's liking, but that's fine by me. I used to hang out 2-3 nights a week from about 9-close. Now with family, full time job, etc. I can only make it every other Friday or so. Happy hour is fairly mellow; usually teachers and IT types all sharing stories and pints. Very friendly atmosphere, although the "rough around the edges" decor may turn some people away.
The evening crowd can be a different depending on the night. Bands on most Th-Sa nights are punk/metal/groove. Lots of leather, tattoos, piercings, mohawks. It can get very loud in the bar so if you're sensitive to that try earlier in the evening.
Good value on the food even if it is sometimes inconsistent. Excellent Friday fish fry.
To the beers: Great selection, even if it is a bit IPA heavy. On any given night you can find Smuttynose, Brooklyn, DF Head, Custom Brewcrafters (they make Monty's Fathead IPA), Rohrbach, Ithaca, S. Tier. Usually a CB's or Rohrbach cask on as well. This week they also have Spaten Lager, Sierra Nevada Schwarz, and Wexford Irish Cream on Nitro.
Jen the Mgr. also usually has a small supply of uncommon bottled beers on hand, just ask. They also will fill a growler for you (BYO). Best sign on the wall: NO BUD and NO PITCHERS!! EVER!!
1,362 characters

4.08
/5
rDev
+3.3%
vibe: 3.5 | quality: 4 | service: 4 | selection: 4.5
In my Opinion this is the punk beer bar of Rochester. I used to live two blocks away from this place and only went to it a hand full of times. This review is from last week when I was home for Christmas when I went and took some notes. As I said this is the punk beer bar so its kinda of a hole in the wall type of place younger crowd with loud music. They recently redid the room that the bands play in but the bar area still has its character. They have a lot of beers on tap and they even have beer on cask. The price is pretty average for beers.
549 characters
3.6
/5
rDev
-8.9%
vibe: 3.5 | quality: 4 | service: 3 | selection: 4 | food: 3
Dark and relatively quiet until mid-evening, then more and more crowded as folks come in to hear bands. When no bands are playing, the stereo in the pub is turned up very loud, so not for those who want to have a quiet conversation. However, they tend to feature at least two good American microbrews at any given time plus at least two extremely strong (American and occasionally Belgian) beers. Unlike MacGregors or the Old Toad, they do not follow the law of inverse proportionality (ABV/oz) although they do sometimes price the high-grav beers higher (right now the Yeti is an example of this). They have a cask-pull, and it often features interesting brews, usually from Custom Brewcrafters.
Food is good when you can get it. This place started as the Rose and Crown, a British pub concept which has since transferred itself to the Old Toad. Since becoming Monty's Krown, it has ramped down the food proportion of its offering. Not to say you can't get food, just that you might have to wait for it.
1,008 characters

3.13
/5
rDev
-20.8%
vibe: 4 | quality: 3 | service: 3 | selection: 3
I would probably stop in here for music more than for the beer selection although they do have custom brewcrafters inferno pod ale and flip top grolschs. Some good micros but it depends on when you are there, i have had bad luck. The atmosphere is very trendy and young. The bartenders are allright nothing you would remember but friendly. No food. Cool place/location. Plus you can run outside and find a hot dog vendor when you are smashed. Or even better marks. But don't be liek me and forget to tip because you are tanked out of yoru brain. Mmmmm.
552 characters
4.14
/5
rDev
+4.8%
vibe: 4 | quality: 4 | service: 4 | selection: 4.5
This place ceases to amaze me! For being such a dive bar, this place holds a piece of my heart. I may always be inebriated, but it always seems that every time I visit pretty much every tap is an IPA, including CB's Inferno Pod Ale, made for Pizza Plant. The rumor is that the Krown sells more of the Pod Ale than the plant does! Tables/chairs set up outside, and a good crowd was hanging out last time I was there. Parking right behind the building, and conveniently located right next to the highway for easy access back to Buffalo.
Only negatives would be the bathroom, and dingy/dark atmosphere.
602 characters
3.7
/5
rDev
-6.3%
vibe: 4 | quality: 3.5 | service: 4 | selection: 3.5
Cheers: On the end of the Monroe strip, perfect to start the night out and end the night. Wilson Farms across the street for AM coffee and danish in case you pass out in the alley. Brew chalk board. Standoffish bartenders. Were allowed to take brews outside and hang out on the sidewalk. Smoking allowed after 1 AM or so. All the taps were Pale Ales. Pizza Plant's Inferno Pod Ale on tap. Interesting crowd, a mix of young band types and wierd old people. Last call, last call, and then another last call. Patrons remarked how sh**ty Buffalo really is.
Jeers: Bathroom is in the basement. It would be quicker to pee outside. No signage to alert the BA where said bathroom is. I wouldn't touch anything in here. Barware is questionable. Strange, twisted old people sitting at end of the bar, drinking something "yummy" out of a can. Palpable tension in the air.
863 characters
4.3
/5
rDev
+8.9%
vibe: 4 | quality: 4.5 | service: 4.5 | selection: 4
This bar isn't for everyone. I love the punk/heavy metal scene. Therefore, this was a good bar for me. They had a knowledgable staff that knew about their beers on tap and will greet you with the courtisy that is expected everywhere you go (but rarely ever get). The entire staff is a class act. The beer selection was pretty good, with everything from Victory to Custom Brewcrafters on tap. Hell, the even had a few beers on cask. My friends and I enjoyed a great night of ear piercing metal and good brews. Thank you Monty's Krown for giving me yet another great night.
571 characters
4.38
/5
rDev
+10.9%
vibe: 4 | quality: 5 | service: 4.5 | selection: 4 | food: 3.5
Nothing fancy here, just a good beer bar. The Krown's got sort of a comfortably worn appeal. Good selection of micros and imports. Casked ale is also available. Food is good, but this is really more of a bar. Some pretty esoteric live music can be found here on Thursday and Saturday nights.
291 characters
Monty's Krown in Rochester, NY
Place rating:
3.95
out of
5
with
10
ratings