City Grille and Brewhaus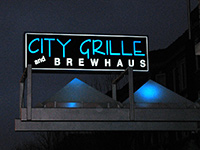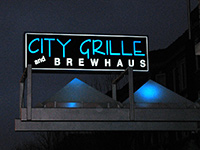 PLACE INFO
Type:
Brewery, Bar, Eatery
3914 Lindell Blvd
Saint Louis
,
Missouri
, 63108-3204
United States
// CLOSED //
Notes:
No notes at this time.
Added by carln26 on 12-12-2005
HISTOGRAM
Ratings: 5 | Reviews: 5
Reviews by Realale:
3.1
/5
rDev
+2%
vibe: 4 | quality: 2 | service: 4 | selection: 3 | food: 3.5
Interesting space in what was many years ago the St. Louis branch of the Playboy Club. A lot of the furnishings, and certainly the quaintly racy tile in the men's room, seem to date from that period. Rather than retro, the scene is vintage.
Our server today was quite good. I didn't ask any beer-related questions (which perhaps, in retrospect, was a mistake . . .), but she got my order right, was good at refilling the drinks in a timely manner, and did her job without being a nuisance.
Beware the beerfly that starts with a description of the space and then the service - in this instance, I'm killing time trying to think of something nice to say about the beer or the food.
I'll tackle the food first, as my onion rings were good. Really good, in fact. Not soggy, nicely done. Good coating of batter without being doughy. Oh, the salad dressing was tasty too - they actually use an olive oil with flavor! Kudos for that. The salad itself was fine, with a few nice twists. My sandwhich - a cheese steak, bizarrely served on toasted Texas toast, was pretty close to flavorless. I think. My palate may actually have shut itself down in response to one of the beers I sampled. Other folks at the table got burgers, and they seemed pleased with the results. Burger and onion rings for me next time (and I will give them another shot, and hopefully be able to update this review with a more positive experience).
Ah, the beer. It was cheap at $2.50 a pint! There we go. I had two. The Stout was potable. It had a strange sweetness to the nose, and a rather hollow mid-palate, but I've certainly had worse stouts from a brewpub. Then there was the Pale Ale. If the Pale Ale was something I had homebrewed, I would not have dared to offer it to guests. I might have consumed it by myself, but I would probably have pitched it. Hazy in appearance with major league hot cardboard on the nose and palate. Quite unpleasant. I'll definitely be trying other offerings on my next visit.
Bottom line: the place is new and they've got some kinks to work out. I'll revisit them a couple of more times to see how they're doing.
2,130 characters
More User Reviews:

3.4
/5
rDev
+11.8%
vibe: 4 | quality: 3 | service: 3.5 | selection: 3.5
Kind of a belated review from my visit on 12/28/05 (4 weeks after they opened), but I kind of put off posting the review since I didn't have much good to say.
The brewpub is located in the old Playboy Club, which closed decades ago, and they left a few momentos from the Playboy days. You enter from the street and go down 5 stairs to the sunken area where the bar is located. There is an upstairs loft area reached by going up a curving staircase: very 1960's Playboy-esque. The bar seats about 12 with swiveling bar stools with backs. The floor is orange-salmon colored. There are 3 flat screen TVs behind the bar. There are large murals of cities: San Francisco, Chicago, and NYC.
The brewing area (tanks) are visible through glass at front of the pub, sort of behind the bar area.
There were 6 of their beers on-tap during my visit, as well as a full bar and some bottled macro beers (Bud, Bud Light, A-B Select, Miller Lite). The place seems more of a trendy bar than a brewpub.
Happy hours: 4-7 PM with $2.50 pints. Seasonal beers are $1.50 all day. Other beers $3 or $3.50 per pint. $5.50 for 6 5-oz samples.
The service was OK, though the staff seemed uninformed about their beers (the brewer was not around), and seemed to think of the place more as a bar first, and a brewpub as an afterthought. For example, there is a large photograph (among others) of the Anheuser Busch brewery displayed prominently behind the bar. When I asked the bartender if she thought that was an odd thing to display at a brewpub, she answered, "This is St. Louis. You can't have photographs of landmarks without showing Anheuser Busch." Sigh.
The beers themselves were not very exciting. Most were too thin on flavor and body and lacked aroma. The pale ale as OK, and the stout was pretty good during my visit.
Not sure about food. On-street parking in front. They said that there is or will be some parking available in the rear (reached thru an alley).
Can't really highly recommend the place, but worth a visit to check it out.
2,043 characters
3.54
/5
rDev
+16.4%
vibe: 4 | quality: 3 | service: 4.5 | selection: 3
I've got to redo my review after trying the beers again. They're not very good, sadly. I'm going to try again a few more times, but I'm disapointed in the quality.
Big sign out front claiming to be St. Louis's finest microbrewery. Um, no. Not quite.
I agree with the other reviewers in that this place doesn't quite seem to know what it wants to be. It does seem to take a bit of inspiration from more restaurant focused places like Trailhead.
Atmosphere in the bar area is somewhere between a pub and a nightclub, the space is open and has a nightclubish feel but contains video games and really only has seating at the bar. The bar itself has comfortable seating and a nice pad extended out from the bar for your elbows.
They've got maybe 6 beers on tap, a stout, pale ale, light, hefe (probably an american wheat), raspberry something or other and an amber. Perhaps in response to complaints about the frozen glasses they now have room temperature glasses available on request, though they still default to those frozen ones.
Service is good, attentive and friendly.
The beer, sadly, is not so good. The selections are a bit dull and while the stout is decent, the rest seem less than quality.
Not recommended.
1,240 characters
1.95
/5
rDev
-35.9%
vibe: 4 | quality: 1.5 | service: 2 | selection: 1.5
Geez… this place was every bit as lame as I had feared – a brewpub in St Louis with 6 beers on tap (listed by the previous reviewer), and only the stout sounded like it had a chance to be drinkable. It's located in the old Playboy Club facility just off the SLU campus. The building is interesting and upscale in a dated, 50's or 60's kind of way. Like the previous reviewer, I don't know what they are aiming for. SLU students that don't have a kegger to attend? Are they a restaurant? A nightclub? Or just another brewpub serving watery beers? And yes, I had to stop the bartender from serving my stout in a frozen glass. She seemed shocked that I made such a "strange request."
Beers other than the stout? Well, I didn't have the courage to taste them, as they didn't even have appealing descriptions on the menu. Most every brewpub and microbrewery talks a good game about how great their beers taste, but not this place.
Didn't try the food (had just eaten lunch) but I wanted to at least warn true beer geeks that, unless there is dramatic improvement, this is not a worthy destination. So, I am saving you time and money! Thank me later if you see me at the Schlafly Tap Room or Cicero's.
1,215 characters
3.23
/5
rDev
+6.3%
vibe: 3.5 | quality: 3 | service: 3.5 | selection: 3 | food: 3.5
It's tough to figure out what this place wants to be. Many brewpubs are just restaurants with the brewing equipment and beer there for atmosphere. That's not the case with City Grille and Brewhaus (lose the name! Is it British, German, what?) It appears they want to be a bar/nightclub first, brewpub second, and restaurant third.
It's set in a 3 story building at the intersection of Vandeventer and Lindell, a few blocks from SLU. The interior is well lit (OK, too well lit), with a spacious bar area topped by copper. The décor is mainly pictures of various attractions of St. Louis.. Ok, b ut uninspired.
They had 6 beers on tap, a light, an amber, a pale, a raspberry something, a stout, and a seasonal (pumpkin spice currently). The beers were OK, nothing to rave about, but nothing I would pour out either. The big complaint. Chilled glasses! UGhhh. The beers are not bad, don't hide the taste by serving them in chilled glasses.
The food is a mix of appetizers, sandwiches, salads and burgers. Based on the number of burgers, and the ability to make your own, it appears that is the specialty. I'll have to try one of those next time I go there. The salad I had was like everything else about the place, OK, but uninspired.
This place could be MUCH better. I'll give it some time, and hope for the best, but I'm concerned, because no single part of this place stands out. Everything is average, and I don't think it can survive in this location by just being average. Come on folks! Take a chance, make something good out of this place.
1,568 characters
City Grille and Brewhaus in Saint Louis, MO
Brewery rating:
0
out of
5
with
0
ratings