Water Street Brewery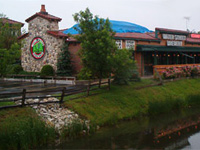 PLACE INFO
Type:
Brewery, Eatery, Store
3191 Golf Road
Delafield
,
Wisconsin
, 53018
United States
(262) 646-7878 |
map
waterstreetbrewery.com
Notes:
No notes at this time.
Added by ClearDog on 12-14-2005
Reviews: 7 | Ratings: 13
Reviews by dancinwillie:
2.95
/5
rDev
+2.4%
vibe: 4 | quality: 2.5 | service: 3 | selection: 3 | food: 3
Stopped in here tonight with a friend to have dinner and a couple of beers. Nice place, good mix of young and older diners. Smoking section inside, and while I saw a few people smoking, I didn't smell any smoke, which is always a plus.
We were seated quickly and our waitress helped us immediately. We ordered a couple of appetizers and they came promptly. An American wonton dish, and Scotch Eggs. Both had a nice presentation, and were good, but nothing too special. My friend had a Hefe, and I had the Octoberfest. Mine was watery and nothing special, but I had a sip of his, and it was pretty good. We ordered rueben sandwiches, and they were slow to come out, somewhat cool, and fries were undercooked AND soggy. My sandwich was also soggy, and just barely grilled. Not impressed with the food. One beer was not good, the other was decent, and the waitress was nice, but didn't seem too concerned with getting our food out to us. I would drink the hefe again, but other than that, probably wouldn't go back here again.
$48 for 2 appetizers, 4 beers, and 2 ruebens with sides. Not a bad price, but a bit too much for the less than good quality, and less than attentive service.
1,183 characters
More User Reviews:
2.65
/5
rDev
-8%
vibe: 3.25 | quality: 3 | service: 2.5 | selection: 2 | food: 3

3.55
/5
rDev
+23.3%
vibe: 3.5 | quality: 3.5 | service: 3.5 | selection: 3.5 | food: 4

3.55
/5
rDev
+23.3%
vibe: 3.75 | quality: 3 | service: 4.25 | selection: 3.25 | food: 4

4.71
/5
rDev
+63.5%
vibe: 4.5 | quality: 4.5 | service: 4.75 | selection: 5 | food: 4.75
2.93
/5
rDev
+1.7%
vibe: 3 | quality: 2.75 | service: 3 | selection: 3 | food: 3
2.5
/5
rDev
-13.2%
vibe: 3 | quality: 3 | service: 1 | selection: 3 | food: 3
Went here because the restaurant we wanted was closed and this came up on the gps only 5 miles away. This place seems like a chain. There was not much people there on a Sunday evening. We sat on the patio which was nice.
We quickly ordered a sampler and food. I wanted to try all the beers and see which one was worth getting a half liter of. Well i chose the oktoberfest and another person I was with chose the raspberry weiss and we didn't get those beers until asking the waiter twice and eating all of our food. Terrible service.
The food is okay, nothign better than applebees or some shit like that.
Some of the beers liek the Raspberry Weiss and Oktoberfest weren't bad but overall the beers were standard brewpub crap. I wouldn't recommend this place.
762 characters
2.42
/5
rDev
-16%
vibe: 2.5 | quality: 2 | service: 2.5 | selection: 3 | food: 2
Went to the millwakee location on sunday the 29th of may.Not to crowded not a bad scene but the place is like a maze of booths.It took 5 minutes to find the people we were sitting with and the hosts were no help they just said to look around. they had about 10 beers on tap.got a sampler for $9.00.Too bad they were light in body,almost watery and under carbonated.I think they are an extract brewery but no one would confirm or deny this to me all I got was an I'm not sure let me ask. got a burger. it was a frozen patty that wasn't really good. overall a disapointment.If your in this area skip this place and go to lakefront.
629 characters
3
/5
rDev
+4.2%
vibe: 3 | quality: 3 | service: 3 | selection: 3
Visited 10/10/2010.
9 house taps.
Stopped in on Sunday morning on my way from Madison to Milwaukee. Not a whole lot of people around but the few that were were watching football. Nice people over all and the place was clean.
Service was slow (but nice even if not all that knowledgeable) and she spent most of her time either watching the game or talking to this guy at the end of the bar. I did eventually get a sampler and a menu. Decided that I didnt want to eat there after all and left after trying the sampler.
The beer ranged from no thanks to pretty decent. Over all nothing was bad but nothing was all that impressive either. I believe that 2 or possibly 3 of the 9 beers were seasonals.
What I did get out of the place (aside from 9 new ticks) was directions to a place called Brennans that has a ton of cheese and beer singles. I figured since I'm in Wisconsin I have to do some cheese tasting in addition to beer tasting.
938 characters
2.88
/5
rDev 0%
vibe: 3 | quality: 3 | service: 3 | selection: 2.5 | food: 3
Have been to this Delafield location a few times. Sometimes the beer seems sulfury so I often wonder if they don't treat there water. The beer, at least to me, seems to vary in taste from the Milwaukee location at times. Food is decent - my wife likes the crab sandwhich. I like the German Sausage plate. The service is touch and go - after looking at placards of maybe a dozen beers I ordered one only to be rudely told by the bartender that they didn't have the beer and to look at the tap handles and not the signs if I wanted to know what they have on tap.
560 characters

2.75
/5
rDev
-4.5%
vibe: 3 | quality: 2.5 | service: 3.5 | selection: 2.5 | food: 2
This brewpub is located right off the highway in between Madison and Milwaukee. It is in the middle of many different strip malls and easy to find, but difficult to get to. The atmosphere is fairly generic for a brewpub, but it does have old beer cans and other interesting memorbilia on the walls. The service was good, as the bartender even offered a cigarette from his own pack when my friend was out. The employees are in their early 20's and have fresh faces.
Overall, the food was decent. The menu had a small selection, but they did offer some odd plates. I had the jumbalaya, and it was good but not great. I had 2 beers, the wheat and the Pale Ale were both thin but true to the style. The wheat beer had a nice aroma and nice clove taste. The Pale Ale was lightly hopped for a Pale Ale, but worked on a hot day. However, I can not reccomend the beer. If you are in the area and are tired of the Delafield Brewhuas across the highway, check it out. At this point I can not reccomend this brew pub.
1,007 characters
2.98
/5
rDev
+3.5%
vibe: 3.5 | quality: 3 | service: 2.5 | selection: 3 | food: 3.5
I buddy and I stopped at the Water Street Brewery in Delafield on our way to the Tyranena Brewery. This was the first time for the both of us. The plan was to sample a beer or two, have an appetizer, and then head out.
Both of us were unimpressed. First of all, the selection wasn't very large. Maybe seven or eight different brews. My buddy and I both had the Pale Ale. We're both fans of IPA so we weren't expecting to be blown away, but this was mediocre beer at best. I think the intent of the Brewery is to let the fans of Miller Lite escape for a few hours before returning to their favorite watered down brands.
The atmosphere was rather bland but they did have an impressive collection of brewery paraphernalia from defunct local brewers. I wish I would have had a chance to look over the collection for while longer.
Each of us had an appetizer. I'll give them points for having unusual appetizers. My buddy, Mike, had some kind of Asian style lettuce wraps, while I tried the Scotch Egg which was described as English pub fare. Mike enjoyed his lettuce wraps and I enjoyed my Scotch Egg (Hard boiled egg, surrounded by pork sausage, and fried; served with mustard). Although I enjoyed the appetizer, I won't be heading back soon.
Mike and I were clearly done (empty pint glasses and empty plates) but we had to wait forever for our server (a female college student that was busy chatting with her dorm roommate and boyfriend, whom apparently made the trip out to visit and grab a bite) to bring us our bill.
Overall, Mike and I agree that we will not be visiting anytime in the near future. That goes for the Milwaukee location as well.
If in Milwaukee, I recommend the Milwaukee Ale House. Way better beer and service.
1,750 characters
Water Street Brewery in Delafield, WI
3.5
out of
5
based on
39
ratings.