J. B. Quimby's Public House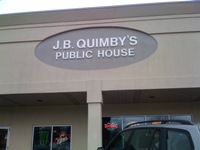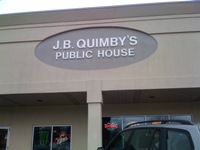 Bar, Eatery
3259 Winton Rd. South
Rochester
,
New York
, 14623
United States
(585) 272-9780 |
map
jbquimbys.com
Notes:
Reviews: 10 | Ratings: 13
Reviews by John:
4.18
/5
rDev
+2.5%
vibe: 4.5 | quality: 4 | service: 4.5 | selection: 4 | food: 4
A perfect example of how not to judge a book by its cover. The location, in a small strip of suburban shops is the only drawback. And a very minor one at that, in fact it works to an advantage here as many of the nearby establishments are chain joints. Inside, Quimby's has all the character of your favorite and most comfortable place. Friendly staff and good beer specials too. Good selection of local, regional and national micros and quality imports as well as an excellent custom brewed house beer (Custom Brewcrafters). Highly recommended. Beware of the fact that their website is not mainitained. Give them a call for specific questions.
644 characters
More User Reviews:

3.98
/5
rDev
-2.5%
vibe: 4 | quality: 4 | service: 3.5 | selection: 4 | food: 5
Nice bar with a local following. Nice wooden bar and the all important coat hooks underneath.
Quiet place - no loud music and only 2 TV with the sound all the way down.
The food is fantastic. The best chicken wings I have ever had hands down. The garlic Parm wing I could eat until my heart gave out.
Taplist - Always a good IPA or two on tap. Arrogant Bastard a usual find
last time i was in they had dogfishead My Antonia and Hop noir.
Usually have a beer of the week special. Last time is was Otter creek.
Nice little place.
531 characters
4.3
/5
rDev
+5.4%
vibe: 4 | quality: 4.5 | service: 4 | selection: 4.5
I was definitely interested in trying this place after a friend of mine told me the name of it, which includes my initials, a character on the Simpsons that is occasionally imitated, and the formal term Public House, rather than pub.
Unfortunately, it's not located in the best area - a simple strip mall at a busy intersection, however don't be fooled by the contemporary facade, because it is a wholesome authentic venue with a great feeling and an even better selection. My friends and I were able to enjoy a few pints of the Storm King Victory Stout from the tap, which tasted great.
587 characters
3.78
/5
rDev
-7.4%
vibe: 3.5 | quality: 3.5 | service: 4.5 | selection: 3.5
Suck it up scheduling left me closing up Yonkers one night and then driving 5 hours to Rochester for a training thing the next morning, a crappy ride no matter which way you go. New York needs a highway cutting northwest across the state and 17 ain't it. Rolling in just after midnight, maybe something quick at Quimby's. So, what thinks you, chicken or the egg? Which came first, this bar or Springfield Mayor "Diamond Joe" Quimby? Yep, just as I thought, you gone and named your bar after a Simpons character...
Strangely strip mall off the road off the road off the highway. Looks like a double wide, meaning multiple places fit together to be one, but I could be wrong. A box of 16 taps on a long straight wood bar seating 16 running the wall. The barback is a large wood unit with shelved and countered booze to both sides of a center mirror. Glass front cupboards on both ends holding framed pics, glassware, bobble heads, dolls, stuff, and small TV's above along with trophies, soccer balls and other pieces as such. Glassware on the counter at both ends, wall shelved booze above and the bottled beer selections displayed atop, but housed in a bottle cooler up front. Large flatscreens on the corners (came in on the Yankees game just as they brought Mariano in, Jeter turned 2, and we're done) and a triptych wood paneled ceiling above the bar; it looks like an upside down boat angled 3 ways. It's kind of cool but then as you get away from the bar, it's done up with crappy ceiling tiles, which may be why it felt kind of disjointed. Vintagesque drop lamps & ceiling fans over the bar and tack spots inside.
Just away from the bar, a pair of angled bar counter curves from pillar to post and a few raised roundy bar tables, and past there, a half dozen tables penned and a raised area against the far wall with more seating below framed pics and stained glass trim pieces; the walls otherwise done with macro mirrors. Stoneish fireplace in the corner, electronic darts and Phil's golf game (fore!) '05 to the rear, Big Buck wannabe Trophy Hunting up front, and TV's in the corners.
Beer. 16 taps, a half dozen New York State micros (Roosterfish Nut Brown Ale, Sackets Harbor War of 1812 Amber, Rohrbach Scotch Ale, Brooklyn Lager, JB Quimby's Nathans Private Stock Ale & Joe Willy's Toasted Lager, both done by Custom BrewCrafters), a lone regional micro (Victory Hop Devil), imports (Beamish & Guinness side by side, Paulaner Hefe, Alexander Keith's Traditional Lager, Labatt Blue & Blue Light), and Yuengling, Shock Top, and Coors Light. Purty girl bought me a beer, the Roosterfish Nut Brown, tasty as always and I opted for a second, the Sackets Harbor War of 1812 Amber, but please, no frosty pint glass this time. Also, 2 dozen plus bottles, strangely Anchor Steam and a whole lot of light (macros & maltos).
The bar area is comfortable but as you move away from it, whatever. And I could do without the country music but still, they've got some solid tap action on the upstate front and absurdly inexpensive at that. Nicely welcoming after midnight, I would know. Citizens of Springfield...
3,114 characters
4.72
/5
rDev
+15.7%
vibe: 5 | quality: 4.5 | service: 5 | selection: 4.5 | food: 5
I've been going to Quimby's for some time. Probably would call it my home pub when I'm in town and not at school.
First time I went in, I was a little taken aback by the exterior being in a small strip mall, but inside you see hard wood floors, a nice, long bar, and a good selection of food and drink, a jute box, darts, and occassionally you'll run into a live band.
Their beer selections run about 16 deep with regulars including Coors Light, Guinness, their house beer (which is a great IPA) and Bud. Among their switchouts include a variety from everywhere and their beer of the month special is superb. You can pick up a pitcher of quality beer for $7.50 or so, or pints for $2.50.
The food menu is pretty good, and the have tator tots! Apparently the story is that they once got them by mistake and have served them ever since. I'm a vegetarian, but I've heard nothing but good out of their wings and burgers.
I'm a regular and I love it. Staff is nice, knowledgeable and just plain down to earth. Great public house.
1,029 characters
3.35
/5
rDev
-17.9%
vibe: 4 | quality: 3.5 | service: 2.5 | selection: 3.5 | food: 4
We go as a family. Thus we feel it is family friendly. So that means we like it because...
Lots for kids to look at, prompt service by most on the floor (there is one exception, but don't know her name. You can figure it out). Menu is typical bar/pub fare, but they also run some excellent specials.Good fish fry. The best part about the menu however is the tater tots! Where else can you find tater tots outside of your local elementary school!!
Decent beer selection: Boulder, Acme, CB's, DF Head. Usually very good service at the bar.
Seem to have a decent happy hour crowd with lots of regs.
They'll put any game on you wish to see as well.
645 characters
3.83
/5
rDev
-6.1%
vibe: 4 | quality: 4.5 | service: 3.5 | selection: 3 | food: 4.5
Being in a strip mall, I didn't have very high expectations going in. But the interior is quite comfortable. I really like the wood, great atmosphere for a night of fun.
The food was really good. We got chicken fingers and a big pile of fries. Both were delicious. It must be the oil they fry in, everything had a good flavor.
The beer selection was ok. Nothing to write home about, but not bad. The best part is that on Wednesday nights, if you ask for the beer of the month you get to bring the pint glass home for free. So if you need a few glasses, go get a beer.
570 characters
4.25
/5
rDev
+4.2%
vibe: 4.5 | quality: 4.5 | service: 4 | selection: 4 | food: 4.5
I used to go to this place a lot back a few years ago but just recently started going there again. Mostly because a friend of mine started bartending there on his free time.
They have about 16 beers on tap. At least 6 or so of the taps are your typical macro brewerys (Bud, Labatt,...etc). The other taps are usually pretty decent micro brewerys (including locals such as Rohrbachs, Custom Brewcrafters,...etc). Not too bad of a place if you want to stop somewhere for a beer during happy hour. They also usually have a pretty decent beer of the month special each month.
The food is slightly better than your typical bar food w/ the occasional special soup or burger/sandwich. They tend to be the busiest during happy hour and semi-steady during the evening to late night crowd.
All in all if your in the Henrietta area and are looking for a small pub style place for a decent beer then check this one out.
910 characters
4
/5
rDev
-2%
vibe: 4 | quality: 4 | service: 4 | selection: 4 | food: 4
Wasn't expecting much thanks to the bland, strip mall exterior. Inside was a really pleasant surprise, as it was an all-wood, panelled bar that was homey and really comfortable. Lots of seats at the bar, loads of tables, and a great dart board. Bottled beer selection was the usual BMC stuff. They had some good bourbons, and some pretty good handles. Brooklyn Lager, Ithaca Partly Sunny, Franziskaner, their own Custom Brewcrafter's Ale, Blue Moon (eh, can't win 'em all), a Rohrbach scotch ale, J.W. Dundee Hefe, and a few more. But the important thing was that there were no BMC's on draft. Pulled pork sandwich was pretty good. I'm already thinking about what I'll get when I go back.
688 characters
4.2
/5
rDev
+2.9%
vibe: 4 | quality: 4.5 | service: 4 | selection: 4 | food: 4.5
I remember when this place was the Salty Dog. It's like another world, now.
I went durring lunch today. My buddy and I were looking for a place close where we could have a burger and a beer that we haven't been to yet. We wound up down at J.B. Quimby's.
We walked into a very open bar setting with a couple games and a great lunch set up. There were a good amount of beers on tap and they also had a good collection of bottled beer. The service was very personable but could have been a little quicker. On top of it all, I had the best burger I have ever had. Unlike the last time I was in there (salty dog days), I didn't join the Army on the way out.
654 characters
J. B. Quimby's Public House in Rochester, NY
Place rating:
4.08
out of
5
with
13
ratings