Il Vicino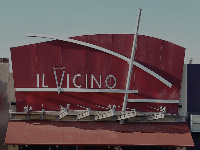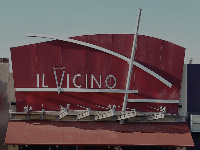 Bar, Eatery, Beer-to-go
321 W San Francisco St
Santa Fe
,
New Mexico
, 87501-2183
United States
(505) 986-8700 |
map
ilvicino.com
Notes:
Reviews by DrJay:
DrJay from Texas
3.65
/5
rDev
-5.9%
vibe: 3.5 | quality: 4 | service: 4 | selection: 3 | food: 3.5
I stopped in here a few times recently for both lunch as well as beer later in the evening. Ordering food/drink takes place as you enter through the front door. You order, pay, take a number, and grab a seat - your drinks and food show up shortly thereafter. Service was quick and attentive. The sandwiches and pizza were pretty good and the prices seemed fair to me. The ambiance was alright, southwest decor with jazzy music in the background. There were four house beers available, including a decent IPA, a pils, and brown ale. Beer was solid in quality and I'd happily stop in again for a pint or two. Overall, a worthy stop if you're in the area, particularly if you're staying in the adjacent touristy area.
Mar 31, 2010
More User Reviews:
Ron22 from Nevada
4.64
/5
rDev
+19.6%
vibe: 4.5 | quality: 5 | service: 3.75 | selection: 5 | food: 5
One of my favorite places in Santa Fe to get bomb a** pizza. You can drizzle this amazing spicy oil on top - OMFG!
May 13, 2015
John_Deas
3.9
/5
rDev
+0.5%
vibe: 3.5 | quality: 4.5 | service: 4 | selection: 3 | food: 4.5
I stopped in twice for pizza, salad and an IPA on a recent visit last month while staying nearby. The quality of all three was excellent. The outdoor patio area was full both time, so we sat inside, which was fine, nothing special. A couple of German tourists were at the next table, but the waiter didn't follow up on my recommendation that he ask them "noch einmal" and they left after draining their pints. Overall this is a fine spot for an informal, clean, well lighted stop for beer and food. Sehr gut!
Oct 07, 2012

woodychandler from Pennsylvania
3.73
/5
rDev
-3.9%
vibe: 4 | quality: 4 | service: 3.5 | selection: 3.5
Located in a slightly more upscale area than their location in ABQ, the space was so small as to not have a bar area. No! Say it ain't so. The layout was an inverted "L"-shape with the main counter beginning just inside the door on the left side. There was a series of standard restaurant tables and chairs beginning on the right side, which curved around and culminated at the kitchen, all of the way aft. I was in drink mode, so no eating here, but I was Venti Due (22) with still no sign of #'s 1, 2, or 6.
May 31, 2008
goochpunch from Texas
3.69
/5
rDev
-4.9%
vibe: 3.5 | quality: 4.5 | service: 3.5 | selection: 3
Didn't eat anything here and it was awkward getting JUST a beer here. Service didn't really know how to handle that. Selection was pretty standard: IPA, ESB, Pale Ale, etc. I got an IPA and it was delicious and fresh. I've never eaten here in any time I was in Santa Fe, mostly because it is over-priced AND just a few blocks away is Upper Crust Pizza, which is undoubtedly the best place to get pizza in Santa Fe. Still, based on the IPA, I would recommend this place, but sadly, it IS located in tourist central. On the other hand, it's a good place to stop for a pint if you're out and about looking at galleries on Palace.
Apr 30, 2007
kdoc8 from Oregon
3.78
/5
rDev
-2.6%
vibe: 4 | quality: 3.5 | service: 3.5 | selection: 4 | food: 4.5
This was a very unique place. I went with a bunch of people, and it was perfect for groups because you place your order at the front of the restaurant separately and then they bring your food to your seat. So you can avoid that nasty splitting the check 16 ways... The atmosphere was awesome - cozy and fun. It has an outdoor seating area with heated lamps, which was great for the February night I was there. There food was very good although a bit overpriced for what you got. I had a wood fired pesto pizza. Their beers weren't overwhelming, although I enjoyed their IPA.
Mar 13, 2007
JudgeRoughneck from Louisiana
3.78
/5
rDev
-2.6%
vibe: 3.5 | quality: 4.5 | service: 3 | selection: 3.5 | food: 4.5
The atmosphere in Il Vicino is cozy and inviting, though it can be rather loud at times. It is pretty much your typical wood-oven pizza set-up, a nice place but very casual. I have sampled a wide range of things on the menu and find them all excellent, but the calzones are a particular favorite. While service is usually friendly, I've been less than impressed on a few occasions and I have noticed a pretty high turnover of employees.
Selection is a menu of gourmet pizzas, a few calzones, and some really great salads. There are usually 5 or 6 beers on tap, including a rootbeer. Stay away from the middle taps.I guess the red and brown are decent, but pretty unremarkable. The Stout is really wonderful its is very rich, full bodied and lives up to its "dark and lusty" namesake. During the winter I fill my growler with this stuff at least once a month. I'm not a huge IPA drinker, but their IPA is possibly one of my all-time favorites for its dizzying hop bouquet and abv. The rootbeer is really pretty impressive in its own right, and though it cost the same as a beer, I often get it anyway.
To really do it right, you gotta hit the late-night special. 7 bucks gets you personal cheese pizza and a pint. By Santa Fe prices, you don't get a better deal than that. The special starts at 9 pm.
Dec 19, 2005
Il Vicino in Santa Fe, NM
Place rating:
3.88
out of
5
with
7
ratings