Boone Saloon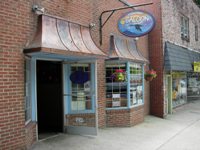 PLACE INFO
Type:
Bar, Eatery
489 West King Street
Boone
,
North Carolina
, 28607
United States
(828) 264-1811 |
map
boonesaloon.com
Notes:
No notes at this time.
Added by SaCkErZ9 on 12-20-2005
Ratings: 12 | Reviews: 8


3.9
/5
rDev
+2.9%
vibe: 3.5 | quality: 4 | service: 4 | selection: 4 | food: 3.5
More of a bar at night and restaurant in the afternoon/evening
Not a big selection, but a good one and the taps usually rotate.
They had 6 taps
Miller Highlife (4.25 a PITCHER special the night I was in there)
Highland St Terese Pale Ale (local)
Left Hand Milk Stout
Natty Greene's Amber (local)
Bell's Two Hearted Ale
AND.. Bell's Batch 9000.
I was pleasantly surprised a place that isn't a "beer mecca" type bar had such a rare keg like 9000. I really appreciate their tap list.
They have the cheap keg for the college kids and a good assortment of craft beers of different styles from both local breweries and great brewers across the nation.
They also keep the tap list rotating pretty often. In the past they have had Foothills, Founders, Rogue and more on tap, so when you go on there is always something new to drink.
Bottle list has your basics but also some craft beers like Sam, Sierra, Lagunitas IPA and Harpoon IPA.
The usual pint prices are average, 3.50-4.50 for a full pint but unlike most places in Boone they give you a full pint in a pint glass... many places here do 12oz pours in plastic cups.
Prices ranged from 8.50 for 12oz (in a goblet) of Batch 9000 to the High Life special
They also had small tacos for 1.25 on special
Room itself is pretty barren, tables in the middle, bar near the front and a small stage and 2 pool tables off to the side. The inside burned out a couple years ago, which is why the interior isn't super. Nothing wrong with it though.
Pretty crowded on Tuesday nights, mostly college kids. More hippies than anything, some jam band music playing over speakers, Maybe a little too loud
Ive had tacos and burgers here and neither were special but both were fine and at fair prices.
Good service despite being very crowded that night. I saw a Bell's tap handle I didn't recognize and the bartender clearly explained what the beer was, what it tasted like and made sure I knew what the ABV was and that the pours would be only 12oz for 8.25
They also sought my party out later and found us in the crowd when delivering food Solid staff
Good local bar to hang out at, possibly the best one in Boone, though just for beer Mellow Mushroom probably has the better selection by a little.
2,232 characters
4.38
/5
rDev
+15.6%
vibe: 4 | quality: 4.5 | service: 4.5 | selection: 4 | food: 5
Great place to grab a beer during the day, gets a bit crowded at night, as do all Boone bars.
I actually worked with the owner to pass a Liquor by the drink referendum in Boone, and he hires great staff for the most part some are a bit testy at times.
I can't say for sure but I feel like there were more taps back before the LBTD refrenedum passed, though there is a great liquor selection now if thats what does it for you.
They have the usual beers on tap, but they like to toss in an oddball once in a while.
The best beer I've ever had there was the Sexual Chocolate by Foothills brewery, $7 bucks 10 or 11 Abv (I believe), a great beer. This bar would be A+ if they added another 5 taps, and filled them with some more local and or intresting beers.
Trivia: the bar burnt down or out more specifically, and has rebuilt with a fantastic bar surface, and great add ons like cool lights and decorations
The most enjoyable place to grab a beer in Boone, just wish they had an outdoor patio.
Almost forgot the best "bar food" you'll ever have, great price as well go on Tuesday's for Taco Tuesday but get there early as it gets quite crowded at night with the college crowd.
1,182 characters
3.86
/5
rDev
+1.8%
vibe: 4 | quality: 4 | service: 3.5 | selection: 4
Very cool place to stop in and visit here. Seemed nice and small, cozy with a great wooden bar and a more then decent selection of brews. Nice range of seasonals and bigger brews from Highland, Foothills, Duck Rabbit, Terrapin, plus some of the Great Divide and Avery Selections. The place was nice and quiet in the afternoon, though I could see how it could get packed. Prices were more then reasonable, especially given the area. This was a very quality stop in my trip. If I lived up here I would probably make this a haunt on most nights I went out, seemed like it would be a great place to see a game as well in a great college town. Definitely have to say this is a must if you are in the area.
700 characters
3.68
/5
rDev
-2.9%
vibe: 3.5 | quality: 3.5 | service: 3.5 | selection: 4 | food: 4
Probably in the top if not my favorite of the places to have a drink in Boone. Looks smaller on the outside than it actually is once you get inside. Pretty relaxed atmosphere with some pool tables, a jukebox, and a golf arcade game. Service isn't much more than average. Pretty decent selection. I've seen Brooklyn, Highland, Duck Rabbit, Sierra Nevada, Sweetwater, Rogue, and many others when making stops here. I would recommend going on Taco Tuesday for some great food but you may get run over by college students. Prices are what you'd expect anywhere else. Overall I'd call this a nice place to have a brew.
613 characters
4
/5
rDev
+5.5%
vibe: 4 | quality: 4 | service: 4.5 | selection: 3.5
I liked this place. It's small and personable feeling. I could see how this place would be crowded on Thurs-Sat, but on this particular Sun afternoon it was perfect. The beer wasn't spectacular but it was fine. Highlands Oatmeal Porter, Ska Decatent, Rogue Imp Pils are the taps that I remember. There were others about 10 or so with two being Miller High Life and Yuengleng. The conversation was great. I really enjoyed talking beer with the bartenders and they knew their stuff. Value was good as I got a full pint of Ska decadent for 5$. Most places in NC will only give you 10-12oz of the high gravity beer. This is my favorite place in Boone to grab a pint when it's not too crowded or smokey.
698 characters
3.54
/5
rDev
-6.6%
vibe: 4 | quality: 3 | service: 4.5 | selection: 3
When I walked in, the first thing I saw was the long wooden bar. It looked to be made out of a solid oak beam. This was a nice decorating touch. When I asked about the size of a high gravity beer I was told all beers are served in a pint glass. No 10 oz high gravs here. Plus a full pint was the same price as a regular beer. Another nice touch. The bartender seemed to know quite a bit about the beers he served. There was a bluegrass band warming up for a later show. They were from Colorado. There were also a couple pool tables off to the side. I did not have any food but it did look good. Maybe next time. When in Boone, this would be my first choice in a bar. I will visit this place again sometime.
706 characters

3.66
/5
rDev
-3.4%
vibe: 3.5 | quality: 4 | service: 4 | selection: 3
This place was easy to find on King Street and was recommended. I walked into the place at a time at which smoking was not allowed and the place still seemed a bit smoky although none was present.
There were 10 taps, 2 were macro and 8 were micro, but none were very interesting. About 30 bottled selection were represented but only about 15 had any interest. Of the taps the most memorable were one of the Rogue XS, Ska Decadent and Duck Rabbit Porter. For some reason I could not find the vibe of the place so I skipped ordering any food.
I might drift back in, but if the drafts on the next visit are similar, I'd probably skip it.
640 characters
3.9
/5
rDev
+2.9%
vibe: 3 | quality: 4 | service: 4.5 | selection: 3.5 | food: 4
This is a typical mountain town bar/ saloon. Very small in size. Bar area directly in front of you as you walk in, two or three tables to the left. Two pool tables towards the back flanked by another two or three tables. Bar area is fairly small, with seating for about 10 or 12 people. One saving grace is they dont allow smoking indoors until after 10pm. After that, this place would get disgustingly smoky. However, I visited for dinner about 7pm and was happy with the lack of smoke(ing).
10 beers on draft including Sweetwater 420, Ska IPA, Rogue DIPA, Brooklyn Choc Stout, Yuengling, and SNPA. Pretty good selection. A bit heavy on the IPA but nice. I was pleasantly surprised to see the Brooklyn Choc Stout as I have not seen that on draft anywhere in the area.
Food selection: Charbroiled chcken on Nan. Pretty tasty. Other people in the bar were having hamburgers or some other type of sandwich so they must be good as well. Of course, in this town, people get the munchies alot anyway.
Service was great. Small bar and plenty of help is always a good thing. Servers were polite and attentive. I didnt really test any beer IQ's, but they seemed like they were fairly knowledgable.
Definitely recommend before 10pm, otherwise, prepare for a smoke factory.
1,277 characters
Boone Saloon in Boone, NC
3.79
out of
5
based on
12
ratings.