Ben's Homebrew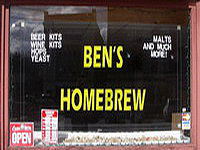 PLACE INFO
Type:
Homebrew
1127 Park St
Tarentum
,
Pennsylvania
, 15084-1029
United States
(724) 409-4101
// CLOSED //
Notes:
No notes at this time.
Added by AltBock on 12-21-2005
Ratings: 13 | Reviews: 13
Reviews by Grundle20:
4.7
/5
rDev
+2.4%
I'm a bit of a technophile so I tend to do 90% of my shopping online and the same is true with Ben's Homebrew, I've never been to the store only the website. As such I can't really speak for how well the shop is organized, how easy it is to find, or how crappy the location is or anything like that. This will serve as a review of the website, the products, and the service.
Having seen my fair share of websites and having done a good amount of coding and page design for myself, bluntly, the website is kind of fugly. I can't really say it's a knock against the business as a whole because the website is functional. There's pretty standard and easy to follow links to the products and their respective sub-categories i.e., grains, hops, additives… The site caters to beer, wine, soda, and mead enthusiasts alike but I do feel that the focus is on beer since along with the selling of things, the website also provides some useful tutorials and side projects that come with pictures. Checkout is handled through Paypal which is nice if you live on the internet, like myself, and already have a Paypal account. Others may find this a little annoying to have to go and set up a Paypal account, but ultimately I feel it's one of the better ways to handle online purchases so despite the annoyance to n00bs, it's in their best interest. I would like to see Ben add some more intuitive features to the site and perhaps get some artists on the overall look of the page but it works well as it is and that's really all that matters.
Most experienced and/or grounded homebrewers will probably find the selection on Ben's page to be sufficient as is. You have all your basic grains, hops, yeasts, and additives present with a few oddballs like Sorachi Ace and Perle hops. If you're always doing something crazy though, the stock may be a little lacking for you. Don't fret though, Ben is more than willing to special order things in, and although I haven't done it yet, from my correspondence it seems that special orders arrive rather quickly so it's nothing a little planning ahead won't rectify. All of this applies to the equipment as well. Starter sets for both wine and beer are available with common add-ons available for purchase but if you'll need stainless steel conical fermenters and digitally controlled gravity pumps then you're going to either need to drop him a line or find it elsewhere. All in all, the selection is everything you're going to need to make 80% of beer styles. The prices are a touch higher than competitors, but that is to be expected and it actually brings me to my next point, the service.
In an era when customer service has been reduced to an automated bot with a cheery name like "Sally" regurgitating prefabricated e-mail responses to questions and complaints you never even asked or made, shops like Ben's are nothing short of incredible. For the marginal price increase across the board I feel it is a fair trade off to deal with a human with a mouth, ears, and a brain that actually understands the products he sells. Whether it be my last order or the many questions that surface on the BA forums, Ben has always served as a very helpful source of reliable information. Going the extra mile is what buys my loyalty and I feel that Ben may have secured it with his relentless pursuit of customer satisfaction and understanding.
3,389 characters
More User Reviews:
4.5
/5
rDev
-2%
Very nice little store only 15 minutes from my house. Went there for ingredients to my next batch of beer and got much more. Ben helped me create a recipe for an Imperial IPA. I'm new to brewing and he answered all of my questions and helped me with coming up with a good hophead Imperial IPA. Can't wait to brew it, bottle it, and drink it! Ben's prices are fair and he has all the staples. Impressive selection of hops on hand at a good price. I can see myself getting all of my brewing supplies and ingredients there. He also has a nice website for people not in the area. I highly recommend his store. It might not look like a great store on the outside but inside he has a nice little shop and the best part of Ben's Homebrew is Ben. He's easy to talk to and has good advice for new brewers.
*Update*
Just tried my Imperial IPA that Ben helped me create and WOW! It's awesome. Ben really helped me out with it and I owe him a big thanks for that. I might have to drive by there and give him a fresh "Fat Stinky Cat Imperial IPA" for him to try. Seriously, homebrewers need to check out his store!
1,103 characters

4.5
/5
rDev
-2%
I had corresponded with Ben online a couple times on Beer Mail about kegging last year, with the thought of buying some stuff off him at least for giving me the advice. Well, I wound up inheriting some kegging equipment and never bought anything. He never mentioned it, but I kinda felt bad.
Flash forward after a year of kegging. I wanted to upgrade and get some more stuff. and I was a bit unsure about a few things. I looked online, and his store had what I thought I needed. I Beer Mailed him again, and he promptly responded with exactly what I needed. While ordering, I noticed 5 gallon reconditioned Cornies at a great price, so I grabbed one of those while I was at it. He also happened to even have something as odd as a 3 gallon Corny lid (not even in the catalog - he just sent it and I'll mail a check).
And everything arrived IN A DAY.
Yes, one day. Had there been yeast in there, it would not have even gotten tepid. Now there was one item that did not make it, but one quick call (I think after work hours too) and Ben was like "I'll send it right away". No problem. I will still get this second order more quickly than the first order from one of the Big Three.
The Corny price was much less than the shops an hour from me, so I was ahead of the game with that alone even with the shipping. I saw some ingredients were not quite as low as some of the big boys (still cheaper than my "locals"), but that is part of not being that big; and also part of how shipments get sent that day.
The selection is not all-encompassing but is far from limited. Truthfully, in a cozier place like this, I would wonder how long some obscure ingredients have been sitting. There is a lot to pick from, and as long as you are not getting too out there, you should be able to make most beers. The grain is all (I think) Briess, which is one of my favorites.
The site is professional and easily navigated, and I got a tracking number along with an order notification in an email immediately. Everything came well-packaged, neat, and in good condition.
Overall, dealing with Ben's Homebrew is much like having a friend in the business.
2,138 characters
5
/5
rDev
+8.9%
i needed two kegs quick to keg a couple beers for the emerald coast beer festival and ben got them shipped to me with the speed and stealth of a puma. the kegs have new seals and have been pressure tested, so all that was needed was to re-clean and sanatize the kegs before the first use in case they picked up any nasties during the shipping process. no complaints at all and got a very reasonable price on the kegs and the shipping. it would be real nice to have a local homebrew store near me and with a nice guy such as ben running it. highly recommended.
559 characters
4.2
/5
rDev
-8.5%
I just got my brother-in-law into brewing and when I was in Pa for Christmas I wanted to check out all the local shops with him. Our first stop was Ben's. After talking to Ben I told Bro-law that we can stop right here, go home and drink beer because we found his local store. He's a bit thin on selection but has most of the basics except liquid yeast. He does have the Safale Chico dry yeast which I understand is pretty good so that should do him for a while. Ben seems like a great guy and I hope he gets the local support he needs.
536 characters
4.85
/5
rDev
+5.7%
As a Christmas present to myself, I decided to venture into the finer art of home brewing. My first action was to research the stores in the Pittsburgh area. I immediately found Ben's Homebrew. I have to say that the reviews proved to be very accurate to the experience that I had.
Ben was very helpful and insightful. He expalined my options and discussed the pros and cons of each choice. I clearly got the sense that he was more interested in getting me interested in the craft as opposed to making a quick buck. He was very patient with my questions and offered his assistance as I went through the process.
Being very new to the art of homebrewing I have a hard time speaking for selection or value. I can say that he had everything that I was looking for. In addition, his prices were equal to if not better than other shops in the area.
I also got the impression that he would be there for me as I became more skilled. I believe it is worth noting that he did not carry the "canned kits". I commented on this and his response was that while the can approach is easier it denied people the opportunity to experience the whole process and he thought the other options produced a superior result. I loved that response.
1,226 characters

4.65
/5
rDev
+1.3%
As with a few of the other reviewers, I've met Ben on the forums, and knew he owned a store. Living acoss the country, I can't speak to the physical store, only to my experience. Recently I was planning a brew, and realized most of the hops I needed would be hard to find. After calling all my local shops (incl. Morebeer) I thought I would be SOL. Gladly I remembered this place. I briefly checked the website and placed a call to find out current stocks and future availabilty of certain hops. Not only was I able to get ALL the hops I was looking for, I was able to get some extra for future brews that all the local places are indefinitely out of. All that, and my order was packed and shipped that day. Damn fine service.
I also had the pleasure of a great chat with Ben, and can say the man is as nice, helpful and knowledgable as can be. If I lived nearby, I'd be doing my shopping here. For those of us far away, this is another great resource to keep in the bag. I'm sure I'll be calling on him again.
1,011 characters
4.65
/5
rDev
+1.3%
What makes Ben's Homebrew a *really* special place is BEN. There are a lot of options available that have good quality products at reasonable prices. Ben is one of those places. I have ordered from him 3 times now and every time has been a pleasure. What separates Ben's from everywhere else is the assistance. To a veteran this may mean less that it does to me. As a beginning brewer Ben has walked me step by step through everything I have need to know even when my first batch was ordered through someone else he *still* answered all my questions. Ben is a BeerAdvocate and truly does respect beer. More importantly as far as this review is concerned he goes far more than the extra mile to accommodate the every need of his costumers. Anything I wanted that he didn't have, he ordered for me so his website shows a decent selection but really because he is so accommodating I give him credit for the things he will get on request. I like being able to beermail my questions to a mentor. It helps so much more than simply buying a product off a faceless website. Ben has always done very well by me. I recommend you give him a call, weather you live in the area or not, he can help you out. The website is growing as well.
Ben's Homebrew - Highly Recommended!
Hope this is helpful.
Cheers!
1,300 characters
4.7
/5
rDev
+2.4%
Can't go wrong with Ben's Homebrew. I mail order from him and he helps me out tremendously. He uses normal at cost shipping too, which is nice he doesn't tack on extra to just profit off it. If you want to support the small town business scene this is your chance, it's a great way to not only get quality service and ingredients but also to have a place you can always trust and rely on. Also don't worry Ben keeps getting more and more products stocked so his selection list is on the rise. Soon it will be hard "not" to find what your looking for at "Bens Homebrew".
Give it a shot, you wont be disappointed!
617 characters
4.65
/5
rDev
+1.3%
I met Ben in the homebrewing forum. He is a frequent contributor and is always willing to answer questions for newbie's and long time brewers alike. His webiste just started filling orders online: www.benshomebrew.com and that was all I needed to hear. I live in Middletown, DE so I'm all about mail order these days (didn't get a good vibe from my LHBS) and his setup is great. The shipping is $6 for orders under $25 (cannot beat that) and even above it's still very fair. He uses the famed Barley Crusher (which I hope to own someday) and the crush on the grains gave me 10% better efficiency than I've been getting from Austin Homebrew or Northern Brewer.
His selection is limited as compared to the "big boys" but if you provide enough notice he can get most anything. For my first order I kept it simple and was able to get it all online AND have it shipped in less than 24 hours. Personally I prefer UPS delivery to DHL (UPS is like clockwork) but in either case I got my stuff fast. The best part about all of this is that Ben is super friendly, definitely wants to make the customer (me) happy and also sheds his experience and knowledge to help you get the best ingredients to brew the best beer.
If I'm ever in Pittsburgh I'll definitely have to stop by.
I highly recommend his store online or in person and it seems his stock of ingredients and gear is expanding everyday. Check out his site or his store.
1,422 characters
4.3
/5
rDev
-6.3%
I finally made it out to Ben's Homebrew. When I showed up he was boxing up a mail order for shippment to another BA. I looked like an all-grain pale ale or amber. Ben and I brainstormed an India Pale Ale recipe. While I almost went with an all-grain recipe, I got lazy and decided to put togerther an extract recipe. Ben and I chose: 3# DME light Briess, 3.3# Muntons Light LME, 1# Caramel 60L, 1 oz magnum, 1 oz cascade crystal pellets, and 1 oz of leaf cascade that Ben grew at home (Thanks for hooking me up with the homegrown!!!). It was tough choosing the yeast but I ended up going with White Labs WLP001 California Ale.
After I selected the yeast Ben gave me a demo of my recipe in BeerSmith. Neat software and very nice for Ben to demo the program with my recipe and give me a printout.
I also picked up some replacement equipment and some new stuff. Racking cane, bottle tree, bottle tree top washer, carboy handle, muslin bags. All priced right. Ben is straightforward on his prices. He has recommended to me to buy some equipment elsewhere since he can't compete with thier prices yet (e.g. grain mill).
I spent about an hour and a half in the store bullshitting and browsing. The store has all of the basics and more. Nice selection of beer and winemaking equipment.
For all of the BA's out there check out Ben's homepage or give him a call. His service is excellent.
FROM January 2005:
Went to Ben's house this past holiday season. Ben had two home brews on tap. Haven't made it to the shop yet.
If my memory serves me right, one of the brews was a light american style, the other a porter. The former was probably the best home brewed light beer I've ever had. Probably because Ben used hops that he grew in his back yard. The latter was medium bodied, great bouquet, laced well, and very drinkable. I proved that.
Anyhow, If you can smoothtalk Ben into selling you some of his homegrown hops, you're all set. He was not sure if he'd sell them but was considering selling some plants. I need to get a hold of him on this.
On my rating:
Quality, exceptional, since his homebrew rocked.
Service was good. If Ben poured all of my beers that night I'd have rated this exceptional also.
Ben...only two beers on tap...selection above average, since I only have bottles now.
Value, actually free, well I did bring him a six pack of Anchor Our Special Ale 2005 and AVBC winter solstice.
When I get to the shop, I'll review again.
Ben, good job on the beers that night. Thanks.
2,556 characters
4.5
/5
rDev
-2%
I'll get right to the point ... Great place.
Nice selection yet not cluttered and crowded. All the ususals plus more. Everything that is needed for brewing. The lay out makes it easy to find everything you need.
Ben is knowledgeable and very willing to provide guidance. I enjoy stopping in to discuss brewing and small business..
Price is typical of other homebrew ships through out Pittsburgh however the location make is very convenient for folks north or east of Pittsburgh.
Also MUST make the next homebrew & wing cooking session
Keep it going Ben !!!
Tim
578 characters

4.5
/5
rDev
-2%
Great personable service for a great price. Ben's always willing to help his customers any way possible. I asked about getting certain equipment and he said that his price for this particular thing is just too high and that I'd be better off checking else where. I'd rather hear that than a having someone try and sell me an expensive piece of equipment.
Being that he just opened the store a few months ago he is still building his inventory. But he does have the basics and if I need something special he is always willing to order it for me.
Besides all this, its great to have a beer store only a few miles from home.
Keep up the great work!!!
656 characters
Ben's Homebrew in Tarentum, PA
4.59
out of
5
based on
13
ratings.