Tank's Tap Room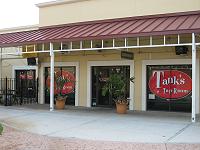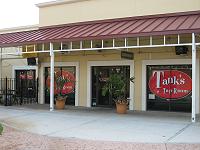 PLACE INFO
Type:
Bar, Eatery
13150 North Dale Mabry Highway
Tampa
,
Florida
, 33618
United States
(813) 961-BEER
// CLOSED //
Notes:
No notes at this time.
Added by marksto on 12-28-2005
Ratings: 13 | Reviews: 13
Reviews by gonzo46and2:

4.22
/5
rDev
+21.3%
vibe: 3.5 | quality: 5 | service: 3 | selection: 4.5 | food: 5
Tucked away in a courtyard of strip mall near the melting pot Tanks is a fantastic place for a mid afternoon snack or a fine beverage. The inside of the place is a bit shabby with shaky chairs and old tables with picnic tables on the patio. It has that sort of home-town dive feel. To me that all adds to the charm of this place.
The selection is awesome they have bottles of westmalle, orval, and many other nice belgians. The tap section is loaded with American micro brews and nice imports. Don't forget the Belgian tap that usually includes Delerium Tremens, Chimay, and many other fantastic choices. The prices are fantastic during happy hour and they do also offer cheaper macros on tap like Pabst and Miller. I usually go during the afternoon when it's quiet but I'm sure it gets pretty ramped up during football season for the Steelers games (It's a Steelers bar.) and on Friday and Saturday nights. Overall it's a fantastic beer bar with a real down home comfortable atmosphere.
If you're not sold yet, the food might be the best feature. The menu is, for one thing, huge. And the quality is much better than average pub fare. I recommend the baked wings ....*stopping to wipe the saliva off my chin...* and the pierogies. Feeling extra hungry? Then sit down to the mount everest of burger challenges The Tankinator. An ominous mountain of meat with coleslaw and fried egg topping.
1,393 characters
More User Reviews:
2.03
/5
rDev
-41.7%
vibe: 1 | quality: 2.5 | service: 1.5 | selection: 2 | food: 3
I usually can't find much fault with most bars I go to. In fact, my previous reviews have all been pretty positive. That streak ends today. Tank's Tap Room has been on my list to visit for awhile now due to the menu and their list of beers. I figured I would really enjoy it because it is actually in the same place that used to house the Bilmar Station which I really liked. Oh how I wish it was still the Bilmar.
The wife and I went on a Tuesday night. Not exactly the biggest night for bars, but in my experience a good bar always has some kind of a crowd or atmosphere no matter when you go. Unfortunately we were joined by only 2 other people in the whole place. It was like a scene in some horror movie when the kids wander into some backwoods bar run by the guy who will later skin them and feed them to his dogs. Even though I felt a little concerned for my epidermis, I was encouraged by their list of beers and their awesome food menu. In fact, several of their dishes have been featured on shows about weird foods. If I ran a food blog, maybe they would score higher. Too bad for them I write about drinking.
I ordered my first beer with no problems. Then the shit hit the fan. My next four choices, all on their menu, were no longer being served. To me, that is inexcusable. Irritated by their lack of beer and the still lingering feeling that the two Hills Have Eyes characters at the end of the bar were eying our limbs, my wife turned to me and said that we needed to get the hell out of there. So we did. It was one of the shortest trips to a bar I've ever had. Actually I think it was the shortest amount of time I've spent in a bar.
I do want to point out that the bartender when asked told me that they sometimes get busier late at night and on Sundays they are really hopping. I get that, I really do, but it's not later at night and it's not Sunday. I'm here now and I want to know why the only other people at this bar are an old woman with no teeth and her equally backwards friend. As for the Sunday thing, there's a good reason they are busy. It's a Pittsburgh Steelers bar. So on Sundays, Steelers fans pile in there to watch their games. Well that's all fine and good, but I'm not a Steelers fan. In fact I hate them and their rapist quarterback. So once again, this does me and other drinkers no good.
Perhaps I am being too hard on them. Maybe they really are a fun place to go and maybe on Sundays women walk around topless waiting for Ben Roethlisberger to molest them. I don't know. I do know that I'm not going back to find out. Your bar was empty, you couldn't serve me the beers on your menu, and your clientele was frightening. When I review a bar I do so for people like me that may want to pop into a bar any night of the week. If I have to come in at some specific time on some specific day to have a good time in your bar, it sucks. Screw you Tank's Tap Room. Call me when you find some beer and some patrons.
2,957 characters

2.3
/5
rDev
-33.9%
vibe: 3 | quality: 2 | service: 1 | selection: 3 | food: 4
I was in Tampa for the weekend and scouted out this place based on beer advocate reviews and their website. Tampa is similar to Orlando in that there are no viable drinking establishments downtown. Orlando has none, Tampa has Taps which doesn't have a happy hour and overcharges on everything. I took the 25 minute 9 mile drive to Tanks and immediately expectations were shattered by reality. We ordered two Stone Ruinations and were told they were changing the tap, waited some more and where told that we would have to have something else. My girfriend had a Maibock that was completely skunked. We ordered the baked wings with extra sauce and they came out with no sauce. Each of these problems took a long time to fix as the waitress had very little knowledge of anything and seemed lost.
The final straw was when we ordered two Apt Twelves which came out completely flat. Clearly management doesn't know what they are doing in serving anything beyond Miller lite. The Burgers did look good but I wasn't sticking around to find out. Also, horrible music selection; it's that grunge rock that nobody can identify with. When I called I was told that the sound to the Magic Game would be on. Whoever told me that lied, it has two grainy televisions and a few small ones which makes it an awful place to watch and particularly listen to any game. I won't be back.
1,364 characters
3.25
/5
rDev
-6.6%
vibe: 3 | quality: 3 | service: 3 | selection: 4 | food: 3
Been here several times as a buddie of mine lives near by. Tanks is a sports bar with lots of draft beers. With an unfriendly waitstaff backed up by unsocialable bartenders. My wife won't ask them for selection advice anymore or to make her a 75min ipa (its not that complicated guys mix the 60 and 90 toghther. The food is bar food which is a nice change of pace considering most places don't serve food. I have had 120 min ipa several times in the past...A real treat. Their big Steeler fans and let it be known thru the decor.
529 characters
3.88
/5
rDev
+11.5%
vibe: 4 | quality: 4 | service: 3.5 | selection: 4 | food: 4
Literally stopped in for 10 minutes while on an errand. Visiting a relative 5 minutes from this place and had to check it out. In my brief time there, I was happy with what I found. Given only 10 minutes, I was only there for one beer.
Decision was tough, but went with the Bells Hopslam. Great find for a Tampa strip mall bar!!! Also had a number of Stone's on tap, including Ruination, and Lagunitas IPA. Good german selection. Oddly mixed-in macro's right next to the good stuff.
Will try to get back there tomorrow to see what else they have.
549 characters
3.28
/5
rDev
-5.7%
vibe: 3 | quality: 3 | service: 4 | selection: 3
I was sent here by locals, rather than continuing on to Beer World, that itself is an endorsement, but I was disappointed at the selection. Kind of dark in the middle of the Sunday, next to a supermarket in a street mall. Mostly macros, several micros whichvwere mostly local brewed stuff. Not so many bottles as I was told their cooler was out of service, however those bottles were the macros. Service was attentive. Nothing missed by skipping, and for us was on the way to the East end and Tampa Bay Brewing.
511 characters

3.53
/5
rDev
+1.4%
vibe: 5 | quality: 3.5 | service: 3.5 | selection: 3 | food: 3.5
This is a sports bar that just happens to have good bar food and be a sports bar...let me rephrase that - a STEELERS bar. Went down to Tampa for the Super Bowl and partied my ass off at Tanks. Just got back to a room w/ a computer and I am still on a high from the Six-Burgh's Super Bowl conquest. This place was packed to the gills and I'll always remember where I was at when Big Ben hit Santonio with 35 seconds left...OK - the place. Service is nice and like previously stated, good bar food. The 51 taps have no diamonds in the rough and you won't find beer bar beers, but you will find some beers that aren't shitty like St. Bernadus, Delirium, some german hefes...they also have some bottled Belgians that you can find at any ABC or Total but it's nice to be at a Steelers bar while drinking a Delirium Nocturnum or Chimay White from a goblet (who says beer bars and sports bar can't be the same thing?).
911 characters

3.15
/5
rDev
-9.5%
vibe: 2 | quality: 3 | service: 3 | selection: 4 | food: 3
I live close to this place so I have been a few times but mostly for a sports bar not for a great place for beer. It does however have quite a few beers on the menu. Many of them are not hard to find, however you don't usually see that many together on a menu at a sports bar. The atmosphere is what you would expect at a sports bar (It also looks to be the local Steeler's HQ). The service is nice and has an adequate knowledge of beer. The food is alright but not world class. The price is reasonable. This is a local hang out and not a bad one.
547 characters
3.88
/5
rDev
+11.5%
vibe: 3.5 | quality: 4 | service: 3 | selection: 4.5 | food: 4.5
Tank's is the latest incarnation of this establishment that dates back to around 1991 as the old Hubb's Pub. In fact, Hubb's was the first bar in Tampa Bay to feature a truly impressive draft list of 30 (+) taps followed shortly thereafter by the long defunct Oak Barrel Tavern in Ybor in the early 90's.
Since turning into Tank's with a new owner approximately two years ago a number of things have improved. The beer selection for one. The draft menu now consists of about 45 beers, and at least half of them are relatively unusual labels you don't see everywhere. Included in that are about a half dozen Belgians, most of which are abbey or trappist including such gems as Chimay, Bernardus, and Houblon Chouffe.
Another much improved area is the menu. Many of the items are Pittsburgh-inspired such as a huge burger served with fries ON it and pierogies. Also recommended are the baked wings (sounds wierd to serve them baked but I think they're the best wings in town), and the mighty Tankinator sandwich.
There are a few negatives. Don't go in during football season if the Steelers are playing unless you're a fan. The Steelers theme song played over and over at volume 10 during every commercial break can get a little annoying... Service can be spotty and I have found staff is generally not very knowledgable about their beers.
Also, you can never trust the printed draft list, as they often have draft changes that aren't reflected on the menu. Case in point, on a recent visit I found out only after passing by the bar and seeing a small handwritten sign on a tap handle that they had Dogfish Peche on tap. It was nowhere to be found on the draft menu and the server didn't mention it when I asked if there were any changes.
Overall, however, a place well worthy of a visit for beer lovers with an appetite.
1,836 characters
3.63
/5
rDev
+4.3%
vibe: 4 | quality: 4 | service: 3 | selection: 3.5 | food: 4
I went here on a Sunday night, so it was pretty dead. I was, however, impressed with the atmosphere. You could really tell its a good place to go. The quality of the bar was good also, minus the one pool table that kept breaking. The service was decent, the tender was knoweldegable, but not visable most of the time. I was really impressed with the selection with this being tampa and all, but it wasn't outstanding by any means. The food was awsome. I had a burger and it was unbeleavable. The best part about this place was the prices. Everything was very cheap. Don't drink and review.
589 characters
4.1
/5
rDev
+17.8%
vibe: 4 | quality: 3.5 | service: 4 | selection: 5 | food: 4
I have been a regular of this place since the Hubb's Pub days, and it has definately gone through its ups and downs over the years in the way of service. However, overall it is a good pub and a pleasant atmosphere. The new owner has done away with the "Wall of Foam" and the discount which you received for being on it. Also, he is is replacing alot of the beers on tap (at least 30 or so) with better beer. They also have an amazing array of bottled beers to choose from. One big problem that was developing prior to the sale to the new owner was that alot of the beers on tap were kinda old and funky. But, he seems well on his way to remedying that problem. I personally am looking forward to see how the new owner continues to improve a long time stand by hangout. The food menu appears to be staying the same, which is a really good thing as they have great food for a bar. Also, their baked wings are just downright great! Especially the cajun-hot.
All in all, I'd definately recommend this as a good place to go.
Ammended 8/28/06:
The new owner has really gone out of his way to make it a much better place to hang out. It is better than it ever has been, and as I said I've been a regular for over 10 years. Much cleaner, and even better food than ever, on top of that the beer is clean and fresh again! Oh yeah...they have a cooler full of Belgains too (soooo tasty.) Just go there...
1,402 characters
3.83
/5
rDev
+10.1%
vibe: 3.5 | quality: 4 | service: 3.5 | selection: 4 | food: 4
This bar is in the Village Centre shopping Mall, and easiest access is from the car parking to the south side against Fletcher Avenue. Then only a few yards to the entrance, Outside appearance is very plain, a few neon beer signs in the window, and a few chairs and tables outside. There is a small enclosed beer garden area with bench seating. The interior is rather dark and not very inspiring at first, but plenty tables and chairs in two sections, and bar stools along the bar.
Behind the bar are 34 beer taps, with good selection from US, Germany, and UK, though these vary from time to time. Bells, Sierra Nevada, Stoudts beers and some Dogfish Head, as well as the usual Bud and Miller. Klostritzer black lager is regular, also beers from Spaten and Hacker Pschorr. There is a beer menu on the tables, though not always fully accurate, so you need to check what other beers may be on. The beers on tap may vary from week to week, with seasonal specials, though the bottled beer list seems more stable!
There is now a selection of 4 Belgium Beers on tap, including Delirium Tremens, an Affligen and Grimbergen beers, though these more costly than the domestic beers of course.
All the beers I tried over a 6 weeks period were good, and at fair price too. Food is good, generous portions and good value.
Service was friendly and good, though at busy times can be a just a bit slow with so many people inside and out. There is live music some evenings, which can be very entertaining if you enjoy this.
There are two large screen rear projection TV's showing sport, which seems popular with the regulars, and that might explain why the interior is rather dark, so the TVs can be seen more easily.
This spot is certainly worth a visit, and would be my regular place for beer when in Tampa staying in the Carrollwood area. The new "boss' made himself known and was keen on my impressions, and what beers I was interested in being from UK, and his knowledge of beers was good too.
Recommended as one of the few places in Tampa where you can get a decent beer at fair price, and good selection. They also have a large selection of bottled beers, including many from Belgium and Germany. So, something for everyone - I just wish it was a bit brighter inside!!!
John W (B'ham UK, written while in Tampa May 2006)
Update June 2007 -
Since my last visit in May 2006, the interior has been changed making more seating possible, and pool tables installed in the side room. A new larger print Beer Menu has been produced, showing the beers on tap (now 39) which do vary from time to time, and a bottle list of over 200 beers, with good selection from Belgium, Germany, and over 50 from the US. The owner is keen to maintain a good selection of beers from all over the world as well as beers from all over the US. Beer on tap prices start at $4.25 but special offers on to from time to time. Check the chalk board for details!
JohnW
2,961 characters
4.13
/5
rDev
+18.7%
vibe: 4 | quality: 4 | service: 4 | selection: 4.5 | food: 4
January 26th re-rate:
It's is just getting better and better. Added 5 more drafts (that is like 40+ now) and these are all Belgian! Had Hobloud Chouffe IPA Tripel on draft, nice. Food is about a MILLION times better than it used to be. Don't mess around with that Tankenstein burger....you will lose. The food is very good now and worth a visit for grub alone. Beer selection is much better than anything else in the immediate area and rivals anything in the bay area. Visit Tank's.
Old Ratings:
The draft selection is much better, but still favors stuff you can get most anywhere. There are some interesting brews like Stoudt's DIPA and Fat Dog along with a smattering of other decent brews, but nothing truly rare yet. The bottle selection is pretty massive. The frozen mugs, I've learned, stem from a lack of storage space which is to be remedied.
For Tampa it is still one of the better beer bars and the food has gotten MUCH better and more creative. Try the Tankenator if you are feeling hungry...you won't be hungry for weeks after that beast. It's still basically pub grub, but it's inventive pub grub now and the quality is better than average.
I'd love to see more one-offs and limited releases on tap...something to really entice the beer geeks, but as the new owner is still getting things the way he wants them I remain patiently understanding. He seems to understand what his niche is so hopefully down the road he'll cater more to the real beer nerds.
BELOW IS MY OLD REVIEW AS BILMAR STATION:
I used to go here when it was part of the Hubb's Pub chain. it immediately went south when it became Bilmar, but I'd still pop in from time to time. Recently I have heard it sold to a beer geek who has plans to take it back in the beer direction. I am waiting pateintly to see if that happens. As it is now they have a crazily heavy lager lean and very few decent micros.
The food is very average in my book and the atmosphere is 100% sports bar. Of course I'm hoping the beer side will change, but I don't mind a sports bar atmosphere as long as good beer is availible.
2,104 characters
Tank's Tap Room in Tampa, FL
Place rating:
46.2%
out of
100
with
13
ratings